Rica Peralejo gets heartbroken over son's reply when asked what time he woke up
- Rica Peralejo shared a video of her conversation with her son Manu that broke her heart
- When Rica asked Manu what time he woke up, the child replied "When you were not here"
- This moment prompted Rica to reflect on the value of parents making time for their kids
- She believes that all parents should be extra mindful about how much effort they give in being with their children
Bagong feature: Tingnan ang mga balitang para sa'yo ➡️ hanapin ang "Recommended for you" block at mag-enjoy!"Recommended for you" block at mag-enjoy!
In a heartfelt social media post, actress and mother Rica Peralejo shared a poignant moment that underscored the importance of parents spending quality time with their children. Her reflection came after a simple interaction with her son, Manu, who provided a sobering perspective on the matter.
Rica shared a clip of Manu where she asked him, "What time did you wake up?" To her surprise, Manu responded with, "When you were not here." This response tugged at her heartstrings and prompted her to reflect on the plight of children whose parents are frequently absent due to various commitments.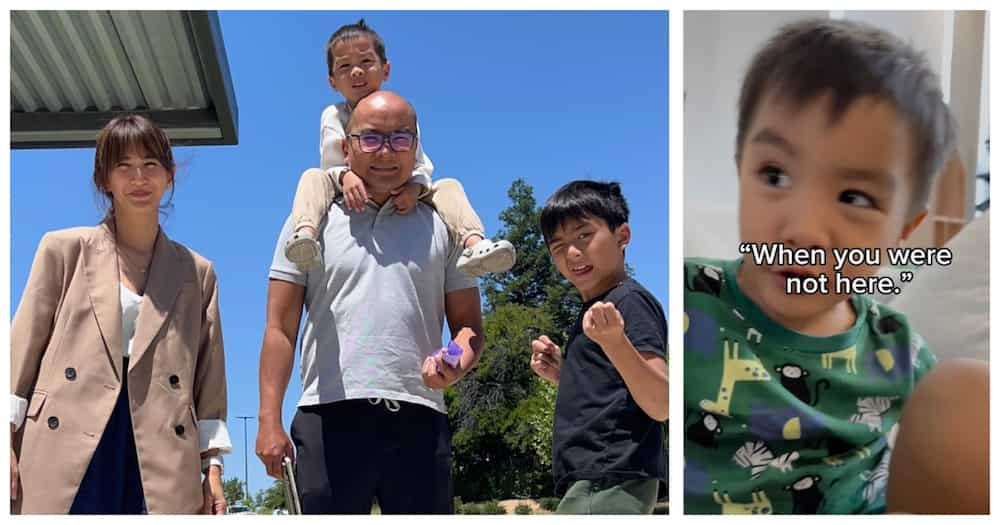 While Rica herself tries to be present for her children as much as possible, she acknowledges the sad reality that not all parents have the privilege to do so. Some are compelled to prioritize work and other pursuits, often at the expense of spending time with their kids.
The actress shared the thought-provoking idea that we don't merely find time for our loved ones; instead, we must actively make time for them. She emphasized that many individuals have the privilege of prioritizing family but, in pursuit of more wealth, influence, or other endeavors, fail to allocate the necessary time to be with their children.
PAY ATTENTION: Click "See First" under the "Following" tab to see KAMI news on your News Feed
She predicted that, as children grow, they will come to understand how their parents allocated their time and what truly mattered to them. She cautioned parents about the irreversible nature of absence, highlighting that some losses can never be regained.
"When I heard my child answer this way, it broke my heart. While I am rarely gone from the house and rarely not with them, his thought process gave me a burden for the kids whose parents are always away.
"Elsewhere I heard that we do not find time, and instead we make it. I know there are those who live in such lack that they have no privilege to make the necessary time but I also know many who have the privilege to do so but won't because of a pursuit for more — more wealth, more influence, more everything, except for more time with their kids. Hard truth to hear but true nonetheless.
"Someday, our kids will know their days, they will know how schedules are arranged, and they will know by then what has been truly important and valuable to their parents, back when they measured time by our presence or absence.
"Brenè Brown said Time is a precious and unrenewable resource and so I want to remind us parents that just like time, absence can also be irreversible. When we do not give them the time today, there is no telling if it's something we can make up for tomorrow. Some things you lose and find again, but some things you lose and are never to be gained back forever. I know this due to my own personal experience. We can repair some things but we lose the optimal when we do not seize the window of opportunity. This is especially true for relationships. They are time bound. They have windows for building. And what we never built will not stand. And so whatever stands with you at the end of your life is the thing you built and apparently wanted to stay by your side at your death bed. If it's family then you will see family. If it's career then you will see workmates. If it's the self then I guess you will have nobody there but yourself," Rica said.
Rica Peralejo is an actress who used to be a cast member of "Ang TV." The former actress is now married to a Christian pastor named Joseph Bonifacio. They have two children – Philip Nathaniel and Manu.
Previously, she uploaded a video compilation of her training or rehabilitation day with a therapist. She needs to train and undergo rehab due to her different health issues. The actress revealed that she has scoliosis, diastasis recti, hormonal imbalance, autoimmune problems, bunions, flat feet, L5 S1 bulging disc. Due to her faith in Jesus, Rica is inspired and joyful amid her health woes.
Earlier, Rica Peralejo took to Instagram and shared a cute photo of her husband and her child. They were on the escalator, the movement of which was descending. Both her husband and their kid were standing in the opposite direction, which was why the security guard called them out. It was a facepalm moment for the actress, and she happily shared it on social media.
Bagong feature: Tingnan ang mga balitang para sa'yo ➡️ hanapin ang "Recommended for you" block at mag-enjoy!
Source: KAMI.com.gh