Nakaka-touch talaga! Scarlet Snow Belo's heartwarming message to Vicki Belo's ex-husband Atom Henares
- Dra. Vicki Belo's ex-husband Atom Henares got married on February 2, Friday
- The Belo family was present during the event
- A heartwarming photo of Scarlet Snow Belo and Atom captured the hearts of netizens
PAY ATTENTION: Click "See First" under the "Following" tab to see KAMI news on your News Feed!
During Atom Henares and Nathalie's wedding on February 2, Friday, Dra. Vicki Belo, Hayden Kho and Scarlet Snow Belo were all present.
NU 107 founder Atom was Vicki's former husband.
He is also the father of Cristalle Henares and Quark Henares.
A heartwarming photo of Vicki's ex-husband Atom Henares and Scarlet was shared on the latter's Instagram account.
The touching message and photo truly captured the hearts of the netizens.
It has a caption that says:
"Papa Atom, please promise me that even if you're now married to Tita Nathalie you will still visit us at home and that you and Tita Nathalie will give me a baby playmate soon."
Although we know that the caption was not written by Scarlet herself, but the fact that she is very close to her mother's ex and they are all getting along well is something very beautiful.
You could also see the sadness in Scarlet's eyes as if she is about to cry.
Read some of the comments from netizens:
"awwww so sweet.."
"So much love and respect."
"Sooo much love on this pic"
"Priceless..."
"Ang daming pinaligaya ni ScarletSnow Belo she's an angel"
"Awwww this is love! Love the Belo family. And babaet nila to have remained friends."
Scarlet and Atom during one of their trips in Paris.
Scarlet talking to the bride.
It is very nice to know that these former couples remained good friends.
An old photo of Vicki and Atom
Atom Henares was Dra. Vicki Belo's ex-husband to whom she has two children, Cristalle Henares and Quark Henares.
Dra. Vicki Belo is now married to longtime partner Hayden Kho and they have a daughter named, Scarlet Snow Belo.
On September 2, 2017, Vicki and Hayden tied the knot in Paris.
The lavish wedding was attended by well-known stars and personalities.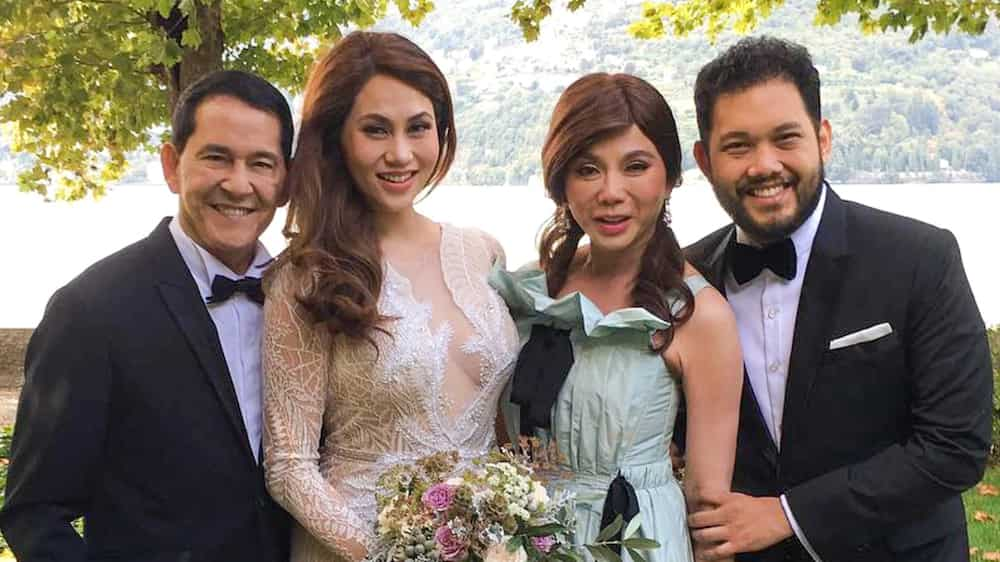 Learn about the inspiring story of Cheneleng Pili, who was able to reach her dreams through hard work and determination..
Road to success: I cried a hundred times - makeup artist and business owner Cheneleng Pili - on KAMI YouTube Channel
Source: KAMI.com.gh