Regine Velasquez is a Filipina singer, recording artist, record producer, and a successful actress. With her powerful voice and belting technique, the singer has not just conquered the Philippines but the whole continent of Asia, being dubbed as 'Asia's Songbird'.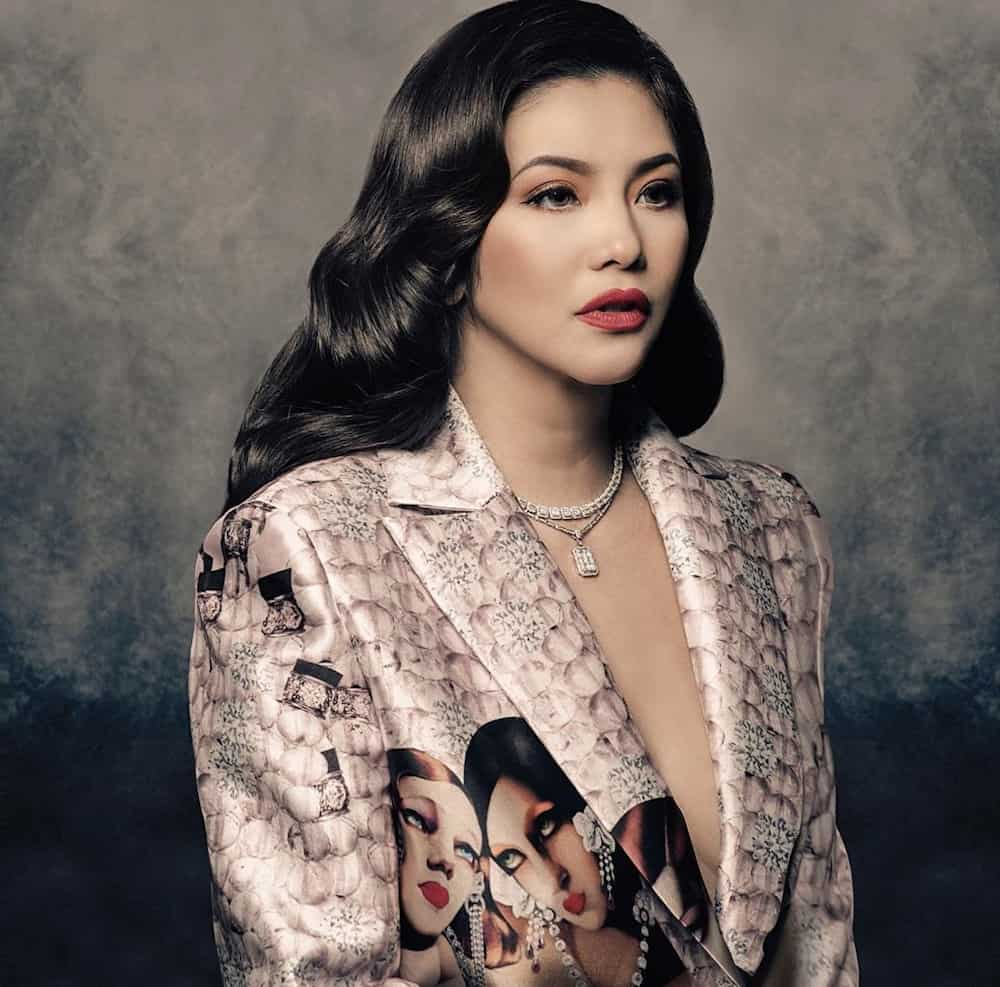 There is a lot more about Regine Velasquez other than being a singer that people do not know about. Dig deeper into the life of one of the Philippines' most influential artists.
Regine Velasquez profile summary
Full name: Regina Encarnacion Ansong Velasquez-Alcasid
Stage name: Regine Velasquez, Asia's Songbird
Birth-date: April 22, 1970
Age: 49 years old (2019)
Nationality: Filipino
Regine Velasquez height: 1.65m
Birthplace: Manila, Philippines
Instagram: @reginevalcasid
Facts about Regine Velasquez
Her first recorded song was Love Me Again under Octo-Arts in 1986 as Chona Velasquez.
Being a dyslexic kid, coping with schoolwork was always a challenge for her.
She first appeared on television as a guest on the variety show Penthouse Live in 1986.
She was affectionately nicknamed Asia's Songbird after she won the Asia-Pacific Singing Contest in 1989.
Her training started at the age of 7 when her father used to take her for a swim in the ocean and asked her to sing while swimming.
Regine Velasquez biography
Regine is the first-born child of Teresita and Gerry Galvez. She has a sister named Cacai, who is also a professional singer like her. Although Regine Velasquez was born in Manila, she is popularly known to be from Bulacan, a province where she grew up. She and her family also stayed at Hinundayan, Samar Leyte, where she spent her elementary years.
She always gives credit to her father for her successful singing career. He would make her sing while swimming in order to exercise her vocal capacity.
Since she could not read lyrics, as she was a dyslexic kid, her father would sing the songs to her, and she would memorize them. Later, her father became her manager, who resigned from his job as a construction estimator to fully tend to Regine's career.
Velasquez joined various singing competitions in different provinces at an early age, where she was able to win 67 out of the 200 that she participated in.
In 1984, when she was only 14, she tried her luck by joining Bagong Kampeon, a singing competition on television. She qualified as she sang a song that her father chose, entitled, Saan Ako Nagkamali. She was able to win the said competition with her rendition of In Your Eyes. It was truly a blessing for her because the prize that she got was a record deal with Octo-Arts.
Being a recording artist under Octo-Arts was just the beginning of Regine's outstanding career in the music industry.
Her music career
In 1986, her first single Love Me Again was released, and she used the stage name, Chona Velasquez. In the same year, she represented the Philippines in the Asia-Pacific Song Contest and became famous because of the release of Maibabalik Ko Lang from her debut album.
She then signed into another music company, Polygram Records, in 1994. She was able to release the album Listen Without Prejudice, which became her best-selling record of that decade because of the success of the album's single In Love with You. It was also chosen as Video of the Decade by MTV Asia.
The singer left Polygram in 1997 so she could take full control of her career. In 1998, she signed under VIVA Records and decided to be her own executive producer for R2K in the year 1999. R2K is a very popular album that consists of remakes of international songs. It was the best-selling album in the entire Philippines from 1999 to 2000.
The year 2001 was another blessed year for the singer as she released another album entitled Reigne. The songs in this album, unlike her previous one, were written by Filipino songwriters. Her carrier single Dadalhin became another iconic song for the singer as it set a new airplay record in the Philippines and stayed for 17 weeks atop local radio stations.
From her first year in the music industry up until today, where she still makes a great contribution to the music industry in the Philippines, Regine still surprises her fans by how great of a singer she is. For almost 35 years in the music and entertainment scene, Asia's Songbird has been able to release almost 48 different albums- from studio albums to soundtrack albums to compilation albums and a lot more.
Below are some of Regine Velasquez's albums and the years they were released:
Tagala Talaga (1991)
Reason Enough (1993)
My Love Emotion (1995)
Do Re Mi (1996)
Adarna: The Mythical Bird (1997)
Very Special (1998)
Regine Live: Songbird Sings the Classics (2000)
Pangako Ikaw Lang (2001)
Pangarap Ko Ang Ibigin Ka (2003)
The Songbird & The Songwriter (2004)
Duets (2005)
Shine (2005)
Till I Met You (2006)
Urduja (2008)
Fantasy (2010)
Ogie & Regine: Ever After (2010)
Hulog ka ng Langit (2013)
R3.0 (2017)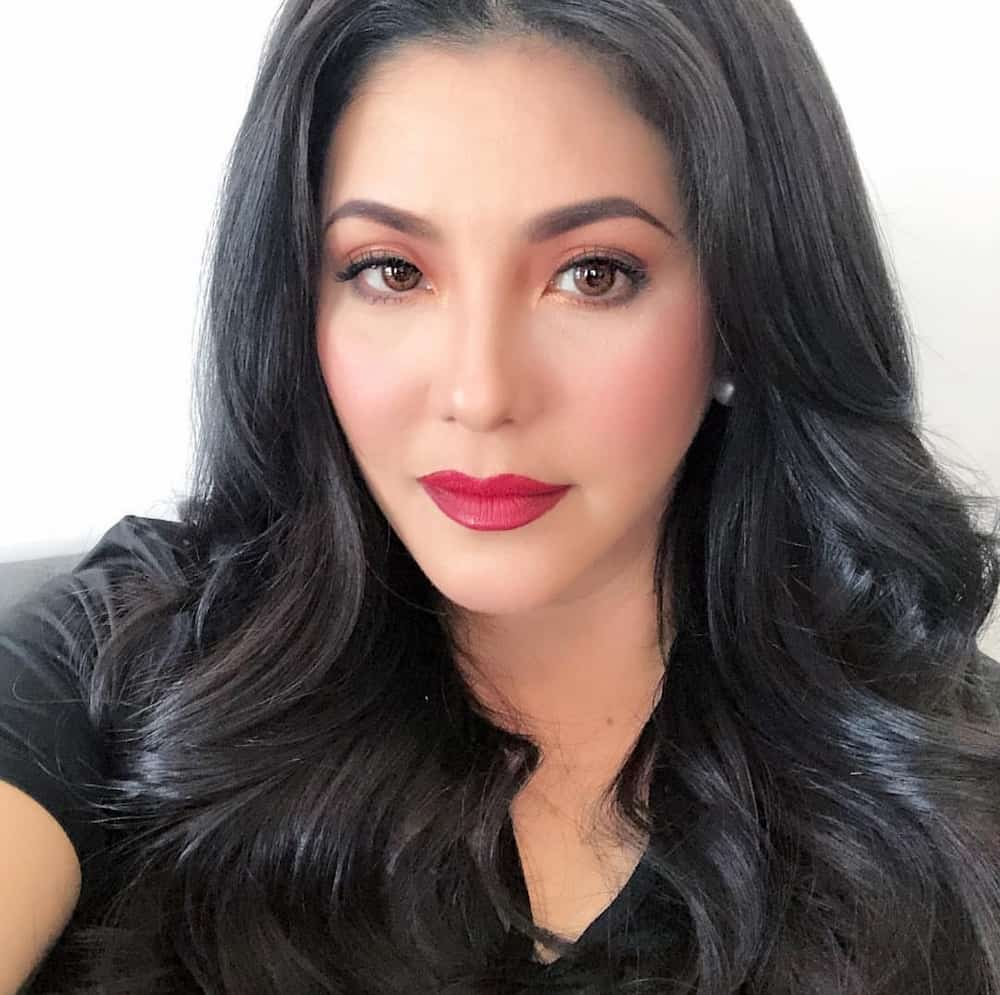 READ ALSO: Vice Ganda, pinansin ang bonggang singsing ni Regine Velasquez
Aside from her numerous albums, she also has many songs to her name. Below are some Regine Velasquez songs:
Ako'y Iyong-Iyo (Ogie Alcasid)
Alipin (Sam Santos)
Araw, Ulap, Langit (Marlon Barnuevo)
Araw Gabi (Ryan Cayabyab)
Babae Ako (Ogie Alcasid)
Babalikang Muli (Larry Chua and Kenjiro Sakiya)
Been Waiting (Francis Salazar)
Believe It (Marita Manuel)
Buhay Ng Buhay Ko (Nonong Pedero)
Can't Stop Thinking About Love (Gino Cruz)
Dadalhin (Tats Faustino)
Di na Nag-iisa (Jay Durias)
Everyday (Cacai Velasquez-Mitra)
Hanggang Ngayon (Ogie Alcasid)
Hugot (Miguel Mendoza)
I Can (Louie Ocampo and Edith Gallardo)
Kailan (Fred Areza)
Kailangan Ko'y Ikaw (Ogie Alcasid)
Magkasuyo Buong Gabi (B. Hart)
Shine (Trina Belamide)
Smile (Robin Nievera)
You've Made Me Stronger (Trina Belamide)
She has made quite a record in the Philippines' music industry that makes her over the top. Even with Regine Velasquez age of 49, she could still pull off a show and ace her belting technique. It is not only in her albums and songs that she has been able to show off her singing talent but also in her concerts.
Regine Velasquez concerts
Being in the industry for more than 30 years now, the singer has also done a lot of concert tours not only in the Philippines but also abroad.
Here is a list of some of her concert tours:
Regine at Circus Circus in Circus Circus Music Lounge (1987)
Rated R: Regine and Rage in San Agustin Auditorium (1987)
Hanep sa Wow sa Cubao in Araneta Coliseum (1987)
Regine at 17 in Manila Midtown Hotel (1988)
True Colors in Rizal Theatre (1988)
Regine… of Age in Rizal Theater (1988)
Labing-Labing in Manila Midtown Hotel (1989)
Please Be Careful With My Heart in Greenhills Theater (1989)
Love Songs in Hotel Nikko Manila Garden (1990)
First Romance in Century Park Sheraton Hotel (1990)
Narito Ako! First Major Concert in Folk Arts Theater (1990)
Regine 2000 in Music Museum (1999)
R2K The Concert in Araneta Coliseum (2000)
The Songbird and The Songwriter in Araneta Coliseum (2004)
Queens on Fire US Tour in San Diego, Los Angeles, San Francisco, Washington D.C., Las Vegas, Chicago, Atlantic City, & Guam (2005)
Regine... Most Requested in SkyDome (2009)
Mr. & Mrs. A in Araneta Coliseum (2012)
Ultimate in MOA Arena (2015)
R3.0 (30th Anniversary) in MOA Arena (2017)
#PAMORE in MOA Arena (2018)
Regine Velasquez Concert in New Zealand in Victory Convention Center (2018)
The Songbird and The Song Horse in Araneta Coliseum (2019)
Regine Velasquez net worth
Given her successful career, people have been curious about how much the singer earns.
According to celebritynetworth.com, the singer-actress' estimated net worth is 14 million dollars.
Regine Velasquez and Ogie Alcasid
It is not just her career life which is colorful and successful, but also her love life, as she was able to marry one of her best-friends, Ogie Alcasid.
They met during the rehearsals of one of their friend's concert where Ogie was a front act, while Regine was a guest. After that, they dated for few times where Ogie discovered the singer's genuine personality off stage.
Their love story has been all over the news. It was in 2003 when the news about their relationship broke various media platforms. After keeping it as a secret for quite some time, they then brought their romance out of the open in 2007.
Just like any love story, theirs was not perfect. They have faced issues and struggles. However, it seems that they are made for each other because, after some time, their friendship and love rekindled.
They tied the knot on December 22, 2010, at a beach resort in Nasugbu, Batangas.
READ MORE: Louis Vuitton responds to Regine Velasquez's complaint about discrimination
Ogie Alcasid and Regine Velasquez wedding was very elegant. The couple is living their best life now with their son, Nate.
Regine Velasquez latest news
Just this year, Regine Velasquez birthday was celebrated in ASAP Natin 'To, a variety show, where the actress is working. She shared the stage with her mother and her son, Nate, along with her husband, Ogie. After their singing performance, her son was asked to give a message to her mother and started crying in the middle of his message.
Another update about the singer's life is that she had another concert along with Sharon Cuneta. The concert was entitled, Iconic. It was a two-night concert, and the show took place in the Araneta Coliseum on October 18 and 19.
Regine Velasquez is truly a diva who shares her great talents and skills with her fans. She has surely touched the souls of those who listen to her songs.
READ ALSO: Regine Velasquez and Sharon Cuneta pick their favorite young Filipino singers