Twice members profile: names, religion, boyfriends, latest news
Tagged as one of the most successful K-pop acts in the past years, the popularity of the all-girl group Twice continues to grow exponentially. The group has a record of over 3.8 million albums sold within four years, showing how talented and charming these ladies are. Twice members and their hit songs like TT and Fancy are famous within their main markets of South Korea and Japan, as with other parts of the globe. Also, Twice members profile might help you to understand them better, especially when it comes to their personal lives.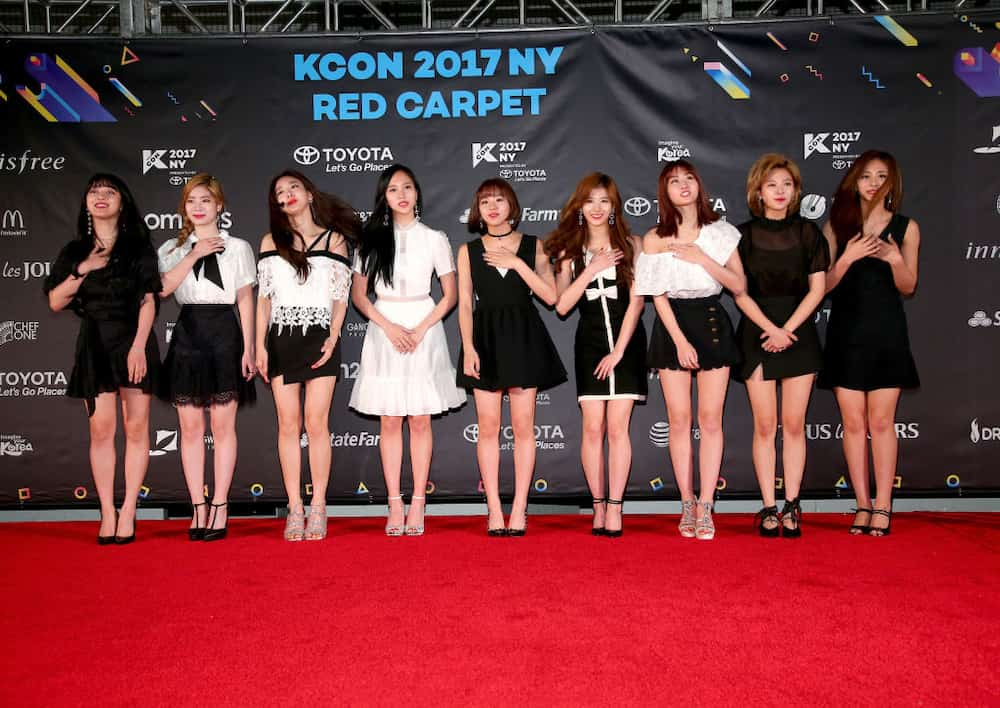 Today, the nine-member girl group has received multiple recognitions and awards in Korea and Japan. Their music videos are also watched by fans the world over, with some gaining record views within a short period.
How many members are in Twice?
The South Korean girl group Twice was formed in 2015 under JYP Entertainment, who also formed famous girl groups like Wonder Girls (2005) and Miss A (2010). JYP formed the group from the reality show 'Sixteen'.
Seven members of Twice were winners of the show, while the other two were added for more character. Twice debut date was on 20th October 2015 with the single 'Like Ooh-Aah' from the EP 'The Story Begins'. A music video was released shortly after, becoming one of the most-watched debut music videos for any K-pop group.
Twice Kpop group then debuted in June 2017 in Japan, where their first album '#Twice' reached number 2 on the charts a week after its release. They received several awards that year, including a Platinum certification from the Recording Industry Association of Japan, a first for any Korean girl group.
From Twice discography the band has two studio albums, seven EPs (extended plays), 17 singles, and 22 music videos under their belts. With the release of their seventh EP, 'Fancy You', the group became the best-selling girl group in Korea, breaking the 21-year old record set by S.E.S. They also won three consecutive Mnet Asian Music Awards for Song of the Year between 2016 -2018, being the first group to do so.
Twice group profile and social media accounts
Twice fandom name: Once
Fan colours: Apricot & Neon Magenta
Website: twice.jype.com/
Facebook: @JYPETWICE
Twitter: @JYPETWICE
Instagram: @twicetagram
YouTube: @jypentertainment
Fan cafe: TWICE9
vLive: TWICE
Twice members names, birthdays, profile and trivia
Learn more about the Twice members below:
1. Jihyo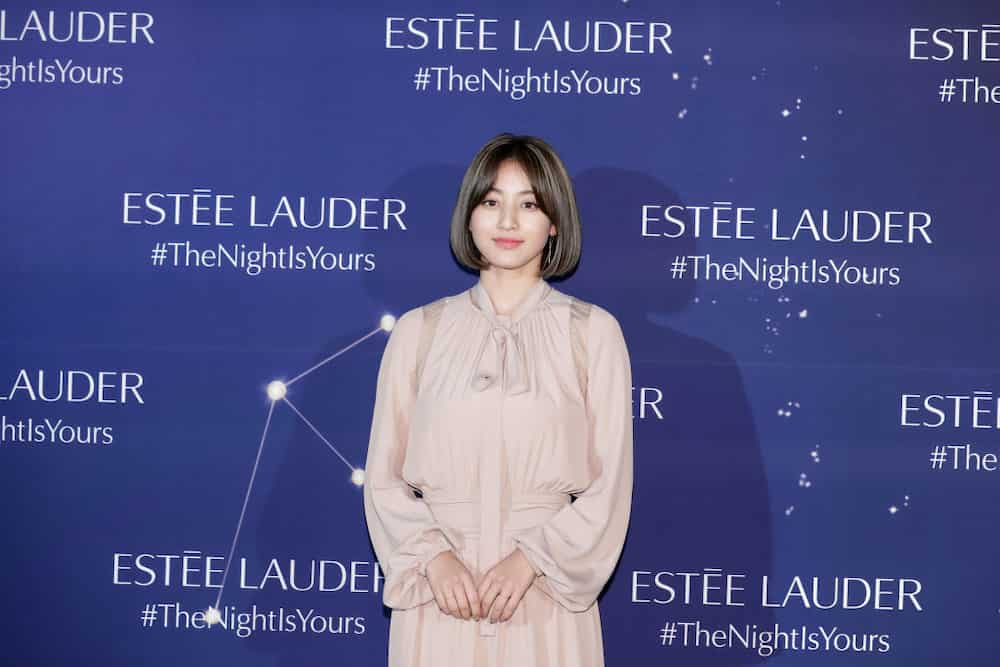 Stage name: Jihyo (지효)
Position: Leader, main vocalist
Representative color: Apricot
Birth name: Park Ji Soo (박지수); legalized to Park Ji Hyo (박지효)
Nationality: Korean
Birthday: February 1, 1997
Birthplace: Guri, Gyeonggi-do, South Korea
Zodiac sign: Aquarius
Height: 162 cm (5'3¾")
Weight: 56 kg (123 lbs)
Blood type: O
Favourite colour: Red
Hobbies: Web-surfing and reading webtoons
Family: Two sisters
Trivia
Joined JYP as a trainee after her third grade after being second place on a contest, making her the longest trained at 10 years.
She cannot eat raw foods. Additionally, she has a pineapple allergy.
Voted as the leader of the group by the members, not by the management.
Jihyo is ambidextrous, able to use both hands.
2. Nayeon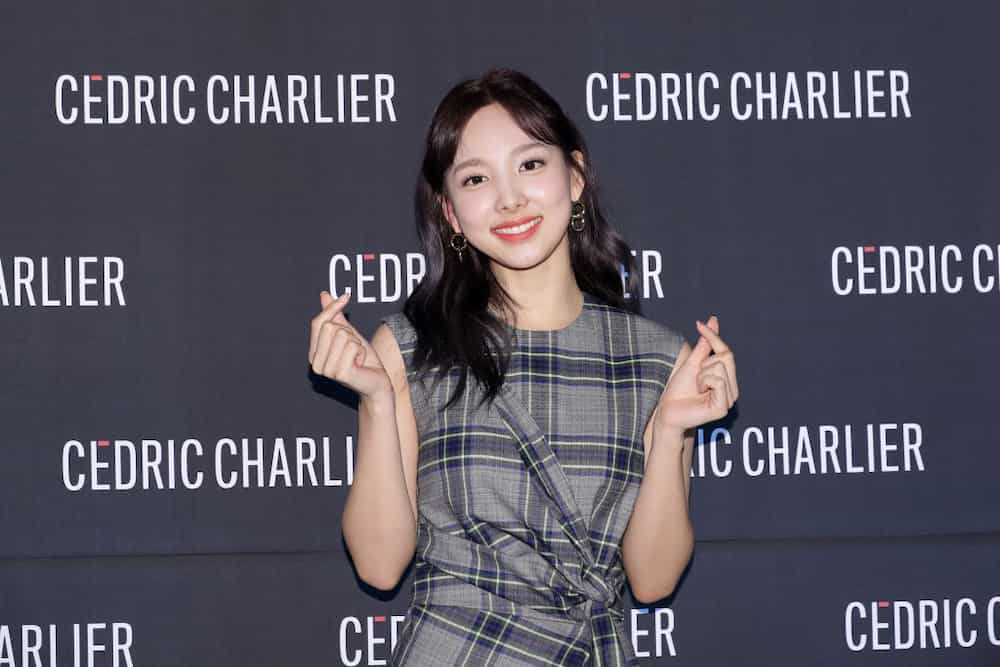 Stage name: Nayeon (나연)
Position: Lead vocalist and dancer, centre
Representative colour: Sky Blue
Birth name: Im Na Yeon (임나연)
Nationality: Korean
Birthday: September 22, 1995
Birthplace: Gangdong District, Seoul, South Korea
Zodiac sign: Virgo
Height: 163 cm (5'4")
Weight: 47 kg (104 lbs)
Blood type: A
Favourite colour: Purple
Favourite number: 9
Favourite food: Sweet foods, Jellies
Family: One sister
Trivia
As a kid, she got cast by JYP after entering a child model contest, but her mother refused at that time. She then secretly entered an open audition in 2010, which she passed.
She was originally chosen to be part of a different girl group, 6mix. Unfortunately, the group was disbanded before their debut.
For food, she only eats salmon sushi, and cannot eat chicken feet.
Due to a car accident in her childhood, her left leg is weak.
3. Jeongyeon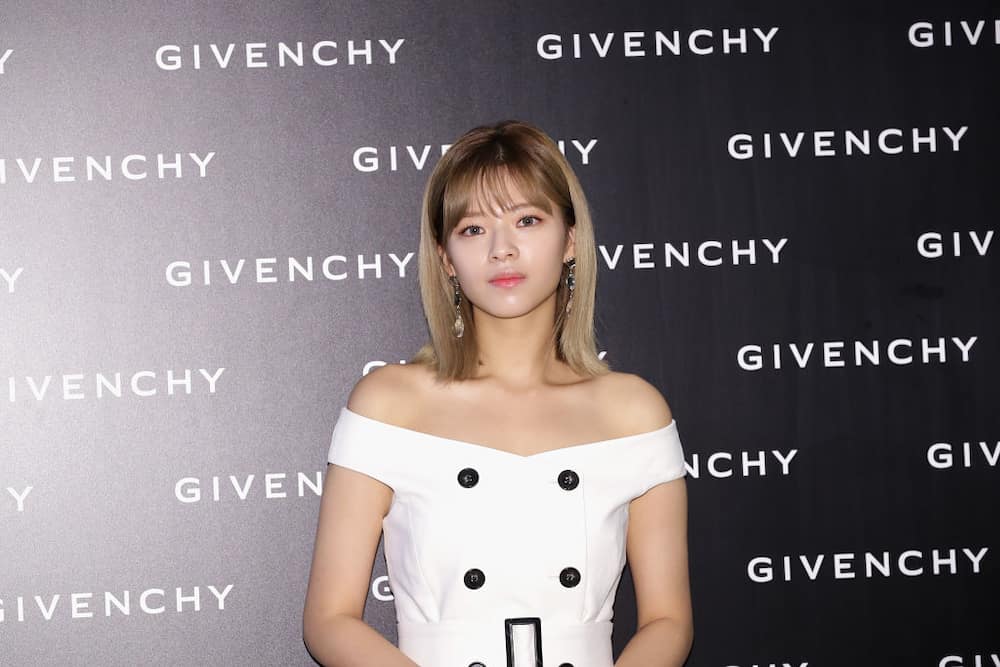 Stage name: Jeongyeon (정연)
Position: Lead vocalist
Representative colour: Yellow-Green
Birth name: Yoo Kyung Wan (유경완); legalized to Yoo Jeong Yeon (유정연)
Nationality: Korean
Birthday: November 1, 1996
Birthplace: Suwon, South Korea.
Zodiac sign: Scorpio
Height: 169 cm (5'7″)
Weight: 49 kg (108 lbs)
Blood type: O
Favourite number: she does not actually have one
Favorite food: Golbangee muchim, Ddeokbokki, and Meat
Family: two sisters
Trivia
On the anonymous leader voting, she placed second, next to Jihyo.
Originally rejected by JYP, she became a trainee after passing the 2010 Open Audition. Additionally, she was accepted into both SM and JYP on the same day, although she went with the latter.
Similar to Jihyo, she is ambidextrous.
A talented musician, she can play the saxophone, trumpet, and guitar.
4. Momo
Stage name: Momo (모모)
Position: Main dancer, vocalist, and rapper
Representative colour: Pink
Birth name: Hirai Momo (平井 もも)
Nationality: Japanese
Birthday: November 9, 1996
Birthplace: Kyōtanabe, Kyoto, Japan.
Zodiac sign: Scorpio
Height: 167 cm (5'6")
Weight: 48 kg (106 lbs)
Blood type: A
Favourite number: 64
Favourite food: Jokbal
Family: one sister
Trivia
Originally, she was scouted by JYP after they saw her dance video with her older sister. They both went to the audition, though her sister did not pass.
On episode 6 of the reality show Sixteen, she got eliminated from the competition. Fortunately, Jin-Young Park, owner of JYP Entertainment, added her as a member of Twice due to her dancing.
Speaking of dancing, she took dancing lessons at 3 years old, wanting to follow her sister. She is most confident in dancing to urban and hip-hop.
Her family has 3 female dogs: Petco, Pudding, and Lucky
5. Sana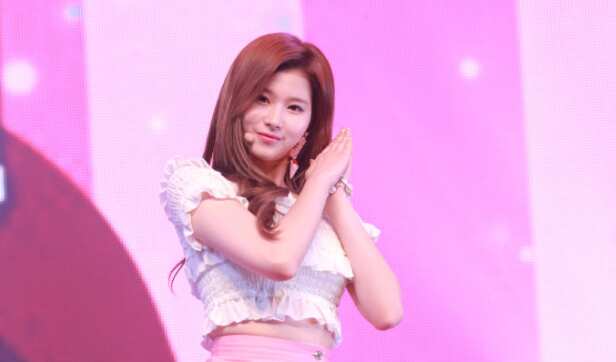 Stage name: Sana (사나)
Position: Vocalist
Representative color: Purple
Birth name: Minatozaki Sana (湊崎 紗夏)
Nationality: Japanese
Birthday: December 29, 1996
Birthplace: Tennōji-ku, Osaka, Japan.
Zodiac sign: Capricorn
Height: 168 cm (5'6")
Weight: 48 kg (106 lbs)
Blood type: B
Favorite color: Purple, white, black, pink, and beige
Favorite number: 12
Hobbies: Collecting body mists and perfumes
Trivia
Despite liking the color purple, she does not like purple clothing. Additionally, she does not like eggplants and beans.
She is good at calligraphy, a skill she learned in primary school.
She has an allergy to pollen and has anemia. She also fears the sound of thunder.
She is fluent in English, Korean and Japanese.
6. Mina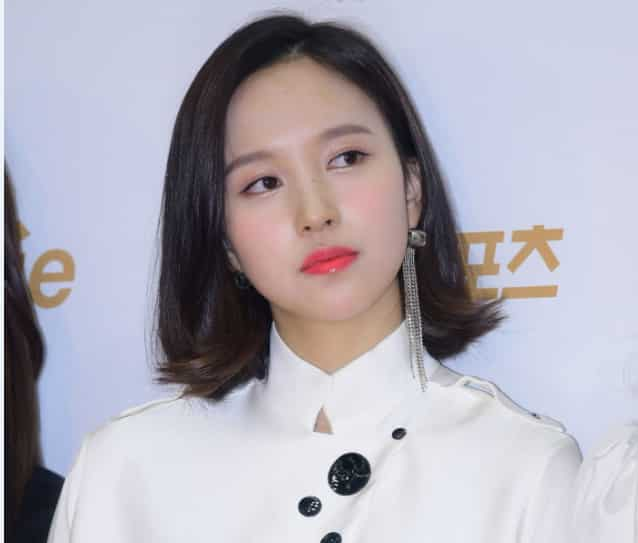 Stage name: Mina (미나)
Position: Vocalist and main dancer
Representative color: Mint
Birth name: Myoui Mina (名井 南)
English name: Sharon
Nationality: Japanese-American
Birthday: March 24, 1997
Birthplace: San Antonio, Texas, United States
Zodiac sign: Aries
Height: 163 cm (5'4")
Weight: 46 kg (101 lbs)
Blood type: A
Favorite number: 37
Hobbies: shopping and looking up restaurants
Family: one brother
Trivia
While she was born in the US to Japanese parents, she moved to Japan while she was a toddler.
Among the members of the group, she had the shortest training period. She auditioned for JYP in Japan and joined the training a year before their debut.
She is the only member who cannot do aegyo (cute display of affection)
While it does not show, she is a really quiet person in public.
7. Dahyun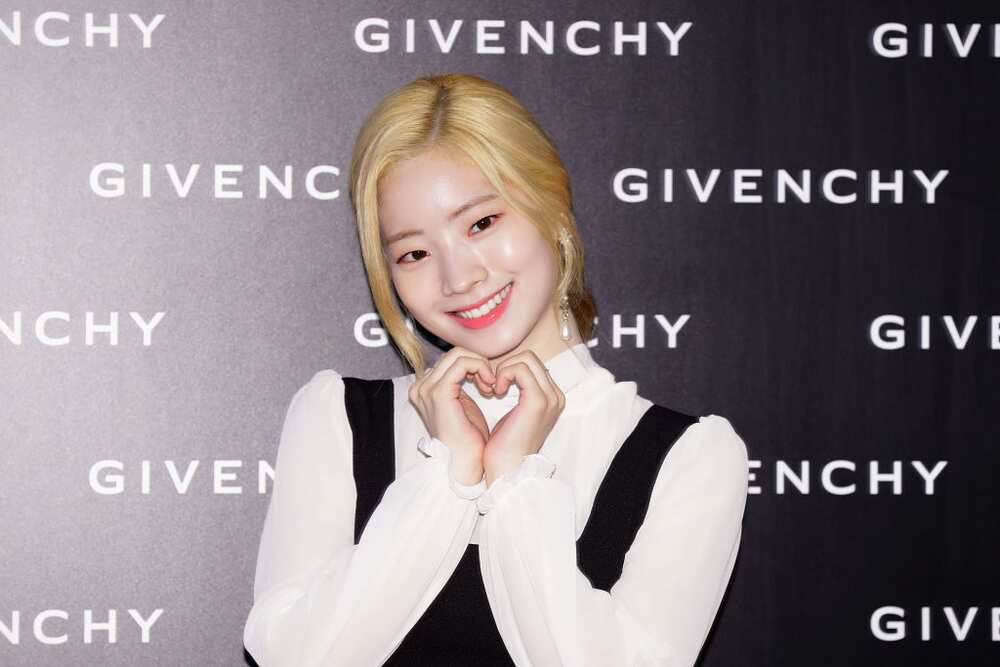 Stage name: Dahyun (다현)
Position: Vocalist and lead rapper
Representative colour: White
Birth name: Kim Da Hyun (김다현)
Nationality: Korean
Birthday: May 28, 1998
Birthplace: Seongnam, Gyeonggi-do, South Korea.
Zodiac sign: Gemini
Height: 165 cm (5'5")
Weight: 48.9 kg (108 lbs)
Blood type: O
Favourite number: 7
Favourite food: Chocolate milk and all sorts of milk
Family: one brother
Trivia
Her solo performance in a youth dance festival during middle school got her scouted by JYP. She then auditioned and got accepted for SM, JYP and YG, however she chose JYP.
During the reality show Sixteen she was the most popular contestant.
She is scared of most animals, like dogs and cats.
Because of her white skin, she is given the nickname 'Tofu'.
8. Chaeyoung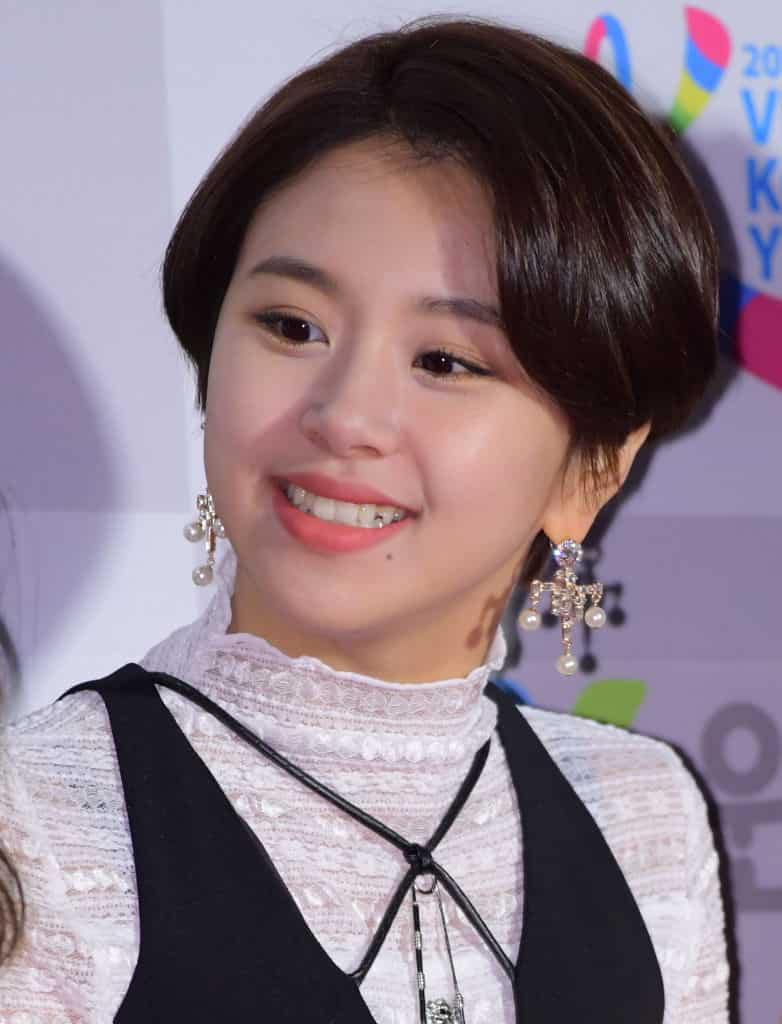 Stage name: Chaeyoung (채영)
Position: Vocalist and main rapper
Representative color: Red
Birth name: Son Chae Young (손채영)
Nationality: Korean
Birthday: April 23, 1999
Birthplace: Seoul, South Korea.
Zodiac sign: Taurus
Height: 163 cm (5'4")
Weight: 48 kg (106 lbs)
Blood type: B
Favorite number: 29
Favorite food: Healthy foods, like vegetables
Hobbies: Drawing
Family: one brother
Trivia
Her love for healthy foods is attributed to growing up with her grandmother. Despite this, she does not like beans.
Along with Tzuyu, she often sings PPAP (Pen – Pineapple – Apple – Pen Song).
She is also good at making weird sounds like duck quacks and window wiping.
She is close to BLACKPINK member Chaeyung (Rose).
9. Tzuyu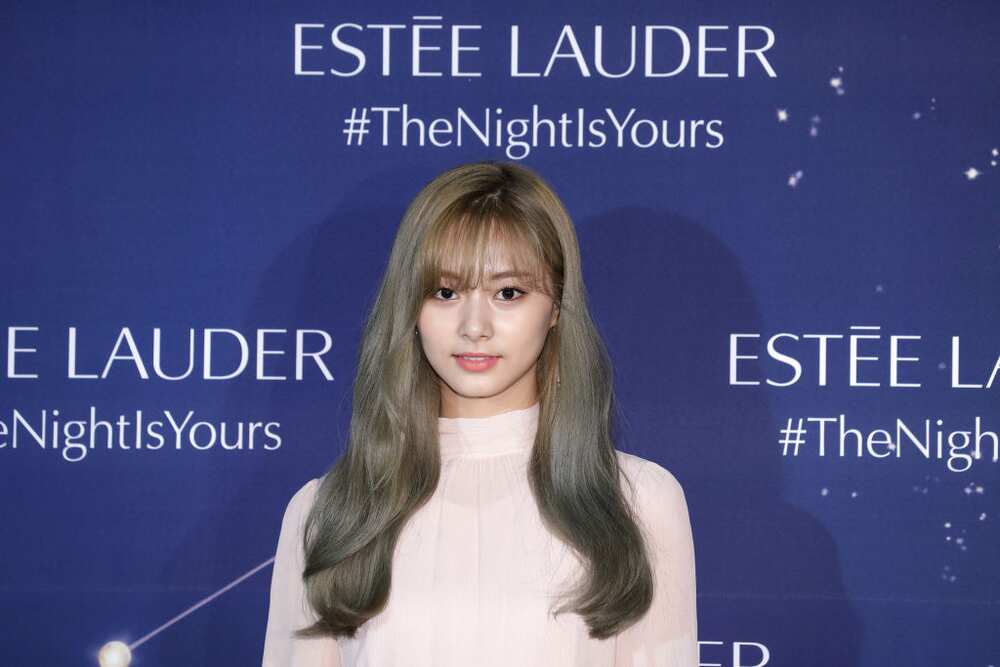 Stage name: Tzuyu (쯔위)
Position: Lead dancer, visual, vocalist, and Maknae (Youngest member)
Representative color: Blue
Birth name: Chou Tzuyu (周子瑜)
Korean name: Chou Tzu Yu (저우쯔위/주자유)
English name: Sally
Nationality: Taiwanese
Birthday: June 14, 1999
Birthplace: Tainan, Taiwan.
Zodiac sign: Gemini
Tzuyu height: 170 cm (5'7")
Weight: 48 kg (106 lbs)
Blood type: A
Favorite number: 25
Favorite foods: Tonkatsu and Kimbap
Family: one brother
Trivia
JYP Entertainment discovered her in Taiwan at a MUSE Performing Arts Workshop in 2012. She then moved to South Korea afterwards to start training.
She is into the movie franchise "Star Wars", specifically the character Yoda. She can mimic the character's unique voice and speaking habits so much that she is called "Yoda" by others.
Aside from Yoda, she is also nicknamed "Chewy" (from Chewbacca of Star Wars) and Chocolate (because of her skin tone).
Her family owns a dog named Gucci, which was named after the famous brand.
Twice members boyfriends and ideal types
As of October 20, 2018, the dating ban on the girl group Twice was lifted. This means that the girls are allowed to date, if they want to do so.
Jihyo, the group's leader, is confirmed to be dating former Wanna One member and Korean solo artist Kang Daniel. According to Koreaherald.com, their relationship is acknowledged by JYP Entertainment and Kang's agency, Konnect Entertainment. Meeting through an undisclosed senior in the industry, the couple has been seeing each other since early 2019, with Kang's residence in central Seoul being their meeting place.
Another member, Momo, is rumored to be seeing Kim Heechul of the K-pop group Super Junior for some time. However, both JYP and SM Entertainment, the agency of Super Junior, has denied the romantic relationship, stating that what they have is a close senior-junior friendship.
Regarding their ideal type of partner, each member has their own image of a partner:
Jihyo is looking for someone who she can be most comfortable with, and a person she can show her true self to.
While Nayeon does not have an ideal person, she prefers someone who can handle technology quite well. She also wants someone trustworthy, dependable, and who can take care of her.
For Jeongyeon, her ideal type is someone who is funny to amuse her, as well as a person who makes her feel comfortable.
An ideal type for Momo is someone who eats well, but not overweight. She also wants someone who enjoys her favorite dish, Jokbal.
A professional, hardworking person is Sana's ideal type. She also wants someone who will treat her parents well.
Being decisive is important for Mina, seeing someone who can lead her as an ideal type. Apart from this, she also likes someone who is well-mannered, kind, and playful.
Dahyun has a lot of qualities in mind for an ideal type, but what stands out are dependability (like a father) and being nice to parents.
For Chaeyoung, she sees someone who takes care of her and loves her a lot as her ideal type. She also likes someone who dresses well.
As for Tzuyu, her ideal type is a person who understands the importance of filial piety, someone who loves her more and can approach her first. Liking puppies is also important.
Twice members religion and ethnicity
Out of the nine members of Twice, only four of them have opened up about their religions. Nayeon and Dahyun are Protestants, while Chaeyoung and Mina are both Roman Catholic. The other five have not disclosed their religions.
Unlike most K-pop groups, Twice members ethnicity is mixed. Jihyo, Nayeon, Jeongyeon, Dahyun, and Chaeyoung are Korean; Sana and Momo are Japanese; Mina is American-Japanese, and Tzuyu is Taiwanese.
Twice members latest news
In the latest news, the music band confirmed that it would be making its long-awaited return in June 2021. As of April 2021, the popular girl group was filming a music video on Jeju Island. They are doing this in preparation for their comeback.
The upcoming comeback is set to include all nine members of TWICE. The project will also be the group's first domestic release of 2021. Before the comeback, Twice is set to release a new Japanese-language single album titled Kura Kura. The release date is set to be 12th May 2021.
There we have it, a complete rundown of Twice members profile, detailing their ages, real names, and religions. For avid fans of the group, these details will surely make you appreciate them more.
READ ALSO: SNSD members profile: name, age, position, religion, height
Kami.com.ph shared an article on SNSD members profiles, names, ages, positions, religions, and heights. Girls' Generation (SNSD) was an eight-piece group comprising highly talented ladies. SM Entertainment formed the group in 2007. Unfortunately, it was disbanded ten years later. Even after being separated, SNSD members have remained relevant in the showbiz scene.
The SNSD members are adored in Korea and Japan and globally because of their outstanding performances and phenomenal success. The all-girl group has transformed into young women taking over the world through dancing, singing, and acting with 100% satisfaction to its fans.
Source: KAMI.com.gh