Mikee Quintos bio: Age, parents, photos, real name, Instagram
Mikee Quintos is a popular Filipino actress and musician whose fame is mostly due to her work in TV series such as Tadhana, Alyas Robin Hood, Encantadia, and Mulawin vs Ravena. Currently, many of her fans associate her with the name Mia which is the leading character in the ongoing adventure-packed fantasy TV series Sirkus. Although known more for her acting, she is also a very talented singer whose captivating voice and melodies warms the hearts of many.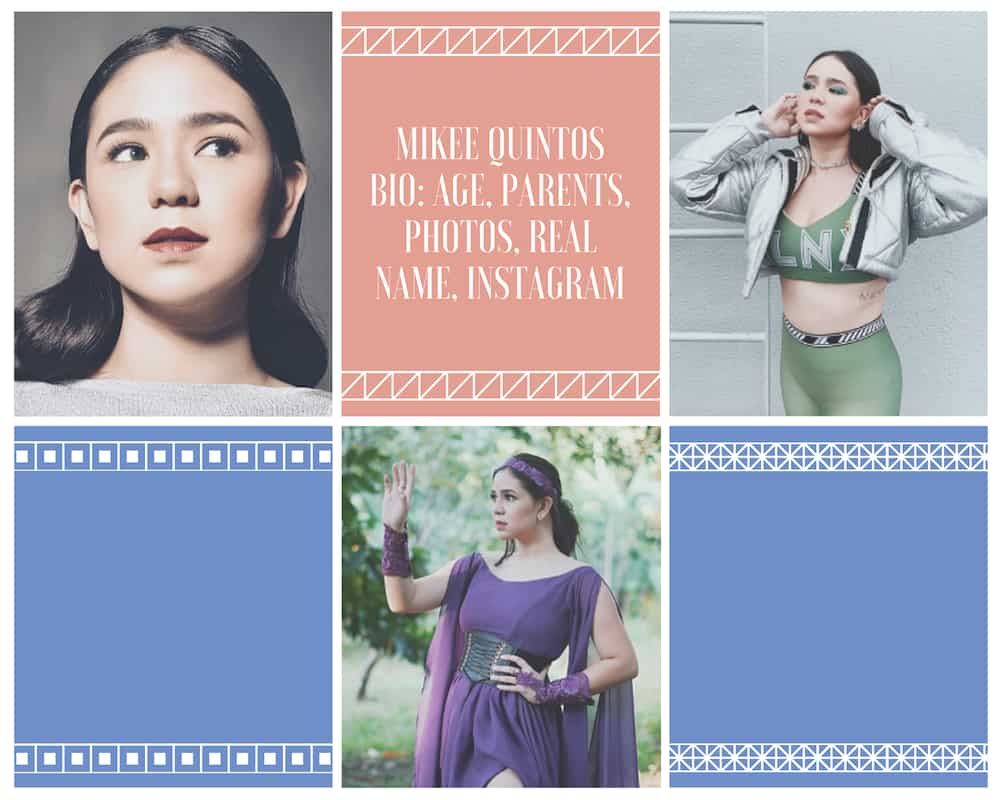 The Filipino star has become a household name in the Philippines and beyond but the first time she shot into the limelight was with her award-winning role as Lira AKA Milagros in Encantadia. Fans love how Mikee Quintos and Kate Valdez act with intensity whenever they are cast together. Mikaela Marie Javier Quintos AKA Mikee Quintos is also beautiful, but her talent and determination are what got her to where she is today. She does come from a wealthy family, but she is yet to show interest in politics as her parents.
Mikee Quintos profile summary
Nickname: Mikee Quintos
Real name: Mikaela Marie Javier Quintos
Mikee Quintos birthday: 18 December, 1997
Place of birth: Sampaloc, Metro Manila, Philippines
Mikee Quintos age: 22 years old
Birth sign: Sagittarius
Occupation: Actress, singer, model
Biography
Mikee Quintos was born Mikaela Marie Javier Quintos on 18 December 1997 in Sampaloc, Manila, Philippines.
Mikee first shot into fame is when she was seven years old a time when she was publicly singing for her parents' political campaign. She has three sisters named Loisa, Denise, and Jodee. She is pursuing architecture at the University of the Santo Tomas.
Mikee Quintos parents
Mikee Quintos family is famous in the country. This is because both her father, Mr. Eduardo Quintos XIV, and her mother, Mrs. Jocelyn J. Quintos, are politicians.
Mikee Quintos real name
Mikee Quintos is the name most people know, but it is not the birth name of the celebrity. Mikee is just but a short form of her name Mikaela. She was born Mikaela Marie Javier Quintos. Mikaela is her first name, while Quintos is her family name. Marie Javier is her other name, meaning she has four titles.
Body measurements
When it comes to Mikee Quinto's height, she is considerably short. She is 5 feet 2 inches tall which is 1.57 meters. Her weight is 52 kg (115 lbs). Her body measurement ratio is 32B-26-34. This means her waist is 26 inches wide and hips 34 inches. She further has dark brown hair and dark brown eyes.
READ ALSO: Jin BTS bio: net worth, family, age, real name, Instagram
Mikee Quintos Instagram
Mikee Marie is a popular person when it comes to Instagram. Her official Instagram account has over 1.1 million followers. Most of her fans comment on her photos to show their love and appreciation. Mikee, in turn, ensures that she posts photos regularly to keep her fans updated in all activities she engages in.
Photos
Whether she is in the gym or on the beach, Mikee knows that her fans are always eager to see her in pictures. As a result, she has made sure that she catches the most captivating moments of her life in photos and shares them on social media. Some of the best Mikee Quintos photos include:
1. Random shoot
Being as famous as she is means she has to be ready for photos at all times. There will be people interested in following her every move because she is a daughter of politicians while others will focus more on her because she is an actress.
In this photo, she had just come from a workout and then had to pose for a photo. It was a late-night workout probably because her busy schedule cannot allow her to do it during the day. All the same, she has to keep fit not just for her health but also to maintain her appearance to fans.
2. Staying safe
Being a public figure comes with a huge responsibility, and Mikee Marie is aware of that. She is a role model, and as such, she must always lead by example. In this time of the Covid19 pandemic, celebrities have been very critical in communicating safety measures and passing messages of hope.
The best way to influence people to adhere to the safety measures is by celebrities practising those measures themselves. Here she can be seen social distancing and wearing a face mask as protection to avoid being infected by the virus.
3. Influencer
There is no doubt that Mikee Marie is an Instagram star with her more than a million followers. This means she can influence her followers to go for certain products she endorses. That is why many brands are very eager to have her endorse their products as a marketing strategy.
For instance, when she displays the shampoo she is using in this picture, many of her fans will buy the same shampoo, and therefore the marketing strategy will have worked. The good thing is that she can be paid to do that while she enjoys free products.
4. Playtime
All work with no play can make Marie a dull girl. To avoid that she makes time for herself to engage in several leisure activities. We do know that she loves workout but other than that she is also a traveling fanatic. The beach is one of the places she frequents to have fun. In this photo, she was in Balesin Island, and she had the company too.
5. Sexy Marie
Marie Quintos is blessed in abundance. She has good looks and a lovely body. This is why she is never afraid to show off her body in a bik*ni. Given that she is single, many men must be having sleepless nights devising ways of how they can get a chance to date her. Of course, when it comes to love, patience is an essential thing, and Marie is taking her time before she can pick the person to spend the rest of her life with.
Born into a family of politicians Mikee Quintos took an unexpected turn when she decided to be an actress and singer. Her parents must have known that this day was going to come, and that is why they encouraged her to continue singing from a very young age. She has since grown into a beautiful adult famous throughout the Philippines for her acting and music.
READ ALSO: RM BTS bio: net worth, real name, age, Instagram, photos
Source: Kami.com.ph