Huawei P40 Pro details, specs, review, price, camera
Huawei's flagship-level phone Huawei P40 Pro shows how the Chinese phone manufacturing company can get along without access to Google Play Store and Google app suites and services. The phone comes with admirable features that will give you the value of your money. Well, do the phones have a future without Google?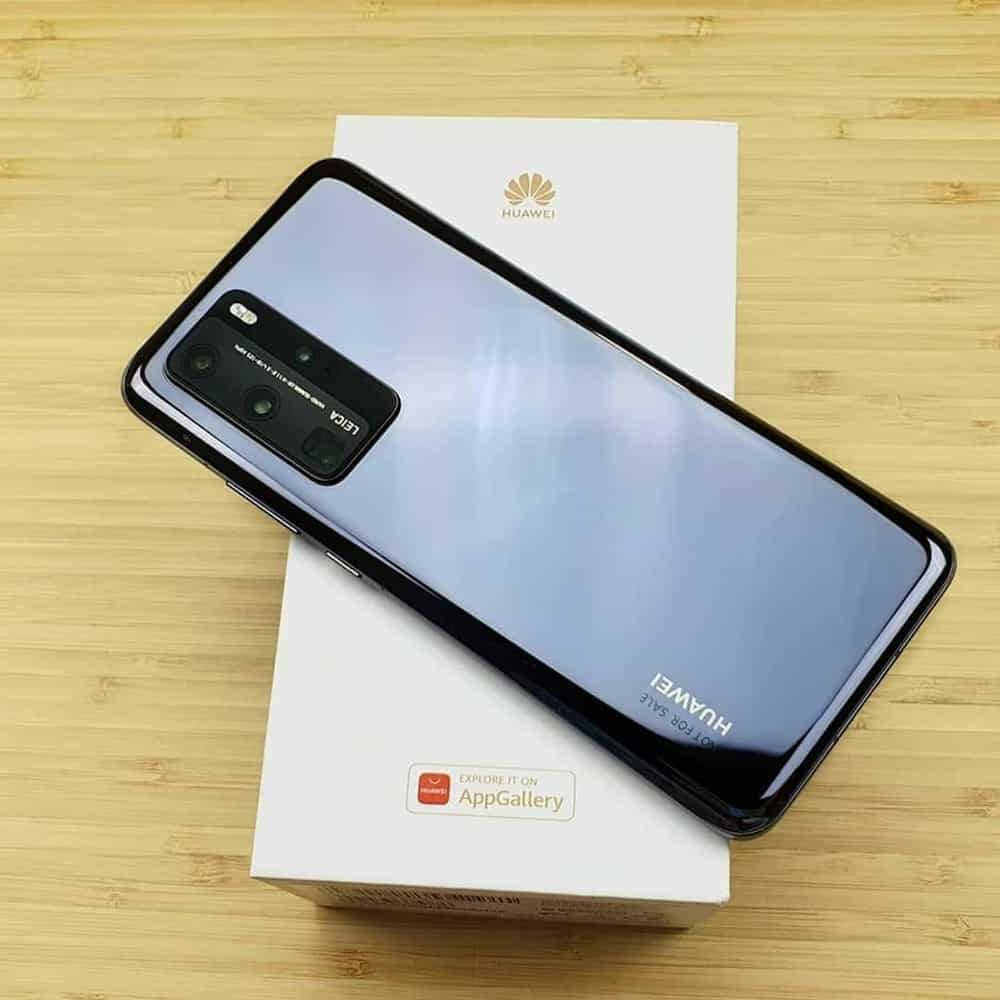 Huawei P40 Pro is the latest high-end smartphone by the company. It has the new HiSilicon Kirin 990 5G chipset and a 6.58-inch OLED capacitive touchscreen. It has hit the market with a bang! And it is the gadget most phone lovers are going for. The price of Huawei P40 Pro in the Philippines is between P50,000 to P62,661.15.
Huawei P40 Pro overview
With less than a year into the market, Huawei P40 Pro continues to attract the attention of many people across the globe. Its advanced cameras, massive storage capacity, and a RAM of 8GB are the envy of numerous phone manufacturing companies all over. However, before we go further, there are pros and cons of this particular gadget that you should know.
The good
The advantages of this particular phones are as follows.
It has a beautiful and refined design.
Its cameras are superb and flexible.
It possesses an excellent high-res 90Hz OLED screen.
Its battery life is excellent.
It has all-round connectivity.
The quality of its videos is excellent.
The bad
The phone has a few shortcomings as well.
It only takes NV cards for memory expansion.
It cannot access Google Play services.
The EMUI is not the best.
50x zoom shots are barely usable.
Huawei P40 Pro specs
Release date: April 8th, 2020
Screen size: 6.58 inches
Screen display: OLED capacitive touchscreen
Screen resolution: 1200 x 2640 pixels (441 PPI)
Body material: Glass front, glass back, aluminium frame
Operating system: Android 10.0 (AOSP + HMS)
Memory: 128GB 8GB RAM, 256GB 8GB RAM, 512GB 8GB RAM
Expandable memory: MicroSD of up to 256GB
Rear camera: 50 megapixels + 12 megapixels + 40 megapixels
Front camera: 32 megapixels
Battery: Non-removable 4200 mAh Li-Po battery
Processor: HiSilicon Kirin 990 5G
Dimension: 158.2 mm x 72.6 mm x 9 mm
Weight: 209 grams
Connectivity: Wi-Fi 802.11, USB - C, Bluetooth 5.1, and A - GPS
Network: 2G + 3G + 4G + 5G
Sensor: Infrared face recognition, fingerprint (under display, optical), accelerometer, gyro, proximity, compass, color spectrum
Color varieties: Silver frost, blush gold, deep-sea blue, ice white, black
Model: ELS-NX9, ELS-N04, ELS-AN00, ELS-TN00
READ ALSO: Samsung Galaxy S10 specs, review, camera, details
Hardware
Huawei P40 Pro's beautiful design, attractive screen display, processor, and performance are out of this world. Some of the excellent features you expect to find on this particular phone are as follows.
Design
The phone has a weight of 209 grams and a dimension of 158.2 mm x 72.6 mm x 9 mm. It is, therefore, light and easy to carry around in hand. The frame is made up of aluminum, while the front and back are made of glass.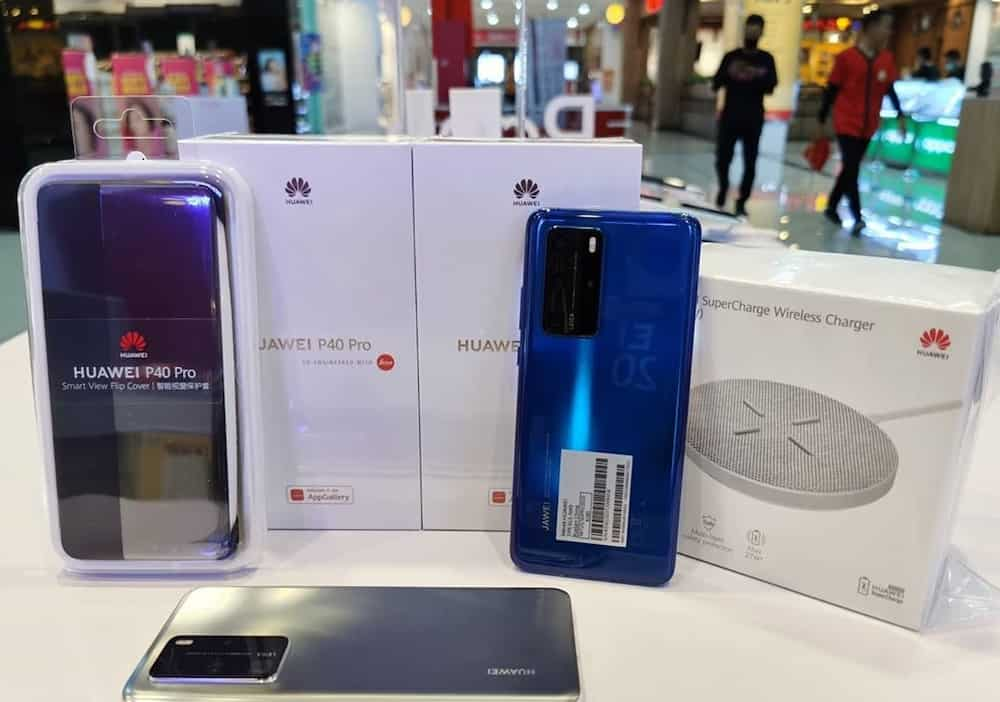 It has curved edges flowing from the rear panel and screen. This modification reduces fatigue on the palm while holding the phone for an extended period.
The screen is engineered to resemble surface tension on water. From the appearance, it seems like the water is threatening to flow over but does not break the surface.
When you take a tour around the edges of this particular phone, you will find an IR and microphone at the top. The power button and volume rocker at the right side, while the external speaker grille, SIM tray, and USB-C port are located on the bottom.
It comes in arrange of admirable colors that you will be spoiled for choice. Huawei P40 Pro colors are silver frost, blush gold, deep-sea blue, ice white, and black colors.
Display
The phone has a 6.58-inch OLED screen with a resolution of 1200 x 2640 pixels and a refresh rate of 90Hz. The refresh rate can be turned down to 60Hz, and the resolution switched to or set to 1760 x 800 pixels. These options are great as they can help you save battery life.
The display houses a fingerprint scanner underneath the glass. It is bigger and has been improved compared to the previous version. It is also brighter enough to turn your finger red while putting a digit on the sensor.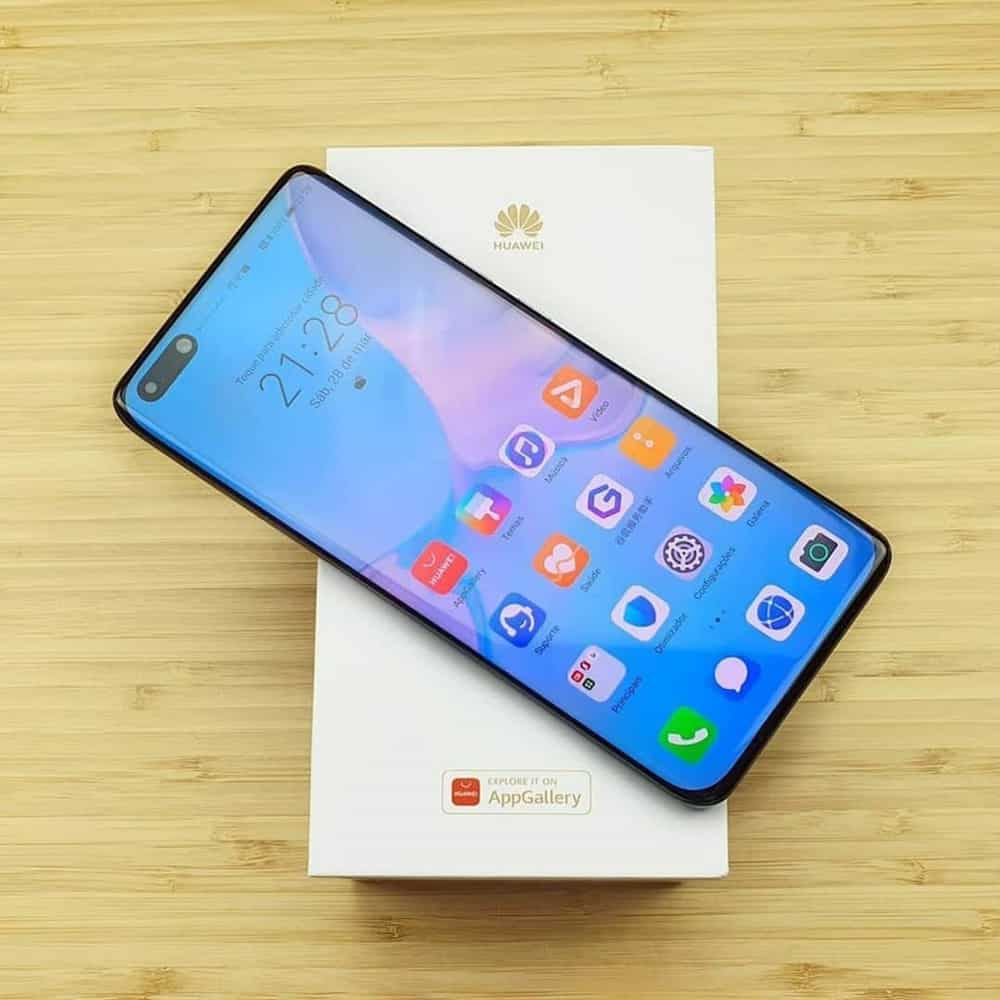 The phone has a notch too, which is quite significant because it has several tech nestling behind it. It is the only Huawei phone whose groove is a lozenge-shaped in the top left corner.
Processor, storage, and performance
The phone has a HiSilicon Kirin 990 5G chipset. The processor is high-speed and capable of running numerous applications without hesitation. The 5G element is integrated into the chipset, which adds a layer of future-proofing. It also supports 4G, 3G, and 2G.
It has a RAM of 8GB, and the ROM varies depending on the handset. Some have 128GB, 256GB and 512GB. The RAM is robust and can support large applications without lagging. It also offers a nice gaming experience.
Storage-wise, it has enough space where you can store files, audios, and videos. It can as well be expanded using the Huawei's nano memory cards, which is a proprietary equivalent to a microSD card.
READ ALSO: Google suspends Huawei from using Android and other Google apps after Trump's blacklist
Huawei P40 Pro battery
Huawei P40 Pro battery is not very larger. It comes with a non-removable 4200 mAh Li-Po battery. The battery is capable of charging fast, wireless charging as well as reverse charging.
P40 Pro can fast charge up to 40W, unlike the P30 Pro. You can also reverse charge with the P40 Pro if you want to share power with a friend or charge up a compatible accessory.
Speaker and call quality
The phone has a single loudspeaker firing down from the bottom. It is loud and clear. However, it lacks a low-frequency thump. Nonetheless, the calls are clear, with the provisions to increase or lower depending on your desire.
Software
This new Huawei smartphone presents peculiar software features that take the competition to a whole new level. Have a look at some of these exciting features.
Operating system and features
The device runs EMUI 10.1 on Android 10.0. The Huawei P40 Pro Android does not have Google Play Services, Google Play Store, and Google apps.
The EMUI is a bit like Marmite, and some people will hate it, whereas some will love it. Like many other Chinese phone manufacturing companies, some parts of the OS are aping the iOS, for example, the weather app.
Huawei's AppGallery has replaced the Google Play Store. This is rather unfortunate for the lovers of Twitter, Instagram, and YouTube as they are unavailable on this phone.
Huawei P40 Pro camera, video, and image quality
This phone was designed for photography. The rear sensors are positioned in a rectangular bump on the left side of the phone. They include a 50MP primary camera with Huawei's unique RYYB sensor, a 12MP 5x optical telephoto zoom (maxing out at 50x), a 40MP ultra-wide camera and a time-of-flight sensor to enhance the other three cameras with depth-accurate photo effects.
It also has a 32MP selfie camera. This is similar to the one on P30 Pro. However, it has an extra time-of-flight sensor which serves two purposes. To improve the photo effects and for the facial recognition mechanism.
Huawei P40 Pro review
Several users have had a lot to say about this particular smartphone. Below are some of the sampled comments from YouTube.
Mikyosie17: Finally, Huawei is starting to mature in its software and applications. It is still not as developed as Google's, but Huawei has a great future without Google.
Anonymous: Why does no one complain about these ridiculous punch hole screens? It doesn't get worse than this unit. All of this year's phones are ruined. I'm glad to have the OnePlus 7 Pro, which I will hold onto.
Flamboyant: Huawei P40 Pro is the only thing I can buy right now. Great innovation out there, and it is the phone am buying next.
Widhi: The screen-rounded corners bother me a lot. It doesn't align with the phone's edges making it look like a botched software rounded corners. At around 1:32, it doesn't even align with the curved glass reflection. Maybe it looks better in person.
How much is Huawei P40 Pro worth in the Philippines?
Huawei P40 Pro price in the Philippines ranges from P50,000 to P62,661.15, depending on where you purchase the device. The phone is available in the following shops Greenhills Shopping Center, Lazada, LazMall, Shopee, and GearBest.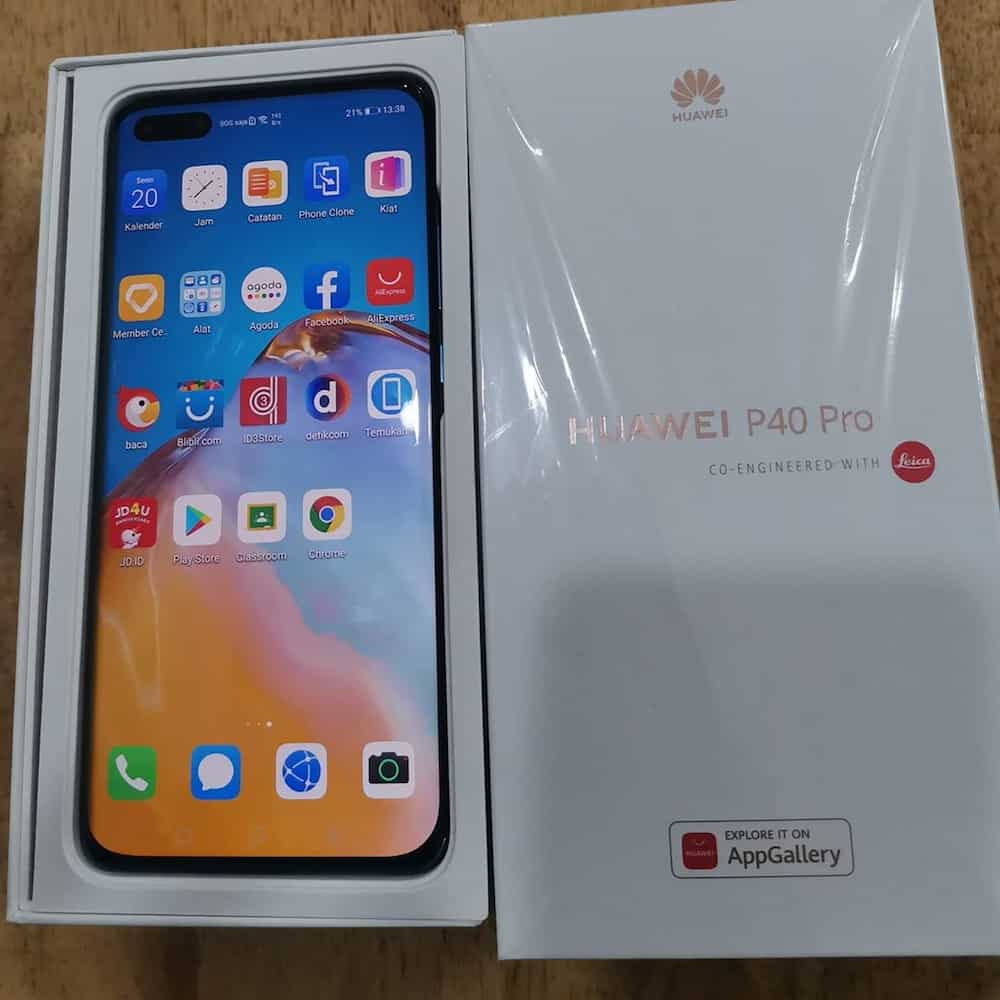 Huawei P40 Pro accessories
If you open the Huawei P40 Pro box, you will get the phone itself, as well as a transparent case, charging cable and plug. A pair of wired earbuds are also present.
Verdict
This is a fascinating smartphone considering most of its features. Some of the Huawei P40 Pro details and specifications are all you might need to use a phone maximally. It has superb cameras, large RAM, and storage capacity. Despite missing out on google features such as Twitter, YouTube, and Instagram, it is certainly a phone worth purchasing.
Huawei P40 Pro is the latest phone by the Chinese phone manufacturer that has got everyone talking. The gadget is well equipped with cutting edge technology, which has given other phone manufacturers a run for their money. It is an indicator that Huawei is going for the top, and nothing will stop them.
READ ALSO: Converge Internet review, plans, contact, how to apply
Source: KAMI.com.gh