Eastern Telecom contact, internet package, branches, and rates
You can opt to visit the Eastern Telecom website for details on how to get a reliable internet connection. Anyway, there is also the option of just calling their company customer care representative who will explain the available packages. After all, it is much easier to get all the details you want via a call than submitting a quote and have subsequent email correspondences.
The company now goes by the name Eastern Communications (EA) and offers a wide range of connectivity services, which includes managed services, voice, data, and internet. EA is certified, offers unparalleled services, and top-notch products. This piece outlines EA's contact and branches' information, lists the available internet packages, and rates.
Eastern Telecom internet plans
Available plans are in packages of internet only, internet and telephone, and fiber. The names of the packages are EVO Air, EVOLEC Air, and EVO fiber, respectively.
1. EVO Air
This plan has four packages for you to choose. Any of the packages requires Php 1,000 installation fee, has a Wi-Fi modem, and runs for a contract term of 12 months. What differentiates these packages is the bandwidth speed.
Php 1,195 - 4Mbps
Php 1395 - 6Mbps
Php 1595 - 8Mbps
Php 1795 - 10Mbps
2. EVOLEC Air
You also have four packages from which to choose what suits you best. The main difference between these packages and previous ones is in what they offer. EVOLEC comes with both internet and telephone. Picking any of the packages needs one to pay an installation fee of Php 1,000 and they get a free Telset and Wi-Fi modem. Each of the contracts runs for 12 months.
Php 1295 - 4Mbps
Php 1495 - 6Mbps
Php 1695 - 8Mbps
Php 1895 - 10Mbps
3. EVO fiber
Data transmission under this plan falls under bandwidth plans that range between 5Mbps and 20Mbps.
When coming up with any of the Eastern Telecom internet package, it is clear that the client is the main focus. It is easy to get connected and start enjoying a reliable internet connection.
READ ALSO: Holy Angel University courses, address, entrance, fees
Eastern Telecom Philippines contact number
It is easy to get in touch with this company to ask questions or submit your inquiries. Here are the Eastern Telecom hotline numbers.
Phone: +63 2 5300 7000 (Corporate Service Access), +63 2 5300 1000 (Consumer Service Access), +63 2 5300 1111 (Facsimile)
Each of the Eastern Telecom contact number provided above works depending on what you need. On the other end of your call there is always a ready Eastern Telecom customer service representative to assist you.
Eastern Telecom branches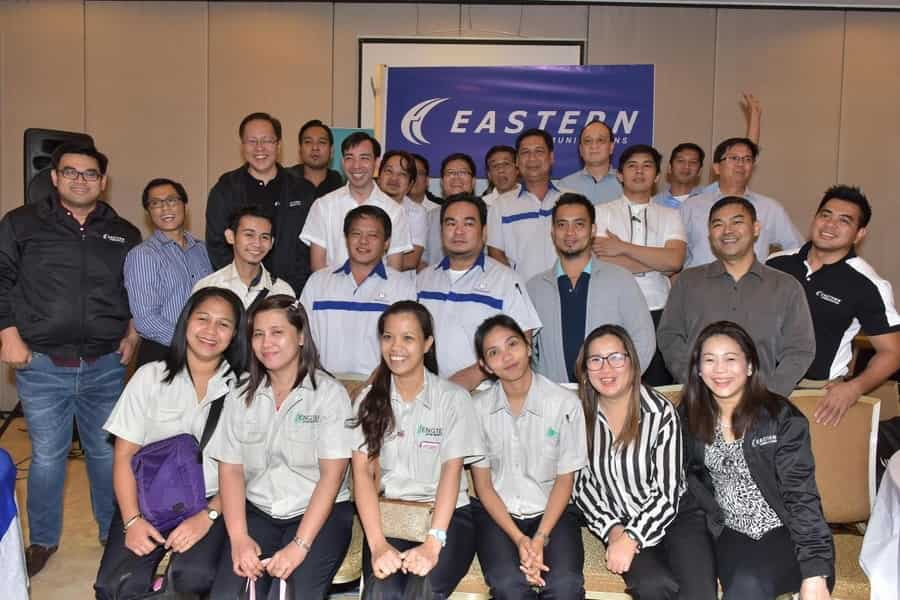 This company has four branches from where it offers its services. Here are the branch locations.
Metro Manila
Metro Cebu
South Luzon
North Luzon
Eastern Telecom address
Customers also have the option of visiting the physical offices of the company. If you prefer so, here is the address.
Telecom Plaza
Ground Floor
316 Sen. Gil Puyat Ave.,
Salcedo Village Makati City 1200
Other contact details
Besides their phone number contacts and physical address details, you may want to communicate with this company using other channels. You can do so via email or social media. Here are the details.
Since you have all the contact information, it is easy to ask about specific Eastern Telecom rates for an internet plan of your interest.
After you pull through with your inquiry and finally get connected, you might want to change the login details of the modem or router. The Eastern Telecom change password steps are simple.
Connect your computer to the network via an ethernet cable
Type the router's IP address on your browser
Input the username and password
After logging into the router's admin dashboard, change the logins as you desire
Note: You can the IP address, username, and password details of the router at the back of your router.
READ ALSO: University of the East: admission, contact number, courses, fees
The success of a telecommunications company like this depends on many factors. Two of the factors are service delivery and the management. Under the leadership of the Eastern Telecom owner San Miguel Corp, things are flowing. You will have to go through tons of positive feedback before getting a contrary Eastern Telecom review. At the same time, the Eastern Telecom salary for each looks decent. The range of salaries is between Php 19,168 and Php 20,886.
To wrap it up, Eastern Telecom is an all-round telecommunication company that caters for both customers and its employees. You have a wide range of internet packages to choose while the company reps are always ready and available to attend to any issue you face. How about you switch to the "Strong Connection"?
READ MORE: Western Union Philippines: rates, fees and step-by-step guide
Source: KAMI.com.gh