Pia Cayetano bio: family, husband, net worth, age, latest news
Time and again, women in the political arena have proven that there is no limit to what they can achieve. Senator Pia Cayetano has stood tall in advocating for health and women rights.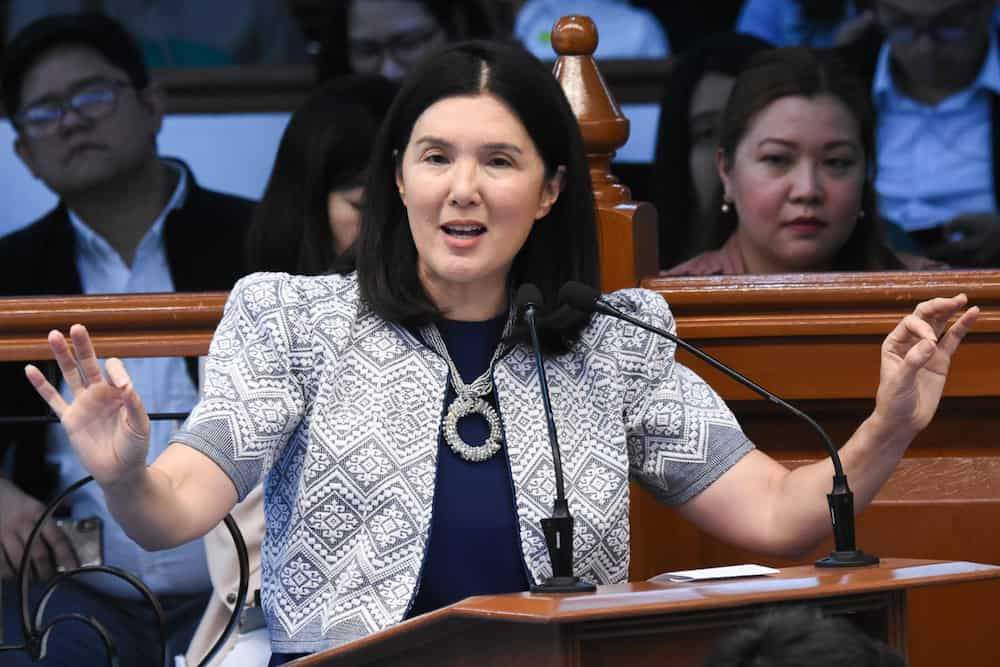 Pia is a Filipino-American lawyer and the youngest elected senator. She was first elected to the senate in 2004 and re-elected in 2010. Even though she is the youngest woman to be elected to Senate in the entire history of the Philippine, this has not deterred her from being the best.
Pia Cayetano profile summary
Pia Cayetano full name: Pilar Juliana "Pia" Schramm Cayetano
Celebrated name: Pia Cayetano
Date of birth: 22nd March 1966
Place of birth: Michigan, U.S.A
Pia Cayetano age: 54 years
Star sign: Aries
Marital status: Married
Profession: Politician, lawyer, radio personality
Net worth: $1.6 million.
Pia Cayetano biography
Pia was born on 22nd March 1966 as Pilar Juliana Schramm Cayetano to the late Senator Renato Cayetano (father) and the German-American former school tutor Sandra Schramm.
She joined the University of Philippines and undertook a Bachelor of Arts Degree in Economics and graduated in 1985. She then enrolled at the University of the Philippines in Diliman and pursued a Bachelor of Law.
She graduated from the law school in 1991 with an academic distinction, position seven in her class. Cayetano was also a member of the Honor Society, Order of the Purple Feather.
READ ALSO: Imee Marcos bio: Husband, net worth, children, age, Instagram
Pia Cayetano husband
Pia Cayetano is the wife of Ari Ben Sebastian. Unfortunately, the marriage did not last for long and according to Pia; they had been separated for eight years as of 2012. The couple has three lovely children.
Pia Cayetano family
Pia has three siblings. The first one is Alan Peter, who is currently serving as the Secretary of Foreign Affairs. The second is Rene Carl, who is an ex-councillor of the Muntinlupa City and the owner of maxi-collector, a collectable figurine store. Lastly is Lino Edgardo who works as a movie and television director.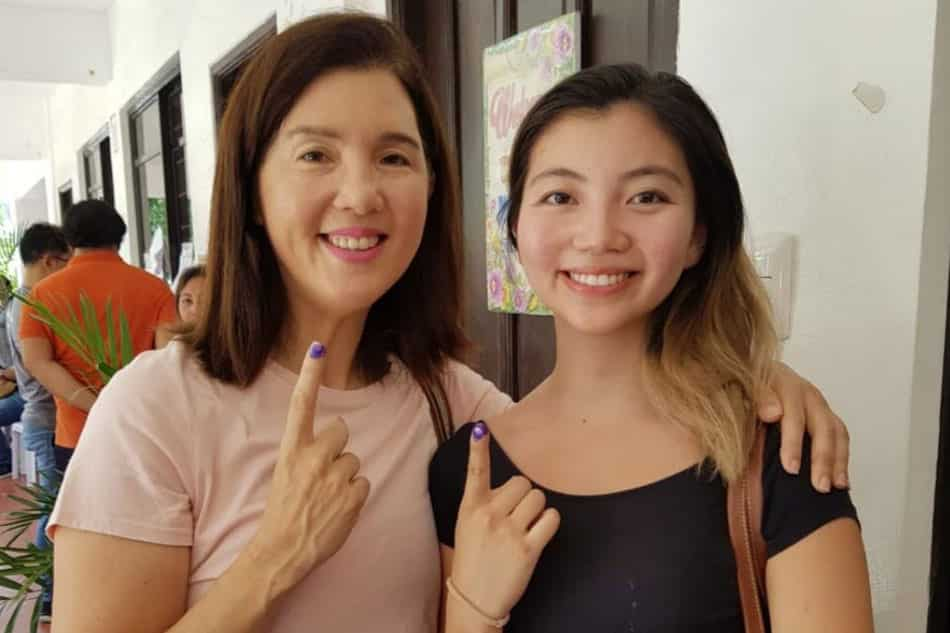 Apart from being a high-profile politician, she is a mother of two daughters. Pia Cayetano daughters are called Nadine and Maxine. She also has a son named Gabriel who passed away in 2001 due to a rare chromosomal ailment. Cayetano is also a foster parent to Rene Lucas.
Career
Here is a breakdown of her career which ranges from governmental services, inter-parliamentary union position, professional and business positions, civic activities to media activities.
Governmental services
Chairperson, Senate Committee on Social Justice, Welfare and Rural Development
Member of the 13th and 14th Congress Philippine Senate
Member of the 15th Congress Philippine Senate
Chairperson, Committee on Health and Demography
Chairperson, Committee on Youth, Women and Family Relations
Chairperson, Joint Congressional Oversight Committee on the Clean Water Act of 2004
Chairperson, Committee on Environment and Natural Resources
Co-Chairperson, Joint Congressional Oversight Committee on the Philippine Clean Water Act of 2004
Co-Chairperson, Joint Congressional Oversight Committee on the Ecological Solid Waste Management Act of 2000
Inter-parliamentary union positions
President, 10th Meeting of Women Parliamentarians 112th Inter-Parliamentary Union Assembly
First Vice President, Coordinating Committee of Women Parliamentarians Inter-Parliamentary Union (IPU)
President, Coordinating Committee of Women Parliamentarians Inter-Parliamentary Union (IPU)
Professional positions
Associate Lawyer, Castillo, Laman Tan, and Pantaleon Law Offices - Specialized in Corporate Law and Intellectual Property Law
Legal and Corporate Affairs, Belle Corporation and its affiliates
General Counsel, PhilWeb Corporation
Founder, Maxi Group of Companies - Retailer and distributor of educational toys, infant apparel and accessories
READ ALSO: Wendy Williams bio: son, husband, net worth, show, latest news
Media activities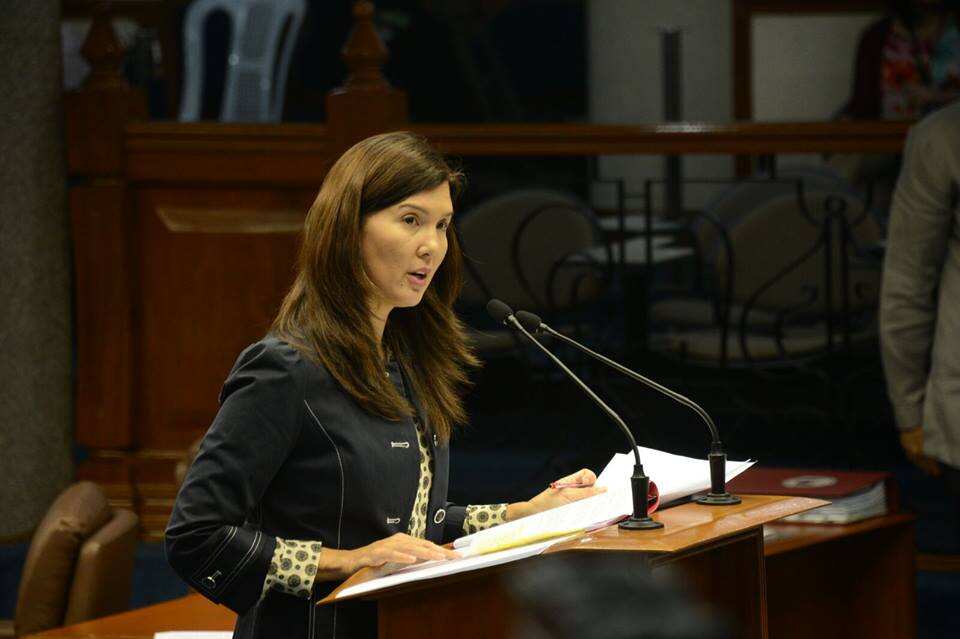 Co-host, Usapang de Kampanilla, DZMM 630khz
Columnist, Compañero y Compañera, People's Tonight
Co-host, Ang Mga Payo ni Compañero, DZMM
Radio host, Compañero y Compañera
Columnist, Baby Magazine and Good Housekeeping
Publisher of booklets and newsletters for mothers
Achievements
A considerable part of Pia Cayetano achievements lies on the charitable organizations and projects she has advocated for in her life. These include:
She is an advocate of sports as a part of the holistic youth development program, disease prevention and the urge to attain healthy and fit lifestyles for all.
She is the founder of Gabriel Symphony Foundation. It was established after the death of her son Gabriel who had been diagnosed with multiple congenital anomalies. The foundation helps kids with life-threatening ailments and disabilities.
She is the founder of Companero Rene Cayetano Foundation which was established in memory of her later father. The foundation helps the underprivileged individuals in different sectors such as education, health and environment.
She is the founder of Pinay in Action (PIA) which supports fitness, health and female empowerment.
She is a member of the Young Entrepreneurs Organization and the spokesperson of the Philippine Cancer Society and the Universal Birth Registration Project.
Pia Cayetano net worth
As per the list of the wealthiest Senators in the Philippines, Pia Cayetano is at position ten with an estimated net worth of P82,308,227.36 which is equivalent to $1.6 million.
Social media
The senator is active on several social media platforms. Here are her handles:
Pia Cayetano latest news
Recently, the senator emphasized the need to grant Filipino president Rodrigo Duterte special authorities in a bid to combat the COVID-19 pandemic. This is what she had to say through a Facebook live message.
To those who are concerned about the special authorities, we will give the President through this bill, let me remind you that we are now in an emergency situation. The government has to have the ability to make decisions fast, including the allocation of P200 billion for the poorest Filipinos, remarked the senator.
Armed with the discipline of an athlete, the training of a lawyer and the heart of a mother, Pia Cayetano has excelled in her political endeavours. With her first selection at such a young age, she is a huge source of inspiration to all women across the world.
READ ALSO: Vanessa Laine Bryant bio: husband, children, age, net worth, pictures
Source: KAMI.com.gh