UMID is a document that Philippine nationals use as a single identification for transactions involving government agencies such as SSS, GSIS, PagIBIG, and PhilHealth. Besides, one can use it as an ATM to withdraw their SSS benefits and loans. While it is an important document, many people still question how to get UMID ID.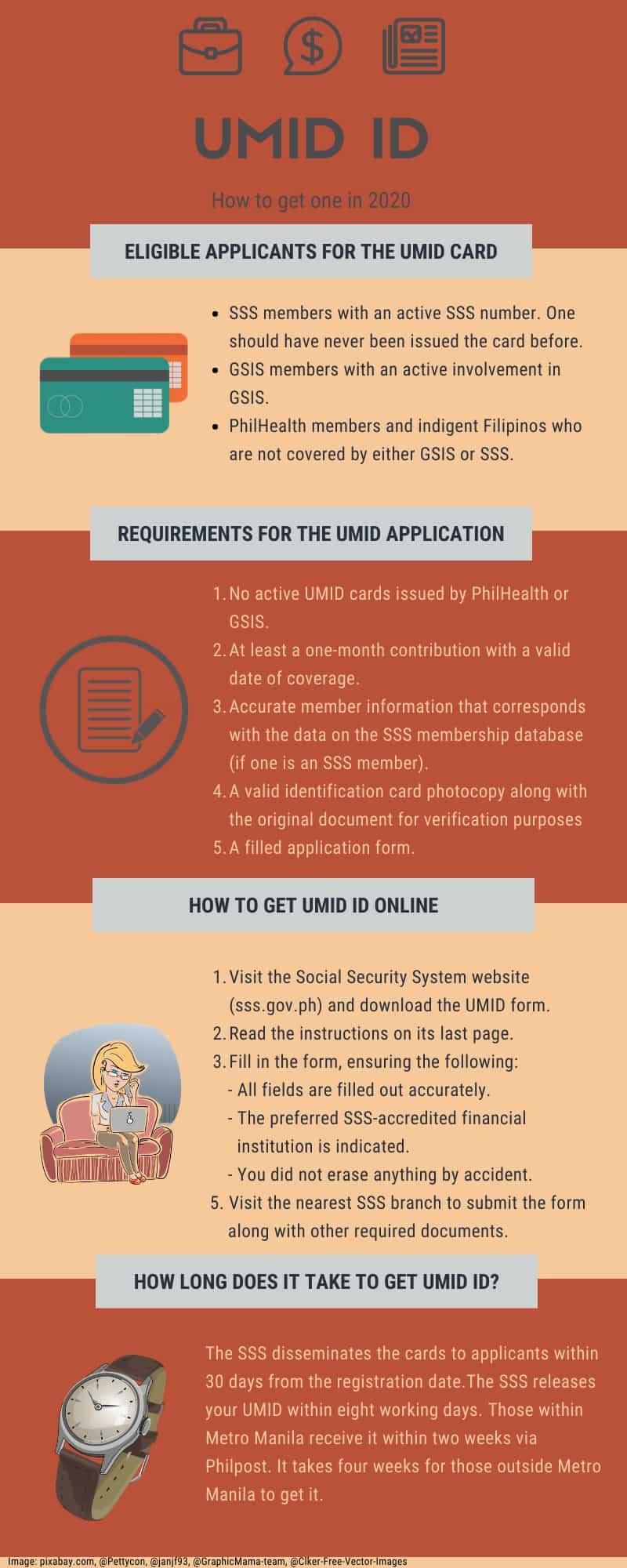 The SSS rolled out the new UMID identification in April 2017. It relies on a contactless smart-chip technology to store the users' SSS information as well as biometrics data such as facial image, signature, and fingerprints. So what is the process involved in getting this identification card?
Eligible applicants for the UMID card
SSS members can apply or register for this document. They are required to have an active SSS number before application can be allowed. Besides, one should have never been issued the card before of an SSS ID. They should also provide a valid date of coverage for the ID.
GSIS members are another group who can apply for the UMID. They can do this from any GSIS office. For this group, active involvement in GSIS is a requirement for qualification to apply.
PhilHealth members and indigent Filipinos who are not covered by either GSIS or SSS can also register for it.
Requirements for the UMID application
To apply, a first-time applicant needs to fulfil these requirements:
They need not have active UMID cards issued by PhilHealth or GSIS.
They should have at least a one-month contribution.
Valid date of coverage.
Applicants are require to provide accurate member information. These details must correspond with the data on the SSS membership database if they are SSS members.
The applicant must produce a valid identification card photocopy. Remember to carry the original document as well, for verification purposes.
A filled application form.
READ ALSO: How to get tin number for unemployed: Explaining in details
How to get UMID ID online
In this digital age, any Filipino can register for this document online. The first step is to visit the Social Security System website (sss.gov.ph) and download the UMID form. Secondly, you should fill the form. However, before filling the form, ensure that you have read the instruction on its last page. Once done, ensure that you have done the following:
Filled out all fields accurately.
Indicated your preferred SSS-accredited financial institution.
Not erased anything
The next step is to visit the nearest SSS branch to submit the form alongside other required documents.
READ ALSO: How to load PayMaya: step by step guide
How long does it take to get UMID ID?
Apart from wondering how to get UMID ID requirements, those intending to apply for this document ponder on how long it will take to get it. The SSS disseminates the cards to applicants within 30 days from the registration date.
The SSS releases your UMID within eight working days. Those within Metro Manila receive it within two weeks via Philpost. It takes four weeks for those outside Metro Manila to get it.
How to get UMID ID in Pag IBIG
The application process for this identification document for Pag IBIG members is the same as that followed by the SSS and GSIS members. The only difference is that Pag IBIG members are required to produce a member's data form as an identification document. This data form can be downloaded from Pag IBIG's website.
How to get UMID ID for first timer
If it is your first time applying for this ID, you need to visit an SSS branch that is close to you. Ensure that it has a UMID data capture facility. Fill the form if you haven't already done so and then present it alongside one of your valid primary IDs.
Once the verification of your has been done, you will be directed to a booth where your biometric information captured. You will need to activate your card at SSS kiosks or an SSS branch on its receipt. Through activation, you will be able to set your UMID card pin code and use it onwards.
How to get UMID ID if lost
If you have misplaced your UMID ID, you will be required to pay a fee of Php 200 for replacement. Besides, you will be required to produce a duly-notarized affidavit of loss before replacement can be done. You will also be required to surrender the old SS ID or UMID.
What you need to remember about the UMID
If you have your answer to the question on how to get UMID ID Philippines, you should keep the following in mind when applying for this document:
There are no charges for applying for the ID.
You have to do the application personally.
Unless activated, this identification document is worthless.
If you have been wondering how to get UMID ID, it is apparent that it is an uncomplicated process. Despite the wait for your card, it can be worth it as soon as you have it in your hands since it is a gateway for access to various government agencies.