Nick Jonas bio: Wife, brothers, net worth, baby, health, photos
Nicholas Jerry Jonas is an American-born songwriter, singer, record producer, and actor. The Teen Icon in America is popularly known by his nickname, Nick Jonas.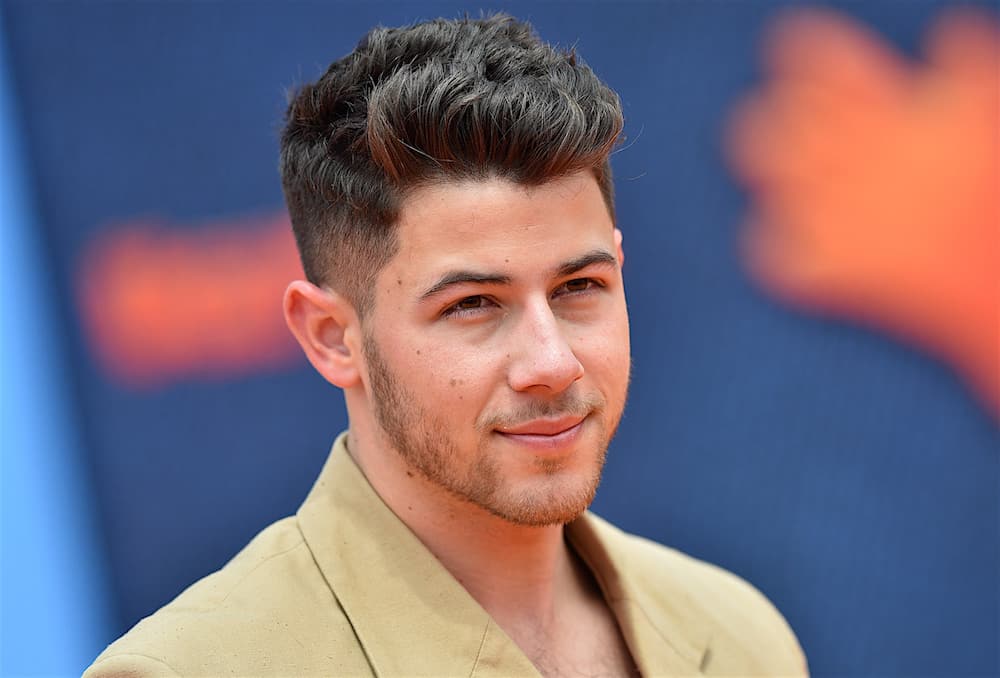 Nick Jonas started his acting career at the tender age of seven years and released his debut single in 2002. He is a widely known celebrity in India for marrying the ten-year older girlfriend and Bollywood Star Priyanka Chopra. As a part of the pop-rock band dubbed Jonas Brother, this has given him, double fame after starring on the Disney Channel TV Network.
Nick Jonas profile summary
Name: Nicholas Jerry Jonas
Nickname: Nick Jonas, Nick J, Mr President, NJ
Date of birth: 16th September 1992
Place of birth: Dalla, Texas United States
Nick Jonas age: 27 years
Birth Sign: Virgo
Nationality: American
Ethnicity: Mixed-race
Religion: Christianity
Nick Jonas height: 5 feet 6 inches
Weight: 70kg
Hair colour: Dark brown
Eye colour: Dark brown
Profession: Actor, singer, songwriter, record producer
Net worth: $25 million
Biography
Nick Jonas was born on 16th September 1992 in Dallas Texas in the United States as Nicholas Jerry Jonas. His parents are Paul Kevin Jonas and Denise (Nee Miller). He is the third born of four children.
His father, Paul, is a musician, songwriter and a retired ordained minister at the Assemblies of God church. His mother, on the other hand, is a singer and former sign language teacher.
Jonas has two elder brothers by the names Kevin and Joe and one younger brother by the name Frankie. He is of mixed-race as his background is English, Italian, German, Cherokee, Irish, Scottish and French-Canadian.
Nick Jonas wife
Nick Jonas began dating the famous Bollywood actress, Priyanka Chopra in early 2018. Priyanka is eleven years older than her husband. The Indian actress is popular for taking the lead role in the series dubbed Quantico that took place between 2015 and 2018 as Alex Parris. Priyanka has also featured in other American films such as Baywatch in 2017 and Isn't It Romantic in 2019.
Before Quantico fame, she was a critically-acclaimed and beloved Bollywood star. She is ranked as one of India's highest-earning and most famous celebrities who have starred in more than 40 movies between 2002 and 2019.
Wedding
Nick Jonas and Priyanka Chopra held a private engagement ceremony on 18th August 2018, and it was only attended by close friends and relatives. Later on, the beautiful couple made international headlines after choosing to follow the Indian tradition of undertaking multiple ceremonies as a way of celebrating their union.
Nick Jonas wedding took place on 1st December 2018 at Umaid Bhawan Palace in Jodhpur. According to Refinery 29, the entire wedding series had a price tag of more than $500, 000.
Other relationships
Before dating and marrying Priyanka Chopra, Nick Jonas was in other several relationships. He dated Kendal Jenner in 2015, but the two broke up later. He was also in a relationship with Miss Universe Olivia Culpo.
Between 2008 and 2010 he dated the famous singer Selena Gomez and after their break-up, he dated Miley Cyrus between 2006 and 2009.
Career
Nick Jonas was brought up in a musical environment; hence he gained a lot of passion for music at a tender age. When he was seven years old, he performed as Tiny Tim on Broadway in a Christmas Carol.
At 11 years he auditioned for the Broadways shows to become part of two shows namely, Beauty and the Beast and Les Miserables. In 2005, Nick recorded the jam Joy To The World which made him earn a solo record deal with the Columbia Records.
He released his first album titled Dear God, and the album marked the Please Be Mine songs in collaboration with two of his brothers Joe and Kevin. It was due to this collaboration that the trio formed the Jonas Brothers pop band.
Nick Jonas Brothers
Nick Jonas is the third born of four brothers. However, only the first three brothers, Joe, Kevin and Nick, are united in a pop-song band.
The Jonas Brothers Band
Nick, Joe and Kevin formed a boy pop band under a family project dubbed The Jonas Brothers. The trio spent the time between 2005 and 2006 touring the world in addition to working on their debut studio album dubbed; It's About Time in 2006.
In 2007 the band confirmed that they had dropped their contract with Columbia Records and signed with the Hollywood Records. Their popularity continued to build up steadily thanks to their soundtrack appearances for numerous productions by Disney Channels.
They released their second album dubbed The Jonas Brothers 2007, and it did resoundingly well as it became one of the top five of the Billboard 200.
In May 2008, they landed their own show titled Jonas Brothers: Living the Dream. They, later on, made their film debut in the 2008's Disney Channel dubbed Champ Rock alongside Demi Lovato.
The band released their 3rd studio album dubbed A Little Bit Longer which sold more than two million copies across the United States of America. They later on released their fourth studio album dubbed Lines, Vines and Trying Times. After the 4th album, the Jonas Brother band announced a hiatus and on 29th October 2013, their confirmed their official split.
Solo music career
After the split of the group, Nick Jonas went on with his music career as a solo artist. He worked as the creative and musical director on Demi Lovato's Neon Light Tour that took place in 2014.
On 10th November 2014, he released his second album under the Island Records. The album was ranked at number six on the Billboard 200. Nick Jonas released his third album dubbed Last Year Was Complicated, in 2016. The album sold more than 66,000 copies during the first week of its release.
Apart from these Nick Jonas albums, he has also released several singles in collaboration with popularly-known artists such as Mike Posner, Tove Lo and Anne Marie.
Nick Jonas songs
Here is a list of the song released by Nick Jonas
2015 - Area code
2014 - Avalanche
2016 - Bacon
2014 - Chainseve
2014- Chains
2016 - Chainsaw
2016 - Champagne Problems
2016 - Close
2017 - Find You
2017 - Home d Girls
2017- Home
2014 - Jealous
2015 - Levels
2014 - Nothing Would Be Better
2017 - Remember I Told You
2018 - Right Now
207 - Say All You Want For Christmas
2014 - Teacher
206 - Under You
2016 - Voodoo
The brother's reunion
The official reunion of The Jonas Brothers took place on 28th February 2019. The announcement came with the release of a single track titled Sucker.
On 7th July 2019, the band released another studio album under the title Chasing Happiness, and this was followed by a documentary of the same on Amazon Prime Video. The group started their 10th concert tour dubbed Happiness Begins Tour that occurred between August 2009 and February 2020.
On 24th January 2020, The Jonas Brothers band announced a Las Vegas residency show that is supposed to begin on 1st April 2020 at the Park Theater at Park MGM.
Nick Jonas acting career
Other than being in the music industry, Nick has had a thriving career in filmography right from his days on Disney Channels. He has starred in the following films;
Hawaii Five-O – guest appearance
2014- Kingdom as Nate Kulina
2013- Careful What You Wish For
2013- Jumanji: Welcome to the Jungle
2019- Midway
2019- Jumanji: The Next Level
Apart from acting, he is serving as the executive producer for the 2020 Netflix show dubbed Dash and Lily. His other business ventures include;
2017 shoe collection dubbed 1410 in collaboration with Creative Recreation of Sneaker Company.
2018 John Varvatos clothing line dubbed JV*NJ
Nick Jonas net worth
As of 2020, Nick Jonas is estimated to have a net worth of roughly $25 million. Just like the rest of his brothers, the majority of his wealth has been accumulated from touring, record sales, commercial projects and acting.
Nick Jonas baby
After the series of lavish marriage ceremonies, it seems as though the couple is looking forward to having a younger one. Although the two don't have a baby yet, Priyanka Chopra revealed that it was one of the things in her to-do list.
During an interview with Vogue India, this is what the actress revealed;
Buying a home and having a baby are on my to-do list, said Priyanka.
READ ALSO: Kris Lawrence bio: age, net worth
Health
Does Nick Jonas have diabetes? Yes he has. Nick Jonas was diagnosed with Diabetes Type I at the age of thirteen years. As a way to give back to society and help people with similar conditions, he developed an initiative dubbed Change for the Children Foundation.
The foundation partners with five different charities in raising funds and creating awareness of diabetes. Nick Jonas, together with his brother's pop band, is the backbone and most prominent supporters of this foundation.
Pictures
Nick Jonas is not only a talented singer and actor but a good looking young man as well. The photos below indicate how lucky Priyanka is to have a man who matches her beauty. here are some of Nick Jonas pictures:
A little practice
It seems Nick is a passionate singer and player of the guitar. In this picture, he appears to be practising on some strings. After all, doesn't regular practice make perfect?
Playtime
Nick and Priyanka make a beautiful couple on the outside, but this picture shows they are happy and beautiful on the inside as well. The picture above shows the couple having a playful time. Priyanka is lying on her husband as they share a burst of hearty laughter. It looks as if she is wearing his man's shirt.
Powerful vocals
Even in the band, Nick Jonas is known for his strong and powerful vocals that make him the lead singer. He is holding out his fist with his mouth wide open in a manner to suggest a powerful singing. We can't help but imagine how sweet his sound must be at the moment.
Behind the scenes
When he is not singing or acting, Nick Jonas participates in the various got talent performances as a judge. In this particular picture, it shows an elegantly dressed Nick to give his verdicts on the much-coveted voice blind auditions.
An adventure with wife
When the two are not working, it seems they love spending quality time together. From the caption, the couple is on a Sunday-out horse riding. It is such a great adventure to undertake, away from the noisy and monotonous city setup.
Nick Jonas bio shows an actor who is doing pretty well in the entertainment industry as an actor and singer. He is also among the lucky few guys who have found true love as he is happily married to the love of his life. He is a good role model for any young person out there who is hoping to become successful both in his personal and career.
READ ALSO: Choi Joon-hyuk bio, age, net worth, baby, wedding
Source: KAMI.com.gh