Tom Brady bio: Wife, net worth, age, news, championships
The name Tom Brady is not new to lovers of the National Football League. It reveals a champion and one of the most accomplished footballers.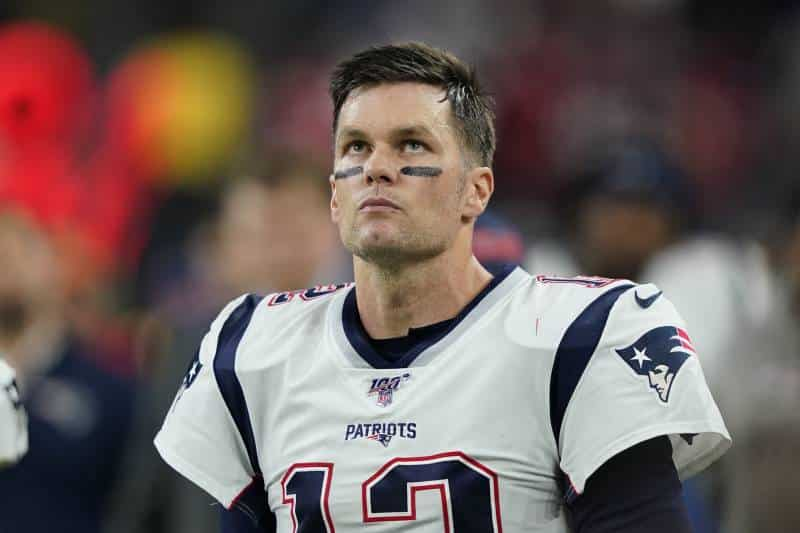 Tom Brady might not be the one leading the New England Patriots this year, but he is arguably one of the greatest quarterbacks in NFL history. Who would have guessed that the 24-year-old Tom and the 6th draft pick in 2000 would bring such a considerable hype to the Patriots dynasty?
Tom Brady profile summary
Full name: Thomas Edward Patrick Brady Jr.
Nickname: Tom Brady
Date of birth: 3rd August 1977
Place of birth: San Mateo, California, United States of America
Tom Brady age: 42 years
Birth sign: Leo
Nationality: American
Ethnicity: White
Religion: Catholic
Height: 6 feet 4 inches
Weight: 102 kg
Marital status: Married
Net worth: $180 million
Biography
Tom Brady was born on 3rd August 1977 as Thomas Edward Patrick Brady Jr. in San Mateo, California, in the United States of America. He was born to Edward Brady (father) and Galynn Patricia (mother).
Brady is the fourth-born child and the only son. He has three elder sisters named Nancy, Julie, and Maureen.
He attended Junipero Serra High School, and later on, joined the University of Michigan from 1995 to 1999. While in high school, Brady played basketball, football, and baseball.
READ ALSO: Roman Reigns bio: Real name, wife, net worth, illness, photos
Tom Brady wife
Tom began dating Brazilian model, Gisele Bundchen in December 2016. The couple tied the knot on 26th February 2009 in California U.S.A. The two are blessed with two lovely children, a son by the name Benjamin Rein who was born in 2009, and Vivian Lake, born in 2012. Tom Brady children live together with their parents in Brookline, a fringe of Boston. Here is one of Tom Brady's pictures with the husband.
READ ALSO: Vanessa Laine Bryant bio: husband, children, age, net worth, pictures
Career
Tom's career started as a leg up quarterback on the Padres Junior starter team. His passion for football began when he was a supporter of quarterback Montana where he popped up on several occasions in San Francisco 49ers games at the Candlestick Park in the 1980s.
As a minor, he went for a football camp at College of San Mateo, where he perfected his skills in dashing football. During his college days, he was drafted by the Patriots in the 6th round of the National Football League 2000 Draft.
READ ALSO: Mike Pence bio: wife, children, net worth
After ushering the Patriots to the seven Super Bowl appearances, he made the most appearances in the entire history. Together with Brian Griese, he achieved the first national championship in 1997.
In 1998 and 1999, Tom and Drew Henson played at the quarter job attaining a 20-5 record in the two consecutive years as well as the record 2-0 in the bowl games. He emerged as the 199th player chosen overall in the outline. He was drafted in the 6th round exclusive by the New England Patriots.
On 23rd September 2001, the relationship between Brady and the Patriots took a turn after Bledsoe was cuffed hard; thus, Brady was appointed to take up his position. He began every Patriot game at quarterback, winning most of the matches.
In 2003 during the Super Bowl, he emerged one among the four footballers to get an award more than once in the entire NFL record, thus attaining the Super Bowl MVP.
READ ALSO: Nick Jonas bio: Wife, brothers, net worth, baby, health, photos
Tom Brady records
Regular season wins by a starting quarterback - 219
Most passing yards, regular season and playoffs - 85,959
Most passing touchdowns, postseason included - 614
Most touchdowns thrown to different receivers - 77
Game-winning drives, postseason included - 58
Division titles - 17
Playoff games started - 41
Playoff wins - 30
Playoff touchdown passes - 73
Playoff passing yards - 11,388
Super Bowl appearances - 9
Super Bowl wins - 6
Super Bowl MVPs - 4
Super Bowl touchdown passes - 18
Super Bowl passing yards - 2,838
Stats
Is Tom Brady the best football player ever? Well, according to his statistics, it would be unquestionable to name him as the best player ever. Here are Tom Brady stats:
Passing attempts: 9,988
Passing completions: 6, 377
Completion percentage: 63.8%
TD- INT: 541- 179
Passing yards: 74, 571
Passer rating: 97.0
Rushing touchdowns: 22
Tom Brady championships
Tom Brady has won a total of championships that lead the Patriots to world championships. Here are some of the categories that he has won:
2002 - The Patriots won against St. Louis Rams 20-17
2004 - New England Patriots won against Carolina Panthers 32-29
2005 - Patriots won against Philadelphia Eagles 24-21
2015 - Patriots won against Seattle Seahawks with 28-24 (Brady became Most Valuable Player)
2017 - Patriots against the Atlanta Falcons 34-28
2019 - Patriots against the Los Angeles Rama with 13-3 (The lowest-scoring game in Super Bowl history)
Tom Brady net worth
Brady earns a good amount from his profession as a football player. As of 2020, his net worth is estimated to stand at $ 180 million. This makes him rank as number 15 in the list of the highest-paid athletes across the globe. He has also managed to attain a slot in the list of wealthiest NFL players.
Tom Brady news
In the latest news, the lack of NFL collective bargain leaves no choice but for Tom Brady and Belichik to speak again in a bid to come to a conclusive decision. The Patriots are willing to offer him a lesser deal due to the $13.5 million tacked on the salary cap.
In 2020, Tom is receiving $23 million, but he was hoping to get a two-year $50 million contract. At the moment, he has suitors who are willing to offer him as much as $30 million every year in free agency. Is Tom Brady a free agent? He is not a free agent at the moment, but his decision on whether to return to New England or look for greener pastures will be the determiner.
Social media
Brady is an avid user of various social media platforms where he feeds his fans with lovely photos of his wife and children. Here are the links to the platforms:
Tom Brady Twitter: @TomBrady
Tom Brady Instagram: @tombrady
Tom Brady Facebook: @TomBrady
Tom Brady's confidence and prowess have made him one of the best quarterbacks the National Football League has ever recorded. He is indeed a force to reckon with in the society.
READ ALSO: Andre Iguodala bio: Wife, current team, trade, age, net worth
Source: KAMI.com.gh