Johnny Depp bio: net worth, age, wife, height, could he be the next joker?
John Depp is an American actor, producer, and musician. He has been nominated for 10 Golden Globe Awards and 3 Academy Awards for Best Actor. He is regarded as one of the world's biggest film stars.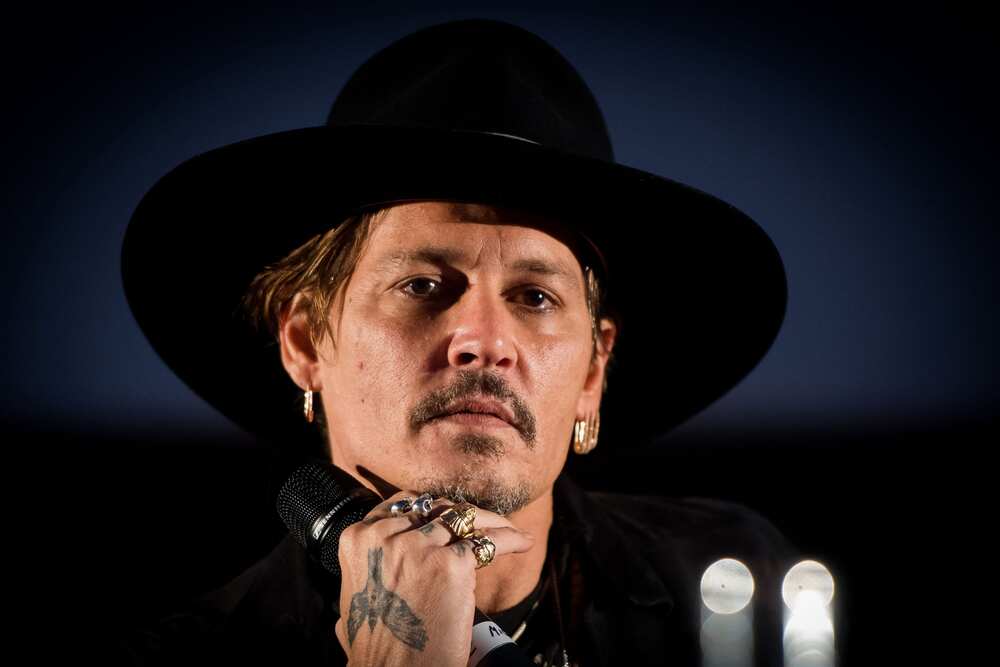 We all know him as Captain Jack Sparrow in the Pirates of the Caribbean. He is one of the biggest names in the filmography entertainment industry. Over the years, Johnny Depp has had a career that is made of critically acclaimed performances and groundbreaking success in the Hollywood box office. This has placed him among the highest-paid actors and the world's biggest film stars.
Johnny Depp profile summary
Full name: John Christopher Depp II
Nickname: Johnny Depp
Date of birth: 9th June 1963
Place of birth: Owensboro, Kentucky, U.S.A
Johnny Depp age: 56 years
Nationality: American
Ethnicity: Multi-racial
Johnny Depp height: 5 feet 10 inches
Weight: 78 kg
Hair color: Jet Black
Eye color: Jet Black
Marital status: Divorce
Profession: Actor, Musician, Producer
Net worth: $200 million
Biography
John was born on 9th June 1963 as John Christopher Depp II in Owensboro, Kentucky, in the United States of America. He is the last born son to civil engineer John Christopher Depp and stewardess Betty Sue Palmer. He is the youngest son of four children. In 1978, his parents divorced when he was only 15 years. His mother got married to Robert Palmer.
During Johnny's upbringing, his family lived in more than 20 different places before settling in Miramar Florida. He joined Miramar High School. Depp dropped out of school to follow his dream and passion for singing. He joined two singing bands, The Kids Band and Rock City Angeles Band.
READ ALSO: Billy Crawford bio: age, height, net worth, wife
Johnny Depp wife
Depp has been married twice, but none of the two unions worked, they all ended up in divorce.
Lori Anne Allison (1st marriage)
The affair between Lori and Johnny began in 1983, and after dating for a while, the duo got married on 20th December 1983. The union did not last long, and they broke up in 1985. Lori works as a make-up artist.
Amber Heard (2nd marriage)
In 2011, Johnny started dating Amber Heard, an American model, and actress. The duo first met on the set of the film The Rum Diary. After dating for two years, they tied the knot. In February 2015, the duo held a private wedding ceremony in their home in Los Angeles, California. In 2016, Amber filed for a divorce, and it was finalized in 2017.
Apart from the two marriages, Johnny has had relationship affairs with the following women:
1986- 1988: Sherilyn Fenn (Actress)
1989: Jennifer Grey (Actress)
1989-1993: Winona Ryder (Actress)
1993: Juliette Lewis (Actress)
1993: Peggy Trentini (Actress)
1993: Tatjana Patitz (Actress and Model)
1994-1998: Kate Moss (Model)
1998-2012: Vanessa Paradis (French Singer)
From his dating history, Johnny has two children, but neither of them was born by either of his wives. Johnny Depp children were born by French pop singer, Vanessa Paradis whom they dated between 1998 and 2012. Johnny Depp's daughter, Lily-Rose Melody Depp, was born in 1999 while Jack Christopher Depp, his son, was born in 2002.
Height and other body measurements
Even with his old age, Johnny has not only managed to maintain an excellent and sensible style of fashion but a good body physique as well. He is 5 feet 10 inches tall and weighs 78kg.
His eyes and hair colors are jet black. Johnny is 40-32-12 inches for his chest, waist, and biceps respectively. Here is one of Johnny Depp photos.
Career
Here is a breakdown of his career:
Film debut
The musician, who turned into an actor, started his career in 1984 via the movie, A Nightmare on Elm Street. In 1985, he starred in sitcom Private Resort, whose success saw him attain a more prominent role in Thrashin, which debuted in 1986.
In 1987, he rose to fame after featuring in the TV series dubbed 21 Jump Street, where he starred as a police officer. In 1999, he starred in Freddy's Dead: The Final Nightmare, which was a sequel of A Nightmare on Elm Street.
His international career kick-started after starring as Captain Jack Sparrow in the 2003 renowned movie, Pirates of the Caribbean: The Curse of the Black Pearl. The first part was so successful that he was given the same role in the sequels of the film Pirates of the Caribbean: Dead Man's Chest in 2006, Pirates of the Caribbean: At World's End in 2007 and Pirates of the Caribbean: Dead Men Tell No Tales in 2017.
Ever since then, he has continued to amass more fame in Hollywood and the entire globe at large by making appearances in dozens of films.
READ ALSO: Ryan Reynolds bio: net worth, wife, height, age
Here are Johnny Depp movies:
The Secret Life of Houdini (1984)
A Nightmare on Elm Street (1984)
Cry-Baby (1990)
Edward Scissorhands (1991)
What's eating Gilbert Grape (1993)
Ed wood (1994)
Deadman (1995)
Donnie Brasco (1997)
Fear and loathing in Las Vegas (1998)
The Source (1999)
Sleepy Hollow (1999)
The ninth gate (1999)
Form Hell (2001)
Cholat (2001)
Before Night Falls (2001)
Blow (2001)
Pirates of the Caribbean: The Curse of the Black Pearl (2003)
Finding Neverland (2004)
Corpse Bride (2005)
Charlie and the chocolate factory (2005)
The libertine (2004)
Pirates of the Caribbean: Deadman Chest (2006)
Deep-sea (2006)
Sweeny Todd: The Demon Barber of fleet street (2007)
Pirates of the Caribbean: At World's End (2007)
Public Enemies (2009)
The Imaginarium of Doctor Parnassus (2009)
When you are strange (2010)
The Tourist (2010)
Alice in wonderland (2010)
Rango (2011)
Pirates of the Caribbean: On the Stranger (2011)
The Rum Diary (2011)
For no good reason (2012)
Dark Shadows (2012)
The Lone Rangers (2013)
Transendence (2014)
Black Mass (2015)
Into the Woods (2014)
Mortdecai (2015)
Yoga Hosers (2016)
Alice Through the looking glass (2016)
Pirates of the Caribbean: Salazar's Revenge (2017)
Murder on the orient express (2017)
Sherlock Gnomes (2018)
Fantastic Beasts: The Crimes of Grindelwald (2018)
City of lies (2018)
Waiting for the Barbians (2019)
Johnny Depp net worth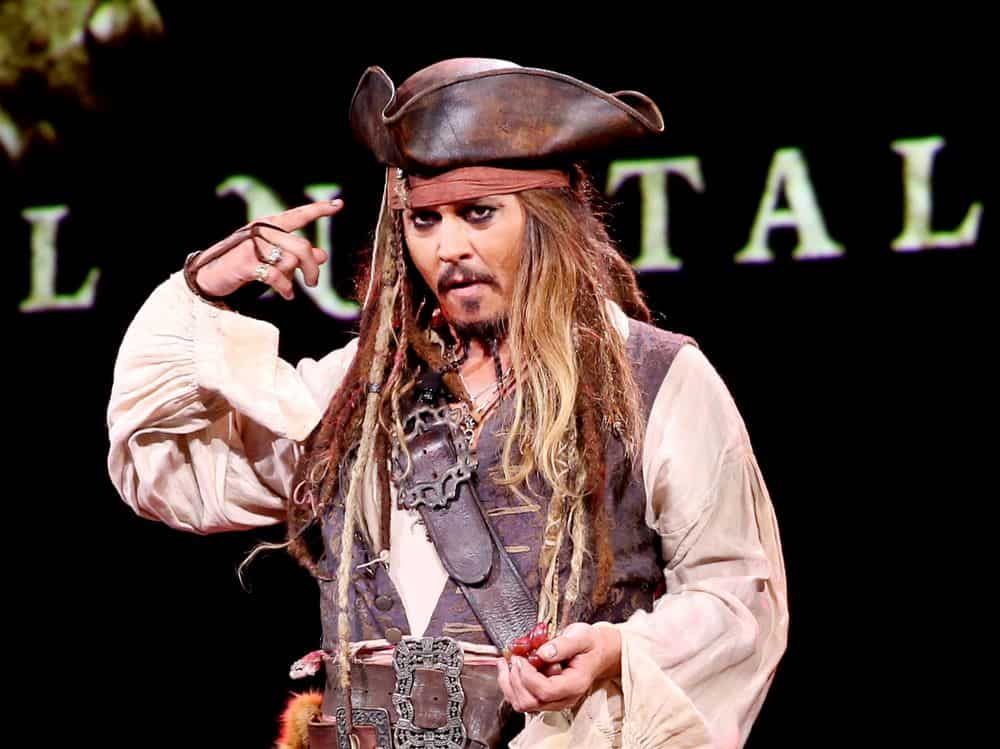 Depp has an estimated net worth of $ 200 million. Here is a breakdown of his earning:
He earns $20 million per film.
The successful film grossed more than $3.4 billion in America and $8.7 billion globally at the box office.
The annual salary is over $100 million.
Between 2003 and 2016, he earned $650 million in salaries.
Lifestyle cost topped $2 million.
Johnny Depp latest news
The latest development involves the adjournment of Johnny Depp court case. The Pirates of Caribbean star is suing the New Group Newspaper (NGN), the publisher of the Sun, as well as Dan Wootton, the newspaper's executive editor over the article in which they referred to him as a wife-beater.
At the high court on Friday, Mr Justice Nicol announced the following,
I have reached the reluctant conclusion that the trial does have to be adjourned, said Mr. Justice
The primary cause of the adjournment is the Covid-19, which has seen two of Johnny's legal representative self-isolating themselves.
No one can predict whether others involved in the case, and I do not exclude myself, will either become infected or need to self-isolate because … they have come into contact with someone who has or may have the virus, said the judge
Could he be the next joker?
Kevin Smith has come out to address the ongoing Johnny Depp Joker rumors. The two are currently in talks on Depp, taking another role that features a garish make-up and hair, the joker in the upcoming comic book caper.
During his childhood days, Johnny Depp was passionate about music, but he dropped the idea later on. He did several odd jobs before landing his prestigious career as an actor. He is an inspiration to many budding actors out there.
READ ALSO: Tim Tebow bio: wife, stats, age, net worth
Source: KAMI.com.gh