If you are familiar with the Wanna One band, then perhaps the name Kang Daniel is not new to you. The young celebrity rose to join the ranks of the most famous persons after his magnificent appearance on Produce 101 season 2. The South Korean star is renowned for coming out the top out of 101 trainees on the television reality show.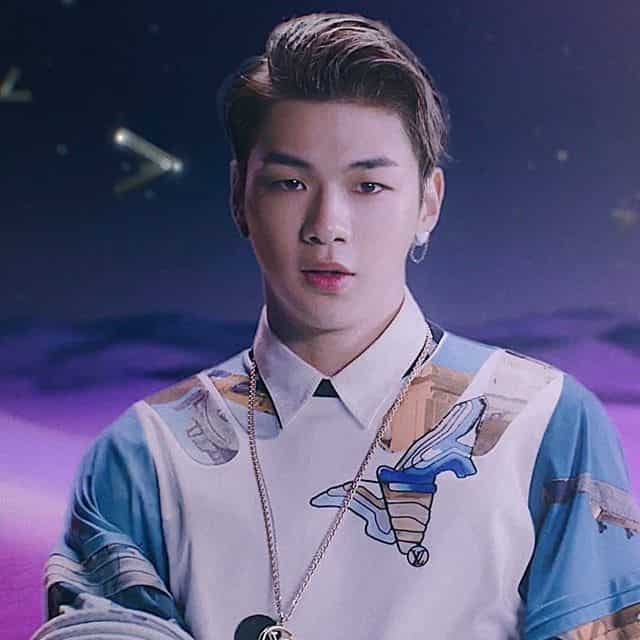 Kang Daniel is a young and famous South Korean singer and dancer. He made an appearance on Produce 101 season 2 in 2017 representing MMO Entertainment on the boy's reality show aired on Mnet. Daniel is highly talented, and because of the great support from his fans and a massive number of votes, he scoped the top price. So why does Kang Daniel have an English name yet he is Asian? Get to learn more about the celebrity.
Kang Daniel profile summary
Kang Daniel real name: Kang Eui-geon
Nickname: Nation's Center, Koroong/Kolong, Niel Ging (cute persona), Niel Chin (sexy persona), Nation's P*uppy, CEO Kang, God Daniel
Date of birth: December 10th, 1996
Kang Daniel birthday: December 10th
Kang Daniel age: 22 years
Zodiac sign: Sagittarius
Gender: Male
Place of birth: Yoengdo-gu, Busan, South Korea
Occupation: Singer and dancer
Nationality: South Korean
Religion: Christianity
Kang Daniel ethnicity: Asian
Weight: 67 Kg
Height: 5 feet 11 inches or 1.80 m
Hair color: Dark brown
Eye color: Dark brown
Blood type: A
Marital status: Single
S*xual orientation: Straight
Website: ourdaniel.com
Kang Daniel biography
Kang was born on December 10th, 1996 in Busan, a coastal city in South Korea. His real name is Kang Eui-geon. The singer and dancer is the only child in his family. Throughout his childhood, Kang Daniel family experienced a severe financial problem. His father's business suffered losses and eventually closed. The family moved into a basement, where they stayed for about a week. His parents also divorced, and her mother raised him.
The star had his birth name until adolescent. However, he realized that most of his friends and relative found it hard to pronounce Eui-geon. He decided to adopt the name Daniel after the biblical hero, who is the source of his inspiration.
READ ALSO: Bernadette Sembrano bio: age, husband, kids, net worth
He started dancing as a way of self-healing. According to him, he was always bullied during his elementary school because of his looks. To assist him in coping up with the problem, his teacher recommended that he should start dancing to develop his self-esteem. It was then that he discovered his passion for dancing.
Kang Daniel education
He went to Peniel International High School of the Arts. He specialized in modern dance. He also studied at Nataraja Academy, the dance academy in his home city.
Career
As much as dancing is his passion, the South Korean celebrity actually began dancing as a way to deal with his self-esteem issues. The star made his guest appearance on Hello Counselor, KBS' variety show. His exemplary talent was first noticed as a trainee after performing background dance at a concert of contracted singers for B2M Entertainment, a famous producing house.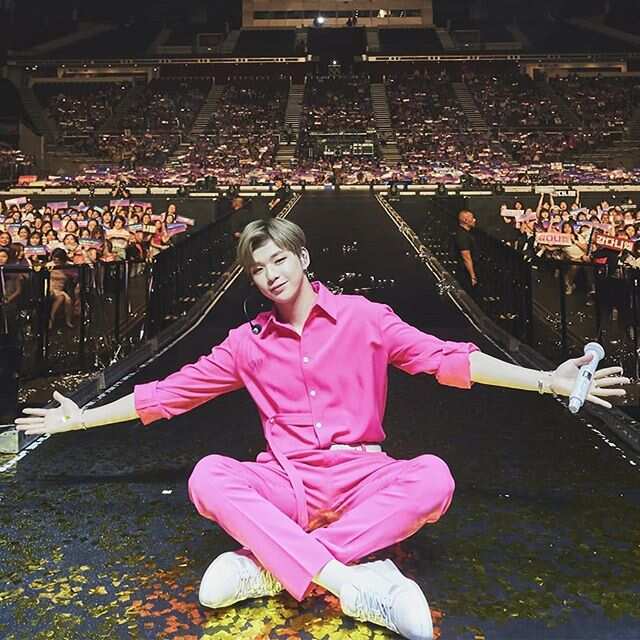 Because of management separation, the K-pop star became a trainee under MMO Entertainment. His dancing career breakthrough came in 2017. Yoon Jisung, his fellow trainee at MMO Entertainment, suggested that the team should take part in season 2 of Produce 101. He gained attention during the promotion time of the reality show because of his bright image and pink hairstyle. He was instantly linked to the fictional personality Baby Apeach from the KakaoTalk chatting app.
Despite a slow start, the South Korean rose to become the top in the tenth episode and maintained the position till the last episode with a total vote count of 1,578,837. He was declared the winner and the center of Wanna One. Wanna One is a group which constitutes the top eleven contestants in the show.
READ ALSO: Andrea Torres bio: birthday, height, parents, age
On August 7th, 2017, the youngster made his debut appearance in the music industry alongside other Wanna One members. The group released its mini-album during the special event tagged Con, Wanna One Premier Show at the Gocheok SkyDome. They dropped an extended play (To Be One), 1x1=1 with its title song Energetic. On November 13th, 2017, the play was re-released under the title 1-1 =0 meaning Nothing Without You. The title song was Beautiful. The mini-album became a financial success. By December the same year, the collection and its re-branded release sold above 1.5 million copies.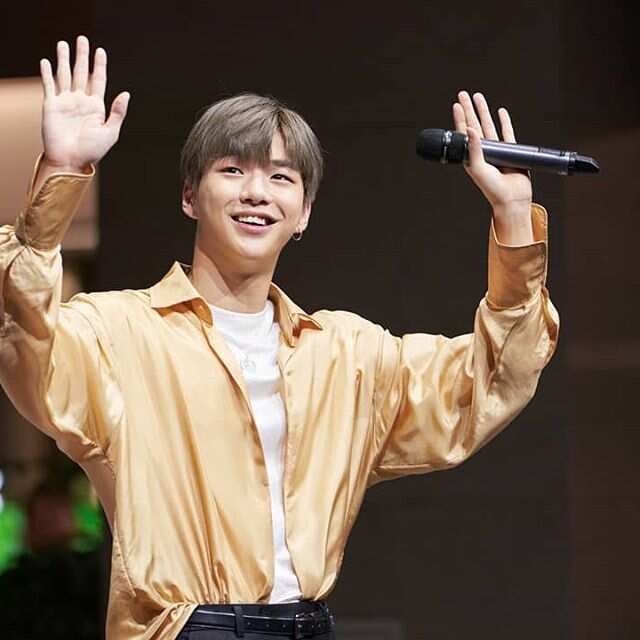 The K-pop star has a company. Kang Daniel company is called KD Corporation. Additionally, he is also a registered chief executive officer of Konnect Entertainment.
He made his first debut as a soloist on July 25th, 2019 when he released his first solo debut collection dubbed Color On Me. The album is on record for being the fast-selling album for a solo artist in South Korea. Within 24 hours, it sold 342,218 copies and accumulated 450,000 pre-orders. His first single off this new album, What Are You Up To was a hit. The music video has over 11.8 million views since it was published on YouTube.
Kang has either endorsed or appeared in commercial brands of Mexicana Chicken, Samsung Galaxy Note 10 5G Aura Red, Kissing Heart Eyewear, CHANEL, Think Nature hair products, and The Spring Home.
He was ranked fourth by Forbes in their Korean Power Celebrity List and on July 12th 2019, she was appointed as the promotional ambassador of his home city Busan.
Awards and achievements
Throughout his dancing and singing career, the Busan-born star has bagged numerous awards and recognition.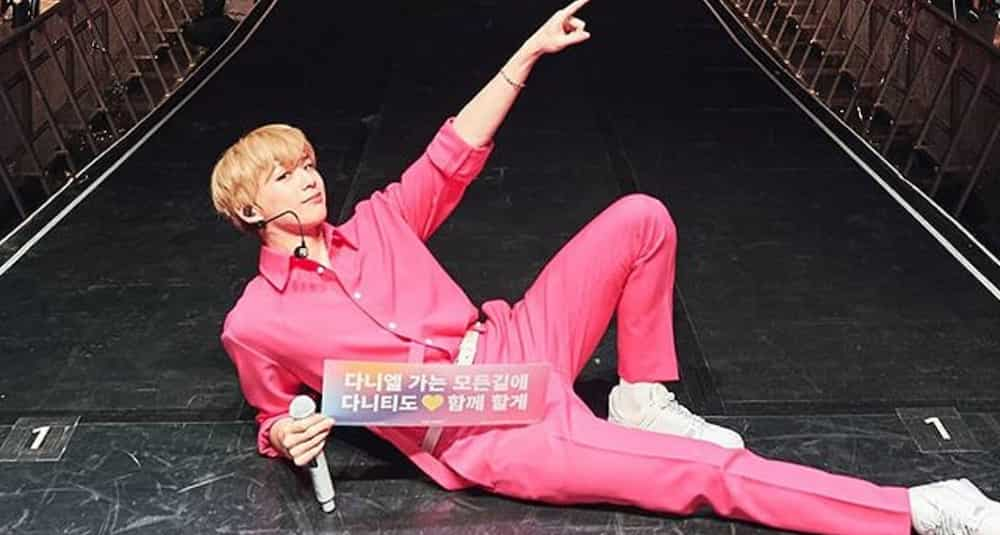 In 2017, he won Best Fashionista and Rookie Award during the 3rd Fashionista Awards and 11th SBS Entertainment Awards respectively.
In 2018, he won two Grand Prizes during the 10th MTN Broadcast Advertising Festival and Brand of the Year Awards.
He also won Best Magazine Cover Award and Rookie Award in 2018 during the Elle Style Awards and 18th MBC Entertainment Awards respectively.
In 2019, during the 1st Fact Music Awards, he won Fan N Star Choice Award, Fan N Star Most Votes Award, and Fan N Star Hall of Fame.
During the 2019 Ten Asia Global Top Ten Awards, he scoped the National Popularity Award and Global Popularity Award.
At the 4th Asia Artist Awards in 2019, he won the Potential Award, Star15 Popularity Award and Best Emotive Award.
He also won the Long Term Winner Prize during the 4th Dong-A Pick Awards.
Kang Daniel net worth
Other than fame, Kang's career as a singer and dancer has also earned him a considerable amount of wealth. He has also diversified his source of making money from brand endorsements. The online estimates of net worth vary. However, according to Star net worth, the celebrity is worth between $100000 to $1 million.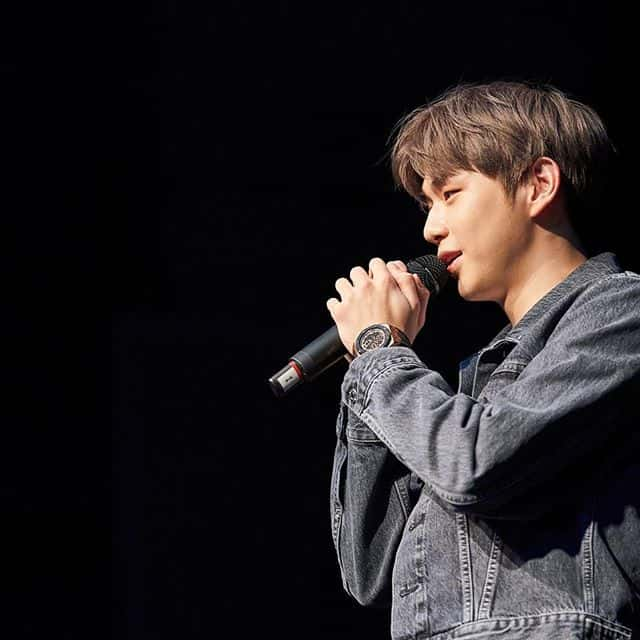 Kang Daniel dating history
Is Kang Daniel married? The K-pop star is currently not married. However, he is in a romantic relationship with Park Jihyo. Park Jihyo is the lead and main vocalist of Twice, South Korean girls singing group. The group was launched in a reality show by JYP Entertainment in 2015.
Social media platforms
Kang is part of the social media fraternity. He has an Instagram and Twitter account where he enjoys a considerable following. You can follow him through any of the following platforms to stay updated about his projects.
Twitter: @danielk_konnect
Instagram: @daniel.k.here
YouTube: Daniel Kang
At 22 years, the South Korean singer, Kang Daniel, is among the most popular people around the world. He rose to fame despite his low-income family background. As a dancer and singer, he has earned numerous awards and nomination plus a staggering amount of wealth. He is indeed a source of inspiration to many of his fans.
READ ALSO: Rodrigo Duterte bio: age, height, net worth, achievements