Giannis Antetokounmpo bio: Net worth, wife, salary, contract, mvp
A story is told of a son of African immigrants who were unwelcome in Athens until they saw his potential as a basketball player. Now he goes by the nickname 'The Greek Freak.' That man is none other than Giannis Antetokounmpo. He is a very talented basketball player regarded as the face of Greece, and he has made the NBA his stage to conquer the world. The star hails from a talented family because other than his older brother, the other two Giannis Antetokounmpo brothers are also basketballers.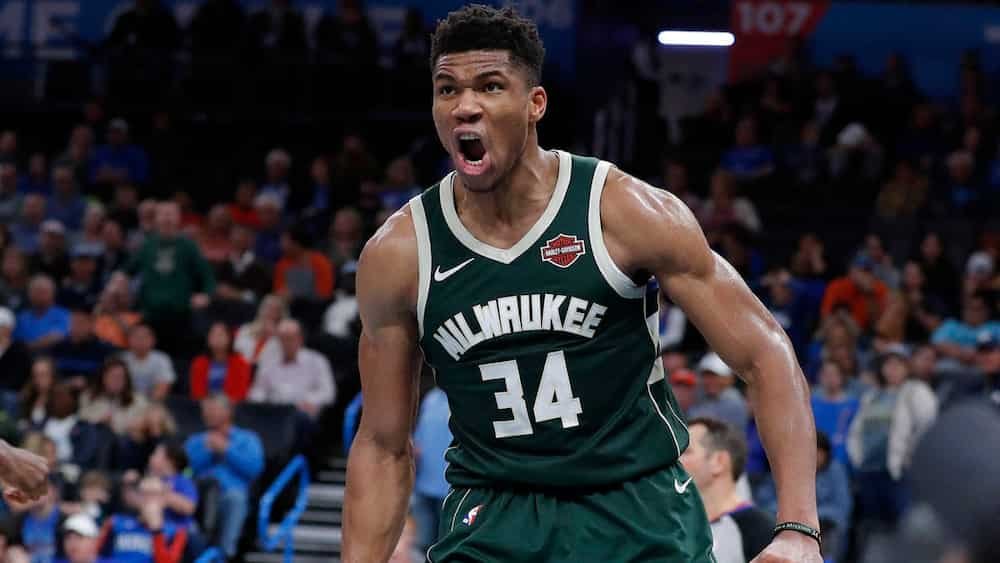 Although Antetokounmpo's parents are African immigrants, the star basketball player was born in Greece. This did not stop the Greece natives from considering him a foreigner. He was often the subject of discrimination and racial abuse and even faced threats of deportation.
Although he was once a teenager who could barely dribble, through resilience, he was able to transform himself into one of the finest basketball players this world will ever see. That turn of events turned him into a national hero for a country on the spot regarding how it treats children of immigrants.
Giannis Antetokounmpo profile summary
Name: Giannis Sina Ougko Antetokounmpo
Nickname: The Greek Freak
Birthday: December 6th, 1994
Age: 25 years
Birthplace: Athens, Greece
Nationality: Greek
Spouse: Mariah Riddlesprigger (girlfriend)
Siblings: Alexis Antetokounmpo, Francis Antetokounmpo, Kostas Antetokounmpo, Thanasis Antetokounmpo
Height: 6'11"
Weight: 110 Kg
Occupation: Basketball player
Net worth: $60 million
Giannis Antetokounmpo biography
Giannis Antetokounmpo is a Greek professional basketball player known for his athleticism and speed on the court. He was born on December 6th, 1994, just three years after his parents (Charles and Veronica Antetokounmpo) left Lagos, Nigeria, which is why Giannis Antetokounmpo ethnicity is black.
He is the second born of four kids, all boys. Even though Antetokounmpo and his two younger siblings were born in Greece, they did not qualify for Greek citizenship due to the nature of Greek laws. Since his parents were unemployed, he and his brothers had to hawk watches, bags, and sunglasses to make some livelihood.
Giannis Antetokounmpo age
Antetokounmpo is 25 years old as of 2020. He was born in a place called Sepolia in Greece, and his birth sign is Sagittarius. He shares the 6th December birthday with celebrities such as Sidney Dunk, Stefanie Scott, Ryan Haywood, and Debbie Rowe.
Body measurements
When it comes to body measurements, Giannis Antetokounmpo height is 6 feet 11 inches. Giannis Antetokounmpo weight, on the other hand, is 110 Kg which corresponds well with his height.
Career
As a child, he used to play basketball on the streets, but his peers never thought he would one day be a pro because he was not the best of dribblers at the time. By 2007, he had made his intent as a professional basketball player.
In 2009 he had already established himself in the youth team of the Greek squad Filathlitikos. As he grew into an all-rounded player, he was promoted into the senior team in 2011. In 2012 Antetokounmpo was making his debut in the Filathlitikos senior team playing in the semi-pro league and Greek 3rd Division. Having played in the Greek A2 league for about a year,he decided to move to Spain.
He joined CCAI Zaragoza signing a four-year contract while still 18 years of age. Great was his talent that even though he was not a member of the all-star team, he was nevertheless selected to take part in the 2013 Greek League All-Star games.
Antetokounmpo enlisted into the NBA Draft in April 2013, and Milwaukee Bucks did not hesitate to sign him as a fifteenth overall pick. During his rookie season, he led the NBA rookie block chart with a total of 61 blocks. This earned him a spot in the 2013 Rising Stars Challenge during the NBA All-Star Weekend. His name also found its way into that year's NBA All-Rookie second team.
He has been a member of the Milwaukee Bucks since then and has had significant awards in the process. In 2015, he once titled the Eastern Conference Player of the Week. In the same year, he was part of the NBA Slam Dunk Contest.
In the 2015/16 season, The Greek Freak got the chance to participate in the NBA Africa Exhibition game courtesy of his parents' country of origin, Nigeria. Looking at Giannis Antetokounmpo stats, it is only a matter of time before a big-money trade is conducted in the NBA.
READ ALSO: Andre Iguodala bio: Wife, current team, trade, age, net worth
Giannis Antetokounmpo wife
Giannis is not yet married, but he has a girlfriend called Mariah Riddlesprigger. Even though the two haven't walked down the aisle, they have a newborn baby boy. Giannis Antetokounmpo baby is named Liam Charles.
Mariah is an American volleyball player. She attended Rice University and was always a sportswoman from her school days. Her parents are Fresno Natives, Cathy, and Pat Riddlesprigger. She has two siblings, namely Makayla and Maya.
Salary
The current contract signed by Giannis Antetokounmpo guarantees him an annual average wage of $25 million. In 2019, his base salary was $25,842,697 minus bonuses. This has seen him enter into popular lists such as Forbes as one of the highest-earning athletes.
Giannis Antetokounmpo contract
He has a lucrative four-year contract with Milwaukee Bucks worth $100 million signed in 2016 and running through 2021. With only two years left and at the prime of his career, he is likely to receive even a bumper contract before the current one expires if he won't have been traded by then.
Giannis Antetokounmpo awards
At only 25 years, Giannis has managed to carve his way to the top of the NBA. Apart from winning the MVP in 2019, he has earned some notable accolades over the years with the most distinguished awards being:
All-NBA First Team (2019)
All-NBA Second Team (2017, 2018)
Euroscar European Player of the Year (2018)
NBA All-Defensive First Team (2019)
NBA All-Defensive Second Team (2017)
NBA All-Rookie Second Team (2014)
NBA All-Star (2017–2019)
NBA Most Improved Player (2017)
MVP
He may have been unknown in 2013, but it only took Giannis six years to gain the biggest of honors any basketballer can dream of, the Most Valuable Player (MVP). To claim the title, he had to beat established basketballers such as Houston Rockets guard, James Harden, and Oklahoma City Thunder forwards Paul George.
He received the award following a career-high average of 27.7 points, 12.5 rebounds, and 5.9 assists. His contribution ensured that Milwaukee recorded a league-best 60 wins in a regular season. A call-up would shortly follow the award to the first-team all-NBA and all-defense in the same month.
Before the Giannis Antetokounmpo MVP award, the other Bucks player to receive the accolade was Kareem Abdul-Jabbar back in the 1973/74 season. He is also the first Greek to be named MVP.
Giannis Antetokounmpo net worth
The stardom Giannis enjoys now is partly due to his wealth. The NBA star has a net worth of $60 million. With an annual salary of $25 million, his net worth is likely to become more than double in the coming years.
On top of his salary, the player has a shoe endorsement deal with Nike, among other prominent brands that want his name on their merchandise. The Giannis Antetokounmpo shoes were selling quickly even before they were launched, which is why Nike offered him a long-term contract.
The fame of Giannis Antetokounmpo has grown immensely since he stepped into the NBA. Now celebrated for his talent, his story has completely overshadowed the dark past he had in Greece as a son of immigrants. Greece has been criticized for its refusal to recognize children of immigrants as citizens, yet hypocritically the country is more than happy to have Antetokounmpo as their ambassador. Meanwhile, the star continues his meteoric rise and remains a probable candidate as a contender of the Most Valuable Player Award in seasons to come.
READ ALSO: Raffy Tulfo bio: age, net worth, wife, family
Source: KAMI.com.gh