Masai Ujiri bio: Wife, salary, raptors, contract, net worth
Masai Ujiri is an English-born Nigerian-Kenyan professional basketball executive as well as a former player. At the moment, he is the president of basketball operations of the Toronto Raptors in the National Basketball Association (NBA).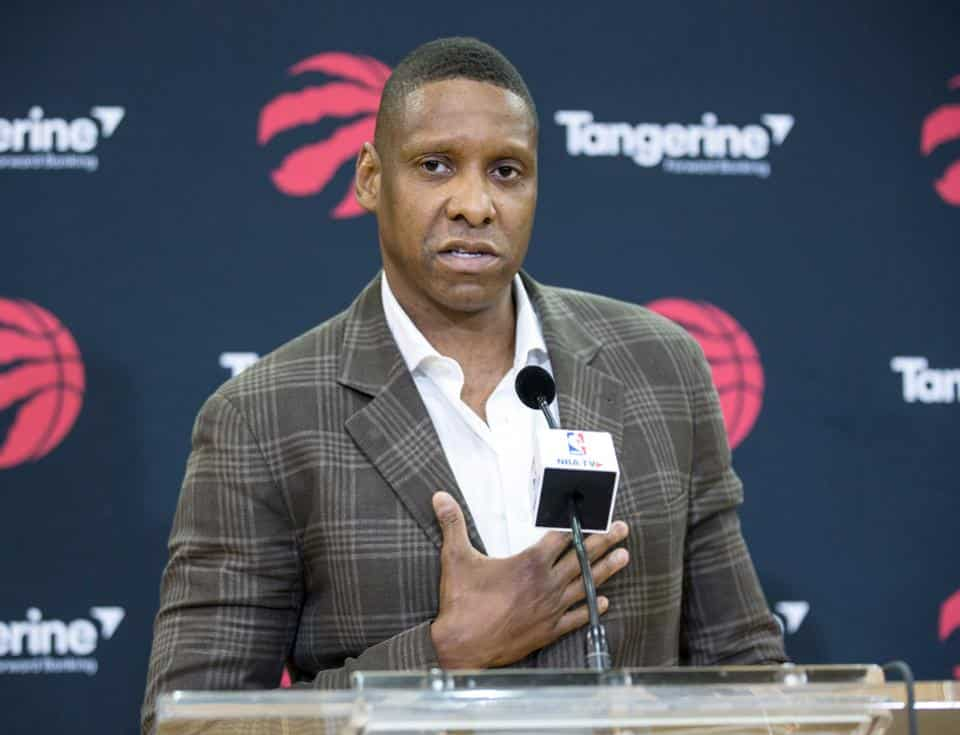 The former NBA player and now president of Toronto Raptors basketball in the National Basketball Association (NBA) has become a household name over the years. Apart from the fame, what's more to him? Is he married? How many kids does he have?
Masai Ujiri profile summary
Name: Masai Ujiri
Date of birth: 7TH July 1970
Place of birth: Bournemouth, England
Masai Ujiri age: 49 years
Masai Ujiri nationality: American
Height: 6 feet 4 inches
Hair colour: Black
Eye colour: Black
Marital status: Married
Net worth: $20 million
Masai Ujiri biography
The player was born on 7th July 1970 in Bournemouth England where his parents were studying. His father is from Nigeria while the mother is a Kenyan native. The young family relocated to Nigeria when Ujira was two years old.
As a young boy, he participated in soccer. When he was 13 years of age, his interests shifted to playing basketball in Northern Nigeria. Hakeem Olajuwon, a Nigerian NBA star was Ujiri's primary source of inspiration.
After joining high school, he played football for his school's team and later on left Nigeria to go play basketball in Seattle Washington DC for Nathan Hale High School. When he joined college, Masai played for Bismarck State College in North Dakota, USA. He moved to Europe to advance his career.
READ ALSO: Richard Gomez bio: wife, daughter, net worth, age, height
Wife
Who is Masai Ujiri wife? Ujiri is married to a former fashion model by the name Ramatu Ujiri. Ramatu was born and raised in Sierra Leone but she later on moved to the United States for her high school education.
They meet in 2007, and after dating for a couple of years, they tied the knot in a private ceremony attended by close friends and family.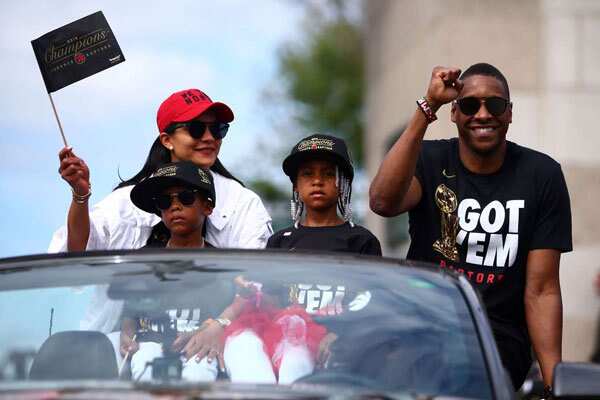 The couple has two children, a daughter and a son. The daughter goes by the name Zahara Ujiri, but the couple is yet to disclose the information about their son's name. The family of four is regularly seen on several basketballs and other sports events.
READ ALSO: Coco Martin bio: Age, net worth, son, real name
Toronto Raptors and contracts
At the begining of his career, he spent six years in Europe as a professional basketball player. He played in England for one year and left for Germany and Belgium in the second-division team. He ended his basketball playing after his match in Denmark. In 2002 he began serving as a youth couch in his home country Nigeria.
His training skills in Nigeria were super impressive that David Thorpe introduced him to several college trainers. He was referred and recommended by several other prominent individuals who had seen his impressive coaching skills. It is at this period that he was offered a position as an international scout.
After serving for four years, Bryn Colangelo from the Toronto Raptors offered him the Director of Global Scouting post.
In 2008, he got a promotion to serve as the Raptors assistant general manager.
In 2013 he signed a five years deal to work as the Toronto Raptors executive vice president.
Salary
Masai Ujiri salary has varied over time, depending on the company as well as the capacities he has been working in.
When he signed the five-year contract on 31st May 2013, his salary was $15 million for the Toronto Raptors General Manager position.
Net worth
The former player is living a lavish life, thanks to the contracts that are worth vast sums of money. His main income source is derived from his career in playing basketball. He has been a professional player for six years in Europe.
He has earned other significant amounts from NBA operating in different capacities for different teams. Much of his wealth was obtained while he was at the Toronto Raptors. At the moment, Masai Ujiri net worth is $20 million.
Masai Ujiri sued
During the 2019 NBA on 13th June 2019, Toronto Raptors was playing against Golden State Warriors. Ujira came to enjoy the match but failed to show proper credentials for the access of the floor to the game court.
When an Alameda County Sheriff deputy shoved him, Ujiri shoved him back. After the incident, a lawsuit was filed by the sheriff seeking compensation. He claimed that Masai assaulted him physically and emotionally.
The charges were later dropped because the police found no reason to file the player. Masai had this to say:
I am extremely pleased with the decision. While these past months have been difficult waiting for a determination on this matter. I understand the nature of the process and am appreciative of the efforts of all involved. I am happy that is now behind me. Well I look forward to the task of obtaining another big championship to the city of Toronto.
For the lovers of basketball, Masai Ujiri is more than a famous name. He has successfully created a name for himself inside and outside the sports world. He is such as inspiration that everything in life is possible as long as you put your mind to it.
READ ALSO: Will Smith bio: wife, children, movies, age, net worth
Source: KAMI.com.gh