Donghae profile: Age, height, family, career, military
Donghae is the stage name for the popularly known South Korean songwriter, singer, television actor, film actor, musician, television presenter and radio host who goes by the name Lee Dong-Hae. He has amassed great fame not only in South Korea but across Asia and the entire globe.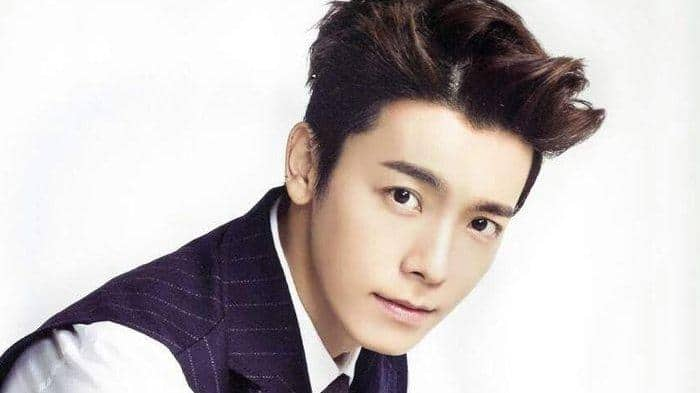 Ever since he chose to become a singer just like how his father wished, he has made produced hits after hits. Besides the fame and successful career here is everything that you need to know about this Super Junior group member.
Donghae profile summary
Real name: Lee Dong Hae
Commonly used name: Donghae
Position: Lead dancer, vocalist, rapper
Date of birth: 15th October 1986
Place of birth: Mokpo, South Jeolla Province, South Korea
Age: 33 years
Zodiac sign: Libra
Nationality: South Korean
Ethnicity/race: Asian
Occupation: actor, musician, film actor, pianist, songwriter, singer, model
Religion: Christian
Height: 175 cm
Weight: 60 kg
Marital status: Single
Lee Donghae biography
Lee Donghae popularly known by his stage name, Donghae is a South Korean born songwriter, singer, actor and composer. Before winning the SM'S Youth Contest in 2001, he was a trainee at the SM Entertainment.
Donghae meaning is derived from the words that make up his moniker. Dong means east and Hae sea.
After training for four years, he debuted as a member of Super Junior boy group. Ever since then, he has steadily risen to prominence thanks to the band's victory on the Asian music scene. He has participated in the band's projects dubbed Super Junior-M, Super Junior D, Super Junior E and SM the Performance, a project of the agency.
Donghae age
He is currently 33 years and three months old. Donghae birthday is on the 15th October of every year.
Lee Donghae height and other body features
Other than stealing the hearts of many due to his killer dance moves and voice, Lee has one of the best body physiques. Donghae abs can't go unmentioned with some people referring to them as killer abs.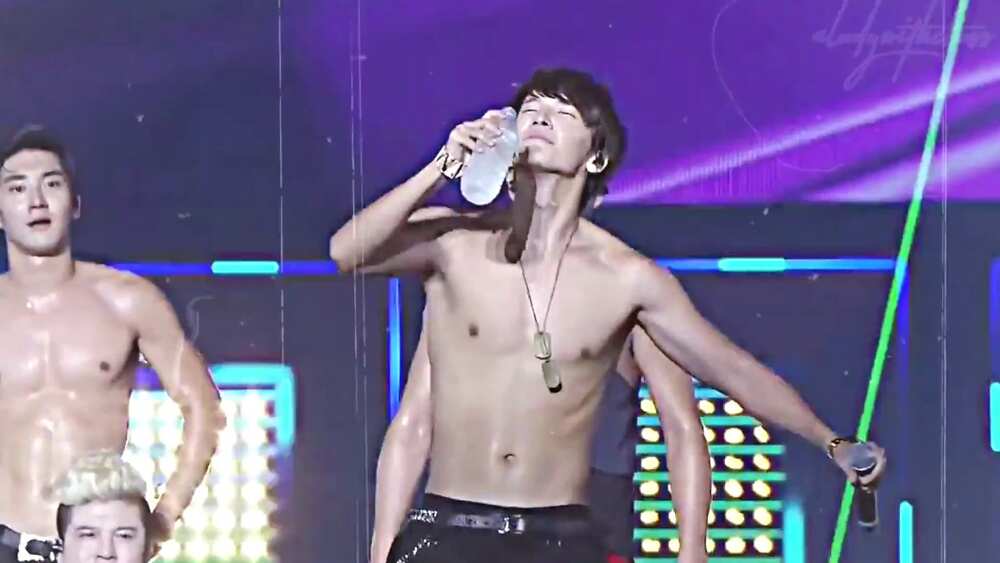 Currently, he is 175 cm tall and weighs 60 kg. He has dark brown hair and black eyes.
READ ALSO: Kyuhyun's profile: age, height, girlfriend, birthday, family
Lee Donghae family
Lee comes from a family of four; a father by the name Lee Seung-Yeon, a mother by the name Kin Hyang-sook and a younger brother by the name Lee Dong-Hwa.
Although his father wanted to become a singer, Lee's grandfather objected the idea, thus making him give up this dream. He pushed his son, Lee, to become the singer, thus fulfilling his father's dream.
Lee Seung-Yeon died from a chronic illness, and this left his son devastated. However, the two brothers, Lee and Dong-Hwa, have maintained a very close relationship with each other and with their mother as well.
Lee Donghae career
In 2001 he signed with the SM Entertainment right after he won the SM Youth Best Contest. He was placed into dancing, singing and acting classes and was later recruited in a boy band dubbed Smile that comprised of five members. The idea was dropped shortly after. Later on, in 2004, Lee, together with Leeteuk, joined another group by the name Super Junior 5.
On 6th November 2005, he officially debuted as a participant of the 12-member project group dubbed Super Junior 05. In early 2006, Lee made his debut in acting in a Super Junior's horror documentary dubbed Mystery 6.
Soundtrack and singles contribution
2007- Spokesman
2009- Happy bubble
2010- just like now, strong heart
2011- only U, dreams come true, this is love
2012- please don't, don't go
Filmography
2007- Attack on the Pin-Up Boys
2011- Super Show 3 3D
2012- I AM.
2014- The youth aka The Rumor
Lee Donghae TV shows
2010-2011: It's Okay, Daddy's Girl
2010- Smile Donghae
2011- 2012: Skip Beat
2012- Ms Panda and Mr Hedgehog
2014- Quiz of God- Season 4
Donghae military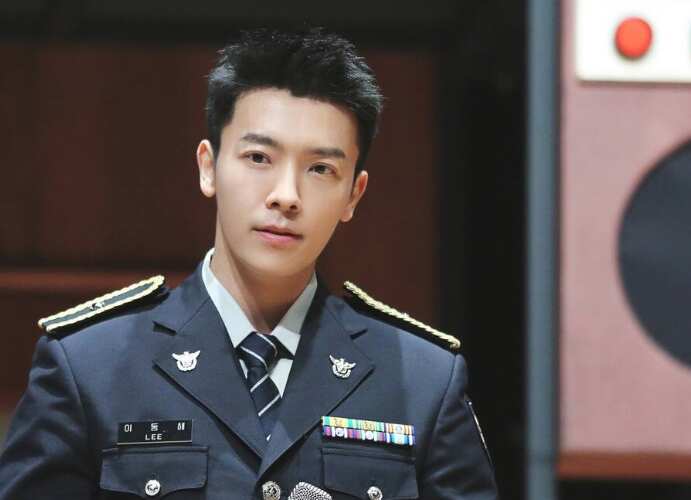 SM made the announcement that Lee would enrol as a conscripted policeman on 2nd September 2015. He made the enlisting on 15th October 2015, on his birthday, through the Nonsan Army Training in Chungnam.
After serving in the military for 21 months, he completed on 14th July 2017. Donghae Super Junior come-back took place on November 2017. Donghae and Eunhyuk announced this reunion while they were in Japan launching the release of a series of Japanese singles which would be made up of releasing one song each month from November 2017.
Girlfriend
Who is Lee Donghae girlfriend? The singer has been linked to several women over the years. Dara, Jessica and Stella Kim are among the models that have been associated with him.
Donghae and Dara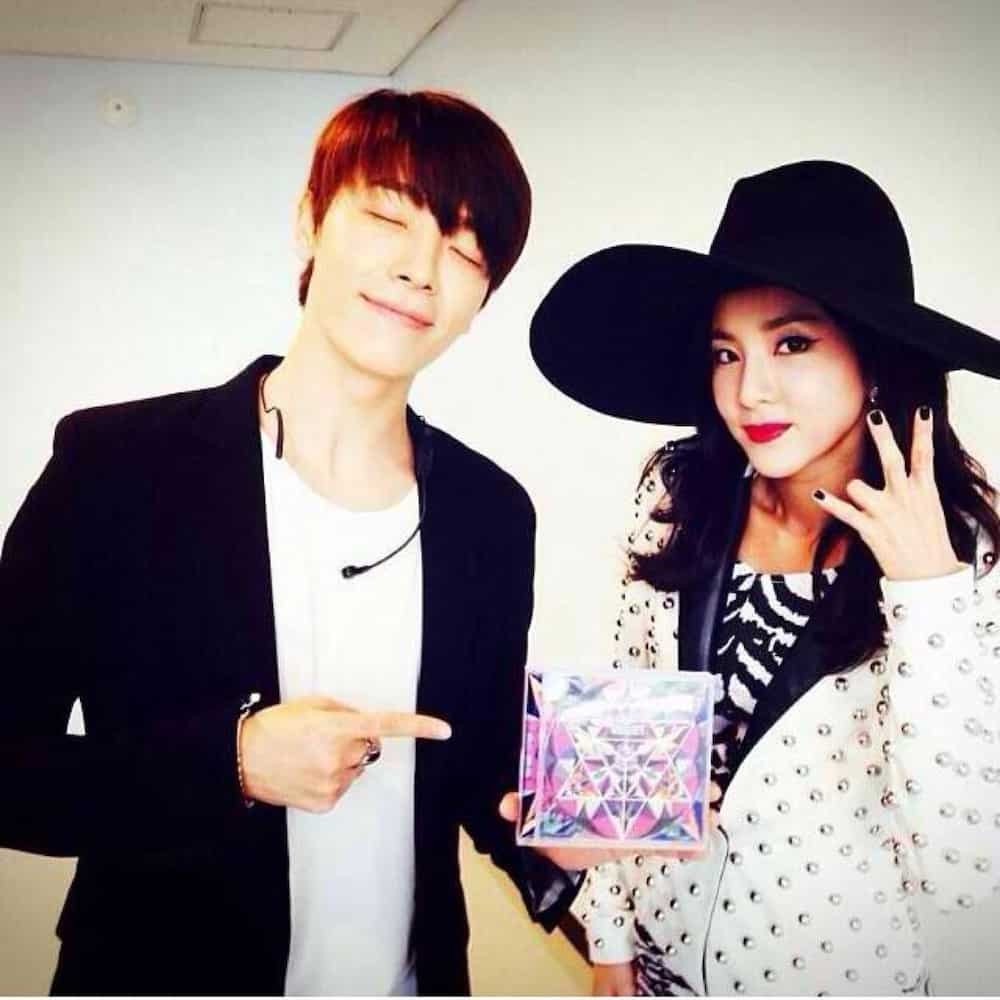 He has been linked with Dara, his longtime friend. The two have participated in several shows together, and their on-screen chemistry is undeniable, thus making people think that there is chemistry in real life as well.
However, Lee Donghae and Sandara Park have denied dating one another, and they only refer themselves as best friends. They claim that they are both focusing on their careers hence have no time to date.
Donghae and Yoona
Rumours were going around that Lee was dating a member of the Girls' Generation by the name Yoona. The two had the tendency of taking pictures while wearing paired rings or bracelets and posting them on social media. However, neither the two nor their agencies confirmed this rumour.
Lee Donghae wife
At the moment, Lee is not married but looks forward to getting a wife someday. He would love to have four children in a span of seven years after getting married. We hope that he will tie the knot soon.
Donghae Instagram and other social media accounts
The renowned singer is active on various social media platforms which help in boosting his following across the globe. Therefore, you can reach him on the multiple social media platforms if you want to be getting an update on his films, songs or any other latest news.
Now you have Donghae SuJu age, height, family and career path. He is indeed a force to reckon in the society today.
READ ALSO: Kai Sotto height, age, biography, family, stats
Source: KAMI.com.gh