BulSU portal grades, sign up, login, activate
Are you a new student, continuing student, or a potential candidate looking forward to joining the Bulacan State University? BulSU portal online is a helpful avenue that the campus uses to register students, offer services, and information during their studies.
BulSU portal is an online platform that Bulacan State University uses to share and access student's data. What's more, it enables students to easily access numerous useful information and services throughout their campus life. Learn more on how to register and use the portal.
How to activate BulSU portal
For you to successfully activate your student account, you will have to register as a student through the portal.
NOTE: Bulacan State University terms and conditions state that every student is entitled to only one account. Learners who create more than one account through their student number will be denied access and activation to the BulSU portal.
My BulSU portal activation steps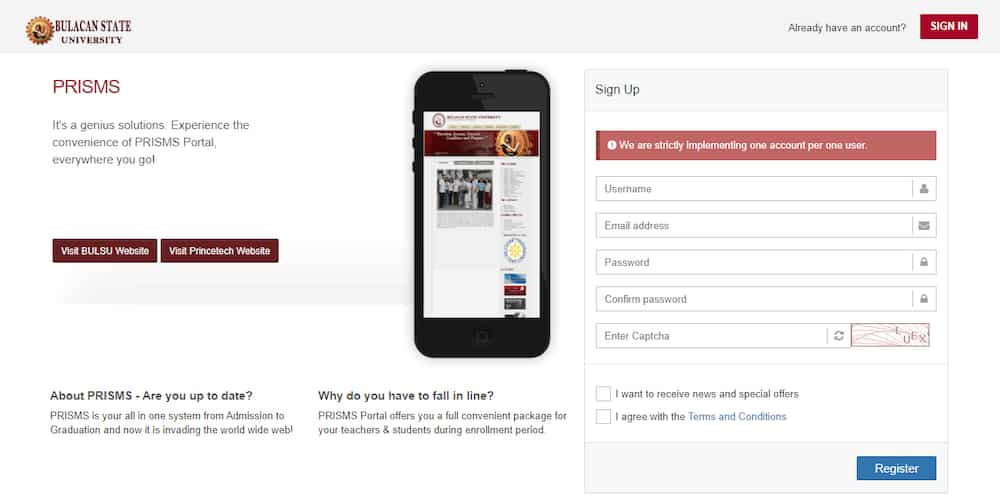 Below are the easy to follow steps that will enable you to activate your portal in no time. You only require an internet-enabled device such as a computer and an active email address.
1. By using your internet device, go to Bulacan State University web portal and click on the icon named "CREATE ACCOUNT." The icon is maroon in color and located at the distant top right corner of the website.
2. Key in the correct information in every section of the "Sign Up" box. These include:
Username
Email address
Password
3. After confirming your password, click to tick the "terms and condition" box to confirm that you agree to the set rules.
4. Finish by clicking on the blue "Register" icon located at the bottom of the "Sign up" box
5. After successful registration, you will have to validate the email address used in logging in. It is advisable to always use an active and validated email.
Log in to your email, for example, "G-mail" and open the inbox. Click on the option "Verify Now."
Note: If you do not receive a verification email, you have two options. First, check your email spam section and refresh your email.
If you don't receive a notification, visit MIS Office that is located at Natividad Hall. You will receive technical support to activate your account.
BulSU portal sign up
Once verified, the next step is to sign in. There are two significant factors to consider.
1. Are you signing in as a new student?
2. Are you signing in as a continuing student?
New students
If you are an incoming student, click on the "applicant" icon and provide the required pieces of information based on your admission letter.
Continuing students
Unlike new students, current students have to fill in the required data that include their student number followed by either their date of birth or their correct "Official Receipt No."
Note: Any error or misspelled detail will have the system barring you from activating. As a result, it is paramount that you make sure your student number and COR are similar. Ensure that the year is written in a full format, for example, "2020." When it comes to inputting your date of birth, follow the MM/DD/YYYY style, for example, "07/03/1993."
In the case that you have tried the above options and are still unable to activate your portal, don't hesitate to visit the MIS offices for one-on-one help.
BulSU portal login account and profile settings
By following the above steps, your account will have successfully been activated. This means that you can now log in and access the different services and make the desired settings, as explained below.
Profile picture setting
Go ahead and make your profile look professional by adding the desired profile picture. Go to the BulSU portal sign in and log in to your profile. You will see an icon named "profile picture." Click on it to upload a picture of choice (maximum size of 500 x500 pixels).
Password changing
While still on your profile, you can also choose to change your password to a more comfortable or valid one. Select a strong password to protect your data and a password that you can easily remember.
By clicking on the "change password' icon, you will have to provide your previous password, followed by the new password of choice and a confirmation password. Finish by clicking on the icon "Update Password."
Portal BulSU registration services and benefits
Did you know that the online platform does not only serve students but also staff? Below are some of the services to expect as a learner.
BulSU portal grades
One of the most significant advantages of having a student's portal is access to personal grades. However, since the portal is used by both lecturer in posting results and students in accessing numerous data, the high influx may lead to the grades section running slow.
Viewing personal data
Once in the account, you can access numerous school calendar data and more. Some of the informative icons include:
Dashboard
Profile
Grades
Evaluation
Advising
Student Ledger
Accountabilities
BulSU portal is one of the useful technological achievements to assist BulSU application students, continuing students, and even faculties in their campus activities. Once potential students register to the school through filling, downloading, and submitting BulSU.edu.ph application form, they are required to activate their portal for a smooth transition.
BulSU portal enables learners to access essential data and information throughout their campus life. They also get services such as fee ledgers, grades compilation, advising, fee payment procedures, and much more. Go ahead and register yours today.
READ ALSO: Batangas State university portal faculty, student, registration
Source: KAMI.com.gh