Everyone needs a little romance in their life. Amidst the many action-packed storylines in this year's list, there are also numerous romance anime series that deserve all the love they can get. Check out the 2020 best romance anime that can make your heart race and skip a beat.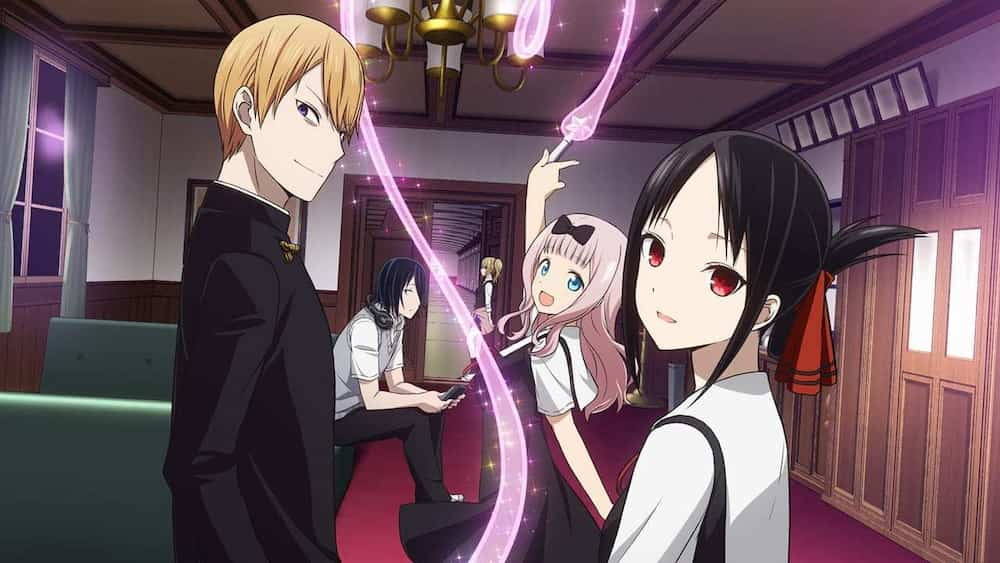 Like the many ups and downs of love, anime romance is relatable and exciting. As watchers get invested in the anime love story on-screen, the mix of emotions that come with the stories undoubtedly tug at the heart.
Best romance anime to watch this 2020
These are the top picks to add to your best romance anime list:
1. Omoi, Omoware, Furi, Furare (Love, Be Loved, Leave, Be Left)
The story follows four high school classmates, namely Yuna, Akari, Kazuomi, and Rio, all with different points of view when it comes to love and romance. As feelings develop and are reciprocated, they begin to understand their hearts a little better. This story proves to be a relatable tale of young love with all emotions that accompany the experience of admiring someone.
2. 5-Toubun no Hanoyame Season 2 (Quintessential Quintuplets, The Five Wedded Brides)
Release: January 2020
IMDB score: 7.2/10
As five sisters, Itsuki, Miku, Ichika, Nino, and Yotsuba, share the same romantic feelings towards their private tutor and classmate, Futaro, just how will their story in the second season progress? More importantly, can Futaro choose among the five gorgeous and equally lovable sisters?
READ ALSO: Anime quotes about love and pain that will give you diverse emotions
3. Dungeon ni Deai wo Motomeru no wa Machigatteiru Darou ka Season 3 (DanMachi: Is It Wrong to Try to Pick Up Girls in a Dungeon?)
Release: 2020
IMDB score: 7.4/10
Do you believe in fateful encounters? In the city of Orario, adventurer Bell Cranel follows his dreams of becoming one of the greatest in the city. With the blessing of the Goddess Hestia and his strong feelings for high-tier adventurer Ais, he works hard to become someone worthy of standing beside her.
4. Hatena☆Iryūjon (Hatena Illusion)
Aspiring illusionist Makoto Shiranui wishes to learn the ways of Hatena's magician parents. To do this, he travels all the way to Tokyo to live with them. This enjoyable and quirky series takes viewers on their own magical ride with the protagonists. Amidst the magic and brewing secrets, will Makoto and Hatena find something enchanting between them?
5. Nekopara
Cute anime like Nekopara is a staple in the community. Kashou Minaduki's plans to start a patisserie named 'La Soleil' quickly becomes a comical and fun adventure with his catgirl companions, Chocola and Vanilla. The rom-com gets even more interesting as more catgirls enter the picture, and certain characters start developing romantic feelings.
6. Chihayafuru Season 3
Release: October 23, 2019 (Ongoing)
Chihayafuru centers around the Japanese card game, Karuta, in which the three main characters Chihaya, Taichi, and Arata, are all connected to. However, amidst Chihaya's passion for the game and dream of being the best, a love triangle forms among the trio. Will she prioritize her dream or her heart?
7. Kaguya-sama wa Kokurasetai? Tensai-tachi no Renai Zunousen Season 2 (Kaguya sama: Love is War)
Release: April 2020
IMDB score: 8/10
Love is literally war for student council president Miyuki and her vice president, Kaguya. Although everyone regards the pair as the 'perfect couple', they are not actually together. However, both characters use their wit and various tricks and antics to get the other to confess their feelings. In this game of pride, whoever confesses first is the loser.
8. Kanojo, Okarishimasu (I'd like to Borrow a Girlfriend)
Heartbreak can lead people to do crazy things. In his state of devastation, broken-hearted Kazuya calls up a rental girlfriend to ease the pain of having his heart crushed. He matched with the seemingly perfect Chizuru who he finds out to be a sassy gal in real life. In a sudden turn of events, Kazuya is forced to convince his grandmother that his girlfriend-for-a-day is actually his real significant other.
9. Yahari Ore no Seishun Love Comedy wa Machigatteiru Kan Season 3 (My Teen Romantic Comedy SNAFU, My Youth Romantic Comedy is Wrong as I expected)
Release: April 2020
IMDB score: 7.8/10
As the final arc of the popular series, fans will be seeing more of the cynical Hachiman Hikigaya and his ironic story of being in the school's Volunteer Service Club. Together with club members Yui and Yukino, Hachiman slowly opens up his socially awkward self to help others while being able to experience some romance here and there.
READ ALSO: Sad anime films that will touch your hearts
10. Fruits Basket Season 2
Release: 2020
IMDB score: 8.3/10
Tohru Honda suffered a terrible misfortune when she lost her family. Having nowhere to go, the Soma clan accepts her into their home where she finds herself living with boys who turn into animals of the Chinese zodiac when hugged by the opposite gender. As their hearts grow closer, viewers get to witness how each character conveys their language of love.
11. Yesterday wo Utatte (Sing 'Yesterday' For Me)
After graduating from University and having no-luck with regular jobs, a frustrated Rikuo Uozume becomes a convenience store employee instead. During this time, he meets two significant women in his life. These are his former crush and University classmate, Shinako, and a girl who has a crow for a pet, Haru. As the love triangle forms, just how much will Rizuo's simple life change?
12. Rikei ga Koi ni Ochita no de Shoumei Shitemita (Science Fell in Love, So I Tried to Prove it)
Release: January 11, 2020
IMDB score: 8/10
Can science answer something as complicated as the emotion 'love'? Scientists Shinya and Ayame share mutual romantic feelings and are putting their relationship under an experiment to see results. As love and scientific theories merge in the process, the couple will see their emotions and perhaps find the answers they are looking for.
13. Nami yo Kiitekure (Wave, Listen to Me!)
After going on a drunken rant about her pain and heartbreak, Minare finds her dialogue being broadcasted on the radio the next day. As many fans seem to sympathize with her emotions, she gets invited to work at the station and her story begins. The romantic-drama paints emotions in the only way radio can.
14. Kyokou Suiri (In/Spectre)
Does a mediator between the spirit and human world deserve love? When she was just 11, Kotoko became the Yokai world's God of Wisdom whom the yokai consulted with their problems. One day, she meets Kuro, a university student. Seeing as this was her chance for love, she asked him for help in her duties as mediator. in hopes of getting to know him better and marrying him one day.
15. Sword Art Online: Alicization - War of Underworld 2nd Season
Release: April 2020
IMDB score: 8.2/10
While in the underworld, something happens to Kirito's soul translator and fluctlight and our hero ends up being in a comatose state. Alice takes Kirito into her care while at the same time protecting herself and him from the invaders. As the War of the Underworld unfolds, will Asuna dive in the chaos to rescue the love of her life?
Love is a complicated emotion with many interpretations. Among the best romance anime movies and series out there, different kinds of love are portrayed in both deep and quirky ways that fans can not help but be entertained. Have your pick at the best romance anime this 2020.
READ ALSO: Funny anime shows that certified Otakus need to check out