How to cook tinolang manok: step-by step recipes with photos
With the many soupy pinoy dishes, tinolang manok, also known as chicken tinola, stands out from the rest. The delicacy is easy to prepare, it is delicious and has many health benefits. Learn how to cook tinolang manok using the below simple processes.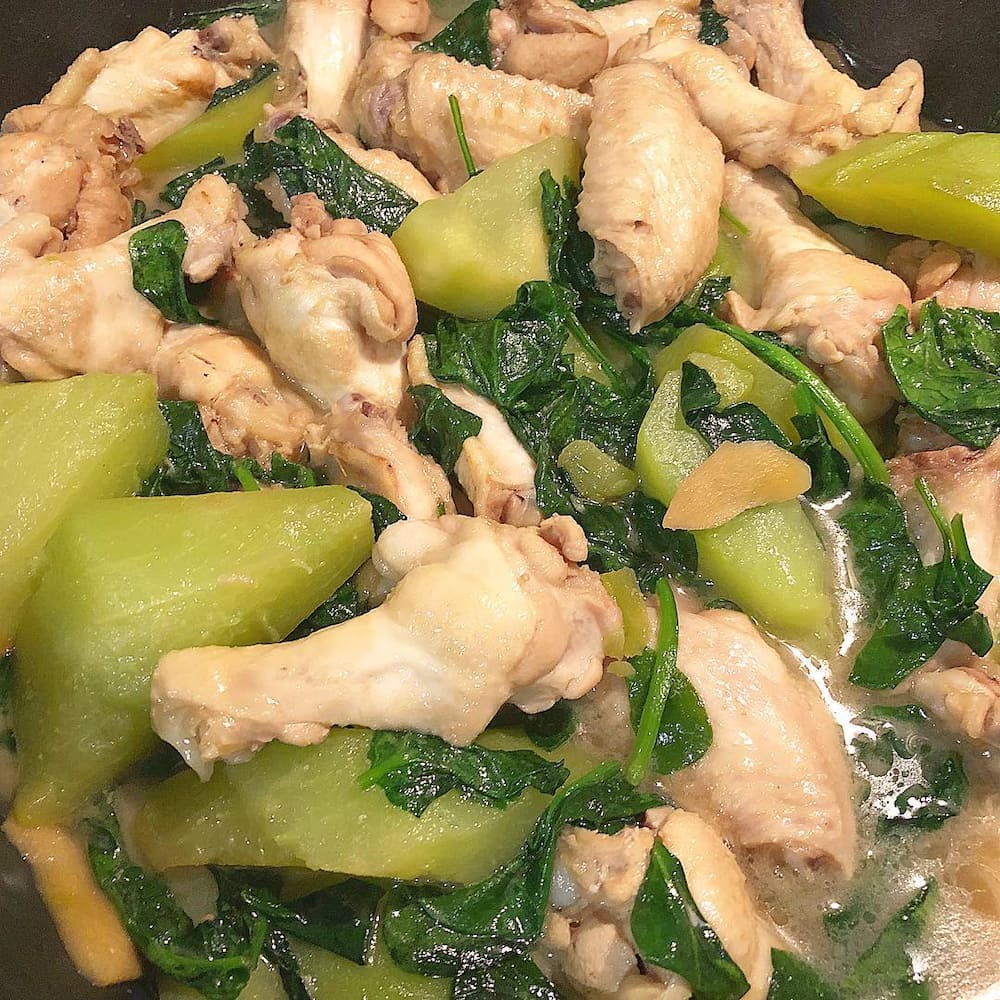 Tinolang manok is a Filipino delicacy. The preparation of the soup requires various chicken cuts and internal organs. Some of the ingredients you can use are papaya, malunggay, and chili pepper. It should have a high seasoning of ginger, garlic, and fish sauce. Here are the popular ways on how to cook tinolang manok.
How to cook tinolang manok Filipino style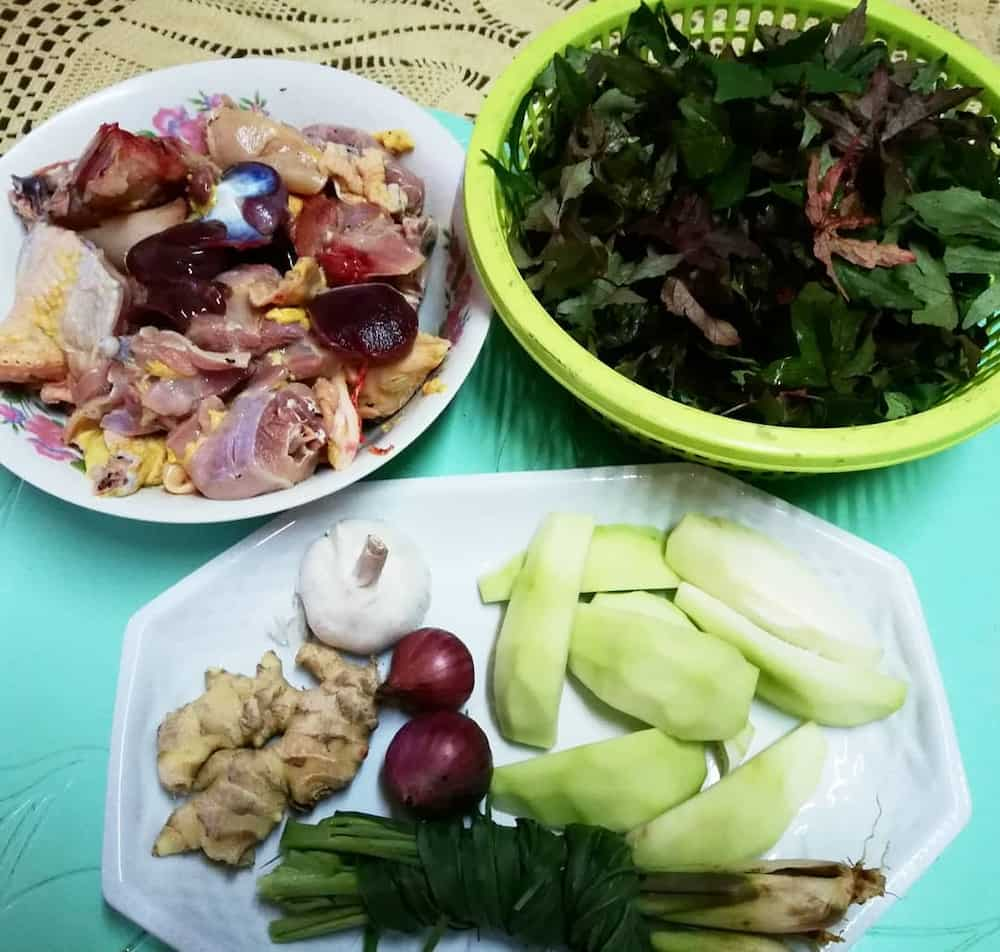 Tinolang manok is prepared using ginger, onion, and chicken. However, you can spice it up by adding malunggay (moringa leaves) and green papaya. The mixture makes the meal highly nutritious. It is possible to use the basic recipe and then personalize it to suit your personal taste.
How to cook tinolang manok ingredients
2 chicken leg quarters cut
Salt to taste
3 cloves of garlic chopped
1 medium-sized onion chopped
2 tablespoons of ginger
11/2 tablespoons of fish sauce
1 liter of water
1/2 chicken cubes
2 tablespoon canola oil
Green leaves
Procedure
Season chicken with salt and pepper
Heat oil on medium heat then add garlic and onions, then stir for two minutes
Add chicken and give it a light sear on all sides
Put in the patties and let it boil
Add enough water to cover the chicken and bring to boil - this will take about 40 minutes but it will depend on the chicken you are using
Add in a bouillon cube and any green leaves of your liking
Turn the heat low and allow the broth to simmer for 10 minutes. Add seasoning of your choice.
READ ALSO: How to make ice candy at home
How to cook tinolang manok with malunggay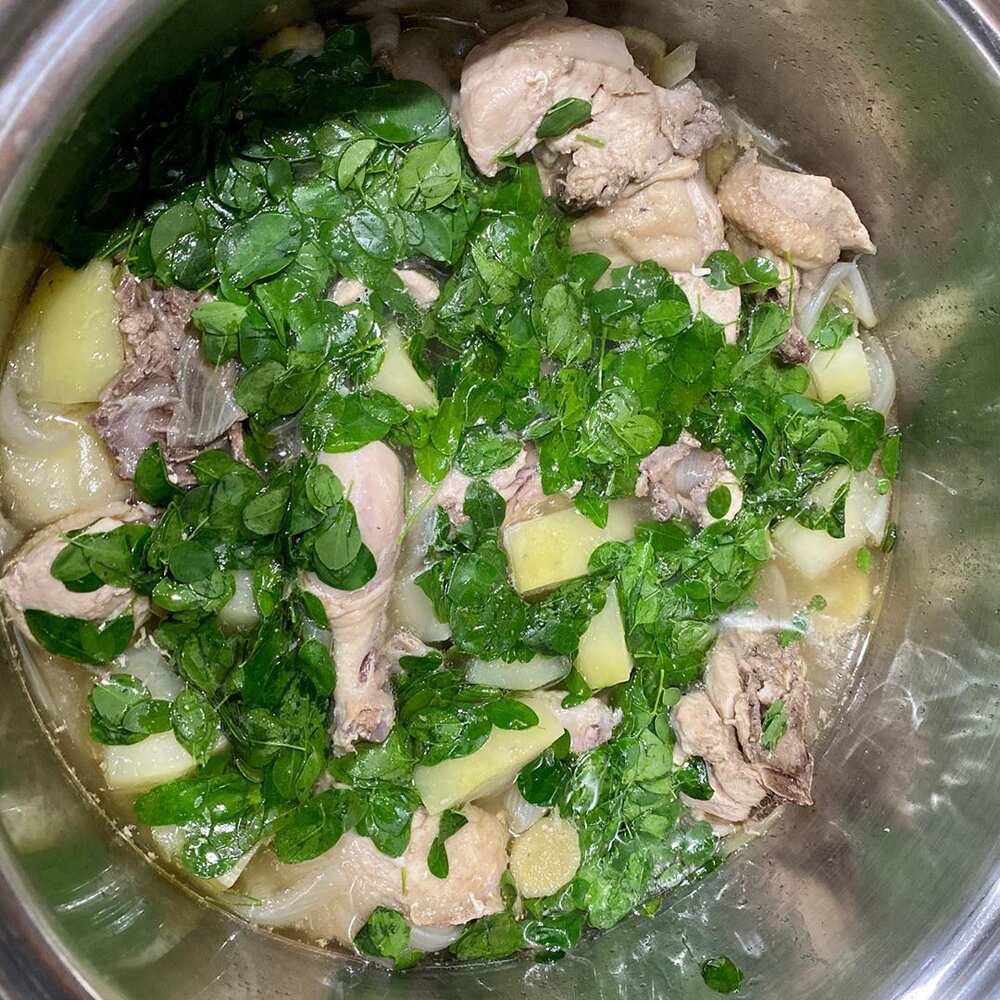 Tinola is usually made using chicken, ginger, and onion. Adding moringa or malunggay leaves makes this soup more delicious.
Ingredients
Chicken pieces
salt, to taste
1/2 cube chicken bouillon cube
1 tablespoon white onion, chopped
1 tablespoon garlic, chopped
2 tablespoons canola oil
1 1/2 tablespoons fish sauce (patis)
2 tablespoons ginger, julienned
4 to 5 cups of water
1 cup malunggay leaves (moringa)
Process
Season chicken using salt and pepper.
Heat your oil over medium heat and sauté the ginger, onions, and garlic.
Add chicken pieces and sear lightly on the sides. Pour the patis and let it boil.
Add enough water to cover chicken pieces and let it boil.
Add chicken bouillon cube and papaya slices and stir
Reduce heat and let it simmer for -10 minutes.
Adjust seasoning as desired.
READ ALSO: How to make dried mango at home
How to cook tinolang manok with papaya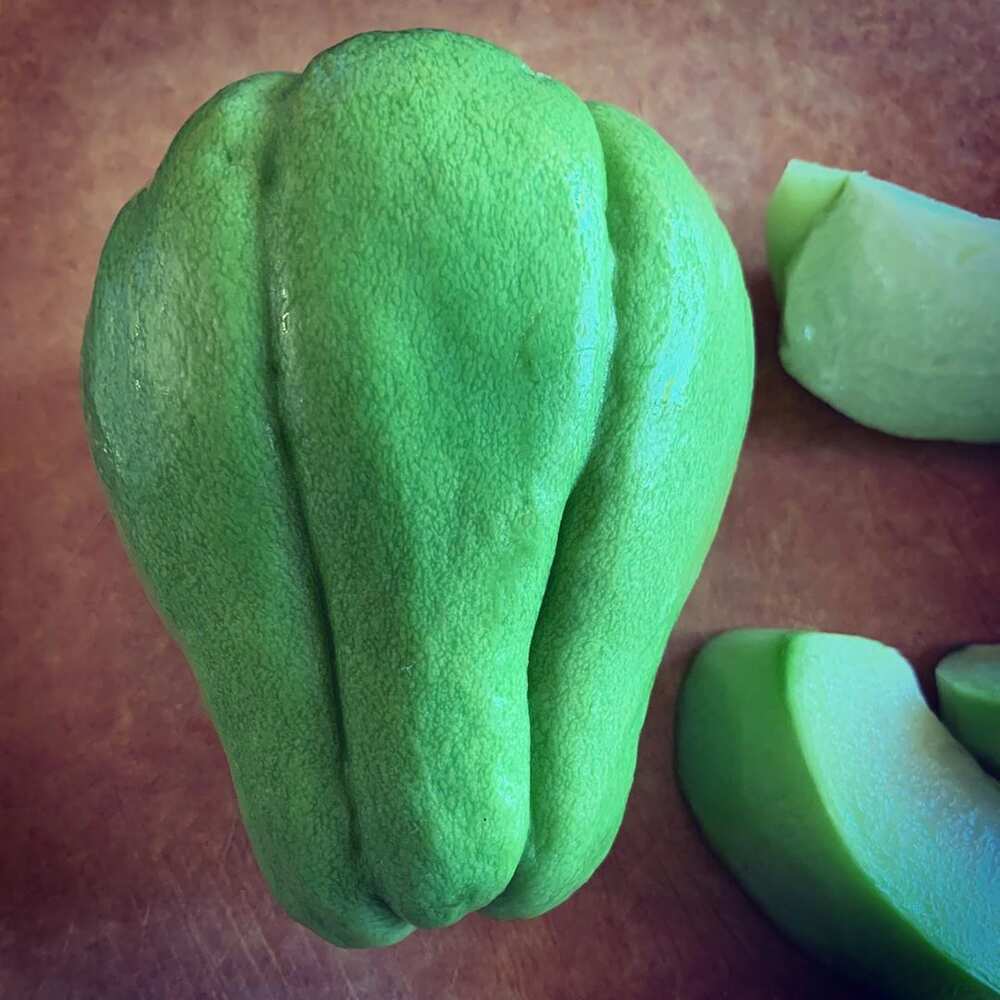 When you are preparing tinolang manok soup, you have the choice of including the internal organs or not. If you desire to know how to cook tinolang manok with liver, and papaya, consider the steps highlighted below.
Ingredients
1 whole chicken (including gizzard and liver)
1 white onion
4 cloves garlic
2 tablespoons vegetable cooking oil
2 small green papayas (or 1 large)
thumb-size piece ginger
bunch chili leaves
fish sauce to taste
Instructions
Cut the chicken into desirable sizes
Peel, crush and mince your ginger
Peel and later finely slice the ginger and onion
Heat your cooking oil in the pt. Sauté the ginger and garlic till they begin browning. Add onions and cook for several minutes or till the onions start to become soft
Add chicken pieces excluding your liver and cook in the heated oil till the chicken begins browning along its edges.
Pour water in the pot – enough to cover the chicken. Boil the mixture in low heat while covered and simmer for around 20 minutes
In the meantime, prepare your chili leaves and green papaya. Cut the papaya into half lengthwise and remove the seeds using a spoon. Cut and discard the papaya skin. Cut the pale greenish flesh to wedges.
Pick the chili leaves and throw away the stalks.
After simmering the chicken for around 20 minutes, add your green papaya and let it boil at low heat for about 10 minutes. Add your chicken liver and cook for another ten minutes till the chicken liver and papaya are well done. The papaya should not be overcooked. Taste your broth and add seasoning (fish sauce) if necessary.
Turn the heat off. Scoop out your liver and set it aside. Place the chili leaves in the pot, cover it, and leave it for around 10 minutes. The chili leaves should not be boiled since they will become bitter.
READ ALSO: How to make Maja Blanca?
How to cook tinolang manok native
In the making of tinolang manok, the chicken used can be broiler or native. Making the meal using native chicken will give the food more flavors. However, it is paramount to note that native chicken will take a long time to cook. When boiling, you should do it for 60-75 minutes until the chicken is tender.
How to cook tinolang manok Bisaya
When making the soup using the Bisaya version, you will need lemongrass.
Ingredients
Chicken Thighs- around 5 pcs (skin removed)
2 medium Sayote
5 cloves Garlic, diced and crushed
1 thumbsize Ginger, crushed and diced -
1 medium Onion, diced
2 stalks Lemongrass (Tanglad), crushed
1/2 tsp Black pepper, cracked
500ml Rice Water
2tbsp Fish Sauce (Patis)
2 tsp Olive Oil
Salt to taste
Cooking procedure
Using a non-stick pot, pour in the oil and add lemongrass, ginger, onions, and garlic. Stir till it is sweet-smelling
Add chicken pieces and stir-fry till their fat is extracted, not allowing the chicken to become brown
Ad in rice water, cover your pot and let it boil.
Reduce your fire to medium-low and season using salt and patis. Allow the chicken soup to simmer for about 11/2 hours. Add water whenever needed and stir occasionally.
Add your sayote and allow the combination to simmer till veggies are well cooked.
Adjust the seasoning as desired.
How to cook tinolang manok panlasang pinoy
Panlasang pinoy is the home of Philipino recipes. You will find various tinolang manok recipes when you visit the site.
The above site will also offer you tips on how to cook tinolang manok for you to see and prepare the meal all by yourself. The meals are served with plain white rice. Chicken Tinola can be enjoyed as a starter or can be served as a main course. It should be served hot. It is a meal the whole family can enjoy. The article has highlighted effective ways of how to cook tinolang manok with pictures for ease of cooking.
READ ALSO: How to cook lechon kawali?
Source: KAMI.com.gh