How to make embutido recipe (Visuals)
Embutido is a favorite Filipino meatloaf that is mostly consumed during holidays. It is a special food that you will find families across the Philippines preparing during Easter and Christmas. The regular embutido is made of ground meat that is mixed with other ingredients like eggs and cheese to form the shape of a loaf. The classic embutido recipe usually has pork as the main meat and other embutido ingredients. However, people cook with other meats like goat meat and beef to add a little twist to the traditional method.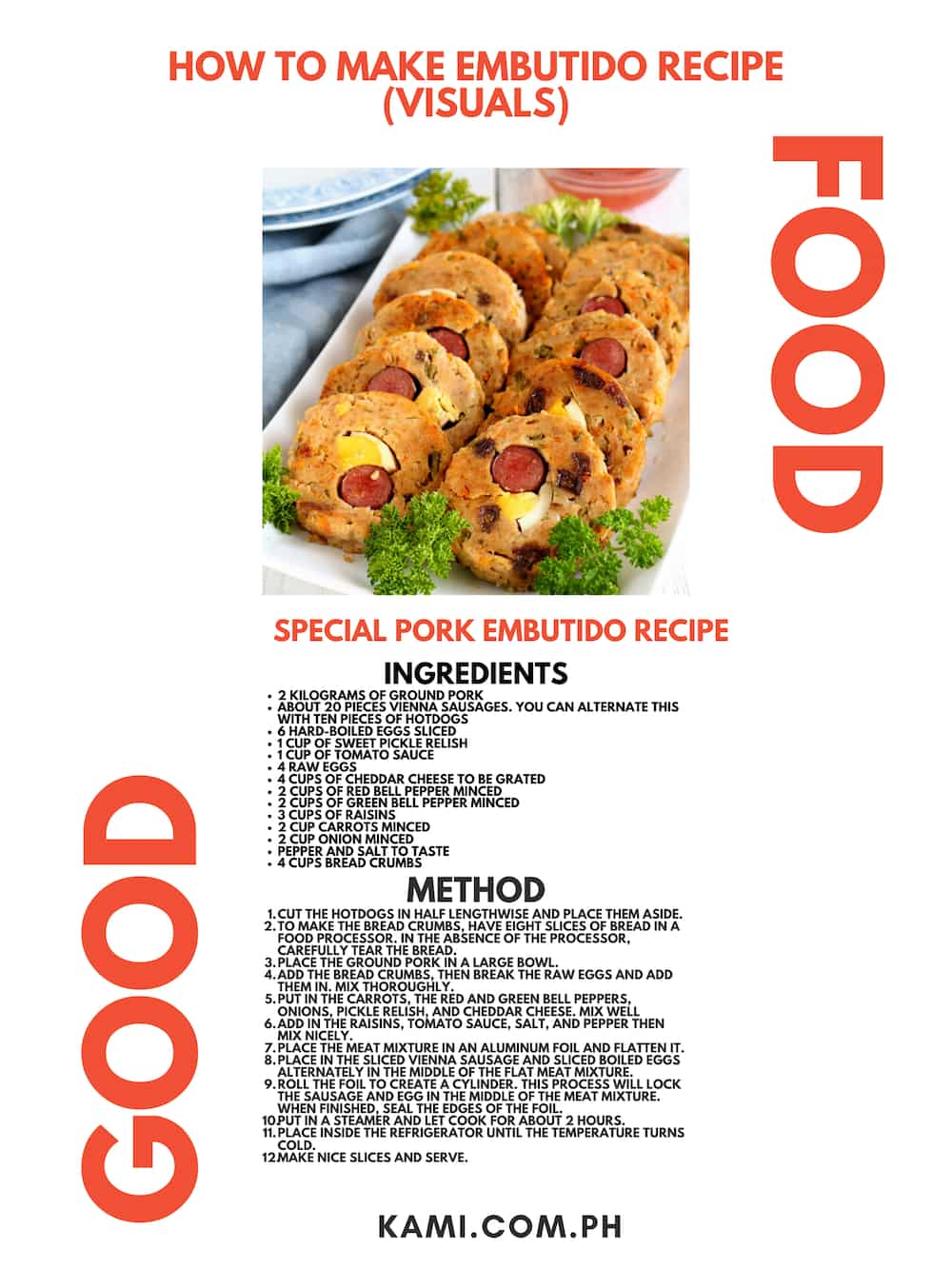 Embutido can be eaten as a whole meal accompanied by a starchy food and a sauce or a snack or even accompanied by a cold beverage. The average cooking time for this type of meatloaf is 30 minutes to 1 hour, though this varies depending on the amount of meat you have. Embutido recipe with flour is also great as it adds that distinctive taste. A grater is essential when making this meatloaf for the ingredients to appear finer. The following are ways on how to make embutido recipe.
Special pork embutido recipe
This special home-cooked embutido is much yummier than what is sold in cafes and on the streets. The aroma and taste are appealing, thanks to the super ingredients used. You can serve it when cold or as a fried embutido recipe after steaming.
Ingredients
2 kilograms of ground pork
About 20 pieces Vienna sausages. You can alternate this with ten pieces of hotdogs
6 hard-boiled eggs sliced
1 cup of sweet pickle relish
1 cup of tomato sauce
4 raw eggs
4 cups of cheddar cheese to be grated
2 cups of red bell pepper minced
2 cups of green bell pepper minced
3 cups of raisins
2 cup carrots minced
2 cup onion minced
Pepper and salt to taste
4 cups bread crumbs
Method
Cut the hotdogs in half lengthwise and place them aside.
To make the bread crumbs, have eight slices of bread in a food processor. In the absence of the processor, carefully tear the bread.
Place the ground pork in a large bowl.
Add the bread crumbs, then break the raw eggs and add them in. Mix thoroughly.
Put in the carrots, the red and green bell peppers, onions, pickle relish, and cheddar cheese. Mix well
Add in the raisins, tomato sauce, salt, and pepper then mix nicely.
Place the meat mixture in an aluminum foil and flatten it.
Place in the sliced Vienna sausage and sliced boiled eggs alternately in the middle of the flat meat mixture.
Roll the foil to create a cylinder. This process will lock the sausage and egg in the middle of the meat mixture. When finished, seal the edges of the foil.
Put in a steamer and let cook for about 2 hours.
Place inside the refrigerator until the temperature turns cold.
Make nice slices and serve.
READ ALSO: How to make siomai: 5 best recipes
Chicken embutido recipe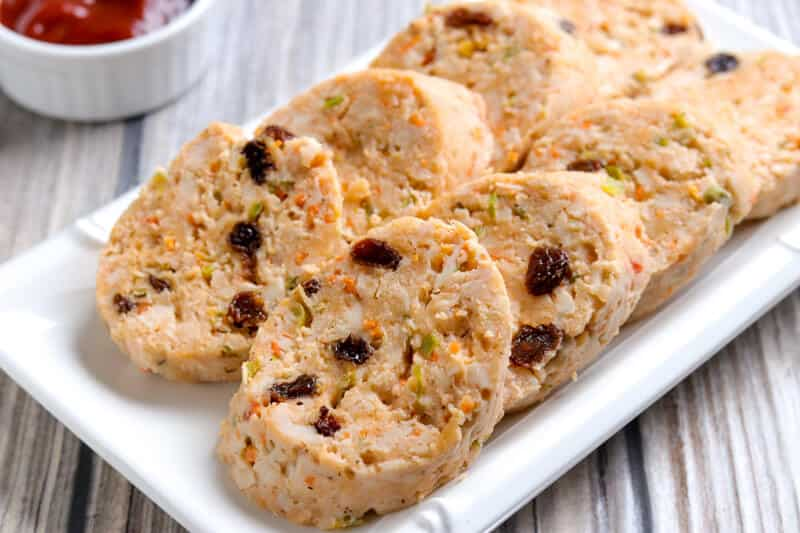 Chicken is a great alternative when making embutido for people that do not like pork. To complement your perfectly made chicken embutido, you need the Mornay sauce. This is the creamy white sauce you see on Lasagna and Baked Macaroni. The Mornay sauce is made with shredded or grated Gruyère cheese added.
Ingredients
1 kilo of ground chicken
2 pieces of chorizo to be minced
4 tablespoons of pickle relish
1 cup of raisins
1 large carrot to be grated
1 teaspoon of ground black pepper
2 medium-sized onions to be minced
2 raw eggs
1 cups of bread to be shredded
1 red bell pepper to be minced
salt to taste
6 boiled eggs
3/4 block cheddar cheese to be sliced into vertical strips
Method
Use a large bowl to mix all ingredients except for boiled egg and cheese. Mix everything until all ingredients perfectly combine. You can use a blender if you face difficulties while mixing.
To achieve equal proportioning, divide the mixture into 12 portions using a cup. Prepare 12 pre-cut aluminum foil pieces. Cheese is optional
Use a spoon to spread out a rectangular shape meat mixture on top of the foil. Lay 2 quarters of boiled egg and cheese strip beside it on each portion of the mixture. Place two cheese strips beside the boiled egg.
Lift one side of the foil and roll it steadily to cover the boiled egg and cheese. The outcome should have a log with egg and cheese filling in the center.
Roll it severally to make the mixture compact. Twist every end to seal.
Steam for about an hour.
You can also fry it first if you love fried embutido recipe before serving or re steam before slicing.
READ ALSO: Humba recipe Filipino style: How to cook one? (Visuals)
Beef embutido recipe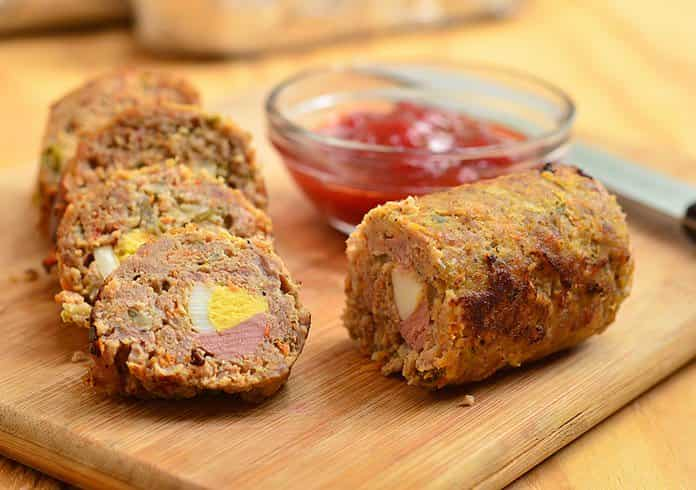 The Philipino embutido can be made using different meats. The embutido recipe with evaporated milk is as delicious as any other embutido provided you balance your ingredients and mix everything well. The egg to meat ratio is essential. Use at least 4 eggs for every kilo of meat. This special embutido recipe is not for steaming but baking. Lean beef will make you some tasty embutido that you can take as a snack.
Ingredients
1 kilogram of lean ground beef
4 onions to be finely chopped
2 bell peppers to be finely chopped
1 large carrot to be grated
¾ quarter cup of sweet pickle relish
¾ cup of breadcrumbs
1 cup of evaporated milk
2 tablespoons of freshly chopped parsley
4 eggs to be beaten
2 teaspoons of salt
1 teaspoon of pepper
2 teaspoons of Worcestershire sauce
6 pieces of aluminum foil
Method
Use a large dry bowl to mix all the ingredients.
Divide into 6 portions, taking each part and rolling into a tightly packed log.
Wrap with a piece of aluminum foil. Ensure that all edges are sealed.
Repeat the same process for each portion of the meat-vegetable mixture.
Put it in a baking tray and bake in a moderately hot oven, about 375-degrees Fahrenheit. This should take 50 to 60 minutes.
Remove from oven, and let them cool for you to slice into rings.
Garnish with mayonnaise, mustard, and catsup and serve.
Classic cheesy embutido recipe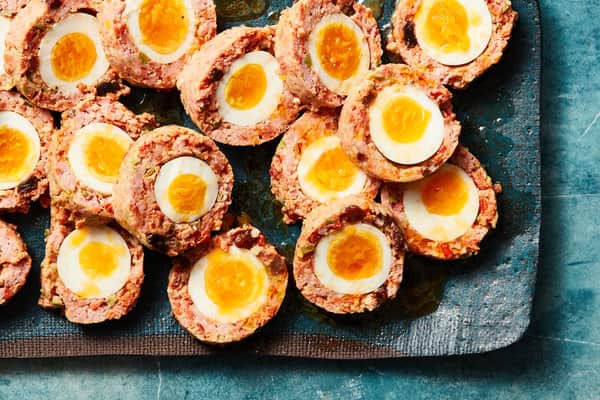 This cheesy embutido will have you asking for more the cornflour, powdered milk and cheese are vital in making a creamy combination that is both delicious and gratifying. You can make the best embutido recipe ever using this recipe and store it in the freezer to be consumed later.
Ingredients
4 pieces jumbo hotdog
1 kilogram of ground pork
1 tablespoon salt
1 tablespoon ground pepper
1 tablespoon brown sugar
250 grams sweet ham, cut into small squares
2 medium red bell peppers, minced
2 tablespoons pickle relish
5 tablespoons raisins
2 medium carrots, grated
5 medium red onions, minced
1/2 cup corn starch
1/2 cup powdered milk
2 165-gram pack processed cheese, cut into 1/4-inch cubes
8 large eggs
Method
Soak the hotdogs in hot water and wait for the water to get cold. This process aids in preventing t the red food coloring from staining the embutido.
Drain the water and slice the hotdogs.
Place them in a clean container and add lean ground pork, salt, pepper, sugar, sweet ham, red bell pepper, pickle relish, raisins, carrots, onions, cornstarch, powdered milk, and cheese. Mix everything well using a big spoon or your hands.
Add eggs to the mixture and keep blending everything.
Place one cup of the embutido mixture at the center of the aluminum foil. Spread to an even log, leaving 2 inches on both ends, and roll tightly. Twist the ends to seal. Do this for each of them as your steamer is preheating on high heat.
Once the steamer's water is boiling, minimize the heat to a simmer and then put the pre-made embutido rolls in the steamer basket. Cover and let them cook for 30 minutes.
Flip the embutido on its other side and cook for another half an hour.
Remove the embutido from heat. Get a clean tray where you will place the embutido to room temperature.
Slice and serve it at your desired temperature. You can also fry before serving.
You can eat embutido when cold as a main dish or when warm. The beauty of making an embutido is that it does not go bad easily. A low carb embutido recipe made today can be eaten for weeks. The trick is to store it properly. You can freeze your embutido and slowly enjoy it for up to a month. Ensure that you defrost it by exposing it at room temperature for a few hours. Never microwave your embutido as it will react with the aluminum foil.
READ ALSO: How to cook tinolang manok: step-by step recipes with photos
Source: KAMI.com.gh