Humba recipe Filipino style: How to cook one? (Visuals)
Nothing brings a family together than the simple things they do together; one of them is sharing a meal. If you want to serve your family or loved ones with a mouth-watering dish, you will never go wrong with humba recipe. It is a simple yet super impressive meal that everyone will fall in love with. The preparation and cooking procedure is pretty straightforward since all you have to do is identify the necessary ingredients and follow the right cooking procedure.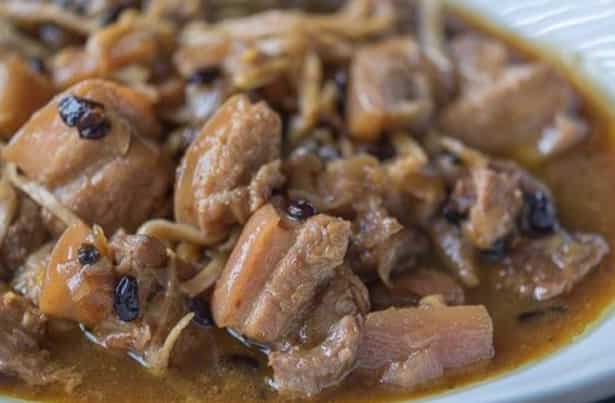 Humba is a sweet pork dish that closely resembles the famous pork adobo in appearance. The recipe is renowned across the different southern parts of Philippines, and a majority of the individuals consider it one of their best delicacies. The three commonly used pig parts in making this delightful masterpiece are pork hocks, ham, and belly.
How to cook humba recipe
To prepare a good meal calls for patience, great attention, and regular practice. This is no different from preparing humba dishes. Even though the procedure might be a bit involving, the outcome guarantees quality and tasty meals. Here is humba recipe and procedure.
1. Original pork humba recipe
The easy pork humba recipe is one of the most preferred among all the other Filipino pork recipes. If you want to become a pro in preparing the dish, here are the ingredients and the procedure to follow.
Humba ingredients
1 pound pork (pock hock, belly, and ham cut into the size of adobo)
5 cloves of minced garlic
3 tablespoons of soy sauce
2 tablespoons of vinegar
3 tablespoons brown sugar
3 tablespoons of ground black pepper
2 tablespoons of oil
Three pieces of star anise
½ cups of water
¼ teaspoon salt
¼ teaspoon msg or vetsin
Humba recipe Filipino style procedure
Marinate the pounded pork in a bowl containing garlic, soy sauce, msg or vetsin, vinegar and ground pepper.
Place a large pan on medium heat and add in the marinated pork. Stir gently until it turns to brown.
Add in the brown sugar and star anise
Add water as needed and lid the pan.
Let it boil on medium heat for at least 25 minutes or until the pork has completely absorbed the entire sauce and produced its natural oil.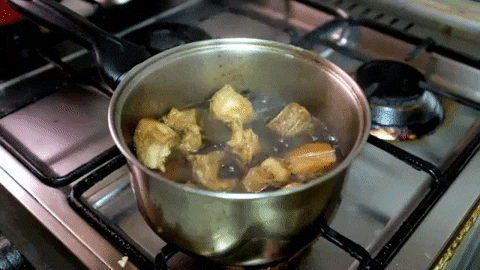 6. Transfer to a serving plate and serve.
This simple pork humba recipe can be served with a side of rice and assorted vegetables of your choice. The dish stands out as a great humba recipe with coke.
READ ALSO: How to make siomai: 5 best recipes
2. Original bisayá recipe for humba
Although there are several variations present for cooking humba recipe Bisaya style, here is the most common.
Humba recipe ingredients
2lbs. pork belly cut into the sizes of adobo
1 pack of dried banana blossoms
¼ cup of salted, dried bean also known as tausi
½ cup of soy sauce
¼ cup distilled white vinegar
½ cup of brown sugar
6 minced garlic cloves
2 dry bay leaves
1 teaspoon whole peppercorns
4 cups of water
Procedure
Thoroughly mince the meat using cold running water and pat off the excess water with dry paper towels.
Place a non-stick pan on medium heat. Arrange the slices of the pork belly in one layer and pan-fry them until most of the oil from the pork comes out. You should apply extra caution while pan-frying the meat since hot oil can splatter and burn you.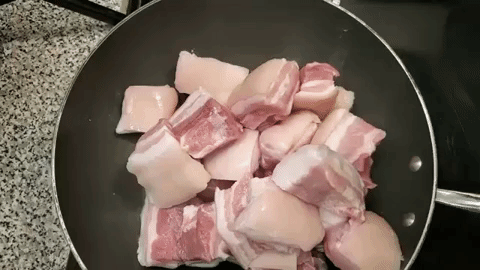 3. When the meat turns brown, and most of its oil has melted down, remove the meat and transfer it to another cooking pot.
4. Put in all the other ingredients in the pot and bring them to boil on medium-high heat.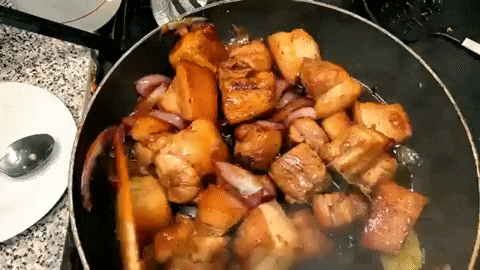 5. After cooking for a while, lower the heat to medium-low and let it simmer for about one hour or until the pork becomes tender and the sauce thickened.
6. Serve while hot with rice.
This humba recipe with black beans take slightly over 2 hours to cook, but it is a guarantee that the final product is worth the wait. The soft melt in your mouth makes this option the best humba recipe with sprite any day any time.
READ ALSO: How to make Maja Blanca?
3. Chicken humba recipe
If you are tired of using pork or you just want to be explorative in achieving a different taste, try out the chicken humba. This Pinoy humba recipe is best served with rice and vegetables of your choice.
Ingredients
1 tablespoon annatto oil or achuete oil
4 cloves of minced garlic
1 minced onion
½ kilogram of chicken which is about one whole chicken
¾ cup of cane vinegar
½ cup of soy sauce
¼ cup of crushed peanuts
¾ cups of brown sugar
2 tablespoons of black beans also known as tausi
4 bay leaves
1 or 2 finger chillies (siling pangsigang)
1 teaspoonful of black pepper or enough to taste
4 hard-boiled eggs without the shells
¼ cup banana blossoms soaked in water (puso ng saging)
Procedure
Place a large pot on the fire and heat the oil and sauté the onions and garlic until fragrant.
Add the chicken with the breast side up together with all the other ingredients apart from the banana blossoms and eggs.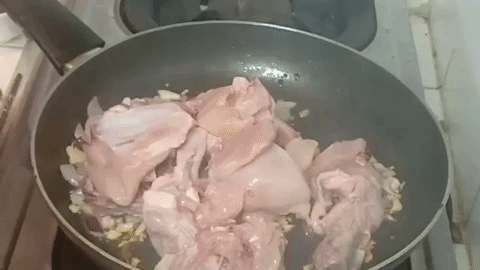 3. Pour in enough water to cover the chicken. Cover the pot and lower the heat for the chicken to cook until tender.
4. Halfway through the cooking, add the hard-boiled eggs.
5. When the chicken is about to cook, put in the banana blossom and cook for an additional 5 minutes.
6. Adjust the seasoning to befit your taste.
7. Serve while still hot.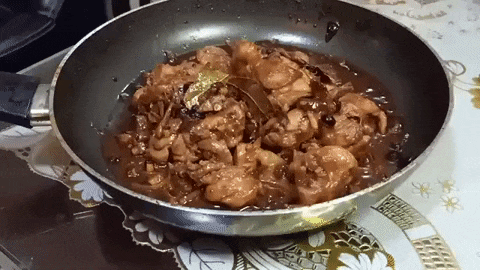 With humba becoming an ideal meal for the majority of the Filipinos, learning how to make the dish in a variety of recipes would hold you in great shape while preparing it for the ones you love and care about. However, if you are not a pro in this sector, the different humba recipes outlined in this article would be helpful to you.
READ ALSO: How to make ice candy: simple step-by-step recipes
Source: KAMI.com.gh