South Korea is known because of their boy bands and girl groups that has taken not only their country's music industry but the international stage as well. Because of the number of different boy bands in the country, it is hard for newbies to get to be known by fans. Still, the South Korean boy band Wanna One proved that it takes real talent to enter the industry and to be loved by many, and each Wanna One members have created a name of their own.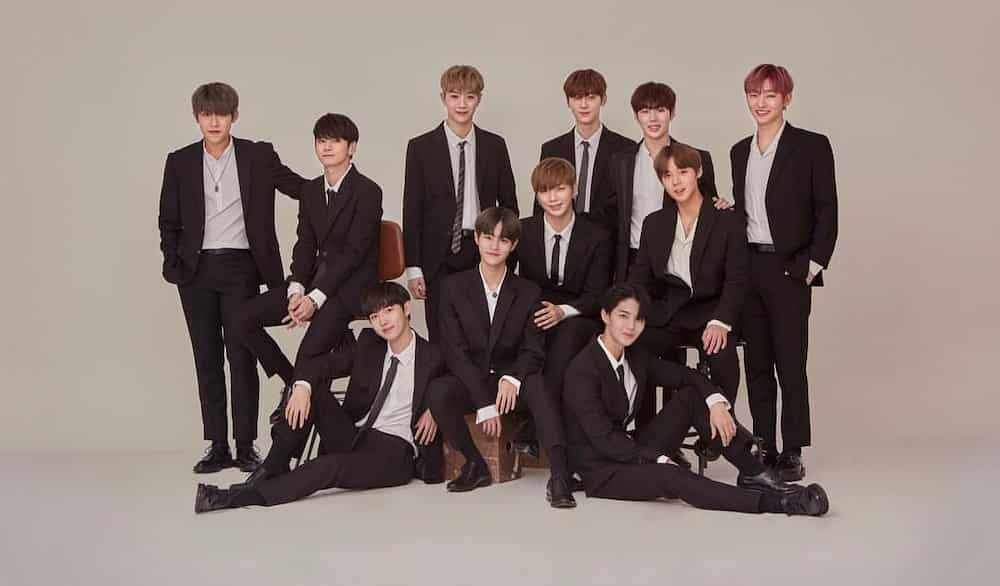 Wanna One consists of eleven members who are very different from each other, but their differences do not hinder them from uniting and performing as one. Discover some fun facts and surprising details about the members of Wanna One.
Wanna One members profile summary
Here is everything you need to know about the members:
1. Jihoon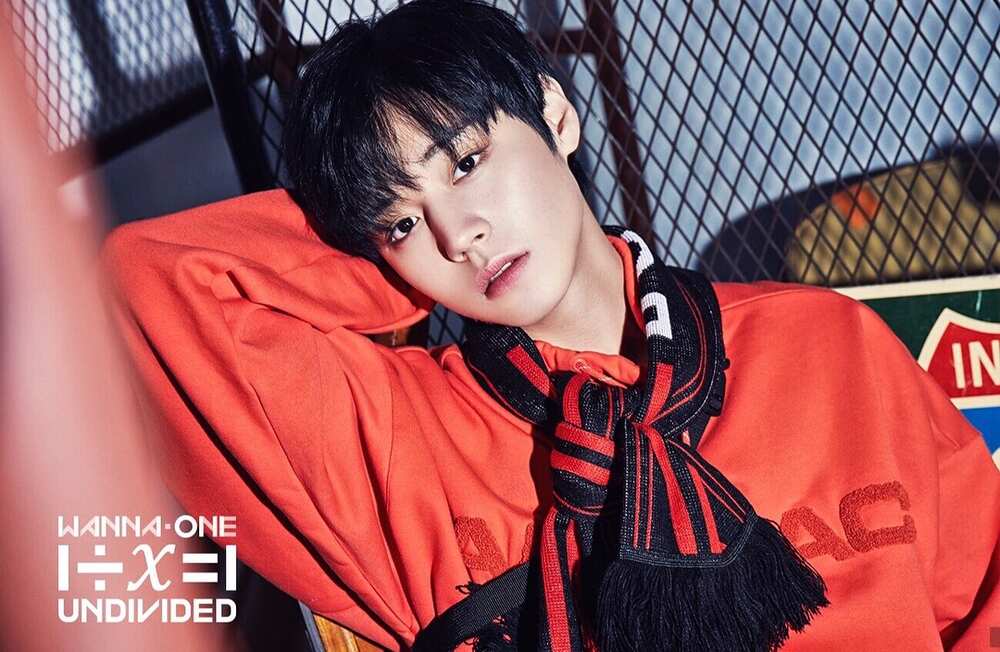 Name: Park Jihoon
Stage name: Jihoon
Age: 20 (2019)
Birthday: May 29, 1999
Nationality: Korean
Place of birth: Masa, South Korea
Height: 5 feet 8 inches
Weight: 134 lbs.
Blood type: AB
Position: Lead dancer, sub vocalist, sub rapper, visual
Rank: 2
Instagram: @0529.jihoon.ig
Facts about Jihoon
He is known as the wink boy.
He is also known for creating aegyo such as the heart unlock.
He enjoys beat-boxing.
He was voted by netizens as the most handsome in Produce 101.
2. Daniel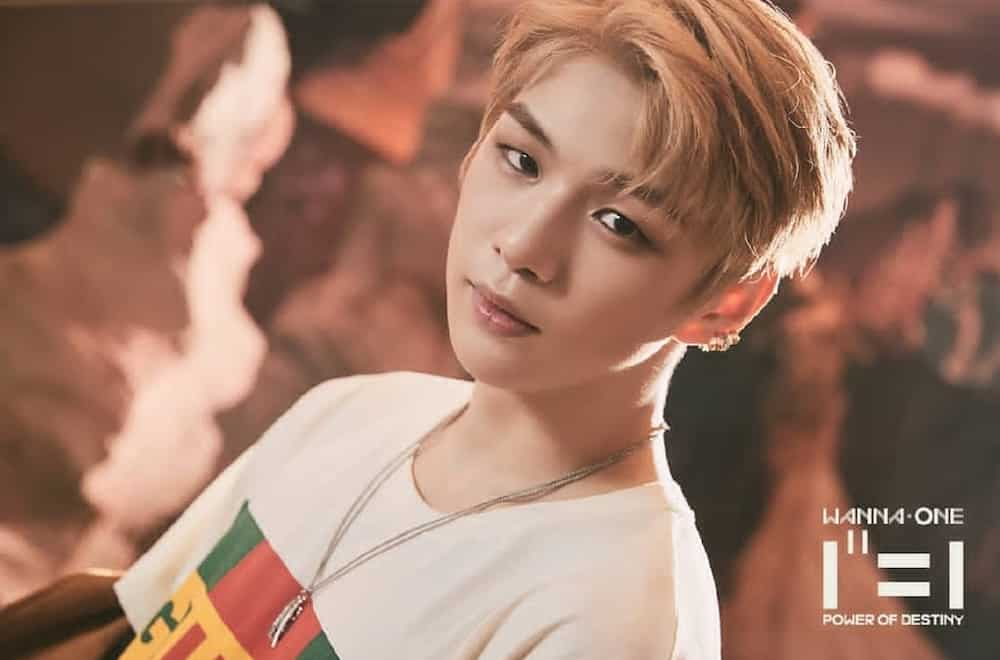 Name: Kang Eui-geon (but he legally changed his name to Kang Daniel)
Stage name: Kang Daniel
Age: 23 (2019)
Birthday: December 10, 1996
Nationality: Korean
Place of birth: Busan, South Korea
Height: 5 feet 11 inches
Weight: 149 lbs.
Blood type: A
Position: Main dancer, lead rapper, sub vocalist, center
Rank: 1
Instagram: @daniel.k.here
Facts about Daniel
He is an only child.
He is allergic to shellfish.
Out of all the kinds of seafood, he can only eat squid.
He has 4 cats.
3. Minhyun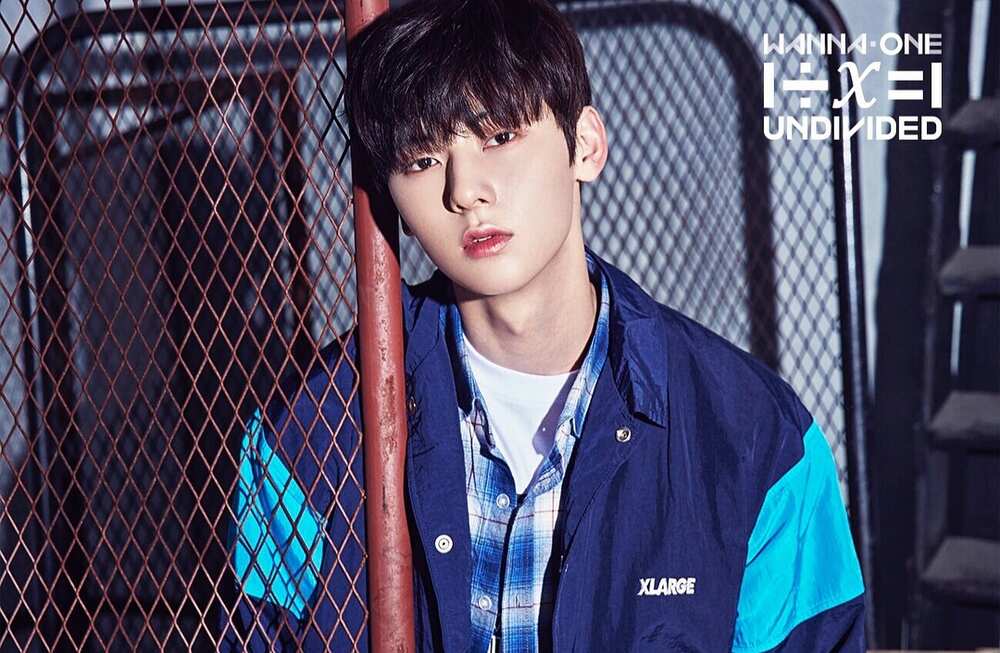 Name: Hwang Min-Hyun
Stage name: Minhyun
Age: 24 (2019)
Birthday: August 9, 1995
Nationality: Korean
Place of birth: Busan, South Korea
Height: 5 feet 11 inches
Weight: 148 lbs.
Blood type: O
Position: Lead vocalist
Rank: 9
Instagram: @optimushwang
Facts about Minhyun
He has an older sister.
He likes cleaning and organizing.
He can speak Japanese.
He plays the piano.
4. Jinyoung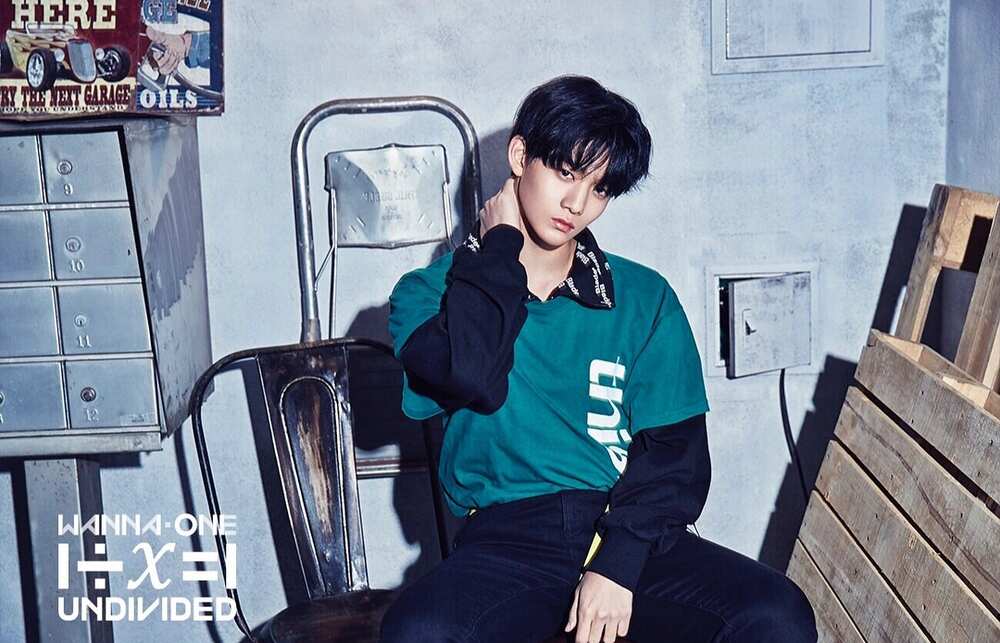 Name: Bae Jinyoung
Stage name: Jinyoung
Age: 19 (2019)
Birthday: May 10, 2000
Nationality: Korean
Place of birth: Seoul, South Korea
Height: 5 feet 10 inches
Weight: 137 lbs.
Blood type: B
Position: Sub vocalist, visual
Rank: 10
Facts about Jinyoung
He is the oldest among his siblings.
He is allergic to shrimps.
He likes skiing and football.
He is considered to have one of the best visuals.
5. Kuanlin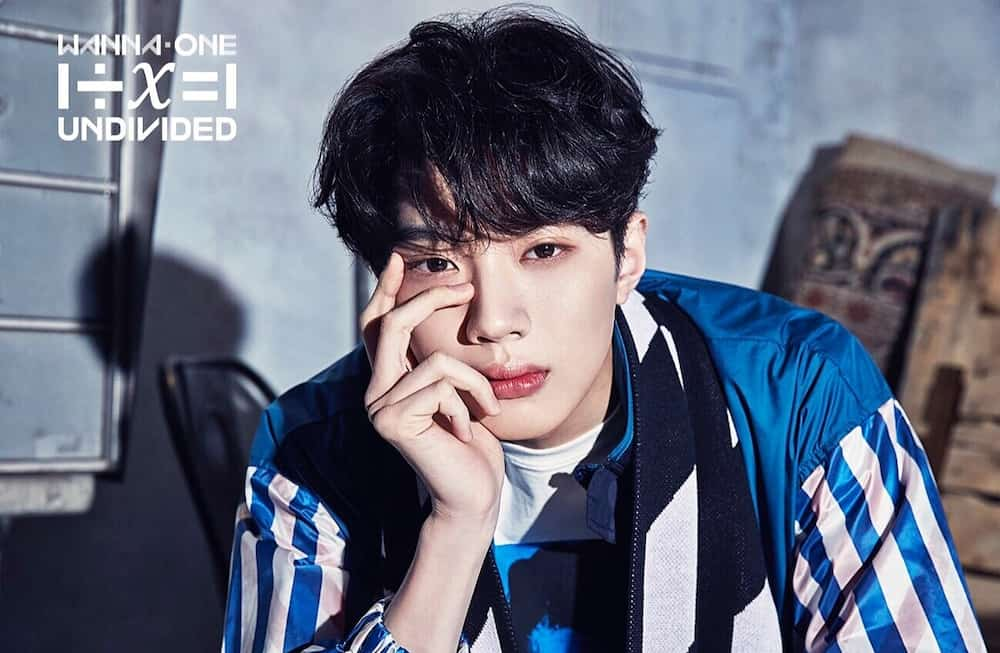 Name: Lai Guan Lin
Stage name: Kuanlin
Age: 18 (2019)
Birthday: September 23, 2001
Nationality: Taiwanese
Place of birth: Taipei, Taiwan
Height: 6 feet
Weight: 139 lbs.
Blood type: O
Position: Lead rapper, maknae
Rank: 7
Instagram: @official_lai_kuanlin
Facts about Kuanlin
His name means "rainy season".
He likes basketball.
He can speak Taiwanese, Mandarin, Korean, and English.
He comes from a wealthy family.
6. Jisung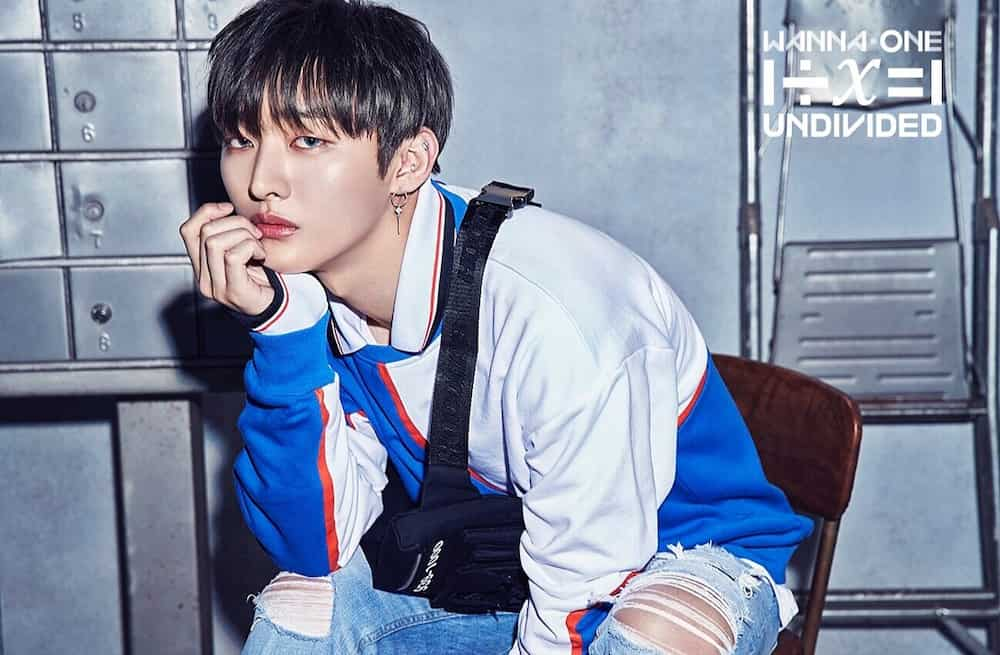 Name: Yoo Byeong-ok (but he legally changed his name to Yoon Ji-sung)
Stage name: Jisung
Age: 28 (2019)
Birthday: March 8, 1991
Nationality: Korean
Place of birth: Wonju, Gangwon-Do, South Korea
Height: 5 feet 9 inches
Weight: 139 lbs.
Blood type: B
Position: Leader, sub Vocalist
Rank: 8
Instagram: @_yoonj1sung_
Facts about Jisung
He invented the Jisung clap.
He loves anything to do with animals.
He is considered as the "meme-lord".
He likes acting.
7. Sungwoon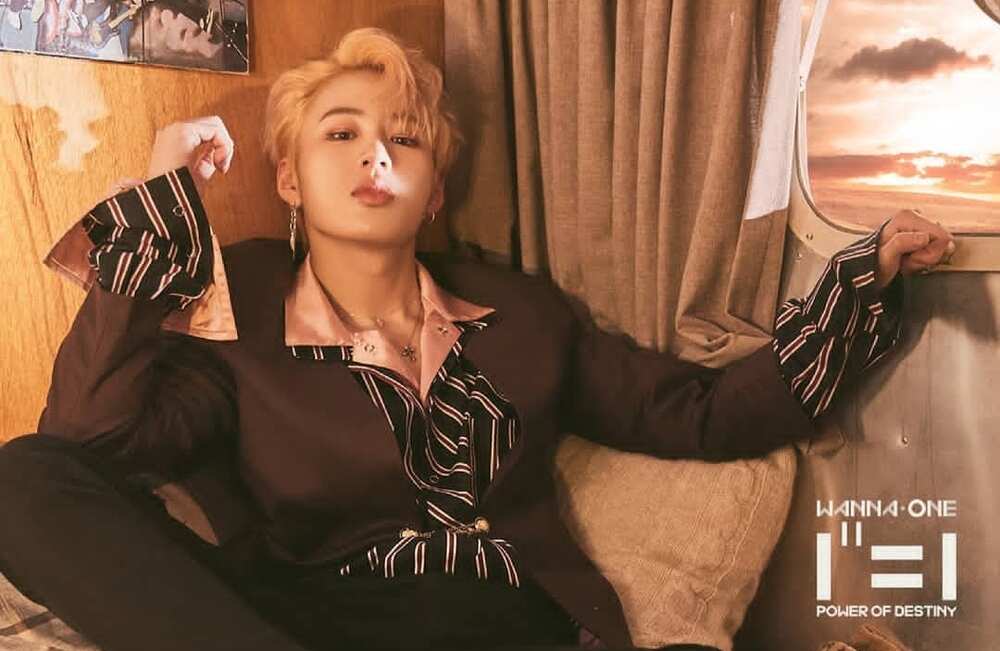 Name: Ha Sung-Woon
Stage name: Sungwoon
Age: 25 (2019)
Birthday: March 24, 1994
Nationality: Korean
Place of birth: Goyang, Gyeonggi-do, South Korea
Height: 5 feet 6 inches
Weight: 126 lbs.
Blood type: A
Position: Main vocalist
Rank: 11
Instagram: @gooreumseng
Facts about Sungwoon
His nickname is Cloud.
He has the best skin out of all the members.
He likes playing soccer and video games.
His ideal girl is someone who has big eyes.
8. Seongwu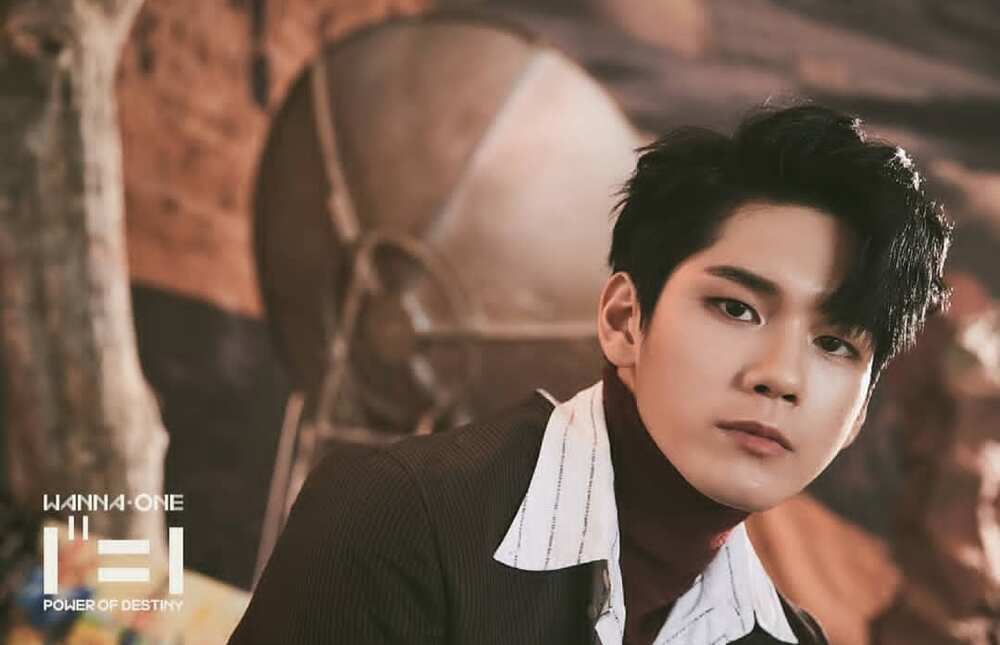 Name: Ong Seong-Wu
Stage name: Seongwu
Age: 24 (2019)
Birthday: August 25, 1995
Nationality: Korean
Place of birth: Incheon, South Korea
Height: 5 feet 10 inches
Weight: 139 lbs.
Blood type: A
Position: Main dancer, lead vocalist
Rank: 5
Instagram: @osw_onge
Facts about Seongwu
He can play the drums.
He went to an art school.
He used to have multiple part-time jobs.
His role model is EXO's Kai.
9. Jaehwan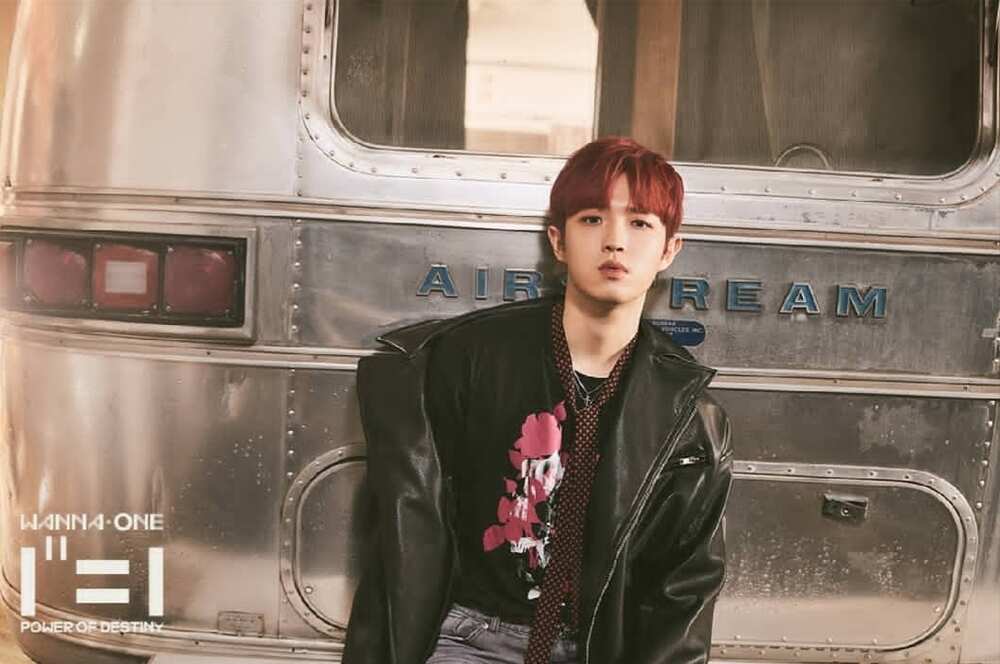 Name: Kim Jae-Hwan
Stage name: Jaehwan
Age: 23 (2019)
Birthday: May 27, 1996
Nationality: Korean
Place of birth: Seoul, South Korea
Height: 5 feet 9 inches
Weight: 134 lbs.
Blood type: O
Position: Main vocalist
Rank: 4
Instagram: @jaehwan0527
Facts about Jaehwan
He can play the flute and guitar.
He likes soccer.
he is known for his maniacal laughter.
He is the messiest among the group.
10. Woojin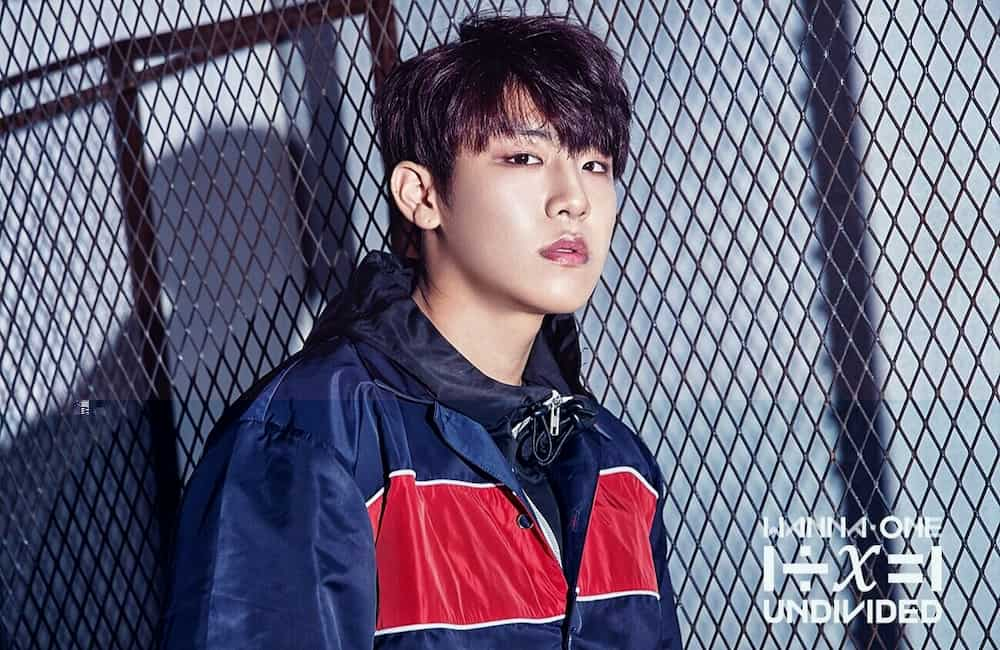 Name: Park Woojin
Stage name: Woojin
Age: 20 (2019)
Birthday: November 2, 1999
Nationality: Korean
Place of birth: Busan, South Korea
Height: 5 feet 9 inches
Weight: 132 lbs.
Blood type: A
Position: Main rapper, main dancer
Rank: 6
Facts about Woojin
He enjoys watching food shows on TV.
He is talented in a variety of dance forms.
He appeared in SuperstarK when he was 11.
He likes someone who is cute.
11. Daehwi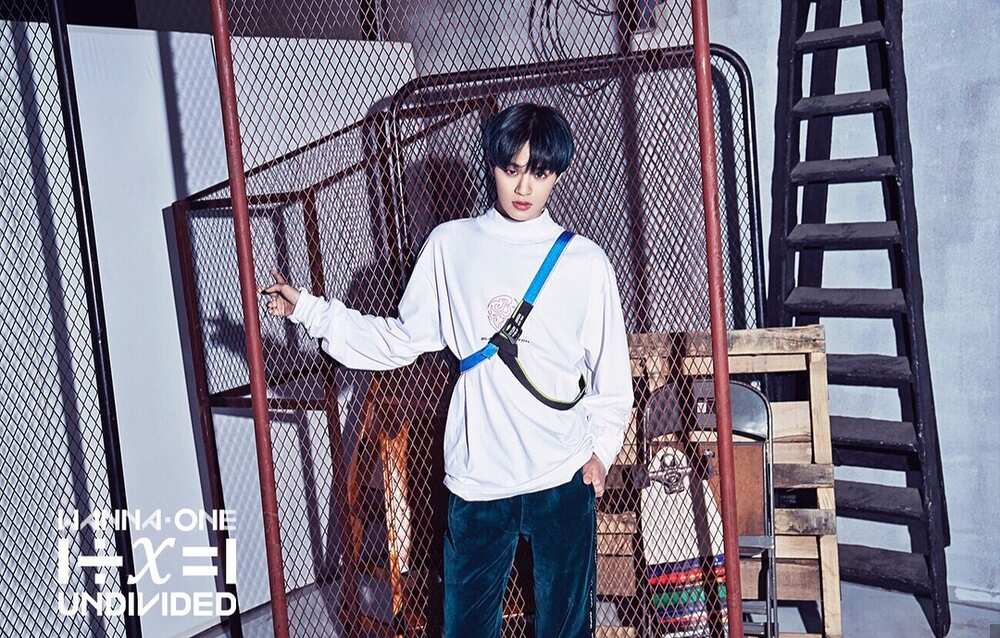 Name: Lee Dae-Hwi
Stage name: Daehwi
Age: 18 (2019)
Birthday: January 29, 2001
Nationality: Korean
Place of birth: Seoul, South Korea
Height: 5 feet 8 inches
Weight: 115 lbs.
Blood type: A
Position: Lead vocalist, lead dancer, sub rapper
Rank: 3
Facts about Daehwi
He is an only child.
Her mother is currently living in America.
He is left-handed.
He is very good at English.
Wanna One facts
Wanna One is a South Korean boy band formed through the reality television talent competition, Produce 101. It was created by South Korean entertainment and a mass media company named CJ E&J. The group was launched in the second season of the said reality show.
After almost three months of the competition, eleven contestants out 101 were able to make it to the final cut and were launched as an official member of the boy group. On a live show, the viewers or what they call as the "public producers", voted online and through text messages.
At the end of the 3-hour live show, the official Wanna One members names were released along with their ranking in the show's voting system. The first place is Kang Daniel with a total of 1,578,837 votes, followed by Park Ji-Hoon, Lee Dae-Hwi, Kim Jae-Hwan, Ong Seong-Wu, Park Woo-Jin, Lai Guan Li, Yoon Ji-sung, Hwang Min-Hyun, Bae Jin-Young, and Ha Sung-Woon on the 11th spot.
The group officially debuted on August 7, 2017, at the Wanna One Premier Show-Con event. The said event took place at the Gocheok Sky Dome in Korea. The next day after they were launched, their debut extended play entitled 1×1=1 (To Be One) was released with the title song, Energetic. Fans chose the album single through online voting.
In the same year of the group's debut, they were already featured in 16 different advertisements for cosmetics, clothing, beverages, and a lot more others. They were also recognized for their brand recognition and marketing power. They have also topped the Boy Group Brand Power Ranking published by the Korean Corporate Reputation Research Institute for several months.
According to a survey conducted by Ilgan Sports, the group already ranked second in the 30 Power People even if they are just a new group, and it is because of their significant influence among broadcasting companies and advertisers. Wanna One also ranked 6th in the Top 10 Artists of Gallup Korea survey. Besides their high placements in polls in 2017, they were also chosen as Best K-pop Artist of the year.
In the year 2018, they ranked as number two on the Forbes Korea Power Celebrity list. These are just some Wanna One awards received by the group because of their inarguably amazing talent.
Songs and awards
On November 13, 2018, the group released their repackaged album named 1-1=0 (Nothing Without You), with their single track, Beautiful. Because of their exceptional skills and great music, Wanna One, even though they are just a new group, became the third Korean group to sell a million copies of their debut album, and the first since Seo Taiji and Boys in 1992.
It was in March 2018 when the group launched its exclusive theme track along with its music video; the song is entitled I Promise You (I.P.U). It is also stated that the numbers of preorders for their second extended play, which is the 0+1=1 (I Promise You) has exceeded their 700,000 copies record.
One month after the release of their second extended play, the group announced that the members will split into different units and will collaborate with various artists for their upcoming album. Their album, 1÷x=1 (Undivided), was launched in June 2018, through a poster with Wanna One logo along with the title track, Light.
The group was divided into four subunits- The Heal, No. 1, Triple Position, and Lean on Me. Seongwu and Daehwi is part of The Heal subunit while Jihoon, Jinyoung, and Kuanlin are under the No. 1 unit. The other three members, Jaehwan, Daniel, and Woojin, are under the subunit Triple Position. The last subunit, Lean on Me, is where Jisung, Sungwoon, and Minhyun were placed.
The group's influence in terms of music is not just welcomed in South Korea but also in other parts of the world. And because of this, they had announced their first-ever world tour called One: The World. They started their concert in June 2018 and visited 13 different cities all around the world.
After their world tour, in November 2018, Wanna One released their first studio album, 1¹¹=1 (Power of Destiny). It was also patronized by their avid Wannable (the name of their fans).
Even in a short time, the group were able to release great songs and below is the list of Wanna One songs:
Boomerang
I Promise You (I.P.U.)
Light
Burn It Up
Beautiful
Energetic
Never
Birthdays and age
People might be wondering what is Wanna One members age because they all look young. The maknae (youngest) of the group is Kuanlin, for he is only 18 years old, and was born in the year 2001. Daehwi was also born in 2001, but he is eight months older than Kuanlin. Jinyoung is even born in the 21st century, his birthday is May 10, 2000, and he is 20 years old at this time.
Woojin and Jihoon are both 20 years old, for they were born in the year 1999. On the other hand, Jaehwan and Daniel were both born in the year 1996, making them the 4th from the youngest of the group. Seongwu and Minhyun are both 24 years old, while Sungwoon is one year older than them. The oldest member is Jisung, who is now 28 years old and was born on March 8, 1991. He is not only the oldest, but he is also the Wanna One leader.
Since Wanna One birthdays are out in public, every time that a member would celebrate it, their fans all over the world also celebrate it with them. Even after the group's disbandment, their loyal fans continue to support their biases.
READ ALSO: BTS members profile: real names, height, age, net worth
Disbandment and latest updates
On December 18, 2018, the group's management gave their official statement about the Wanna One's contract. It is stated that their commitment will end on its original planned date, December 31 of the same year.
They concluded their journey as a band with a superb yet emotional concert held on January 2019. Therefore is the title of their final show, and hundreds of their fans attended it.
Before the concert ends, each member gave a heartfelt message to everyone who supported them until the very end. Park Woojin's message is this,
"I really don't want us to part ways... I really don't [want] to part ways! I was really happy because I had you all... I am really thankful. And now the name that I can no longer call, Wannables, I really love you!"
The curtain finally closed for the wildly successful K-pop group, but their individual journey in the industry did not end there. Each member worked hard to return to the industry and make a name of their own.
The first to come back in the limelight is Yoon Jisung. He returned as a solo artist and released his solo album in February 2019 before his military enlistment and service in May 2019.
Park Jihoon, who was positively loved by the viewers since Producer 101 Season 2 days, also made a comeback as a K-pop artist in March 2019. He is actively promoting since then. He was also selected as the ambassador for the South Korean Ministry of Environment.
Minhyun, on the other hand, went back to being part of his former group, NU'EST. By May 2019, Jaehwan had his comeback in the industry as a solo artist with his album. Also, in 2019, Daehwi and Woojin were re-debuted as part of another boy group, AB6IX.
Other members also had their respective comebacks in the industry like Seong Wu, who released a whole bop called Heart Sign. He also made a comeback as an actor and has been part of the K-drama At Eighteen last July.
The last one to return in the limelight is Kang Daniel after winning his legal battles against his former agency, which is the LM Entertainment. He is now taking the music charts by storm with his fresh new music and making his way back again to stardom.
Even after their disbandment, many people still follow the Wanna One website and social media sites for updates. Their official social media accounts are @WannaOne.official (Facebook), @WannaOne_twt (Twitter), and @wannaone.official (Instagram).
Wanna One members might have disbanded, but their great music and performances as a group will always remain in the hearts of their supporters. The group name, Wanna One, is already written in the history of the K-pop industry, a group of young and talented boys who breaks records and set a standard for the next arising boybands.
READ ALSO: EXO members profile: real names, height, net worth, relationships