Ellen Adarna, biniro si Derek Ramsay na gusto niya nang makipaghiwalay: "I want an annuIment right now"
- Ellen Adarna jokingly demanded from Derek Ramsay that she wants their marriage to be annulled
- Earlier, Derek played a prank on Ellen while the actress was sound asleep
- In retaliation, Ellen also played a joke on Derek who was very surprised to see a camera close to his face when he woke up
- The couple tied the knot on November 11 at Rancho Bernardo in Bagac, Bataan
Ellen Adarna recently teased Derek Ramsay that she wants their marriage to be annulled right away.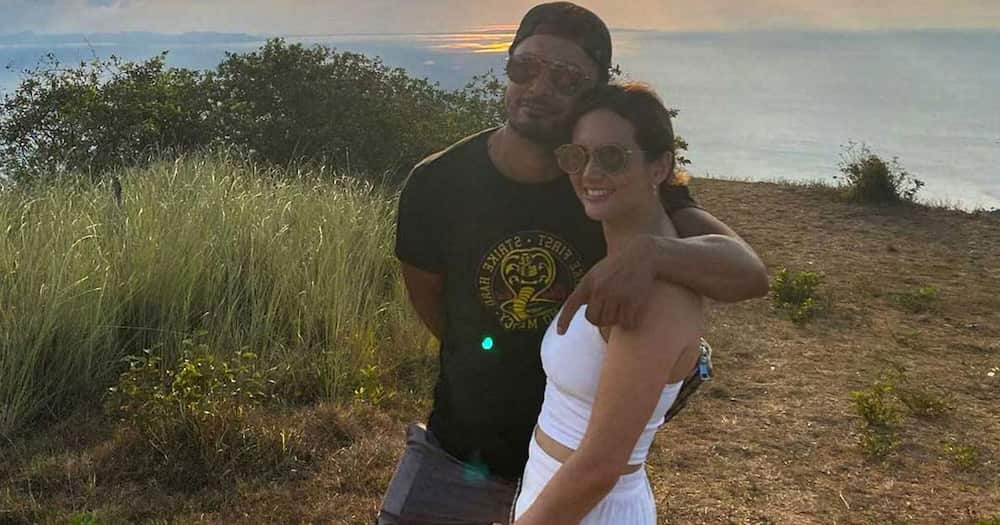 The couple is presently enjoying their honeymoon in Tagaytay, having tied the knot recently at the Rancho Bernardo in Bagac, Bataan.
The joke of Ellen apparently stemmed from finding out about the "hideous" pores of Derek.
Earlier, she took a close-up video of the actor while he's sleeping.
Suddenly, Ellen lets out a loud voice of dismay, saying that Derek has hideous pores.
"My God your pores! Oh my God your pores, they're hideous! Oh my God! Eww! Eww!Eww! I'm so turned off! Eww! They're hideous! Oh my God I want an annulment right now!" Ellen jokingly said to the startled Derek.
The actor, who was probably still drowsy, agreed to what his wife asked about the annulment.
"Okay. I want a Happy ending!" Derek replied and tried to go back to sleep.
Ellen, however, was not finished with him yet as she continued to take his video.
"I'm not done with you yet," the actress told her husband, to which Derek jokingly replied: "I hate you!"
The actress then told him that what she's doing is only the beginning, and then lets out what appeared to be an expletive.
"This is just the beginning. This is just an intro of what's going to come you d*mb sh*t!" Ellen said.
She then proceeded to take a close up video of Derek's ears and once again, lets out a loud shout upon discovering the actor has ear locks.
"Oh my God you have ear locks, oh my goodness!" Ellen can be heard saying as the video ends.
Even before they were married, the two have always been fond of playing pranks on each other.
Perhaps, it's what makes their relationship exciting and could become the key to their forever.
Ellen Meriam Go Adarna, or simply Ellen Adarna as she is known in the showbiz industry, is a Pinay actress and model. She was born on April 2, 1988 to businessman Allan Modesto Adarna and Meriam Go. Her family is among the most prominent and affluent clans in Cebu City, being the owners of a chain of hotels, condominium buildings, resorts, and motels located not only in Cebu province but also in Davao and Manila. They're also the owners of the famous tourist destination, the Temple of Leah, which was erected in honor of Ellen's late grandmother, Leah Albino-Adarna. Ellen was already into modeling when she joined the entertainment industry by being one of the cast of Bubble Gang. After being with GMA Network for 3 years, she moved to rival network ABS-CBN in 2013. She has a son, Elias Modesto, with ex-BF John Lloyd Cruz. In February of 2021, she and Derek Ramsay became a romantic couple.
Recently, Ellen slammed the basher of her husband Derek Ramsay. The basher had looked down on the look and skin tone of the actor. The actress did not let the basher's comment pass without making a retort. Derek has been acknowledged as one of the Philippines' most handsome actor.
The actress had also uploaded a video on social media where she can be heard asking Derek Ramsay on why is the actor obsessed with her. The video that Ellen posted showed Derek watching something on his tablet. The actress did not say why she asked that question, though earlier, Derek had played a prank on his wife as she slept soundly. It wasn't clear if Ellen's question is linked to the prank that her husband played on her.
Source: KAMI.com.gh