He is one of the most loved and followed rappers in the world and a dashing Grammy Award winner. Drake is famous for releasing hits such as One Dance, Hotline Bling, In My Feelings, God's Plan, and Nice for What. He is not only a talented rapper and lyrical genius but also a skillful businessman who has thriving business ventures. The story of Drake and the juiciest facts from his biography will not leave you indifferent.
One of the most successful rappers in the history of hip-hop began his career with the release of mixtapes. In just a few years, the ordinary Canadian guy became a rap idol, collected prestigious awards, and became one of the most influential and wealthiest musicians in the world.
Drake profile summary
Full name: Aubrey Drake Graham
Date of birth: October 24, 1986
Drake age: 32
Birthplace: Toronto, Ontario, Canada
Parents: Dennis Graham and Sandi Graham
Net worth: $150 million
Citizenship: American and Canadian
Profession: Rapper, singer, songwriter, actor, record producer, and entrepreneur
Drake height: 1.82 m
Marital status: Single
Children: Adonis Graham (son)
Childhood
The full name of the artist is Aubrey Drake Graham. Drake birthday falls on October 24. This year, the famous rapper will celebrate his 33rd birthday.
Where is Drake from? He is from Canada. The musician was born in 1986 in Toronto in the family of African-American Dennis Graham and Jewish Sandi Graham.
Dennis was a famous musician and collaborated with the legendary Jerry Lee Lewis, but traded his musical career for drugs. He was arrested for drug possession and thrown in jail. Dennis promised his wife that he would quit drugs but he did not. This led to their divorce.
As a result of constant stress, the rheumatoid arthritis Sandra suffered from began to progress. Sandra and her five-year-old son Aubrey Drake moved to the outskirts of Toronto, and Dennis again ended up behind bars.
Drake's uncle, who owned a small custom-made furniture business, helped his sister Sandra to raise her son. Tormented by the pain in her joints, the lady stopped working and devoted all her time to her son. Aubrey went to a Jewish school and studied music and literature.
Having learned about the release of her ex-husband, Sandra did not interfere in his communication with their son. Aubrey was a sober-minded young man, and she was not afraid that Dennis would have a bad influence on him.
Career beginnings and big success
Sandra wanted her son to be successful in life, so she did everything so her dear child could devote maximum time to his studies and creativity. After school, Aubrey attended a theater club, participated in sports, and tried his hand at ballet and music.
Drake had a friend whose father was an agent, and thanks to him, fifteen-year-old Aubrey got a significant role (the role of Jimmy Brooks) in the popular Canadian teen series Degrassi: The Next Generation. Filming in the series and his first popularity disturbed Aubrey's schoolwork. At that time, he already has begun to call himself Drake. He then dropped out of school.
Drake featured in Degrassi for several seasons, and when the show was over, the star already knew that acting was not for him. In addition, his mother Sandra had serious health problems, and Drake had to take care of his mother, and the money he received for the role in Degrassi was not enough for her treatment.
According to the rapper, music is in his blood, because his father played with Jerry Lee and his grandmother babysat Aretha Franklin. The young man was seriously interested in music and his father urged him to focus on rap.
After two mixtapes which instantly became popular, in 2009, Drake released "So Far Gone" under the October`s Very Own label. The album included seven tracks that made Drake's name a household name. This was the great beginning of the rapper's popularity. Even people who were not into rap got interested in Drake songs.
In 2012, Drake's creative work was honored by one of the most prestigious awards. His album "Take Care" was named the Best Rap Album of 2012 during the Grammy Awards.
His first full album "Thank Me Later", released in summer 2010, included 14 tracks.
Drake albums
The rapper has released the following albums:
So Far Gone (2009)
Thank Me Later (2010)
Take Care (2011)
Nothing Was the Same (2013)
If You're Reading This It's Too Late (2015)
What a Time to Be Alive (2015)
Live at Jazzwerkstatt Peitz (2016)
Views (2016)
More Life (2017)
Scorpion (2018)
In April 2019, the rapper announced that he had already started working on his new album. Later on, in June 2019, Drake revealed that he was still working on his new album. Drake's fans all over the world are waiting with anticipation for the new album to be released.
READ ALSO: Vice Ganda bio: age, family, life story, does he have a cosmetics line?
Drake awards
Drake is the most decorated artist when it comes to Billboard Music Awards. What other awards has the rapper earned?
American Music Awards
2016: Favorite Song - Soul/R&B
BET Awards
2014: Best Male Hip Hop Artist
2015: Coca-Cola Viewers' Choice Award
2016: Best Collaboration (Rihanna Feat. Drake: Work)
Billboard Music Awards (2017)
Top Artist
Top Male Artist
Top Billboard 200 Artist
Top Hot 100 Artist
Top Song Sales Artist
Top Streaming Songs Artist
Top Rap Artist
Top Rap Tour
Grammy Awards
2012: Best Rap Album (For the album "Take Care.")
2017: Best Rap/Sung Performance, Best Rap Song
2019: Best Rap Song
iHeartRadio Music Awards
2017: R&B Song of the Year, Best Collaboration
Image Awards (NAACP)
2012: Outstanding Duo, Group or Collaboration
MTV Video Music Awards (VMA)
2012: Best Hip-Hop Video
2014: Best Hip-Hop Video
2016: Best Hip-Hop Video
Young Artist Awards
2002: Best Ensemble in a TV Series (Comedy or Drama)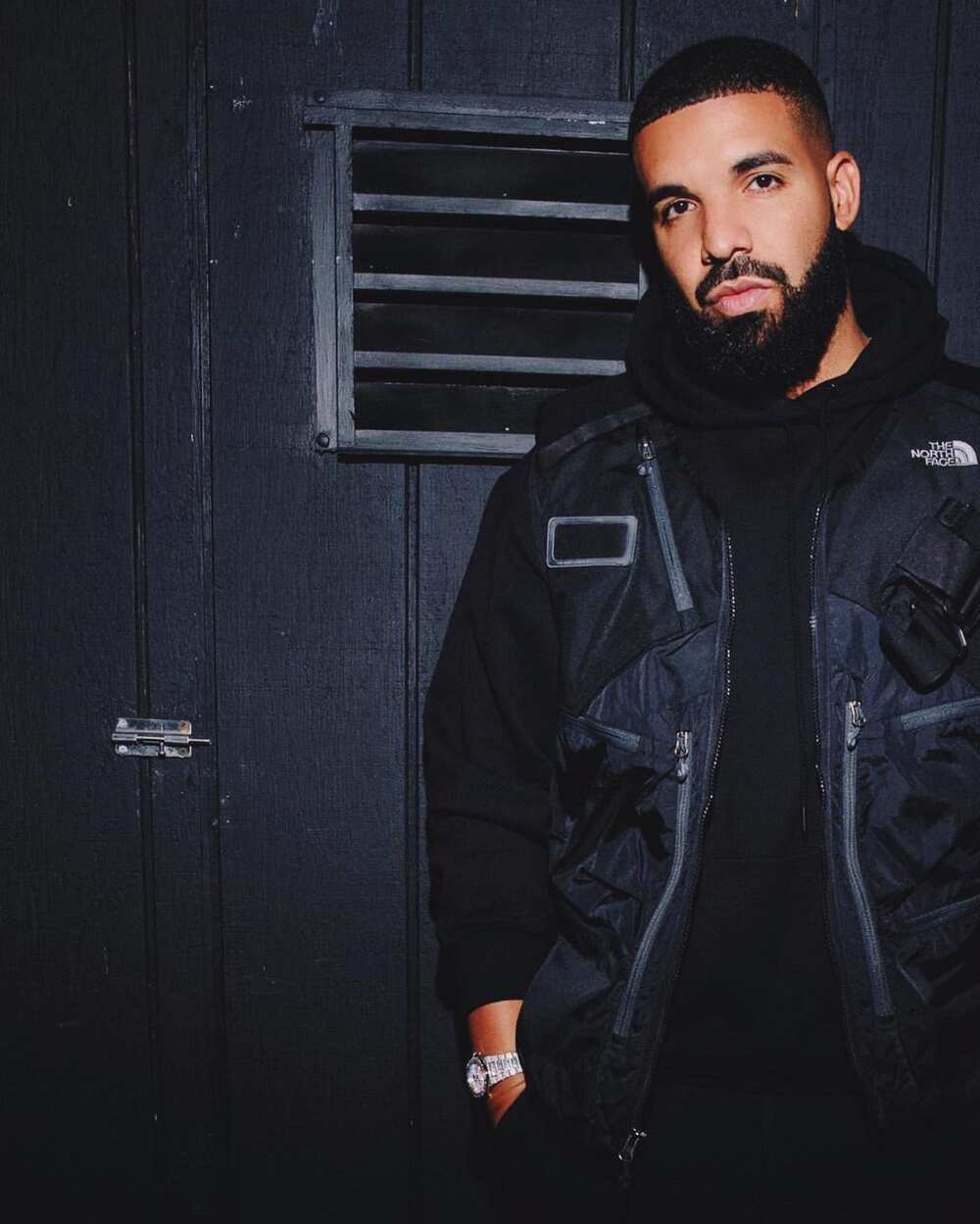 Drake net worth 2019
Forbes estimates Drake's net worth in 2019 to be $150 million. The 32-year-old Canadian is the youngest in the ranking of the richest hip hop artists in the world. He is at least ten years younger than his colleagues.
The rapper's net worth has increased by 50% over the past year. This is mainly due to his successful investments in real estate and his Virginia Black whiskey brand, as well as high profit from his tour and the new residency at XS Nightclub in Las Vegas. It is worth noting that since 2013, his average gross income per concert has grown from $500,000 to more than $2 million.
Is Drake dating anyone?
We have already discussed the musician's childhood, his path to success, albums and songs, and even his impressive net worth, but the personal life of such a big star as Drake is of big interest as well, so we cannot omit this topic. So, is Drake's heart stolen or free? Who is his girlfriend now? Does Drake have a son?
Over the years, the rapper has been linked to various beautiful, famous, and rich ladies in showbiz, but who is he dating now? The handsome man, one of the richest rappers in the world, one of the most famous Canadians and one of the most desired bachelors, is believed to be single now.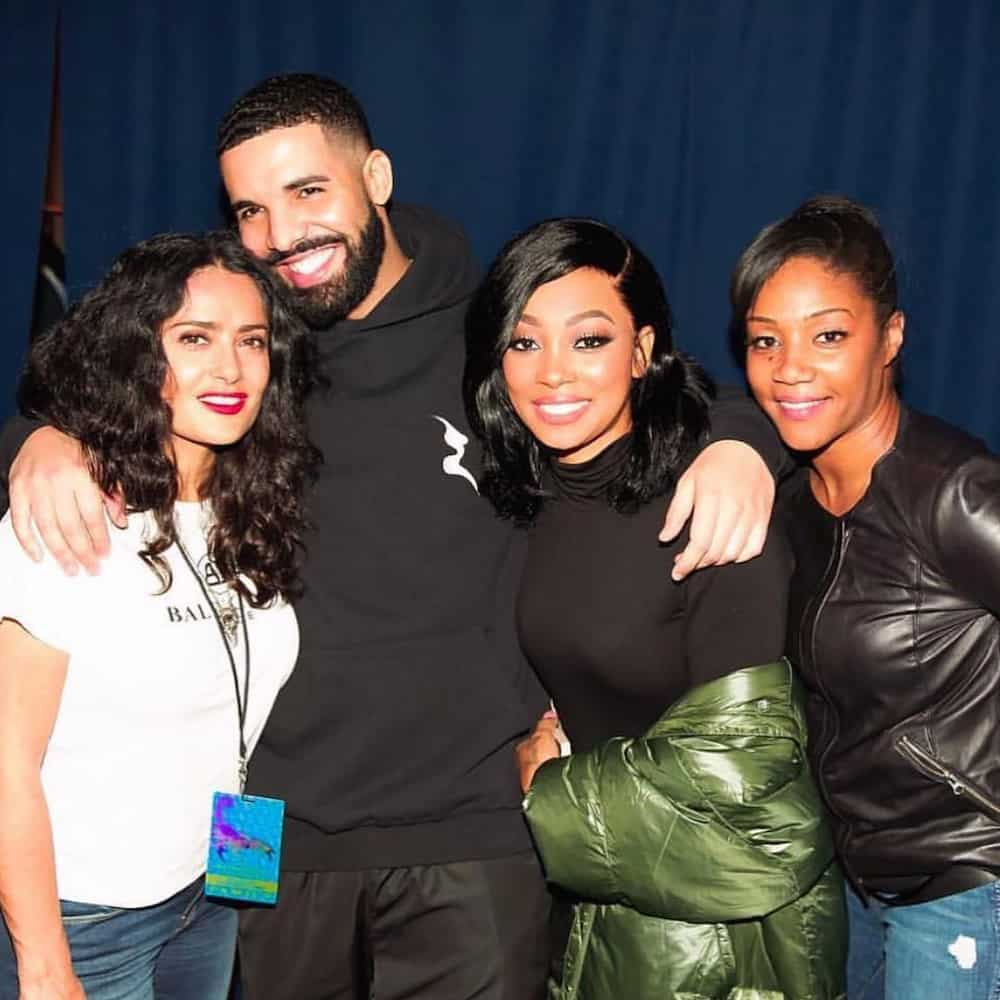 The most recent ex-girlfriend of the rapper is the 18-year-old model Bella Harris. Last year, she signed a modeling contract with Elite New York City agency. Drake and Bella split in 2018. Here is a list of the rapper's ex-girlfriends before Bella Haris:
Malaika Terry: The rapper and the 22-year-old model were spotted together in Toronto in May 2018.
Reka Nagy-Miticzky: The lady is believed to have hooked up with Drake at her 23rd birthday party in a London club.
Lateysha Grace: The two were spotted at a fancy restaurant together.
Raye: The 20-year-old British pop and R&B singer was believed to be dating the rapper in 2018.
Jennifer Lopez: The two celebrities were believed to be dating in 2016-2017.
India Love: The 22-year-old US TV personality, blogger, and model and the popular rapper allegedly dated in October 2016. Before India, the musician dated her sister Crystal Westbrooks.
Hailey Baldwin: The model and the daughter of actor Stephen Baldwin was rumored to be dating Drake in June 2016.
Deelishis: The US model and reality TV star in 2015 admitted to having an affair with the rapper.
Sophia Marie: The musician and the model reportedly dated in 2012.
Serena Williams: First Drake was spotted attending the famous US tennis player's matches in 2011. They are believed to have broken up in 2015.
Rihanna: Rihanna has been in an on-off relationship with Drake in 2009.
Maliah Michel: The rapper was believed to be dating the model and entrepreneur briefly.
Catya Washington: The famous Canadian and the US reality TV star were dating from 2009 to 2010.
Tyra Banks: The rapper confirmed on The Ellen DeGeneres Show that he dated supermodel, Tyra Banks, in 2013.
Zoe Kravitz: The actress confirmed that she and Drake were indeed a couple in 2013.
Blac Chyna: The model and the rapper have been seen on two separate occasions cozying up in L.A. clubs.
Sophie Brussaux: The result of the love affair of the musician and the retired pornstar is the birth of Drake's son. Sophie gave birth to her son on October 24, 2018 - nine months after being spotted with Drake. At first, the rapper denied that the boy was his son, but on June 29, 2018, he admitted to having a son with Sophie Brussaux. The boy's name is Adonis.
Drake is one of the most famous rappers in the world who is also a successful entrepreneur and a father. The musician continues to please his fans with one music hit after another. Also, he is one of the richest rappers in the world. Now you know the most exciting facts from Drake's biography.
READ ALSO: Chris Evans bio: net worth, age, height, who is he dating?