How to cook lechon paksiw?
Lechon paksiw is a typical Filipino dish which is quite literally a favorite dish for most people in the Philippines. If you live in the Philippines, there is a very high proraebability that you have tasted this dish and possibly loved it, and that is why you are here looking for a proper way to learn how to cook lechon paksiw.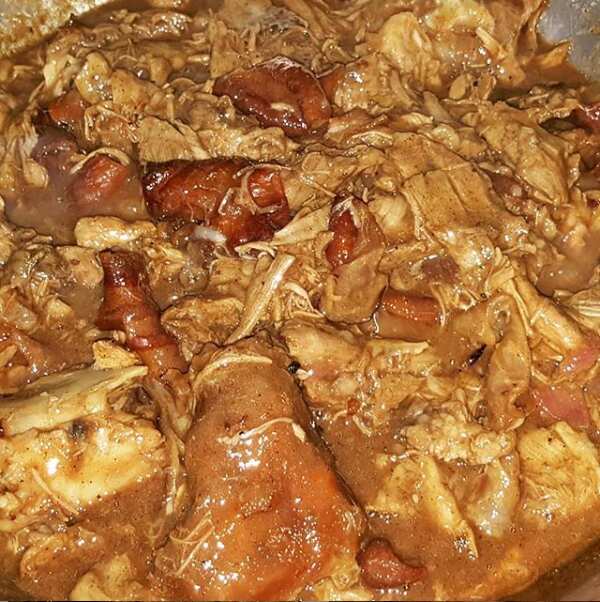 Well, guess what, you have just landed on the right article where you can learn more about this dish and also know how to cook it. The meal is mostly prepared when there are ceremonies and parties in most Filipino homes, and I guess you are going to have a gathering very soon.
In this recipe, leftover roast pork is used. This method of cooking lechon is good since you do not have to keep reheating the same leftovers over and over again. This method also adds flavor to the leftover pork.
How to cook lechon paksiw
This is the recipe that will leave your leftover pork tasting awesome and your taste buds happy. It is also easy to follow. A method for making the sauce is also provided in case you decide to make this dish with homemade sauce. Since lechon is a roasted suckling pig, it might be difficult to consume the whole pig, and that is why there are lechon leftovers.
Reheating the leftovers might be tiring, and in the process, the flavors might disappear; therefore, using this recipe will help you come up with a nice dish with fresh flavors to be enjoyed once again by family and friends.
Preparation time: 15 minutes
Cooking time: 40 minutes
Total time: 55 minutes
Serves: 8
Ingredients
1 tablespoon of oil
4 lbs of leftover lechon sliced into 1-inch pieces
3 cups of lechon sauce ready or homemade
2 large onions, finely sliced
6 cloves of garlic sliced and crushed
3/4 cups of vinegar
3/4 cups of sugar
Salt to taste
1 tablespoon of whole peppercorns
5 pieces of dried bay leaves
Instructions
Heat a pan and add in the cooking oil. Saute the onions and the garlic.
Add the peppercorns and also the bay leaves and prepare them for about two minutes.
Add the lechon and stir for about two to three minutes.
Pour in the sauce and cover with a lid. Let them boil for about 30 minutes. You can add more water if you feel that the pork is getting dry.
Add in vinegar, let the sauce boil, and then stir and cook for about five minutes.
Add in some sugar and some salt to taste.
Serve alongside warm white rice.
Tips
The dish's taste highly depends on the sauce that will be used to make the dish. For this reason, it is good to ensure that your sauce is at its best by using the homemade lechon sauce recipe below.
After you have added the sauce, you need to place a tight lid and leave the mixture to boil for thirty minutes without interfering by opening the lid. The primary purpose for covering the mixture and leaving the mixture to boil is to make sure that the meat absorbs most of the spices in the sauce which will off course make the dish even tastier.
Homemade lechon sauce
If you love using homemade sauces, then here is the homemade sauce recipe. It is super easy to make and yet very delicious. This recipe shows you how to make the sauce from scratch.
Prep time: 10 minutes
Cook time: 20 minutes
Total time: 30 minutes
Serves: 8
Ingredients
One 1/4 cup of pig liver paste
2/3 cups of breadcrumbs
3/4 cups of apple cider vinegar
Two 1/2 cups of water
2/3 cups of brown sugar
Two tablespoons of garlic crushed
1/2 cup of minced onion
Two tablespoons of cooking oil
Salt to taste
Pepper to taste
Instructions
Heat a clean dry pan and add the cooking oil.
Saute the garlic and onions until they are soft.
Add in the pig liver paste and cook under medium heat for five minutes while stirring gently.
Add vinegar and bring the mixture to a boil.
Pour pure water and bring it to a boil.
Put in the brown sugar and cook for about 12 minutes.
Add to the mixture the breadcrumbs and cook for about two minutes.
Add some salt and pepper to taste.
Turn off the heat, remove the sauce, and allow it to cool off.
After the sauce is completely cooled, put it in the blender and blend until smooth.
Transfer the sauce into a serving bowl.
The sauce now is ready for use in the lechon paksiw dish recipe. This sauce is advantageous since you can use it on other types of food.
READ ALSO: How to cook lechon kawali?
Lechon paksiw nutritional value
Lechon is mainly roasted suckling pork. Therefore, for every serving of this dish, you consume 15 grams of fat, 13 grams of protein, and about 6 grams of carbohydrates. Pork, like most meat dishes, is mainly protein. Pork also has a substantial amount of fats, minerals, and vitamins.
What is lechon paksiw?
Let us first look at the terms used on this particular dish. Paksiw is a Filipino way of cooking where cooking is done through simmering in vinegar. Lechon, on the other hand, is merely a pork dish. The Portuguese originally started coking lechon, and later the art spread out to other parts of the world, and it became a typical dish in the Philippines.
Lechon paksiw is a common Filipino dish that many enjoy together with their families, especially during festive seasons and on other celebration days. If you are thinking of making a wonderful meal for your family, then this Lechon paksiw recipe is the best to follow. It will be fun and super easy since you have this how to make Lechon Paksiw guide.
READ ALSO: How to make Maja Blanca?
Source: KAMI.com.gh