How to cook lechon kawali?
Lechon kawali is a popular Filipino dish that is celebrated in most parts of the country. In the Philippines, the love for pork dishes stands out, and lechon kawali is one of them. Lechon kawali is a dish of Spanish origin that was introduced a long time ago during colonization. Lechon is pork that is roasted over flaming charcoal. Lechon kawali, on the other hand, is deep fried pork that is completely browned and dried to form crispy pork belly. The difference is that one is roasted and eaten dry while the other is crispy and wet due to the immersion in oil. Kawali is a term from Tagalog that is used to mean 'to deep fry in a pan.' Read on to find the Lechon kawali recipe.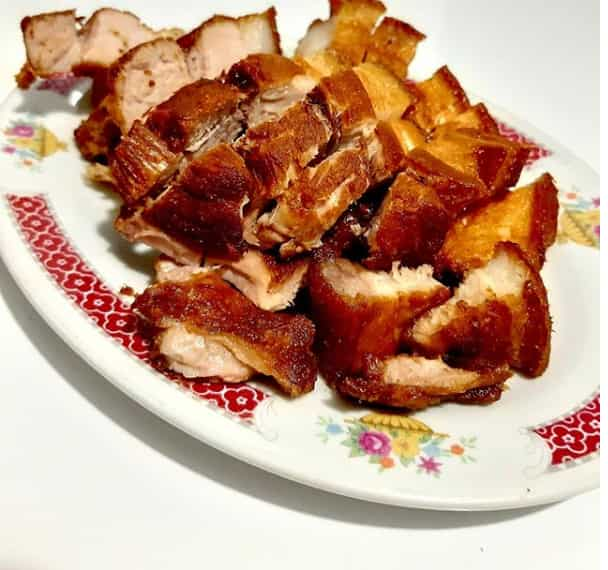 Here is how to prepare the perfect lechon kawali dish.
How to cook lechon kawali
This dish is very easy to prepare, and it does not take much of your time. However, it requires patience for best results. The ingredients for making this dish are readily accessible, and the method of preparation is also one that you can easily follow. Below is the full method on how to prepare lechon kawali:
Ingredients
Pork belly (liempo). This depends on the amount you want to make. In this case, we shall need 2lbs.
Pounded garlic, one full head
Peppercorns, two tablespoons
Salt - 2 tablespoons
A bottle of 7-up
Water
Cooking oil
Method of preparation
In a pot, add the pork, 7- up, and water to cover your pork.
Proceed by adding garlic, peppercorn, and salt.
Boil the pork, preferably on low heat to make it soft. The spices get absorbed into the meat and make it spicy.
Once it is tender, remove the pork and drain off the excess liquid. Place it on a rack to ensure that all the liquid is completely drained.
Refrigerate the meat for around 4 hours.
Dry the meat on a paper towel to ensure that it is free from any liquid before you deep fry it.
Deep fry the pork in hot cooking oil until it becomes crispy and golden brown
Chop the lechon kawali and serve it hot.
This lechon kawali recipe should be followed for amazing results. Keep in mind that the procedure depends on your taste, and if you do not like a lot of salt or pepper, you can always modify the quantities.
READ ALSO: Tatak Pinoy delicacies, tampok sa 'Disgusting Food Museum' sa Sweden
Factors to consider when making lechon kawali
The first thing to consider before you start making the lechon kawali is to make sure that the liquid that you boil the pork in is delicious enough to penetrate through the pork. In most cases, people go wrong in this stage. Garlic generally makes the pork tender and tastier. In some cases, some people prefer to add more or fewer peppercorns, but this depends on your taste. All in all, just make sure that you have everything in place before you start.
The second consideration is to pick the pork-cuts very carefully. In some cases, pork that has too much fat may not heat evenly. It is, therefore, important to pick pieces whose fat is evenly distributed to ensure that you achieve a golden brown result. Remember that you are deep frying the pork and too much fat is not healthy.
The third is to refrigerate the pork. Many miss this part which is very important in making outstanding lechon kawali. The reason for the refrigeration is to ensure that the pork is crispy. Refrigerating accelerates cooling, and it is very important to deep fry cool meat.
Lechon kawali can also be prepared using an oven, but it loses its authenticity when prepared this way. The main tool used to prepare this dish is the deep frying pan (kawali), and this is what makes it a Filipino dish. If you use an oven, then you can no longer call it lechon kawali, but you can only call it lechon oven.
This dish is simply original and if you respect the recipe, then you are bound to get the best results. The recipe above includes some spices that help to make it more appealing and tasty. Food that smells nice is twice more appealing than that which does not.
READ ALSO: 5 Pinoy celebs na naging food servers bago umano sumikat
Lechon kawali calories and nutritional facts
From one serving of lechon kawali, that is 115 grams; there are 10 grams of proteins, one gram of sodium, 14 grams of fats, and 35 milligrams of cholesterol. The serving gives a total of 160 calories, and these are enough to get you through the day. For an individual who wants to lose weight, this is not the ideal dish because of the fat. However, a small serving would do the trick.
Cooking is an art and it does not require mere brushing through the ingredients. Instead, you need to prepare all the ingredients way before you start cooking. This is very important to ensure that you do not miss any step that would alter the taste of your dish. Another tip is to be patient and ensure that the pork is completely drained. Water does not really react well with hot oil and this reaction can burn you as you cook. Ensure that you keep the lid of the boiling pot closed so that the pressure of the heat can completely soften the pork.
This lechon kawali recipe gives you a simple way to prepare lechon kawali, which is a celebrated dish in most parts of the Philippines. This dish gives meaning to the Filipino culture and it can be cooked alongside other main meals. The dish is fast to prepare and can either be taken for lunch or supper or at any other time of the day. It goes really well with a sauce and people have different ways of making their sauces. All in all, lechon kawali is a win for anyone who has no idea what to prepare for their visitors. Have fun preparing it, and feel free to share the recipe with friends and family.
READ ALSO:
Nakakabahala! Get to know these top 5 killer foods
Basta para sa pamilya! Maymay Entrata shares rags-to-riches story about her family's favorite dish
Nakakatawa! Pinay, pinilit pakainin ang foreigner na asawa ng exotic food
Source: KAMI.com.gh