Ellen Adarna, tinawag na 'the most chill bride': "A beautiful human being with the most beautiful soul"
- Ellen Adarna was called 'the most chill bride' in the appreciation post of La Belle Fête founder, Ycoy Sitchon
- She said that Ellen is kind, thoughtful, and an authentic person who always thinks of the welfare of others
- La Belle Fête is a company that specializes in wedding and event planning, and is believed to be the wedding planner of Ellen and Derek Ramsay
- Derek hinted that his wedding with Ellen would happen before the year ends, though he did not give any specifics as to the date and place
Ellen Adarna was called 'the most chill bride' by the founder of La Belle Fête, Ycoy Sitchon.
La Belle is believed to be the outfit that is handling the preparations for Ellen's and Derek Ramsay's wedding.
In her appreciation post, Sitchon also noted that Ellen is beautiful inside out.
"A beautiful human being with the most beautiful soul," Sitchon wrote in her post.
She also said that only a few people are lucky enough to know Ellen well.
"If people are just lucky to know her on a deeper level, it is a gift," the La Belle founder said.
Sitchon also said that the actress is very kind and cares about the welfare of others.
"She is kind, sweet, thoughtful, and most of all, AUTHENTIC. One thing I love about her is that she always things of other people's welfare above hers," Sitchon further wrote in her post.
The La Belle founder then said that on the business side, Ellen would always ensues that her suppliers were treated fairly.
"She'd ensure suppliers have been teated fair from payments to food," she stated in her appreciation post.
In parting, the founder of La Belle said that she only has good thoughts about Ellen and she can talk about it forever.
"I could only say good things about her. I could go on and on and on," Sitchon said.
Ellen and Derek recently uploaded what looked like prenup shots, though the two were still mum about their wedding date.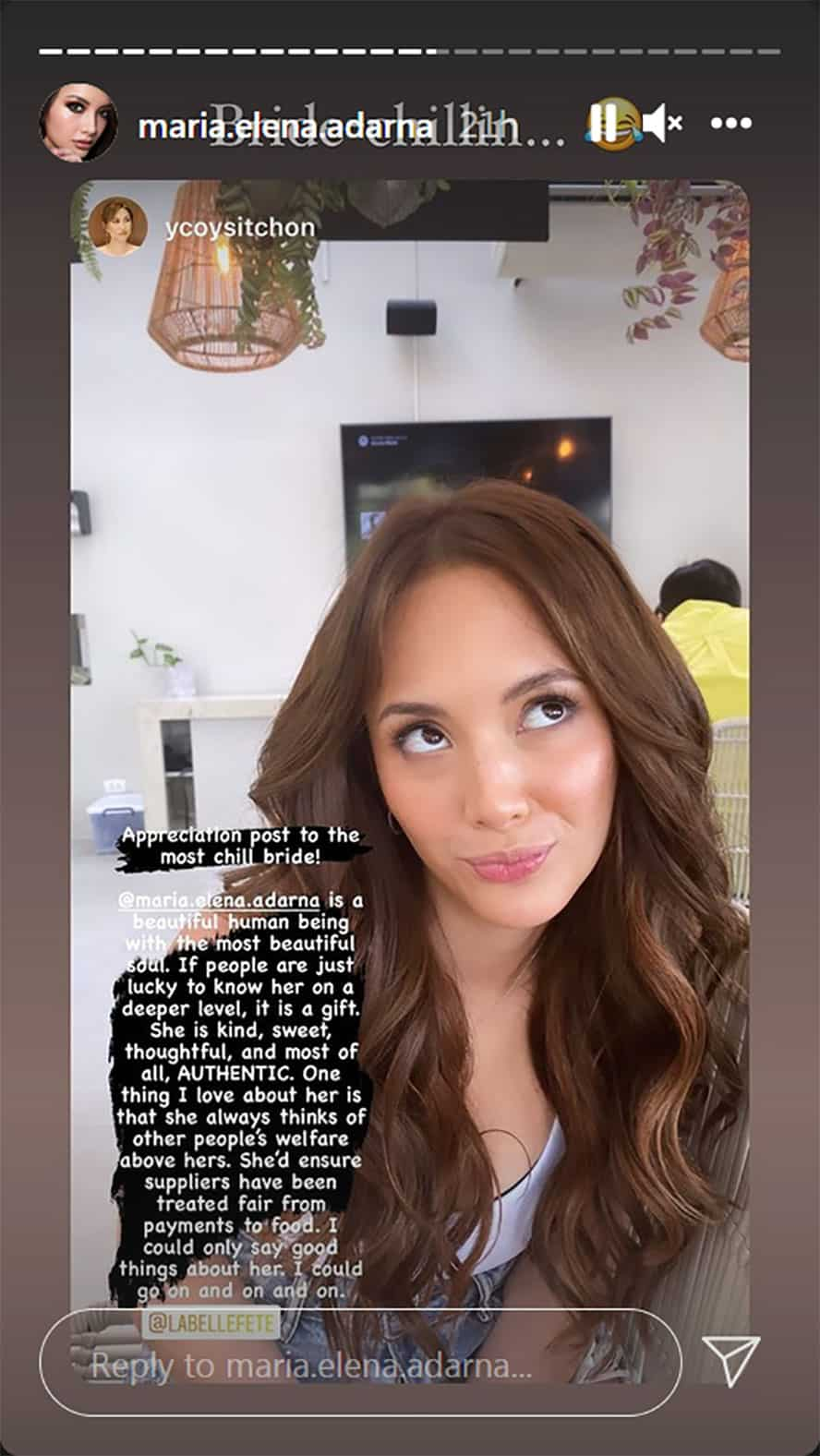 Ellen Meriam Go Adarna, or simply Ellen Adarna as she is known in the showbiz industry, is a Pinay actress and model. She was born on April 2, 1988 to businessman Allan Modesto Adarna and Meriam Go. Her family is among the most prominent and affluent clans in Cebu City, being the owners of a chain of hotels, condominium buildings, resorts, and motels located not only in Cebu province but also in Davao and Manila. They're also the owners of the famous tourist destination, the Temple of Leah, which was erected in honor of Ellen's late grandmother, Leah Albino-Adarna. Ellen was already into modeling when she joined the entertainment industry by being one of the cast of Bubble Gang. After being with GMA Network for 3 years, she moved to rival network ABS-CBN in 2013. She has a son, Elias Modesto, with ex-BF John Lloyd Cruz. In February of 2021, she and Derek Ramsay became a romantic couple.
Recent photos uploaded by both Ellen Adarna and Derek Ramsay have reached viral status and has become a trending topic online. Ellen posted a photo of Derek on her IG account, while Derek posted Ellen's on his own IG, both having similar captions. While the couple did not mention it, the photos looked like prenup shots, and if so, then a wedding must be forthcoming. After their engagement in March, Derek said that his wedding with Ellen would be happening before the year ends.
A few days ago, Ellen also went viral after her reply to the question of whether it is okay for her to have an unattractive BF, yet with great personality, left netizens quite flabbergasted. The question was submitted by one of her followers during her regular Q&A session on Instagram. The netizen asked whether it is possible for an unattractive person courting her to get a positive reply and become her boyfriend. The actress is the fiancée of actor and model Derek Ramsay, considered one of the most attractive male celebrities in the Philippines.
Source: KAMI.com.gh