Kim Jong Un bio: Wife, age, net worth, sister, death rumors
North Korea leader Kim Jong Un is a man whose life and actions remain a mystery despite being one of the most famous people on the planet. He is the man who has been criticized for living a posh and lavish lifestyle while his fellow countrymen languish in poverty and hunger. North Korea has always been the subject of UN sanctions for its human rights violations and its nuclear program that poses a threat to world peace and safety. Kim Jong Un has been relentless in the development of the country's nuclear arsenal, and as a result, the country has been shut off from the rest of the world.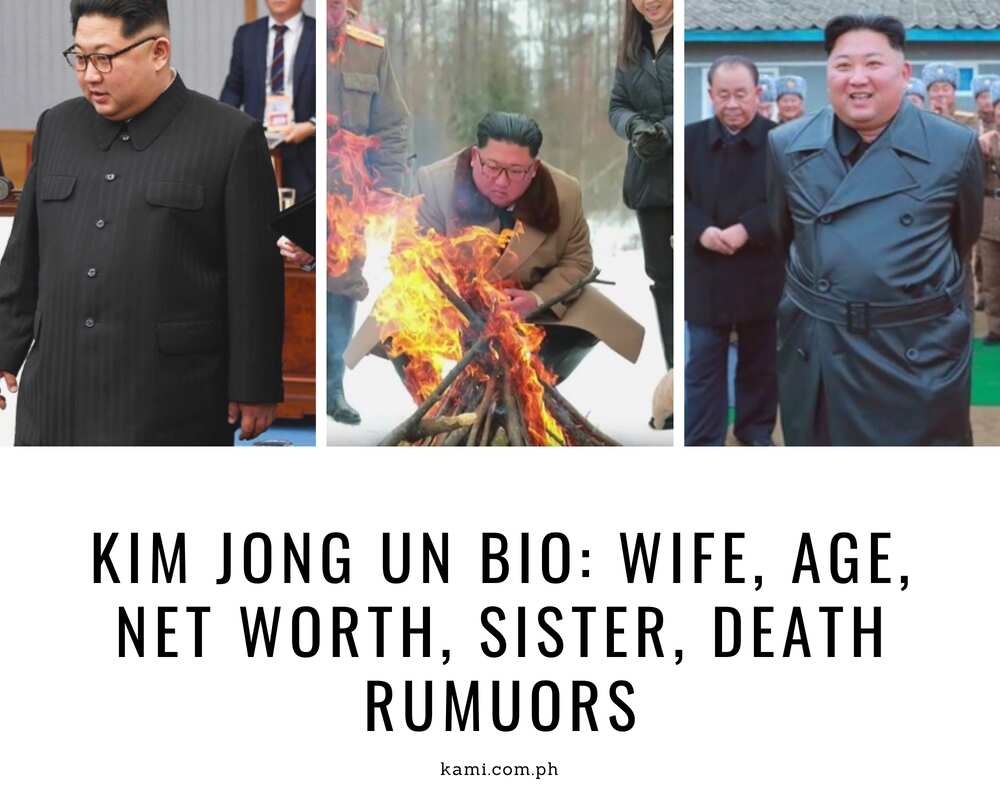 Kim Jong Un is a man who was born with everything he could ever need. His family has passed down the leadership of the country from one generation to the other. He succeeded his father aged only 26 years old, and many did not know if he could handle the task ahead of him. Little did they know that he would govern the country with an iron fist and eliminate anyone who was suspected of opposing him.
A decade has since passed, and however it seemed that he would be at the helm for many years to come, there are rumors that he may be very ill while others have already speculated that the supreme leader of North Korea is dead. While these rumors remain unverified, something seems to be going on in North Korea, and it is only a matter of time before the world becomes aware of what it is.
Kim Jong Un profile summary
Name: Kim Jong-un
Nicknames: Little Rocket Man, Fatty, #3
Date of birth: 8th January 1984
Kim Jong Un age: 37 years
Place of birth: Pyongyang, North Korea
Height: 5 ft 7 in (1.7 m)
Known for: North Korea leader
Kim Jong Un biography
Kim Jong Un was born on 8th January 1984 in Pyongyang, North Korea though this date has been questioned by many. He is the son of former North Korea leader Kim Jong-il who passed away in 2011.
In his early years, Kim Jong Un went to school in Switzerland. After returning from school in Switzerland, Kim Jong-un attended the Kim Il-sung Military University as preparation to take over from his father one day.
In 2010, his father began preparing him for succession, and when he died in December 2011, Kim Jong Un assumed leadership of North Korea and has retained the seat to date.
READ ALSO: Kyuhyun's profile: age, height, girlfriend, birthday, family
Suppressing opposition
In history, Kim Jong Un North Korea leader will be remembered for the way he was ruthless towards the opposition, perceived or real. Immediately he became the leader of North Korea he either removed or executed senior officials that had served during his father's regime.
Among those executed was his own uncle Jang Song-thaek after being accused of being a traitor plotting to overthrow the government. All the members of Jang's family were also executed. Kim Jong Un's half-brother Kim Jong-Nam had lived in exile for many years serving as a vocal critic of his half-brother's regime before his death in 2017.
He died in Malaysia in unclear circumstances, and several suspects were arrested concerning his death, but many believe he was poisoned as ordered by Kim Jong Un.
Kim Jong Un wife
After getting into leadership at a young age, Kim Jong Un also had to assume other family responsibilities. It was announced in 2012 that the North Korean leader had married a woman named Ri Sol Ju.
The two have appeared in public on several occasions. Little is known about Ri, but it is believed she was partially educated in China and attended the 2005 Asian Athletic Championships as a member of the cheering squad in 2005.
The couple is blessed with three children, with the firstborn boy.
Kim Jong Un sister
Not much information is available regarding the family of Kim Jong Un, but it is established that they were three siblings. His younger sister, Kim Yo-Jong was born in 1987. She is a high-ranking official of the Workers' Party of Korea and an avid supporter of Kim Jong Un.
She joined the Workers' Party of Korea in 2007 and remained a secretariat to her father until his death. She made a public appearance during the 2018 Winter Olympics and has also appeared beside Kim Jong Un in the denuclearization summits with U.S. President Donald Trump.
Like her brother, she went to school in Switzerland, where they lived with an aunt and uncle and had a staff of housekeepers and bodyguards. Amid reports that Kim Jong Un may be in poor health, speculations have surfaced that Kim Yo-Jong is the one to take over should the supreme leader die.
Net worth
For a man whose entire life is shrouded in mystery, it won't be an easy task estimating his net worth. He may be one of those people who are said to be richer than the countries they govern. Kim Jong Un net worth is estimated to be around $5 billion.
He has a taste for expensive cars, wines, and even food ordered from abroad. Kim Jong Un latest news has shifted from his wasteful spending to the denuclearization talks with the USA and a possible lifting of sanctions for the country.
READ ALSO: Bianca Umali biography, family, house, age, scandal
Kim Jong Un death rumors
In April 2020, rumors emerged that the North Korean supreme leader is dead. This was due to his prolonged absence from the public prompting speculation that he could be ill or even dead. The North Korean authorities were not as quick to quell those rumors making many people believe that they may be right.
After those rumors, a fake photo showing Kim Jong Un in a coffin started circulating on the internet. Satellite images were shared showing a train stationed outside a family beach resort in Wonsan, which was an indication that Kim is still alive. Nevertheless, while Kim Jong Un health remains the subject of attention, he remains the leader until his death, which is yet to occur.
Dead or alive Kim Jong Un will go down in history as one of the ruthless dictators this world has ever seen. He took over power at a young age when many doubted that he couldn't handle the pressure. However, immediately he was at the helm, those who had challenged him started wishing they never underestimated him in the first place. The nine years Kim Jong Un has been the supreme leader of North Korea seem like an eternity, and the talk of his succession has already begun, but it remains to be seen whether his end is near or he will be the man at the helm for years to come.
READ ALSO: Caroline Flack bio: twin, net worth, age, career, cause of death
Source: KAMI.com.gh