Ishmael Bernal bio: family, career, awards, quotes
Ishmael Bernal was a renowned Filipino actor, screenwriter, TV & stage director, and filmmaker. In 2001, he was declared the National Artist of the Philippines. During his career in the Philippine entertainment industry, he bagged numerous awards and had so much impact. He was recognized as a director for films that depicted the true reflections of the Filipino citizens.
Interesting to note, Ishmael Bernal National Artist Award was not a surprise as his impact was strongly felt in the showbiz industry. He is popular for directing notable Filipino films such as City After Dark in 1980, Himala in 1982, Nunal sa Tubig in 1976, and Hinugot sa Langit in 1985. Despite his death, his legacy lives on through his work.
Profile summary
Full names: Ishmael Bernal
Year of birth: September 30, 1938
Year of death: 1996
Age at the time of death: 58 years
Gender: Male
Career: Actor, screenwriter, TV & stage director, and filmmaker
Who is Ishmael Bernal?
He is a man whose personality was admirable to those around him. He was popular for actively participating in the struggle for artists' rights & welfare. He was also a board member of the Directors Guild of the Philippines Incorporation (DGPI.)
Ishmael Bernal biography
The actor was born on September 30, 1938, in the heart of Manila. There is not much information about Ishmael Bernal family, but his parents were Pacifino Ledesma and Elena Bernal. Ishmael Bernal and Joyce Bernal share much in common but are not related. She is also a TV and film director.
Ishmael Bernal education
He enrolled for his early education at Burgos Elementary School. He then joined Mapa High School and later the University of the Philippines for his Bachelor of Arts degree in English. He graduated in 1959 and kick-started his career at Lamberto Avellana's documentary outfit.
The screenwriter moved to France and joined the University of Aix-en-Provence, where he earned his Licentiate in French Literature & Philosophy. In 1970, he earned his Diploma in Film Directing at the reputable Film Institute of India through the Colombo plan scholarship.
Career
He had a soft spot for arts as he actively participated in the UP Dramatic Club, where he developed and nurtured his passion for literature. For people that knew the actor well, he loved classical music, especially opera. Ishmael Bernal awards are notable as he instilled so much change in the film-making industry.
Ishmael Bernal films
His skills and talent in film-making saw him direct many films including;
Pagdating sa Dulo (On Reaching the End) in 1971
Daluyong! (Wave) in 1971
Pito ang Asawa Ko (I Have Seven Wives) in 1971
El Vibora (The Viper) in 1972
Inspiration in 1972
Till Death Do Us Part in 1972
Si Popeye Atbp. (Popeye and Others) in 1972
The Sleeping Dragon in 1973
Scotch on the Rocks to Remember in 1974
Black Coffee to Forget (Unreleased) in 1974
Huwag Pamarisan! Mister Mo... Lover Boy Ko! (Don't Imitate: Your Husband, My Lover) in 1974
Lumapit... Lumayo ang Umaga (Morning Came, Went) in 1975
Babaeng Hiwalay sa Asawa (Anna Karenina) (Woman Who's Separated From Her Husband) in 1975
Nunal sa Tubig (Speck on the Water) in 1976
Bonifacio (segment of Lahing Pilipino) in 1976
Walang Katapusang Tag-araw (Endless Summer) in 1976
Ligaw na Bulaklak (Wildflower) in 1977
Tisoy (Mestizo) in 1977
Dalawang Pugad... Isang Ibon (Two Nests, One Bird) in 1977
Lagi na Lamang Ba Akong Babae? (Will I Always Be Just a Woman?) in 1978
Isang Gabi sa Iyo... Isang Gabi sa Akin (A Night With You, A Night With Me) in 1978
Ikaw Ay Akin (You're Mine) in 1978
Menor de Edad (Underage) in 1979
Boy Kodyak in 1979
Bakit May Pag-ibig Pa? (Why Is Love Still There?) in 1979
Aliw (Entertainment) in 1979
Salawahan (Two-Timer) in 1979
Good Morning Sunshine in 1980
Sugat sa Ugat (Wound in the Veins) in 1980
City After Dark (originally entitled Manila by Night) in 1980
Girlfriend in 1980
Pabling (Playboy) in 1981
Ito Ba ang Ating mga Anak? (Are These Our Kids?) in 1982
Galawgaw (Busybody) in 1982
Relasyon (Affair) in 1982
Hindi Kita Malimot (I Can't Forget You) in 1982
Himala by Ishmael Bernal in 1982
Broken marriage by Ishmael Bernal in 1983
Working Girls in 1984
Pridyider (segment of Shake, Rattle, and Roll) in 1984
Gamitin Mo Ako (Use Me) in 1985
Hinugot sa Langit (Taken from Heaven) in 1985
The Graduates in 1986
Working Girls 2 in 1987
Pinulot Ka Lang sa Lupa (You Were Just Picked Off the Ground) in 1987
Nagbabagang Luha (Burning Tears) in 1988
Pahiram ng Isang Umaga (Lend Me a Morning) in 1989
Mahal Kita, Walang Iba (I Love You, No One Else) in 1992
Wating (Streetsmart) in 1994
Ishmael Bernal works
The famous director's works cannot be forgotten. He was passionate about solving issues that affected women. This was evident in the numerous stories that he did about women. He considered himself to be a feminist doctor.
Ishmael Bernal contribution to the entertainment industry was remarkable and simply unmatched. Ishmael Bernal NCCA awards were based on his talent in film-making and directing based on art and culture. According to NCCA, he was a filmmaker with a unique talent and of the first order. He was referred to as the genius of the Philippine cinema.
Achievements of Ishmael Bernal
The famous filmmaker won several accolades to his name for his significant contribution. Here are some of Ishmael Bernal year awarded moments.
Best director for Dalawa Pugad
Best director for Isang Ibon (Two Nests, One Bird) in 1977
Best director for Broken Marriage in 1983
Best director for Hinugot sa Langit (Wrenched From Heaven) in 1985
Best director for Pahiram Ng Isang Umaga (Lend Me One Morning) in 1989
The best screenplay for City After Dark in 1980
Best screenplay award for Pagdating sa Dulo
His Himala (Miracle), 1982, garnered nine significant awards in the Metro Manila Film Festival
Most Outstanding Filmmaker of the Decade 1971-1980
Best films in Pagdating sa Dulo, Nunal sa Tubig, Manila By Night, and Himala and Hinugot sa Langit
Director of the Decade by the Catholic Mass Media Awards (CMMA)
CMMA Best Director Award in 1983
The Bronze Hugo Award in the Chicago International Film Festival in 1983 for the movie Himala
Awarded the Gawad CCP Para sa Sining for the film in 1990
ASEAN Cultural Award in Communication Arts in Brunei Darrussalam in 1993
What was Ishmael Bernal cause of death?
Ishmael Bernal died due to a heart attack on June 2, 1996, in Quezon City in the heart of the Philippines.
READ ALSO: Elizabeth Warren bio: accomplishments, policies, age, net worth, children
Quotes
The actor has several quotes from his essay Why The Martial Law Will Affect Your S*x life in 1970. Here are some Ishmael Bernal quotes:
There is an old Chinese proverb that is pertinent at this stage: If everyone is losing his head and you are keeping yours, you probably don't understand what's going on. Here we are, being practically ruled by a stranger who shall parade the chills and fevers of his ego and what are we going to do about it? We are going to be gripped by Hysteria, that's what
You can ask me to do a bubblegum movie now and I will. I don't want to live up to other people's expectations all the time. Why should I? If I need the money, I'll do a movie about your grandmother.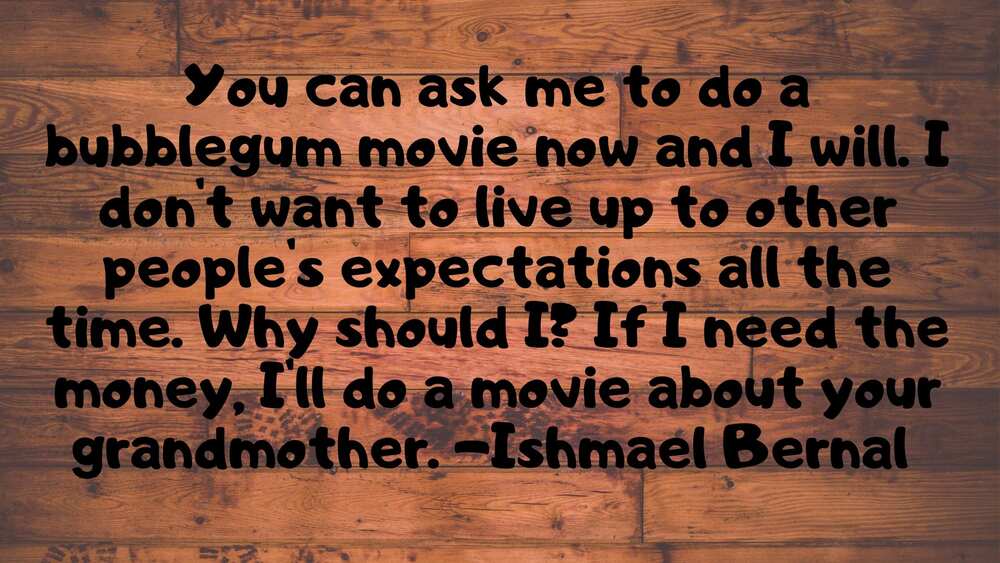 I dislike the tone of Eddie Romero concerning marches and strikes, na parang masyadong nakakatakot naman ang mag-march at mag-strike. Students march all the time-it is a common practice! Kung kailangang mag-sacrifice, we have to sacrifice!
READ ALSO: Vanessa Laine Bryant bio: husband, children, age, net worth, pictures
Ishmael Bernal was a man whose talent and passion for art was remarkable. His talent in acting, screenwriting, stage directing, and film-making was notable and applauded. His death was shocking to many, and especially the entertainment industry that lost a gem.
READ ALSO: Sheena Halili bio: husband, wedding, age, net worth
Source: KAMI.com.gh