Aaron Gordon bio: Age, net worth, height, parents, dunk contest
Aaron Gordon is an American professional basketball player under the Orlando Magic Jazzy. His career started long ago while in college where he played for only one year as a member of the University of Arizona basketball team. He was later chosen in a fourth overall pick in the 2014 NBA draft as a member of Orlando Magic, officially kick-starting his career.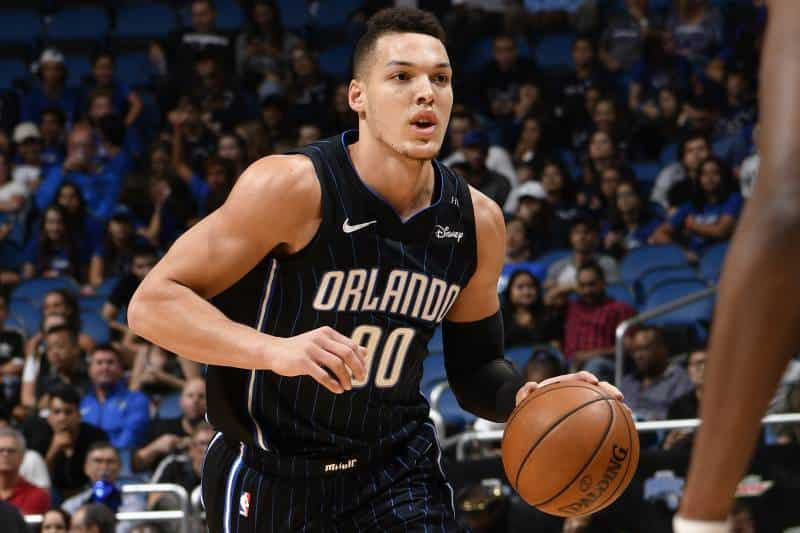 Aaron Gordon is famous for many things among them the dunking contest. After enrolling in the University of Arizona in 2013 little did he know that his star as a professional athlete was going to shine brighter. He was named among 30 finalists for the Naismith College player of the year prize despite playing for only one season.
He was also named the Pac-12 freshman player of the year the same year, and by April 2014, he was in the NBA draft. Gordon was selected by Orlando Magic with the fourth overall pick, signing a contract with the team to-date.
Aaron Gordon profile summary
Birth name: Aaron Addison Gordon
Nickname: Aaron Gordon
Date of birth: September 16, 1995
Place of birth: San Jose, California
Aaron Gordon age: 24 years
Occupation: Professional Basketball player
Estimated net worth: $20 million
Years active: 2014- present
Zodiac sign: Virgo
Aaron Gordon height: 206 cm or 6"9 inches
Famous for: Runner up in the Slam Dunk Contest (Twice)
Aaron Gordon bio
Aaron was born on September 16, 1995, in San Jose, California. He was raised in a family that embraces and cherishes sports as a lifestyle. His dad, elder brother and elder sister are all basketball players, and he got to learn lots of skills from them. His love for sports, however, transcended to other areas like track events. He competed in the 100 and 200-metre dashes at the junior olympics but later focused on basketball.
In high school, he made tremendous contributions in the sports section. He was a member of the Mitty High school basketball team and also took part in track events. With his help, the school competed in Division II state basketball championship.
After high school, he joined the university and continued as a basketball player. At the University of Arizona, his dream was realized. He was a committed member of the university basketball team, but fate chose him. Orlando Magic selected him with a fourth overall pick during the 2014 NBA draft, and he has never turned back.
Net worth
After six years as a professional basketball player, Gordon has not only made a brand out of himself but has also made a good fortune. According to Celebrity Net worth, Aaron Gordon net worth is estimated to be $4 million.
In addition to this, he is also rewarded handsomely. Aaron Gordon contract with Orlando Magic is worth $80 million.
This gives him an average salary of about $20 million per year for four years. There is no doubt that Gordon is a rich man. He flaunts as a well-to-do personality whose lifestyle revolves around a state-of-the-art way of life symbolized by flashy cars and houses.
Aaron Gordon dunk contest
In 2016, Aaron Gordon participated in his first dunk contest but lost in the early stages. Despite contesting against pro players like Howard and Connaughton, he still managed to shine in a competition that saw Zach LaVine take home the overall prize.
The last stage of the contest was characterized by mixed reactions and resulted in him taking home the second-best position. Gordon returned once again in the ring in 2020 for the dunk contest. However, he lost for the second time, with 197 points against the Derrick Jones who garnered 200 points.
Fans were relentless in their hope as everyone rallied behind Gordon. News of the loss was devastating to Gordon and his fans alike with the hashtag "DoubleAGRobbery." As a result, fans took to social media to criticize the judges' decision. They made claims that Gordon was more deserving after single-handedly delivering 3 of the top 10 best dunks ever witnessed in the dunk contest.
Aaron Gordon parents and siblings
From the look of his success in the game, one can only associate it to a strong foundation in the sport while growing up. While most players gain their skills in college and high school, Aaron was raised in a family that loved basketball.
Aaron Gordon parents gave him a strong foundation through inculcating abilities and knowledge of the game earlier in his life. His father Ed Gordon played for San Diego University and also professionally played for New England patriots.
Aaron Gordon brother who comes before him in birth was also an active basketball player when he was a student at the University of New Mexico. He only spent a short time in the University of California before making a transfer to the University of New Mexico where he bagged numerous awards as a seasoned player. However, he never made it through the NFL drafts to become a professional athlete.
His sister Elsie also played basketball while studying at Harvard University. However, she never went on to play professionally after college. She nevertheless became Aaron's manager and is also the representative at Aaron's agency.
READ ALSO: Kylie Verzosa bio: age, height, net worth, parents
Stats
For a player who has inched closer to winning the All-Star dunk contest twice, some great awards and honours have decorated his career. Here is Aaron Gordon stats
High school
2013: USA Basketball Male Athlete of the Year
2013: FIBA Under-19 World Cup MVP
2013: McDonald's All-American Game MVP
Jordan Brand All-American (2013)
2× California Mr Basketball (2012, 2013)
2× CIF State champion (2011, 2012)
2× CIF State Division II champion (2011, 2012)
3× CIF Northern California champion (2011–2013)
CIF Northern California Open Division champion (2013)
2× CIF Northern California Division II champion (2011, 2012)
4× CIF CCS champion (2010–2013)
CIF CCS Open Division champion (2013)
3× CIF CCS Division II champion (2010–2012)
MaxPreps.com All-American First Team (2013)
San Jose Mercury News Player of the Year (2013)
San Jose Mercury News First Team (2013)
Cal-Hi Sports Bay Area CCS Player of the Year (2013)
3× WCAL champion (2011–2013)
3× Ed Fennelly WCAL Player of the Year Award (2011–2013)
3× All-WCAL First Team (2011–2013)
All-WCAL Second Team (2010)
College
Pac-12 Freshman Student-Athlete of the Year (2014)
Pac-12 All-Tournament Team (2014)
AP Honorable Mention (2014)
NCAA Tournament's West Regional All-Tournament Team (2014)
Third team All-America – Sporting News (2014)
USBWA All-District Team (2014)
NABC All-District Second Team (2014)
All-Pac-12 First Team (2014)
Pac-12 All-Freshman Team (2014)
Pac-12 Freshman Player of the Year (2014)
Pac-12 All-Rookie First Team (2014)
Professional career
2014-2015: Selected in the fourth overall pick by Orlando Magic in the 2014 draft
2015-16: Rejoined Orlando Magic and averaged 21.7 points, 11.7 rebounds, 2.7 assists, 1.3 steals and 1.7 blocks in three games - 2015 NBA summer league.
2016 -17: Scored a career-high 33 points in a 113–108 loss to the Los Angeles Clippers.
2016-17: First attempt in the Slam Dunk Contest.
2017-18: Attained career-high eight assists in a 105–99 win over the Phoenix Suns
2019-20: Achieved a career-high nine assists in a 112–84 win over the Chicago Bulls.
2019-20: Runner up in the Slam Dunk contest.
Aaron Gordon has had a fruitful career since 2014. His rewards as a junior athlete to a runners-up in the 2020 slam dunk contest show a man who will stop at nothing in the quest to attain greatness. His story is one of sheer determination and the hope of a better future. Besides, he has made a fortune for himself, with a net worth estimated in the millions of dollars.
READ ALSO: Thea Tolentino bio: age, height, net worth, parents
Source: KAMI.com.gh