Buddy Hield bio: Age, girlfriend, height, real name, latest news
With dedication, commitment and the necessary support system, anyone can become a star in the world of sports. Buddy Hield has never ceased to amaze his fans since his exploits in the pitch makes people yearn for more.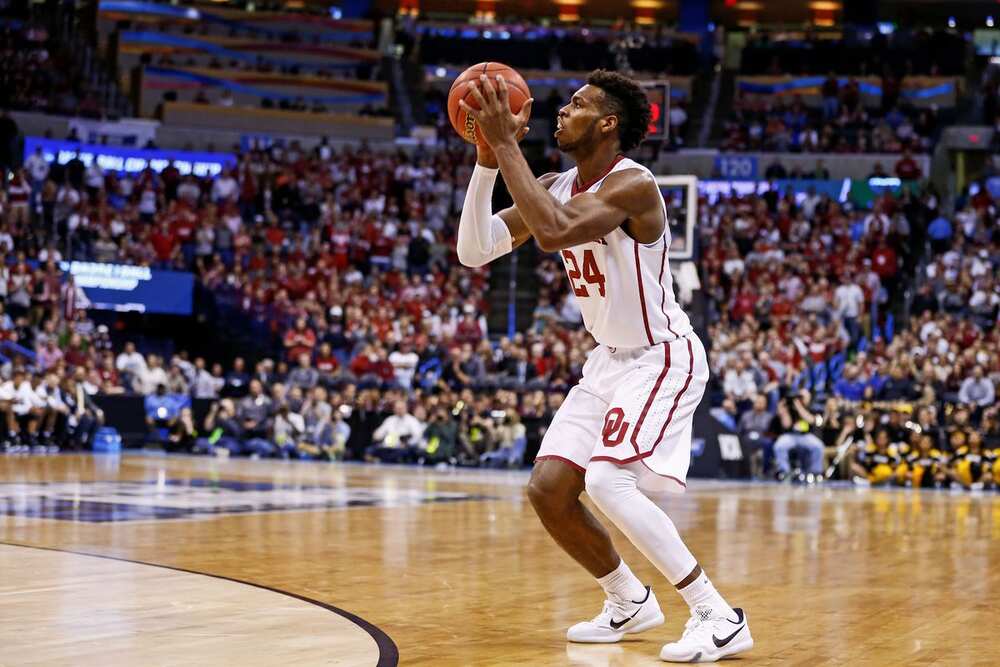 Buddy Hield is a Bahamian professional basketball player. He plays in the National Basketball Association (NBA) and currently, he plays as the Shooting Guard for the Sacramento Kings. In the past, he played for other basketball teams such as the New Orleans Pelicans. Currently, he plays as the Shooting Guard for the Sacramento Kings.
Buddy Hield profile summary
Buddy Hield real name: Chavano Rainier Hield
Nickname: Buddy Hield
Date of birth: 17th December 1993
Place of birth: Freeport, Bahamas
Buddy Hield age: 26 years
Buddy Hield birthday: 17th December
Birth sign: Sagittarius
Nationality: Bahamian
Ethnicity: Black
Buddy Hield height: 6 feet 3 inches
Weight: 97 kg
Hair colour: Black
Eye colour: Black
Marital status: In a relationship
Occupation: Basketball player
Net worth: $5 million
Biography
Buddy Hield was born on 17th December 1993 as Chavano Rainier Hield in Freeport Bahamas to Vincent Hield and Jackie Swann. Unfortunately, his parents divorced when he was only eleven years old. He has six siblings, three sisters and three brothers.
While in the Bahamas, he schooled at Jack Hayward High School. In 2010, he relocated to the United States of America and joined Sunrise Christian Academy in Wichita, Kansas. Later on, he joined the University of Oklahoma where he majored in human resource.
Career and stats
While in Sunrise Christian Academy he led the school's team to a National Association of Christian Athletes national championship where he emerged with a record of 24-4. As a senior, his average score was 22.7 points and 2 minutes per game.
While in the University of Oklahoma, he played with the Oklahoma Sooners for four seasons between 2012 and 2016. In 2016, he was honoured with John R. Wodden Award and Oscar Robertson Trophy. In the same year, he was also titled the Sporting News and Naismith College Player of the year.
He completed his year as a senior with a total of 25 points, 5.7 rebounds and two assists in every game. In the Big 12 league, he led the team with an all-time score of 2,291 points. He won the title of the Big 12 Player of the Year twice in a row. The first person to win a similar post was Raef LaFrentz in 1997 and 1998.
During the 2016 NBA Draft, he was selected with the sixth overall pick by the New Orleans Pelicans. During his rookie season, he scored in 37 of 57 games that he took part in. His average score was 8.6 points, 2.9 rebounds and 1.4 assists.
During the 2017 first and second-round draft pick, the Pelicans traded him to the Sacramento Kings alongside Langston Galloway and Tyreke Evans. This was in exchange for Omri Casspi and DeMarcus Cousins. Towards the end of the season, he won the title of the NBA All-Rookie First Team.
In the 2017- 2018 season-opening, he was chosen as a starter but later on, after playing for seven games he was switched to a bench role. He started playing in only 13 out of the total 80 games. He attained an average of 13.5 points, 3.8 rebounds, 1.9 assists and 1.1 steals.
READ ALSO: One Direction members: Names, ages, girlfriends, height
Buddy Hield height and other body measurements
He is 6 feet and 3 inches tall and weighs 97 kg. He has black eyes and black hair. He has achieved such a great body through regular workouts and maintaining a healthy diet.
Body workout routine
Dribbling
From Shooting
Floater Shot
Step back shot
3's
Agility
Vertical training
Weight training
Diet plan
Lots of proteins like seafood, turkey, chicken, and salads.
Heavy breakfast and 2 naps each day
At least two heavy meals and drinks protein shakes
Drinks gallons of water daily
Buddy Hield girlfriend
It is rumoured that he is dating Sadie Houston. Sadie is the captain of Oklahoma University women's rugby team. Even though there is no more information about them, none of the two has come out to confirm the rumours or state otherwise.
However, Buddy has a daughter with her baby mama Remi Martinii. He was spotted with his daughter after one of his games.
Buddy Hield net worth
Presently, Buddy's net worth is estimated to stand at roughly more than $5 million. During the past three seasons of his career at the NBA, his earning was $11,026,440. Currently, Buddy Hield contract of 4 years with the New Orleans Pelicans earns him a total amount of $15,887,648 with a base salary of $3, 833, 760, a cap hit of $3,833,760 and a dead cap value of $8,694,968 for the seasons between 2018 and 2019.
For the 2019- 2020 season his salary is valued at $4.8 million, and it is expected to rise to as high as $6.4 million between the 2020-2021 seasons.
Buddy Hield latest news
In the latest updates, Buddy emerged as the 2020 three-point contest winner after edging out Davis Bertans and Devin Booker. Davis Bertans went first, and collected 22 points. He left a wide-open door for Devin or Buddy to win the title.
Booker went second and added more pressure on him after earning 26 points. As the final player, the Sacramento Kings guard had 24 points but drained the entire attempt in a dramatic fashion that saw him garner 27 points. Buddy Hield 3 point contest win was received with great praises from his teammates and fans across the globe.
If you are a huge fan of basketball, it is only natural to develop the urge to want to learn more about some of your favourite players. The life story and charisma of Buddy Hield is truly an inspiration.
READ ALSO: GFRIEND members profile: name, age, height, facts
Source: KAMI.com.gh