Tim Tebow bio: wife, stats, age, net worth
Tim Tebow is a former American football player and currently a baseball player. He is known for his strength and endurance whenever he plays either of his sports. Aside from being an athlete, Tim Tebow is also a man of faith, which has often colored the media's coverage of him.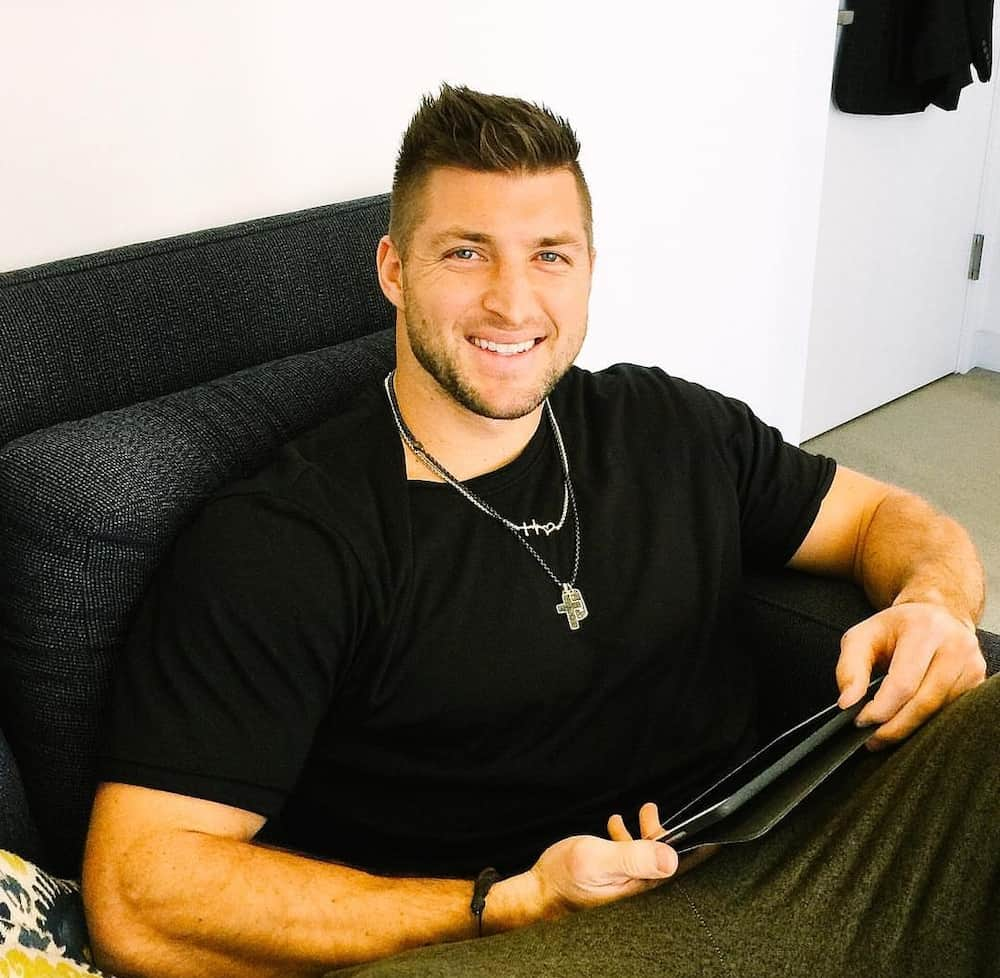 Tim Tebow had shown great ability combined with diligence, perseverance, and hard work while playing football in 2007, which is why he was given the Heisman Trophy. The trophy is awarded annually to the outstanding player in NCAA football. He started young when he played football, and it was in 2016 when he pursued another career in the field of professional baseball.
Tim Tebow profile summary
Name: Timothy Richard Tebow
Nickname: Tim
Age: 32 years old
Birthday: August 14, 1987
Nationality: American
Place of birth: Manila, Philippines
Height: 6 feet 3 inches
Weight: 233 lbs.
Religion: Christianity
Biography
Timothy Richard Tebow was born on August 14, 1987, in Manila, Philippines. His parents, Robert Ramsey Tebow II and Pamela Elaine Tebow, are both Americans.
Tim is the youngest among his four siblings. The five children didn't go to a regular school when they were in elementary because their parents opted to homeschool them.
Career
Tim Tebow started his football career at Trinity Christian Academy in Jacksonville, but just before the 2003 season, he moved to St. Johns County. He was approved to play for the Allen D. Nease High School. Although he was not enrolled in either of the school, he still managed to play because Florida law allows homeschooled students to participate on the team of the local high school in the district in which they live.
He rose to prominence as a junior player for the Allen D. Nease High School. His throwing and running skills made him different from all the other players. Unfortunately, later that season, he suffered an injury in the right leg but still managed to play in the entire second half with a broken fibula, at one point rushing for a 29-yard touchdown.
After that game, he was held out for the remaining of his junior season, but he still became a major college football quarterback prospect.
In his senior year, he played in the U.S. Army All-American Bowl in San Antonio, Texas, which featured the top 78 senior high school football players in the nation. In 2007, he was chosen to be part of the Florida State Athletic Association's All-Century Team that listed the top 33 football players in the state of Florida's 100-year history of high school football.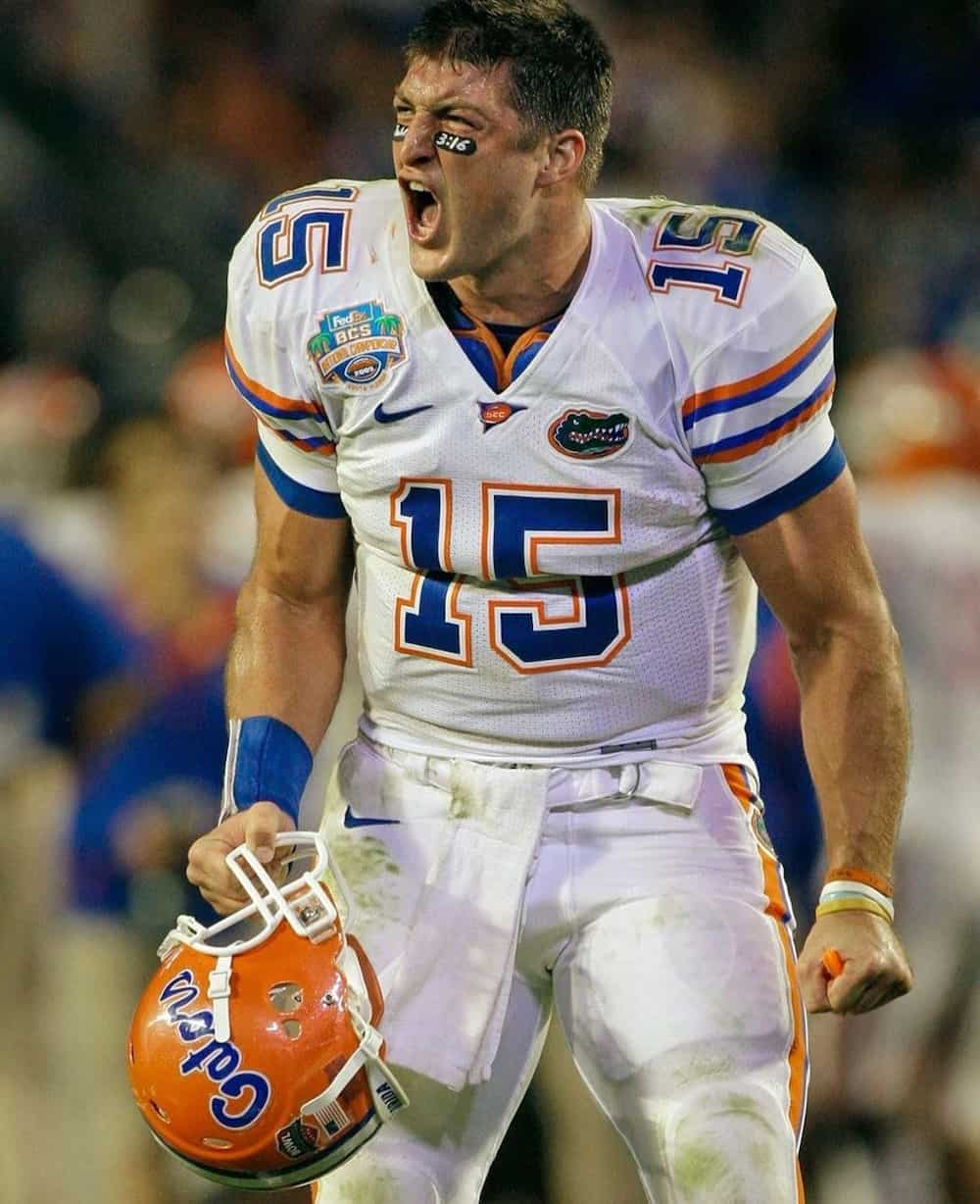 He was selected as the team captain in 2008 and 2009 and was the only three-time recipient of the Gators' most valuable player award, having been chosen by his teammates. His 2007-2009 playing season resulted in an impressive Tim Tebow stats.
After college, Tim Tebow held 5 National Collegiate Athletic Association (NCAA), 14 Southeastern Conference (SEC), and 28 University of Florida statistical records.
Below are some of the awards he received from the 2006 season up to the 2009 season.
2006 season
SEC All-Freshman Team
2007 season
2007 season
Walter Camp Award finalist
Sporting News Player of the Year
First-team Academic All-American
Manning Award Finalist
2008 season
First-team All-America by College Football News.
ESPY for Best Male College Athlete
Heisman Trophy finalist
Southeastern Conference Offensive Player of the Week
2009 season
First-team All-SEC
Second-team All-America (Walter Camp Foundation)
Southeastern Conference Offensive Player of the Year
Sports Illustrated College Football Player of the Decade
After his college career, Tebow pursued football professionally. After passing on the National Football League (NFL) draft in 2009, he was selected by the Denver Broncos in the first round (25th overall) of the 2010 NFL draft.
In 2011, Tebow began the season as the Denver Broncos' backup quarterback, behind Kyle Orton. After the Broncos started 1–3, he replaced Orton at halftime during a home game against the San Diego Chargers in week five.
After playing for the Denver Broncos, Tim was then traded to the following teams:
New York Jets (2012)
New England Patriots (2013)
Philadelphia Eagles (2015)
Net worth
Are you one of those who is curious about how massive is his net worth? According to Wealthy Persons, the estimated Tim Tebow net worth is an enormous 10 million dollars and more.
In 2010, his contract with the Broncos was worth $11.25 million, and part of his wealth is from his hosting career in Good Morning America on ABC News.
Wife
Tim Tebow wife is Demi–Leigh Nel-Peters. The two tied the knot last January and they exchanged vows in an intimate sunset ceremony at La Paris Estate in Cape Town, in South Africa.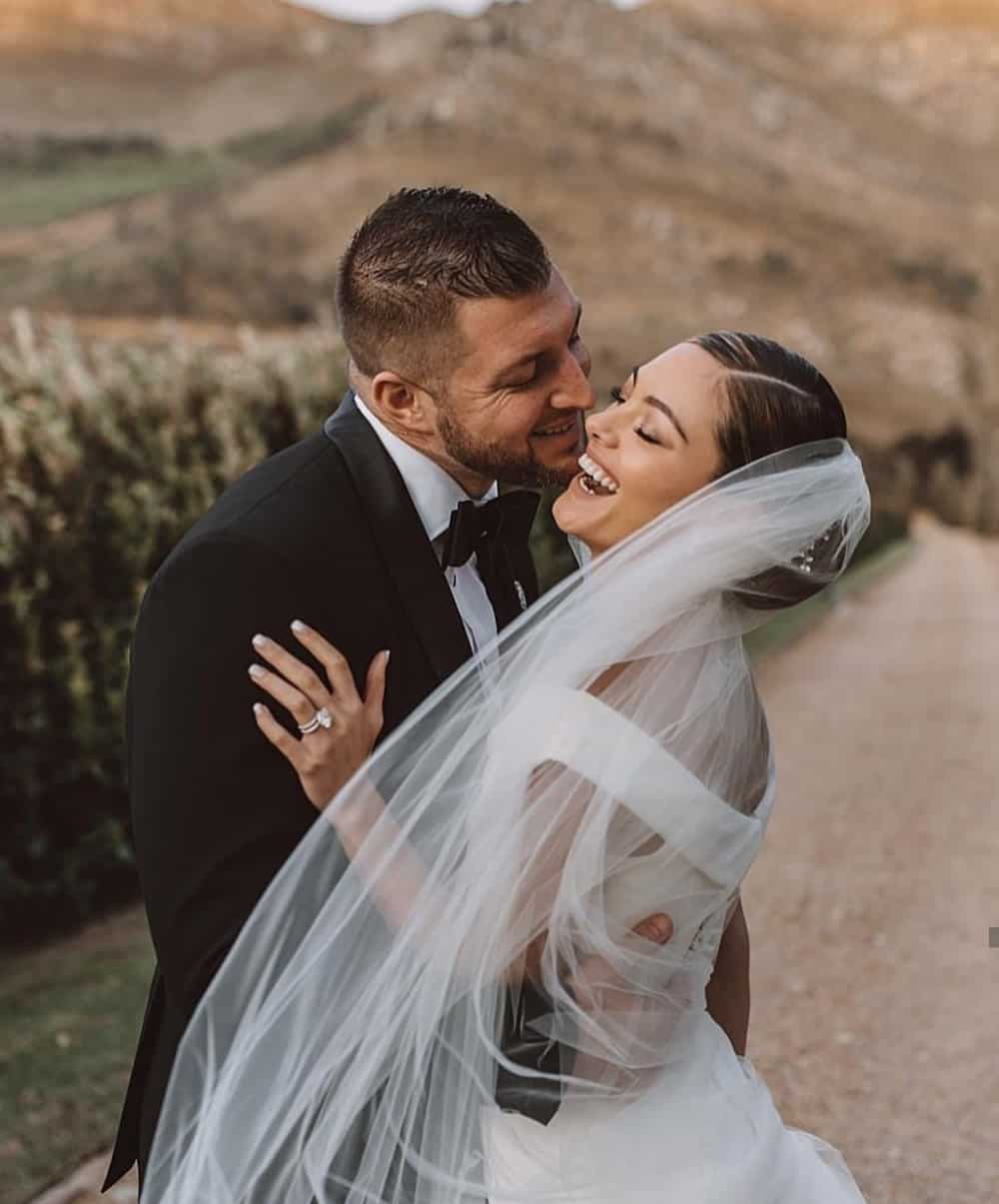 Shortly before sunset, approximately 260 guests were seated on a secluded lawn surrounded by tall hedges at the resort. At approximately 5:30 p.m. South African time, Nel-Peters walked down the aisle in a custom-made gown from David's Bridal
The traditional ceremony included elements from both American and South African cultures and traditions. The color palette was white, gold, green, and black. The ceremony lasted for 30 minutes, where the two exchanged heartfelt vows.
Latest news: Will Tim Tebow play baseball in 2020?
According to MLB.com, Tebow will continue the Majors quest at Triple-A Syracuse this year. The Mets also struck a deal this week to bring Chili Davis back on a two-year contract as the team's hitting coach.
Last season, Tebow slashed .163/.240/.255 with four home runs in 264 plate appearances. A finger laceration on his left hand ended his season six weeks early, much like a broken bone in his right hand forced him to miss the final two months of 2018.
Tim Tebow baseball career may not be as good as his football career, but it is too early to judge as he is just starting.
READ ALSO: Allen Iverson bio: age, net worth, birthday, stats, son, latest news
Facts about Tim Tebow
He was born dyslexic.
He preached at schools and villages and assisted with medical care in the Philippines.
He is a group leader for the Fellowship of Christian Athletes.
He is a strong advocate for faith-based abstinence and has publicly stated that he had maintained his virginity.
There is a term called Tebowing, and it was made after his name (it is a neologism for the act of kneeling on one knee in prayer specifically with one's head bowed and an arm resting on the one bent knee).
Tebow frequently wore references to biblical verses on his eye black, such as John 3:16 and Proverbs 3:5-6.
He was the executive producer along with his older brother Robby Tebow, in his first movie Run the Race.
He hasn't had a soda in 16 Years.
Tim Tebow 2020 career is something that fans are looking forward to. Baseball might not be his first sport, but he surely will excel in all the sports he would want to play.
READ ALSO: Manny Pacquiao bio: net worth, wife, height, what is his boxing record?
Source: KAMI.com.gh