Damian Lillard bio: height, wife, songs, net worth
Damian Lamonte Ollie Lillard Sr. famously known as Damian Lillard is an American NBA basketball player and rapper. He is currently signed by the Portland Trail Blazers featuring in the Point Guard position. While in college, Damian led the Weber State Wildcats and was the recipient of twoBig Sky Player of the Year Awards. This was only the beginning of a long award-winning career.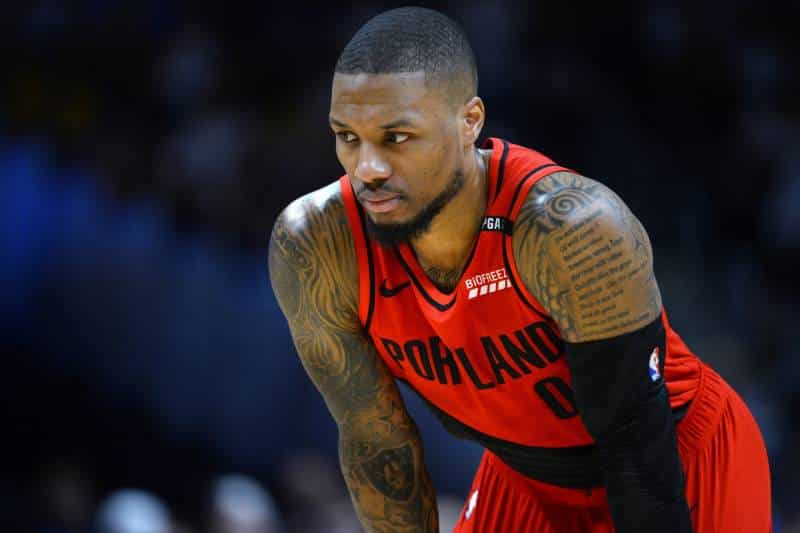 He will be fondly remembered for the game-winning 3-pointer he stroke at the buzzer against the Oklahoma City Thunder. That moment cemented his place as a Trail Blazer legend. His sheer determination helped his team edge out the Thunders from the playoffs with Damian Lillard recording a career-high 50 points and ten 3-pointers.
Damian Lillard profile summary
Name: Damian Lamonte Ollie Lillard Sr.
Nicknames: Dame, Sub-Zero, Iceman
Date of birth: 15th July 1990
Place of birth: Oakland, California, USA
Age: 29 years
Horoscope: Cancer
Nationality: American
Ethnicity: Black
Father: Houston Lillard, Sr.
Mother: Gina Johnson
Siblings: Houston Lillard & Lanae Lillard
Girlfriend: Kay'La Hanson
Children: Damian Jr
Height: 1.91 m (6'3")
Weight: 88 kg
Net worth: $30 million
Damian Lillard biography
Damian Lillard was born as Damian Lamonte Ollie Lillard Sr. on 15th July 1990. He is the son of Houston Lillard Sr. and Gina Johnson, who are both of black ethnicity. Damian's siblings are Houston Lillard (brother) and Lanae Lillard (sister).
The NBA star was born in Oakland, California, in the United States and is thus an American national by birth. He attended the St. Joseph Notre Dame High School in Alameda, California, but later transferred to Oakland High School to get more playing time. He then earned a scholarship to play for Weber State University in Ogden, Utah, from where he completed a degree in professional sales.
Damian Lillard age
Damian Lillard was born on 15th July 1990, meaning his age is 29 years old. His birth sign is Cancer. Damian Lillard's birthday is shared with celebrities such as Ariana Lee Bonfiglio, Ryan Johnston, and Gabriel Iglesias.
READ ALSO: Billy Crawford bio: age, height, net worth, wife
Damian Lillard wife
The NBA star is not yet married, but he has been in a long-term relationship with his college sweetheart Kay'La Hanson. Kay'La is pursuing a course in medicine. The two were blessed with a son on 29th March 2018.
Damian Lillard's child has the father's name, which is Damian Jr. Although the two had dated for a very long time, fans were eager to know when they would take the next step. Therefore when the headlines read, 'Damian Lillard proposes' it was welcome news to many.
Damian Lillard and Kayla Hanson recently got engaged after the star went on his knee and popped up the big question.
Height
Damian Lillard's body measurements show an incredible athletic body. According to available body measurement statistics, Damian Lillard's height is 1.91 m, which is equivalent to 6 feet and 3 inches tall.
The star weighs 88 kg or 195 lbs. Damian's chest size is 43 inches wide, biceps are 16 inches, and his waist is 33.5 inches.
Career
It was during the 2012 NBA draft that the Portland Trail Blazers selected him as the team's sixth overall pick. His debut at the NBA saw him register 23 points and 11 assists. The Damian Lillard stats were just a sign that he was going to be a crucial player for the team, and he was not ready to stop at that.
In that debut season, he set another record as being the rookie to register more assists in an NBA debut since Jason Kidd in 1994. During the 2012 All-Star NBA weekend, he became the first Portland Trail Blazer to be crowned the winner of the All-Star Weekend. He was also honored with the Western Conference Rookie of the Month and the NBA Rookie of the Month.
By the 2014/15 season, he had already featured in three consecutive seasons as a member of the starting squad. He had the opportunity to participate in the 2015 NBA All-Star Game as a replacement for the injured Blake Griffin.
He also had his contract with the Portland Trail Blazers extended for another five years in a deal worth $120 million. Among his most accomplished massive milestones is becoming the fastest NBA player to reach the 600th goal hallmark thanks to the 21 points and 11 assists he registered in the first game of the season against New Orleans Pelicans. In that game, he also broke another record, becoming the fastest Portland Trail Blazer player to register 1500 career assists in just 247 games.
Having been in spectacular form, he received the Magic Johnson Award for his exceptional play in the courts and cooperative contracts with the media and public during the 2016/17 season. From there, he was breaking record after record and became the fastest Portland Trail Blazer to achieve 10000 points.
He was only the 8th NBA star to accomplish that feat in the first six seasons of his professional career. At the end of that season, he was ultimately named in the All-NBA First Team. During the 2018/19 season, he had 12,000 points and he is the fastest Blazer to achieve that.
He was named the Western Conference Player of the Week in March in the same season. He led his team to the finals of the Western Conference, and he had to continue playing even though he had suffered from separated ribs during the game. Damian Lillard and Russell Westbrook rekindled their fiery rivalry in this game with on-court drama, but the two have no issues off the court.
Highlights and achievements
All-NBA First Team (2018)
All-NBA Second Team (2016, 2019)
All-NBA Third Team (2014)
Big Sky Player of the Year (2010, 2012)
NBA All-Rookie First Team (2013)
NBA All-Star (2014, 2015, 2018, 2019)
NBA Rookie of the Year (2013)
No. 1 retired by Weber State
Third-team All-American – AP, NABC (2012)
Songs
Damian does love to play basketball, but during his leisure, he also likes to rap. He goes by the stage name Dame DOLLA, which is an abbreviation for Different On Levels the Lord Allows. The star started the 'Four Bar Friday' social media trend whereby he and anyone willing to take part in the trend was supposed to submit videos of themselves rapping on Instagram every Friday.
In 2015, he took his rap game to another level by releasing his first single titled Soldier in the Game. The Damian Lillard album, The Letter O, was released in 2016 and was followed a year later by another album titled Confirmed. Some of the popular Damian Lillard songs include:
Bigger Than Us
Run It Up
Shot Clock
I Wish I Could Tell You
Loyal to the Soil
Money Ball
Sorry
Check
Bestie
Baggage Claim
Beach
Damian Lillard net worth
The Portland Trail Blazers star is among the wealthiest NBA players with a net worth of $50 million. His current contract with the Portland Trail Blazers earns him a cool $3.202 million per year for four years.
Although most of his money comes from the salary, he has also attracted some huge endorsements. He has a lucrative deal with Adidas to make the Damian Lillard shoes. His $196 million deal gives him a player option for $54.3 million in the final year of his contract extension.
Damian Lillard has made his mark in the NBA as one of the greatest stars ever produced by the sport. His professional career has just been with the Portland Trail Blazers, and it is not difficult to see why they have kept him for that long. He still has the best years of his career in front of him, and with his form, he won't be traded anytime soon. However, it is not only on the court that Damian has made a name for himself. As a hip hop artist, he has released several songs and collaborated with high-ranking musicians. Sports and music aside, Damian Lillard is a father and engaged to his girlfriend.
READ ALSO: Jinkee Pacquiao bio: husband, parents, age, height
Source: KAMI.com.gh