The South Korean-language entertainment and film industry is popularly referred to as Hallyuwood. The industry has seen tremendous growth over the years thanks to the capable and hardworking actors, singers, filmmakers, movie directors, celebrities, and everyone else in showbiz. The fans adore Korean actors as they put all the hard work in the projects they are involved in to produce super films. The most handsome Korean actors in the industry gain a massive following both online and offline as fans are charmed by their allure and looks.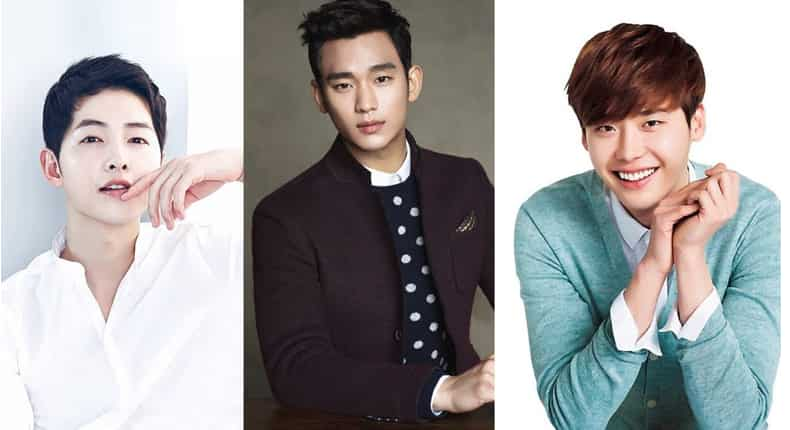 Korean dramas are not only popular in South Korea but also across Asia and some parts of Europe. The actors receive massive recognition whenever they represent their country in international award shows. Korean men are ranked among the most handsome in Asia. Their physique, beauty, natural appeal, and fantastic personality make them likable among many.
Most handsome Korean actors
This article lists down the top 50 most handsome Korean actors on TV and the entire film industry.
1. Choi Min-Ho
Minho has grown to be a household name through his looks and skills. The 28-year-old was born in Nam-gu, Incheon, South Korea. Choi Min-Ho not only acts but also raps, sings, performs as a dancer, hosts shows, and does radio gigs.
Minho first came to the limelight in 2008 when he became a member of the South Korean boy group dubbed Shinee. He is popularly known for his roles in 'To The Beautiful You' (2012), 'My First Time' (2015), and 'Medical Top Team' (2013).
2. Ji Sung
Ji Sung was born in Seoul on 27th February 1977. His initial stage name was Choi Ji Sung. He later dropped 'Choi' and retained the other two parts.
He is best known for his characters in Kill Me Heal Me (2015), Doctor John (2019), All In (2003), New Heart (2007), Protect the Boss (2011), and Secret Love (2013).
3. Yoo Ah In
He gained fame after appearing in the television series Sungkyunkwan Scandal (2010). The film Punch (2011) also increased his popularity as he was cast as a lead character. Yoo Ah-In is a darling in the film industry.
He has appeared in top-rated movies like period drama film The Throne (2015), melodrama Secret Love Affair (2014), and action blockbuster Veteran (2015).
4. Kim Woo-Bin
Kim Woo-Bin first started as a runway model. The 30-year-old later sprung into the film industry, emerging in his first drama White Christmas in 2011. His breakthrough, however, came two years later when he landed a leading role in School 2013.
He is famous across Asia and has been selected as a brand ambassador for numerous international companies. Kim Woo-Bin took a break from the film after being diagnosed with cancer in 2017.
5. Seo Kang-Joon
His birth name is Lee Seung-Hwan. Seo Kang-Joon was born on 12th October 1993 Gyeonggi Province, South Korea. Other than acting, the 26-year-old is also known for his singing prowess. He is a member of the band 5urprise since 2013.
He is popularly known for his roles Cheese in the Trap (2016), Entourage (2016), Are You Human? (2018), and The Third Charm (2018).
6. Yoo Seung ho
Yoo Seung Ho was born on 17th August 1993 in Gyeyang-gu, Incheon, South Korea. He got into the spotlight at an early age, appearing in commercials both on television and print media. He performed his first acting role at the age of 7. Yoo Seung Ho debut movie was The way Home' released in 2002.
The talented actor who stands 5′ 9″ tall has starred in other top films like Leafie, A Hen into the Wild' (2011), The Magician (2015), Seondal: The Man Who Sells the River (2016), and 4th Period Mystery (2009).
7. Kim Bum
Kim Bum is best known for his roles in Boys Over Flowers (2009), Hellcats (2008), The Gifted Hands (2013), and Haru: An Unforgettable Day In Korea (2010). Born on 7th July 1989 in Seoul, the K Pop idol wears many hats, including modeling, singing, and being a dancer. He has many hit singles and an album Home Town, released in 2012.
8. Park Hae-Jin
Park Hae Jin was born on 1st May 1983 in Busan, South Korea. Before landing major leading roles, he was known for playing secondary characters in TV shows My Love From the Stars (2014) and Doctor Stranger (2014). Lately, he was starring in Cheese in the Trap (2016) and Man to Man (2017).
9. Lee Dong-Wook
Lee never fails to appear in most handsome Korean entertainer's lists, as he is always donning a fresh look. Lee Dong Wook gained his popularity by being the leading actor in TV shows like My Girl' (2005-2006), Scent of a woman (2011), and Hotel King' (2014). Lee Dong-Wook was born in Seoul on 6th November 1981.
10. Nam Joo-hyuk
Nam Joo-hyuk is not only a darling on the screen but also the runway. The 25-year-old South Korean actor and model first debuted on television in 2014. He was part of the cast in the TV drama Surplus Princess.' The other significant early role was in the show Who Are You: School 2015' in 2015.
Before the acting roles, Nam Joo-hyuk had tasted showbiz through modeling gigs with SONGZIO Homme Spring/Summer 2014 collection in 2013. Nam maintains his fabulous physique by working out and mainly concentrating on push-ups before seeping. He is an only child.
11. Cha Seung-Won
Being a model in the 1990s, Cha Seung Won is one of the most refined Korean actors now. He earned a success of the most sought after supermodel due to his neat style and appealing looks.
He later switched careers after years of modeling and starred in popular comedies like Kick the moon (2001), JailBreaker, and Ghost House. He is a versatile actor who kills in his roles in every film genre.
12. Jang Dong-Gun
The veteran actor was born on 7th March 1972 in Yongsan District, Seoul. He is best known for his characters in Friend (2001), Taegukgi: The Brotherhood of War (2004). Jang Dong-Gun has been a success story in the Korean pop and film industry, and that is why he ranks among the highest-paid celebrity endorsers in Korea. Other top TV shows he has starred include Arthdal Chronicles (2019), Suits (2018), A Gentleman's Dignity in 2012.
13. O Ji-Ho
Ji-Ho is famously known for his role in the television drama Couple or Trouble (2006). O Ji-Ho has been a household name in Korean films for decades. Other than TV shows, the hottie is also famed for his Korean blockbuster films like The Grand Heist' (2012), Sector 7' (2011), and My Wife is a Gangster 3 (2006).
14. Park Hyung-Sik
The High Society (2015) star was born on 16th November 1991 in Yongin, South Korea. The singer and actor who loves going monotonously as Hyungsik first tasted stardom in 2010 as a member of the South Korean boy group, ZE: A. He is also a member of the sub-group ZE: A Five. Park Hyung-Sik is recognized for his characters in The Heirs (2013), Suits (2018), and Strong Girl Bong-Soon (2017).
15. Lee Min-ho
The Gangnam Blues star sings and models along with his acting career. Lee Min Ho's good looks have won him several awards. In July 2012, he was selected as the most attractive male celebrity in TV commercials for cosmetics companies.
The actor who was born on 22nd June 1987 in Heukseok-Dong, Seoul, has been part of the cast in a dozen TV shows, including Legend of The Blue Sea (2016-2017), Boys Over Flowers (2009), and City Hunter (2011).
16. Yook Sung-Jae
He is popularly known as Sung Jae. The singer, actor, entertainer, model, and presenter has starred in a good number of award-winning Korean films and TV shows at a young age. Some of them include All The Butlers'(2017), Plus Nine Boys (2014), and Dae Jang Geum Is Watching (2018). The 24-year-old is also a member and the third-generation leader of the boy group BtoB and its sub-group, BtoB Blue.
17. Park Bo-gum
The 26-year-old is one of the most handsome Korean men in showbiz. Known for his roles in TV shows like Love in the Moonlight (2016) and Hello Monster (2015), the young actor has broken records to emerge as one of the most budding talents to win awards like Baeksang Arts Award for Most Popular Male in Television and Baeksang Arts Award for InStyle Best Style.
Park Bo-Gum was born on 16th June 1993 in Mok-dong, Seoul. Other popular movies he has starred in include Naeil's Cantabile and Encounter (2018-2019).
18. Choi Si-Won
Choi Si-Won prefers to be referred to as Siwon. The actor wears many hats, working as a recording artist, director, and model. Siwon is not only famous in the film industry but also loved by fans who enjoy his art in the music scene.
He is a member of the K-pop boy band Super Junior and its Mandopop subgroup, Super Junior-M. At 34, he has achieved a lot for himself having bagged film awards and being one of the first four South Korean artists to appear on Chinese postage stamps.
19. Daniel Henney
Daniel Henney was born on 28th November 1979. The American actor started simple and took the Korean film industry by storm. His background has enabled him to achieve a lot in the industry. Popular films he has starred in include Seducing Mr. Perfect (2006), My Father (2007), X-Men Origins: Wolverine (2009), Shanghai Calling (2012), and The Last Stand (2013).
20. Jo In-sung
The South Korean actor is acknowledged for his leading role in the television series It's Okay, That's Love (2014), That Winter, the Wind Blows (2013), and A Frozen Flower (2008). His debut on TV was in the teen drama School 3 in 2001. Jo In-sung also gained recognition in the second season of the sitcom Nonstop.
21. Song Seung Heon
Song Seung grew from a little known actor to a megastar in K-Pop and Korean film industry. The 44-year-old is best known for his roles in Autumn in My Heart (2000), East of Eden (2008), My Princess (2011), and Player (2018). He has won many awards and been the face of many Korean products for over two decades.
22. So Ji-sub
So was born on 4th November 1977 in Seoul. So Ji-Sub first rose to fame as a jeans model. The model and actor has had major leading roles in huge South Korean television shows, including I'm Sorry, I Love You (2004), Be With You (2018), and Master's Sun (2013). So Ji-Sub is also a musician and has two albums under his name.
23. Gong Yoo
Gong Yoo, whose real name is Gong Ji-Cheol, was born on 10th July 1979 in Busan, South Korea. His professional debut on TV was marked when he got his first lead role in SBS's Hello My Teacher in 2005. He gained popularity when he was cast in the romantic comedy Coffee Prince in 2007. Other popular television shows he has starred in include Train To Busan (2016), A Man and Woman (2016), and Finding Mr. Destiny (2010).
24. Park Seo-Joon
South Korean Park Seo-Joon, whose full name is Park Yong-Kyu, has grown over the years to be a household name in the Korean film industry. His first significant television role was in the hit drama Kill Me, Heal Me in 2015.
He also gained popularity after starring in the series She Was Pretty in the same year. Before that, Park had tasted fame after making a cameo in the music video of Bang YongGuk's hit single I Remember in 2011 and appearing in the television drama DreamHigh 2' in 2012.
25. Ji Chang Wook
Ji Chang Wook was born on 5th July 1987, in Anyang, South Korea. He has been nominated in several awards shows, including Baeksang Arts Award for Most Popular Male in Television and Baeksang Arts Award for Best New Actor in Film. His breakthrough came when he was cast to play the role of Dong-Hae in daily drama series Smile Again. Ji Chang Wook also sings and has an album Five fingers OST.
READ ALSO: Top 10 most handsome Filipino actors
26. Hyun Bin
Born Kim Tae-Pyung on 25th September in 1982, Hyun Bin, as he is popularly known now, first appeared on screen when starring the 2003 television series Bodyguard. He has since been cast in numerous other movies and TV shows, including Crash Landing On You and Secret Garden. He has a background in Theater Studies and graduated from Chung-Ang University.
27. Jung Il Woo
The South Korean model and actor was born on 9th September 1987 in Seoul. He has managed to build a successful career in film industry, playing professionally since the early 2000s. Jung II Woo's breakthrough came when he was cast for the sitcom Unstoppable High Kick in 2006. Other roles he has performed well include in the romantic comedy Cinderella with Four Knights (2016), the romance TV shows Cool Guys, Hot Ramen (2011), and Diary of a Night Watchman (2014).
28. Jang Geun-Suk
Jang Geun Suk was born on 26th September 1987 in Danyang County, Chungcheongbuk-do, South Korea. The actor is also known for his modeling gigs and singing skills. He started gaining fame after taking the role of an obtuse leader in the drama You're Beautiful,' in 2009. The 2010 romantic comedy series Mary Stayed Out All Night was another show that increased his popularity.
29. Dennis Oh
Dennis Oh was born on 29th August 1979. He has been a model for a good fraction of his career. The 40-year-old Korean star has surpassed many of his peers by winning film accolades and being the face of products for both Korean and international brands. Dennis Oh's mother is Korean while his father is American.
30. Seo In Guk
With about eight albums to his name and a flourishing career in film, Seo In Guk is one of the most sought after young talented icons in South Korea's showbiz. The 32-year-old was born in Yaeumjangsaengpo-dong, Ulsan, South Korea. He first came into the limelight after winning the talent reality show Superstar K in 2009. Seo In Guk's first professional acting gig was in 1997, where he was cast in the TV show Reply.
31. Park Shi Hoo
Park Shi Hoo started his career in the showbiz industry as an underwear model. He later proceeded to be a stage actor and eventually landed on television. His first TV appearance was in 2005.
He played supporting roles for years and finally landed a leading role in the romantic comedy series Queen of Reversals and Prosecutor Princess in 2010. Other positions he has led have been on The Princess' Man (2011) and thriller film Confession of Murder (2012), among many other shows.
32. Kim Myung-Soo
Kim Myung Soo, who likes going by the stage name 'L,' first came into the limelight as a member of the boy band INFINITE in 2010. The talented singer was the main vocalist for band's sub-group, INFINITE F since he joined the group and until he left Woollim Entertainment in 2014.
The 27-year-old has starred in various TV shows, including romance show Angel's Last Mission: Love in 2019, legal drama Ms. Hammurabi' in 2018, and The Time We Were Not in Love (2015).
33. Lee Seung-Gi
Known in the entertainment scene and by his fans as the 'Ballard Prince,' Lee Seung Gi has had one great career in K-Pop. The 33-year-old Banghak-Dong-born star is a jack of all trades in K-Pop entertainment industry.
You can catch him on your favorite TV shows, watch him seeing and host Korean showbiz events. Lee Seung-Gi is an all-round entertainer. Some of the shows he has been cast in include Gu Family Book (2013) and All The Butlers since 2017.
34. Do Kyung Soo
Do Kyung Soo fans like referring to him as DO. The singer and actor bounced into professional acting when he was featured in the drama film Cart in 2014. As a child actor, Do Kyung Soo impressed many with his skills and thus led to him being cast in more movies. DO has been singing since he was in primary school. He took part in local singing contests. Do Kyung Soo became an SM Entertainment novice during his last two years of high school. Other TV shows he has been cast in include the rom-com 100 Days My Prince, (2018) and the drama and musical Swing Kids (2018).
35. Lee Joon gi
Lee Joon Gi dances, acts, sings, and models for different brands. The South Korean hunk became a sensation in the entertainment industry in South Korea, playing a clown in the historical drama film The King and the Clown in 2005. He has since landed significant roles in movies and TV shows. Some of them include Moon Lovers: Scarlet Heart Ryeo (2016), Hotel del Luna (2019), and Lawless Lawyer (2018).
36. Kim Soo-Hyun
Many South Koreans know the 32-year-old actor from the TV shows My Love from the Star, The Producers, and Dream High. Kim Soo-Hyun was born on 16th February 1988 in Seoul, South Korea. He has won different South Korean and international awards, such as Blue Dragon Film Award Popular Star Award – Male in 2012 and Grand Bell Award Popularity Award in 2015. Kim Soo-Hyun was Gallup Korea's Actor of the Year in 2014.
37. Song Joong-ki
Song Joong-ki was born on 19th September 1985 in Secheon-dong, Daejeon, South Korea. The The Battleship Island star has been placed seventh in Forbes Korea Power Celebrity list in 2013, and ranked second in 2017 and eighth in 2018. He first became popular after playing a role in historical drama Sungkyunkwan Scandal in 2010. His first significant role on TV was in the melodrama The Innocent Man in 2012.
38. Ricky Lee Neely
Fans love Ricky Lee Neely due to how he carries himself both on set and off shows; the fashion-savvy hottie sometimes goes by the alias Ricky Kim. Born on 18th June 1981, Ricky Lee Neely is ranked among the top ten most popular actors of the decade. The actor was born to an American father and a Korean mother.
39. Bang Sung Hoon
He is famously known as just Sung Hoon and has starred in several top-rated TV shows and movies, including My Secret Romance (2017), Noble, My Love (2015), and Level Up (2019). Before getting into the acting career, Sung Hoon was a professional swimmer. An injury forced him out of swimming. Sung Hoon is also a musician known among the Korean pop bangers. He has two albums out: My Secret Romance OST and My Secret Romance OST Part 2.
40. Jang Keun Suk
Jang Keun Suk was born in Chungcheongbuk-Do, South Korea, on 4th August 1987. He is among the most adored South Korean actors for his charisma and lovely personality. Some of the movies and TV series Jang Keun Suk has starred in include The Royal Gambler (2016), Mary Stayed Out All Night (2010), Switch (2018), You're Beautiful (2009) and Love Rain (2012).
41. Jung Yong Hwa
The actor, producer, singer, and songwriter, he has about 20 albums to his name and has been cast in more than 30 movies and TV shows. Jung Yong Hwa joined the K-pop/K-rock band CNBLUE in 2009 and has been the leader, lead vocalist and rhythm guitarist since then. You can catch him on TV shows like The Package (2017) and We Got Married (2008-2017).
42. Jung Ji Hoon
Jung Ji Hoon is a renowned South Korean singer, actor, and producer better known as 'Rain.' With over 20 albums and EPs to his name, Rain has created himself as an established star in the Korean entertainment scene. The 37-year-old has starred in many award-winning movies and shows, including Ninja Assassin (2009), Come Back Mister (2016), My Lovely Girl (2014), and Full House (2004).
43. Lee Hyun-Woo
The South Korean actor and singer was first interested in acting in his formative years. Lee Hyun-Woo was acting as early as nine years in his home city Anyang in Gyeonggi Province. His career started picking up when he was cast for the television series The Return of Iljimae (2009) and Queen Seon Deok (2009). His breakthrough came after he was given a leading role in Master of Study (2010) and Man From the Equator (2012).
44. Lee Jong suk
Lee Jong suk is a 30-year-old successful South Korean actor and model. He has starred in over a dozen of TV shows, including While You Were Sleeping, I Can Hear Your Voice, Romance Is a Bonus Book, and Doctor Strange.
Popular movies he has starred in include VIP (2017), Hot Young Bloods (2014), and No Breathing (2013). The 6'1" was the youngest male model of the Seoul Collection program. Other hidden talents that the actor has include taekwondo and playing the piano. He is also a trainee of SM Entertainment.
45. Lee Byung-Hun
He was born on 12th July 1970 in Seongnam, Gyeonggi Province, South Korea. Lee Byung-Hun has wowed many of his audiences with his killer looks and skills in his art. He among the most sought after Korean male actors of all time. Popular movies and television shows he has been cast include Joint Security Area (2000), A Bittersweet Life (2005), Iris (2009), and Masquerade (2012).
46. Kim Hyun-Joong
The 33-year-old Korean singer and songwriter rose to fame while a member of the South Korean boy band SS50. He had a successful music career, debuting his first Korean solo album, Break Down, in 2011. He also had a Japanese album Unlimited, which he dropped in 2012. He became a star in the 2010s, having starred in TV shows like Dream High (2011), Playful Kiss'(2010), and Inspiring Generation (2014).
47. Ji Soo
Ji Soo, birth name Kim Ji-Soo, was born on 30th March 1993. The 26-year-old first started acting professionally in 2009, where he was cast in the play Bom Sam Wasn't There. The handsome actor in Korea got featured in more short films since his debut and eventually hit the spotlight in 2015 when he was given a leading role in the TV drama Angry Mom. Other popular films he has been cast in include the comedy One Way Trip (2015), and the romance film Seoul Mates in 2014.
48. Joo Won
Joo Won is best known for his characters in My Sassy Girl (2017), Young Pal (2015), Bridal Mask (2012), and Good Doctor (2013). Joo Won first started as a musical actor in 2006.
His musical background comes as an advantage in his career, as it has enabled him to partake in the production of various highly ranked OST for dramas that he has had roles in.
49. Jang Hyuk
Jang Hyuk is a massive deal in K-Pop, Hallyu, and the Korean entertainment landscape. The 43-year-old actor is known for his skills on set and also when it comes to rapping. Jang Hyuk first debuted on television in the SBS drama Model in 1997.
He is also an ex Taekwondo athlete, having practiced the martial art for over a decade. Some of the films Jang Hyuk has starred in include Windstruck (2004), Innocent Thing (2014), and Five Senses of Eros (2009).
50. Jo Jung-Suk
The 39-year-old started his career in theatre. He starred in several musicals and plays, including Spring Awakening, Hedwig and the Angry Inch, and the stage adaptation of The Harmonium in My Memory. Jo Jung-suk made his debut on television through the series What's Up in 2011.
You cannot talk about top Korean actors without mentioning Jo Jung-Suk. The K pop icon has since starred in Don't Dare To Dream (2016), Oh My Ghost (2015), My Annoying Brother (2016), and The King Two Hearts (2019).
Korean actors are not only good looking and charming but also stylish. The most handsome Korean actors are distinct in every way and try to remain unique even in their mannerisms and appearances. The average actors can pass for a model in a high-end fashion house. They flourish in being elegant, towering, sexy, and donning magical looks.