Funny anime shows: Top 15 in 2020
People who loved watching anime during their childhood will know that aside from the epic action sequences and the thrilling storyline, anime characters know how to break the ice with slapstick humour and occasionally crude graphics. What are the top funny anime series?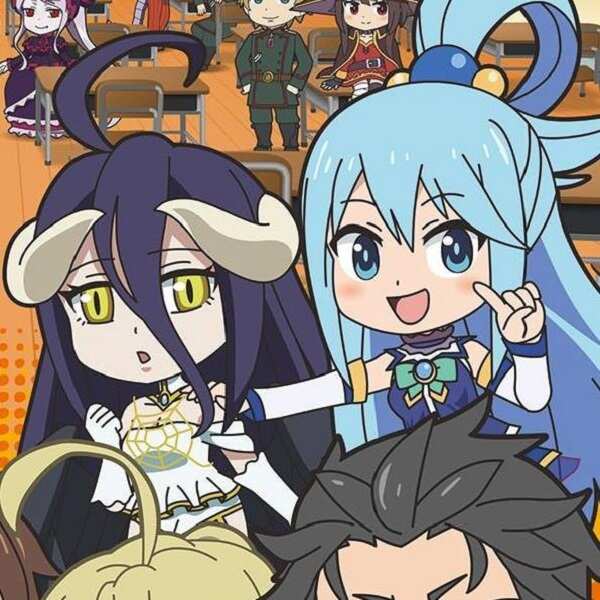 People watch anime comedy series for different reasons. Some are newborn fans of the comedy genre, some have been avid fans since they became popular, while some may just be looking to have their regular dose of hilarious anime characters. Differences aside, we can all agree that funny anime characters are best in taking our stress away. What are the top series this year?
Funny anime recommendations
Humour in anime typically relies on slapstick and crude themes, so it may not be everyone's cup of tea. For those who have an acquired taste for it, here are the funny anime series in 2020 that will make you laugh out loud.
1. Isekai Quartet
IMDb rating: 7.1/10 (254 votes)
Isekai is an anime subgenre that revolves around a normal human who is transported or reborn to another world - usually a fantasy world.
In Isekai Quartet, main characters from the series KonoSuba, Overlord, Re:Zero − Starting Life in Another World, and The Saga of Tanya the Evil are brought together by a button that appeared out of nowhere. They all press the button and it takes them to another world.
2. That Time I Got Reincarnated As A Slime
IMDb rating: 8.0/10 (2,109 votes)
This is a series with a truly bizarre plotline. It revolves around the story of Satoru Mikami, an average worker from Tokyo who is reincarnated as a slime with superpowers following his murder. In his life as a slime, he became known as Rimuru tempest and he embarks on a hilarious journey where he encounters a whole bunch of different races.
3. Haikyuu!!: To the Top
IMDb rating: 8.6/10 (4,550 votes)
Follows the volleyball journey of Shōyō Hinata, who is determined to follow the footsteps of his idol nicknamed "Little Giant". Hilarity ensues as he winds up as a teammate of former volleyball rival Kageyama and the two bands together to form a new playing technique.
4. Jibaku Shounen Hanako-kun (Toilet-Bound Hanako-kun)
IMDb rating: 7.8/10 (10 votes)
Follows the adventures of high school Nene Yashiro and the mysterious Hanako. Together, they try to balance the spirit world and the human world.
5. Eizouken ni wa Te wo Dasu na! (Keep Your Hands Off Eizouken!)
IMDb rating: 8.8/10 (28 votes)
Midori Asakusa is a girl wants to jumpstart her own anime, but she's too discouraged to take her first step towards that goal. As luck would have it, she meets Tsubame Mizusaki, a socialite in the making who is also secretly aspiring to become an animator. Together with Midori's money-loving best friend Sayaka Kanamori, the hilarious trio gradually make big steps towards making their "ultimate world" a reality!
6. Ishuzoku Reviewers (Interspecies Reviewers)
IMDb rating: N/A
In a world where several species exist such as Humans, Elves, Fairies, anthros, angels, demons, two unlikely friends travel the lands together in a quest to determine which species is best. This is a funny anime to watch, but be wary of the adult-oriented themes.
7. Murenase! Seton Gakuen (Seton Academy: Join the Pack!)
IMDb rating: 7.8/10 (5 votes)
This romantic comedy anime follows the interwoven plots inside Seton Academy, a school where animals make up most of the population owing to population decline. In the academy, there are fewer humans than any other creature. Mazama Jin, an animal hater and the only human male in his class, falls in love with Hino Hitomi, the only female human, the moment he lays eyes on her.
READ ALSO: Pinay, nag-travel sa Japan at ginaya ang ilang eksena sa isang anime film
8. Hatena Illusion
IMDb rating: 8.4/10 (5 votes)
Makoto Shiranui aspires to become a successful magician and arrives in Tokyo to pursue his ambition. He soon becomes under the tutelage of the world-famous illusionist Mamoru Hoshisato, a friend of his family. He soon finds that the daughter of his future teacher has now changed, and he cannot understand her.
9. Boku no Tonari ni Ankoku Hakaishin ga Imasu (A Destructive God Sits Next to Me)
IMDb rating: N/A
Revolves around the story of Seri Koyuki, a high school student who tries to avoid strange people in reluctance to being the straight man to their standards. Soon, Kabuto Hanadori enters the picture. He is Koyuki's classmate who has a bizarre condition and he claims that his eyepatch seals his God of Destruction alter ego. Everything about Hanadori exudes the need for a straight man to keep him in check, and sure enough, Koyuki is drawn in.
10. Yatogame-chan Kansatsu Nikki Nisatsume (Yatogame-chan Observation Diary)
IMDb rating: N/A
The protagonist, Kaito Jin is a second-year high school student who recently moved to Aichi from Tokyo. In his school, he becomes acquainted with Monaka Yatogami, who speaks a heavy Nagoya dialect. Soon, he learns about Nagoya by joining the photography club.
11. Show By Rock!! Mashumairesh!!
IMDb rating: N/A
Follows the musical adventures of Cyan Hijirikawa, who ends up in a city called "Midi City" where everything is controlled by the sound music. Chaos ensues in the city as dark monsters start to wreak havoc all over musical concerts. Equipped with her music, Cyan devises a plan to defeat the monsters.
12. Oda Cinnamon Nobunaga
IMDb rating: N/A
Follows the tale of a kind samurai named Nobunaga who is reincarnated as a dog named Shinamon. Soon, he is joined by other legendary warlords such as Takeda Shingen who are also in the form of dogs.
13. If My Favorite Pop Idol Made It to the Budokan, I Would Die
IMDb rating: N/A
"Eripiyo" is an extreme idol fan. She is wildly enthusiastic about Maina, the shy and lowest-ranking member of the minor underground idol group Cham Jam that performs in Okayama Prefecture. She gets so wrapped up in her love for Maina during a particular performance, that she has a major nosebleed. Eri will continue to give her complete devotion to Maina until the day she can perform at Budōkan (a major performing venue in Tokyo)
14. Kyokou Suiri (In/Spectre)
IMDb rating: 7.2/10 (6 votes)
If we're talking about the best romance comedy anime, then Kyoko Suiri is one of the best you can watch. It is about Kotoko Iwanaga, an 11-year-old girl, who was asked by Yokai to become a God Of Wisdom. She agrees to his request but was surprised to know that it would cost her an arm and a leg. She then becomes the God Of Wisdom, to whom Yokai would go for wisdom consultations.
15. Mairimashita! Iruma-kun (Welcome to Demon School! Iruma-kun)
IMDb rating: 7.7/10 (100 votes)
This follows the story of Iruma Suzuki, a fourteen-year-old boy whose irresponsible parents compels him to work hard so he can survive. His parents do the unexpected and sells him to a demon named Sullivan. As it turns out, Sullivan means no harm to the boy, and only intends to treat him as his own grandson and send him to a demon school. Soon, he finds himself more and more entangled in a bizarre school situation where he is expected to be king.
Humorous storylines in anime weird, outrageous, and they are and out-of-this-world crazy. During the few minutes of an episode, audiences are brought to a whole new world - a fantasy world devoid of worries and fears and only wonder exists. If you find an entire series a bit demanding to follow, you always have the option to check out funny anime movies instead.
READ ALSO: Vice Ganda, sobrang nanggigil kay Anime-Be This Time sa It's Showtime KapareWho
If you are feeling down and you just need a good laugh, checking out funny anime shows just might show you the good time you desperately need.
READ ALSO: At least 23 suspected dead due to fire at anime studio in Japan
Source: KAMI.com.gh