How to compute 13th month pay: explaining in details
If there's something that employees look forward to other than going to their everyday jobs, it is receiving their government-mandated bonuses. Let's be honest, who doesn't like getting some well-deserved extra compensation? In line with that thought, it is always wise to know how much you are expecting. This is where learning how to compute 13th month pay comes in handy.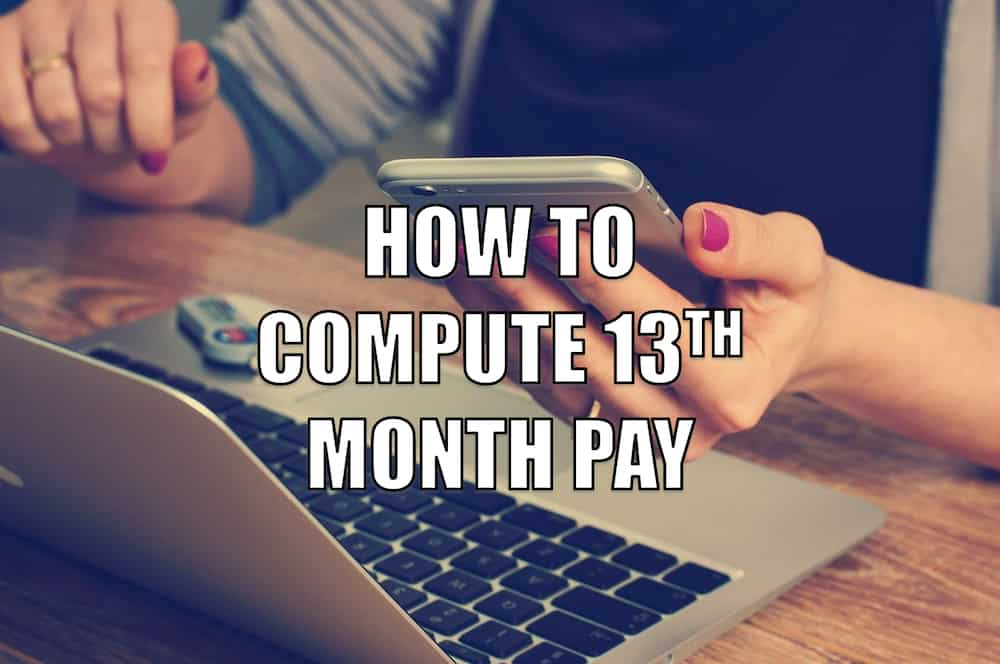 The 13th-month pay is a benefit in the form of cash or checks required and authorized by the Department of Labor and Employment (DOLE) as one of the monetary compensation standards applicable to public and private employers.
It is important to remember that while the 13th-month pay and the Christmas bonus are typically given by employers towards the end of the year, they are not the same bonus.
Typically, Filipinos spend their extra money brought by this perk on the bills they have to pay, the vacations they want to take, and some spend it on the latest gadgets they want to have. For whatever purpose they have for the extra money, it is important to know how much to expect in order to plan the spending efficiently.
13th month pay computation
The value of the pay is based on the employee's basic compensation. Before you get into the calculation, you need to take a look at some of the instances where your employer may not be mandated to give you your 13th-month pay as mandated by law:
Employers already paying their employees a 13th-month pay or more in a calendar year or its equivalent.
Employers of household helpers and persons in the personal service of another in relation to such workers (maids/gardeners/drivers in some instances).
Employers of those who are paid on purely commission, boundary, or task basis, and those who are paid a fixed amount for performing specific work, irrespective of the time consumed in the performance thereof, except where the workers are paid on piece-rate basis in which case the employer shall grant the required 13th-month pay to such workers. (party hosts/organizers, graphic artists, car washers, layout designers, and other people who provide services on-call)
If you do not fall into any of these conditions as an employee, then you are good to go. How much can you expect?
Primarily, the calculation of the 13th-month pay covers ONLY the basic salary of the employee. It does not include allowances, premiums, and other monetary benefits that are not considered or integrated as part of the employee's regular compensation.
To be sure, you can check your employment contract or your 4-week payslip for the values that make up your total monthly salary. If you think these documents might be outdated, then it's best to contact your payroll manager.
That being said, what is included in your 13th-month pay aside from your basic salary? To answer that question, it is your paid leaves such as maternity leave, sick leave, and vacation leave.
How to compute 13th month pay Philippines
The 13th-month pay is calculated based on 1/12 of the total basic salary of an employee within a calendar year, or your basic monthly salary for the whole year divided by 12 m0nths.
To calculate your 13th-month pay, simply get the sum of your basic salary for the calendar year then divide it by twelve.
Annual basic salary (minus unpaid absences) /12 mos = 13th month pay
For example: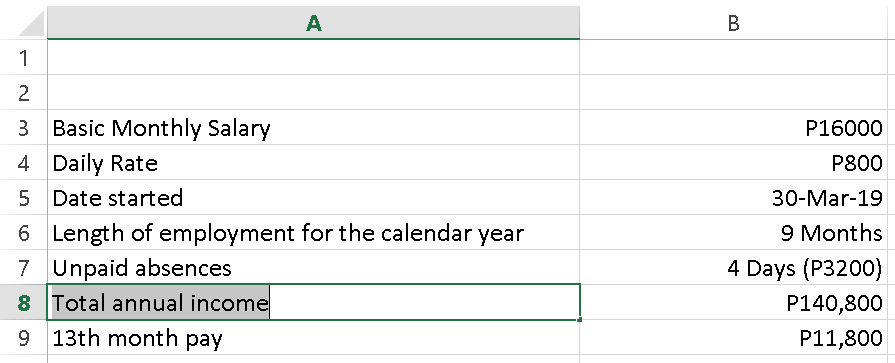 In this scenario, the employee makes P800 per day, making his 4-week salary period income a total of P16,000. Having been employed since March 30, the employee would have been with the company for nine (9) months by the time his 13th month is being calculated. His annual income would be P144,000 minus the days he was absent without pay (P3,200) bringing his total annual income to P140,800.
Using the formula above, this is how his 13th-month pay would be calculated:
Annual Basic Income (P16,000 x 9 mos rendered = P144,000) (minus unpaid absences (-P3,200)) = P140,800 / 12 mos = P11,800.
This is how to compute 13th month pay with absences. If the employee was never absent during the period he rendered, simply take out the absences from the equation.
How to compute 13th month pay with absences and late
Whether tardiness will have an impact on your 13th-month pay depends on the company or institution that you work for. However, according to a Facebook post made by the National Wages and Productivity Commission, lates and even absences should not have an impact on your total 13th-month pay. Again, this ultimately depends on the policies of your employer.
How to compute 13th month pay with salary increase
Have you been finally approved for that long-awaited salary increase? Good for you! To compute for your new 13th-month pay, simply incorporate your increased salary into the calculation. Like this:
Salary period from March-May = P16,000 x 3 = P48,000
Salary period from June-December = P20,000 x 7 = 140,000
Total annual income (10 mos) = P188,000
P168,000/12 = P15,666
NOTE: Some companies will base your 13th-month pay on your increased salary alone, and will ignore your previous salary in the calculation.
Sometimes, to ensure that a talented individual will work for you, or will stay working with you, you need to be flexible. Money is not always the great motivator here. Talented people want a good salary, of course, but surprisingly often they are more attracted to new opportunities and challenges. - Felix Dennis
If you are the kind of person who spends money that has not come in yet, then it is wise to have good background knowledge on how government bonuses are calculated. Not only will it prevent you from overspending, but it can also save you from having to borrow if unexpected bills come out of nowhere.
They say money cannot buy happiness. It does, however, bring financial stability, peace of mind, clothes on our back, a roof above our heads, and food on our tables. Be wise with your money and learn how to compute 13th month pay.
READ ALSO: Dahil walang "dayoff" ang pag-aalaga, si misis natanggap ang 13th month pay
Source: KAMI.com.gh