Toto Mangudadatu, Sharifa Akeel welcome their baby Princess Salwa
- Toto Mangudadatu and his wife, Sharifa Akeel, welcomed their first child
- Their daughter Princess Salwa was born last August 24
- Sharifa uploaded her child's amazing photos captured by Cuddle Baby
- She also wrote different heartfelt messages for Princess Salwa
Former beauty queen Miss Asia Pacific International 2018 Sharifa Akeel and former Maguindanao Second District Representative Esmael "Toto" Mangudadatu celebrated a momentous milestone in their lives with the arrival of their first child, Princess Salwa Akeel Mangudadatu, born on August 24, 2023, two years after their wedding.
Sharifa Akeel took to social media to introduce their precious bundle of joy, sharing Princess Salwa's photos captured by Cuddle Baby.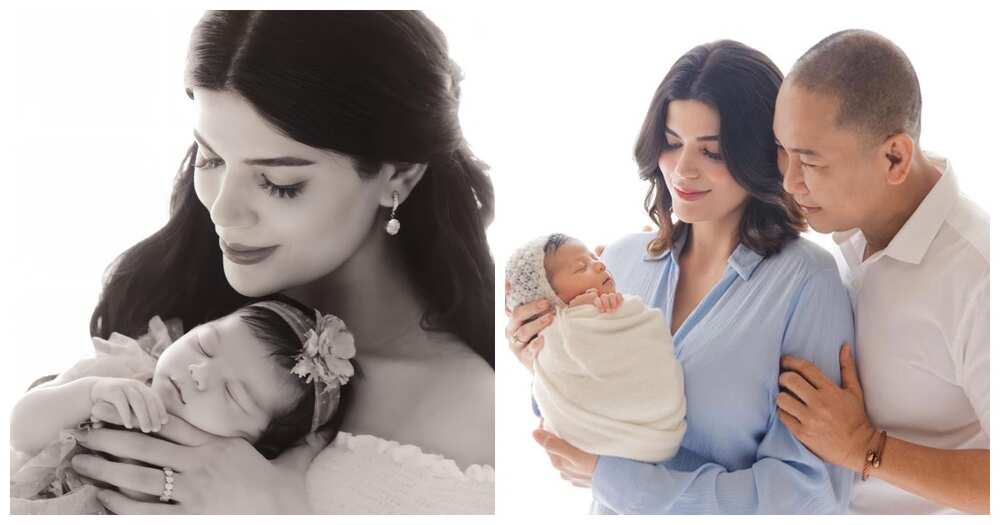 In her heartfelt post, she greeted her followers with "Assalamu Alaikum" and proudly presented their daughter, revealing that Salwa was born on August 24, 2023, at 12:55 pm, weighing 3.3 grams and measuring 55 cm. She went on to explain the significance of Salwa's name in Islam, describing it as a symbol of solace—a source of comfort and happiness that can dispel sadness and worries. Sharifa expressed her gratitude to their daughter for being their solace and source of joy.
"Assalamu Alaikum. Meet our bundle of joy, Princess Salwa Akeel Mangudadatu, born August 24, 2023 | 12:55 pm | 3.3 grams | 55 cm.
"Salwa whose meaning in Islam is SOLACE. One who provides comfort and brings happiness - something that will make you forget sadness and worries. Thank you for being our Solace," the new mom shared.
In another touching post, Sharifa Akeel shared her emotions about the long journey that led to this moment. She conveyed the depth of her love for Princess Salwa, expressing how the newborn holds her heart in her tiny little hands and welcomes her to the world as her "heart and soul."
"It's been a long road, and I finally get to see your face. I get to hold you in my arms, and you hold my heart in your tiny little hands.Welcome to the world, my heart and soul,"she wrote.
On September 11, Sharifa Akeel posted a heartwarming family photo, further emphasizing the significance of Princess Salwa's birth. She described her daughter as "Allah's manifestation of love and greatness" and referred to her as their "bundle of joy" and "heaven's gift."
Toto Mangudadatu has a child with his former partner, actress Ynez Veneracion.
"Your birth gave us solace and comfort because you are Allah's manifestation of love and greatness.
"You are our everything, our bundle of joy, heaven's gift - borne out of love," Sharifa said.
Toto Mangudadatu, is a Pinoy politician who served as the 2nd district representative of Maguindanao province from 2019 to 2022. Rep. Mangudadatu was born on August 15, 1968, in Sultan Kudarat.
In a previous report by KAMI, Sharifa Akeel-Mangudadatu has filed her candidacy for governor of Sultan Kudarat. She will be running under the Aksyon Demokratiko, Mayor Isko Moreno's party. In her previous Facebook post, the beauty queen urged her followers and the citizens of Sultan Kudarat to join her in the new path that she is taking.
Previously, Mylene Mangudadatu gave her reaction to the marriage of the congressman to Sharifa. The message of Mylene was sent via a close friend of hers, Gio Miguel Ocampo. She said that she was at peace and that she had no problem. Gio further explained that the marriage of Cong. Mangudadatu to Sharifa Akeel is not a big thing for her and that life goes on.
Source: KAMI.com.gh