Alex Gonzaga slams comment about Mommy Pinty buying 500 tickets for Toni's concert
- Alex Gonzaga congratulated her sister Toni Gonzaga for her sold-out concert at the Araneta Coliseum in Quezon City
- However, one netizen claimed that Alex's mother Mommy Pinty was responsible for the concert selling out
- The basher's comment is referring to the unverified reports of Mommy Pinty buying 500 tickets for Toni's concert
- Alex informed the basher that her mom could not have filled Araneta Coliseum with the 500 tickets she bought because the said arena can fill more people than that
Alex Gonzaga expressed on TikTok how proud she is that her sister Toni Gonzaga's concert at the Araneta Coliseum in Quezon City was sold out. She posted a video of the sold-out concert held at the said arena, which has around 16,000 seats.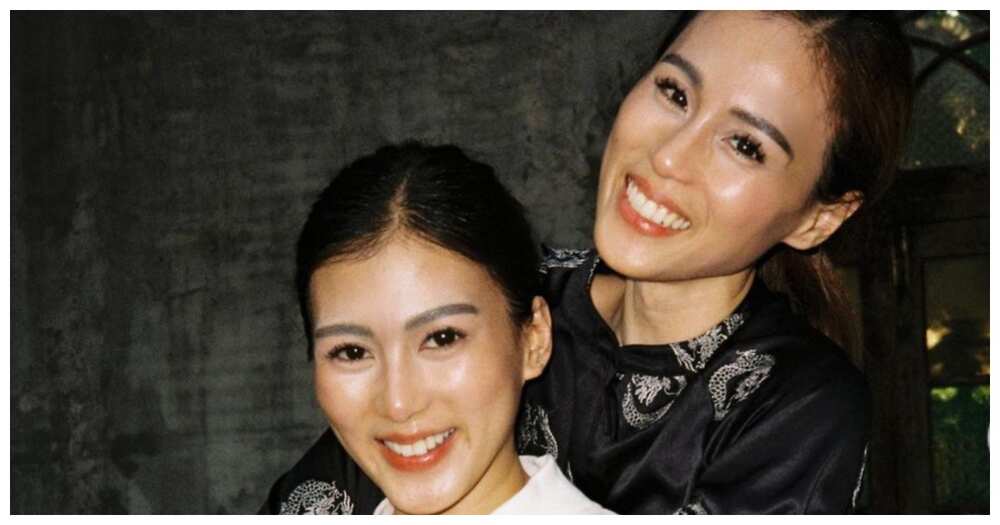 Aside from congratulating her sister, Alex also slammed the fake news that only a few people attended the concert.
However, one netizen in the comments section of the TikTok video claimed that Alex's mother Mommy Pinty was responsible for the concert selling out after unverified reports of her buying 500 tickets for Toni's concert spread online.
"Sold out ni mami pinty yung 500 tickets. Congrats mami Pinty napuno mo ang Araneta," the basher commented.
After seeing the comment, Alex informed the basher that her mom could not have filled Araneta Coliseum with the 500 tickets she bought because the said arena can fill more people than that.
According to Alex, if the basher had been to Araneta Coliseum, then he or she would know that the arena is much more than 500 seats.
"Hindi lang ho 500 ang upuan sa Aranera para masabi sold out. Kung nakapunta na kayo dun alam niyo na dapat yan hehe," Alex replied.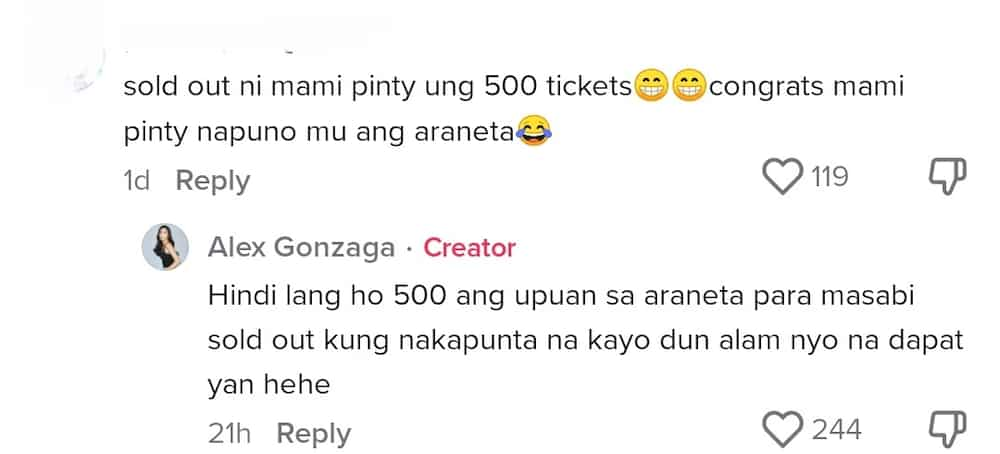 Alex Gonzaga is a Filipina actress and comedienne, best known for being one of the most successful YouTube vloggers in the country. She is also the sister of actress Toni Gonzaga. Alex is married to politician and businessman Mikee Morada, who she sometimes features on her vlogs and podcast.
As previously reported by KAMI, Alex Gonzaga recently stirred buzz after posting a new throwback photo online. The said throwback photo was one she and Toni Gonzaga took back in the day after going to school. She then penned a heartfelt post about Toni's 20 years in the showbiz industry.
Meanwhile, Alex Gonzaga stirred buzz on social media with her online post. On her Instagram page, Alex shared some statistics from her Spotify Wrapped last year. Previously, Alex made headlines for finally releasing her podcast, 'Ano Na, Catherine?' This year, as per her Spotify Wrapped, her podcast is among the top 1% of most followed podcasts.
Source: KAMI.com.gh