Derek Ramsay, namaga ang pisngi matapos i-karate kick ni Elias: "Oh my God, sakit"
- Derek Ramsay's cheek became slightly swollen after getting hit by Elias Modesto's karate kick
- In a video he uploaded on social media, the actor's face showed pain as he jokingly kept telling Elias that the boy hurt him
- Earlier, Derek was teasing Elias that he's a monster looking for food and that he smells a little boy underneath the sheets
- When the actor yanked the sheets, Elias suddenly let out a playful kick, hitting Derek in his right cheek
Derek Ramsay's cheek became slightly swollen after it was hit by Elias Modesto's playful karate kick.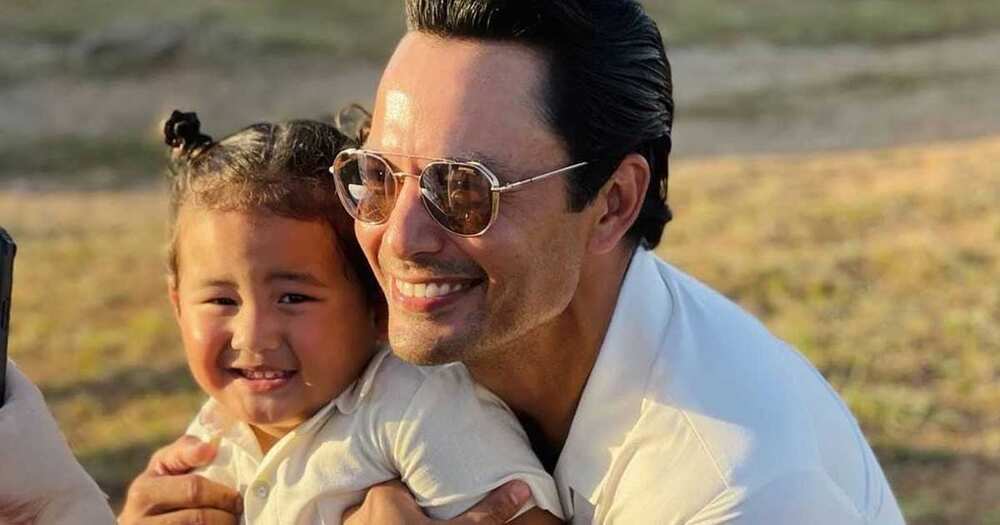 In the video that the actor uploaded on his Instagram Stories, Derek's face showed pain as he jokingly kept telling Elias that the little boy did hurt him.
"Babi, you hit Papa D in the face. You kicked me in the face. Oh my God sakit," Derek told Elias.
"You kicked me in the face Bab. You kicked me here o, look. You kicked me here. It hurts," the actor continued.
Elias then held the affected cheek in his palm and started massaging it while saying: "Cutie cutie."
Derek then said that it was like the little boy was kicking a ball in a soccer game, indicating how hard the kick was.
"You kicked me. Like a football," Derek told Elias.
At this point, Ellen laughingly remarked that it was Derek who started it all.
"You started it Papa D," Ellen said, as Derek said "Ouch."
Earlier, the actor and Elias were playfully teasing each other, with Derek saying that he's a monster looking for food as the little boy hid underneath the sheets.
Derek then said that he smells a little boy under the sheets and that he's going to eat him.
When the actor yanked the sheets away, Elias let out a shriek along with a playful kick, hitting Derek in his right cheek.
Derek is one of the most sought-after leading men in the Philippines. He starred in many critically-acclaimed films such as "No Other Woman" and "English Only, Please." Derek's celebrity ex-girlfriends include Angelica Panganiban, Solenn Heussaff, Cristine Reyes, Joanne Villablanca, and Andrea Torres. He is now married to Ellen Adarna.
The loving way that Derek treats his stepson Elias has been the subject of praise from both netizens and showbiz personalities. One example is Lolit Solis who penned a commentary on Derek's close relationship with Elias, the son of his partner Ellen Adarna from her previous relationship. She commended Derek and Ellen for bringing Elias to their trips abroad even if it is not easy to care for a child during vacations. The entertainment columnist also praised Derek for being a great stepfather and for accepting Ellen's situation. However, Lolit expressed her wish for Derek and Ellen to have their first child together as a couple.
During their family vacation to Lapland, Derek introduced Elias to his first ski experience. His first instructor is no other than Derek, whose patience was really commendable. In the caption, Ellen Adarna, was very proud of her son, as well as of the patience that her husband showed. She shared videos of Derek, patiently teaching Elias, which then became viral.
Source: KAMI.com.gh