Rica Peralejo opens up on struggles, misconceptions about introverts
- Rica Peralejo opened up about the struggles of introverts like her and the misconceptions about them
- The actress shared that introversion is not only a social issue, but also a sensitivity to stimulation
- According to Rica, introverts are often mischaracterized as maldita and arrogant due to their personality traits
- Aside from the message, Rica also uploaded a video compilation of some of her favorite daily activities
Bagong feature: Tingnan ang mga balitang para sa'yo ➡️ hanapin ang "Recommended for you" block at mag-enjoy!"Recommended for you" block at mag-enjoy!
Actress Rica Peralejo took to Instagram to offer a glimpse into her world as an introvert, accompanied by a captivating video compilation of her cherished activities. The post sheds light on the misunderstood nature of introversion and aims to provide insight into the intricate world of those who find solace in quieter moments.
The video showcases Rica engaging in activities close to her heart. From the careful preparation of coffee in the morning to indulging in her love for reading the Bible, exercising, and even skipping rope, the footage provides a peek into the activities that bring her joy and tranquility.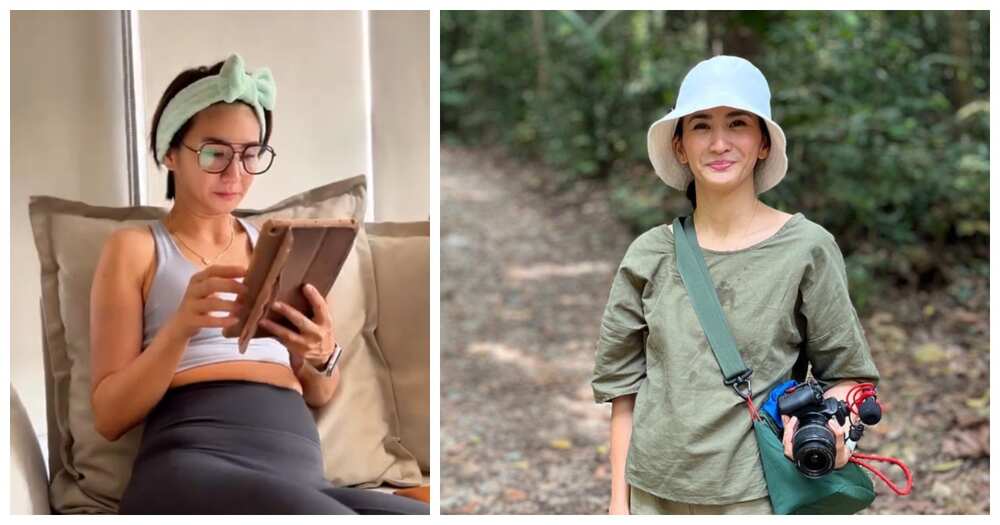 In her heartfelt post, Rica addresses the common misconceptions surrounding introversion. She delves into the true essence of what it means to be an introvert, emphasizing that it's not merely a social issue, but rather a sensitivity to stimulation. Rica reveals her heightened sensitivity to sounds, a characteristic shared by many introverts. Even the hum of an electric fan can be overwhelming to her, exemplifying the challenges she and others face in a world filled with sensory input.
Rica's post also touches on the self-doubt that introverts often grapple with due to their unique responses to stimuli. She acknowledges that introverts can sometimes be mistaken for having negative traits like aloofness or arrogance, when in reality, they are simply navigating a world that bombards their senses.
Like and share our Facebook posts to support the KAMI team! Share your thoughts in the comments. We love reading them!
Her candid revelation serves as a reminder that every individual's journey is unique and should be celebrated, whether they find solace in solitude or thrive in social interactions.
"As an introvert. Read on. One day I woke up and decided to record sounds I can tolerate before coffee, and in the early morning. (Before the kids wake.) Coffee machine, coffee beans, the author of my book, my beads, my rope, then, Bible Project (Tim and John; who also "accompanied" me at my MRI).
"Introversion, contrary to what most people think, is not really a "social" problem (could be but not essentially), but a stimulation problem. We are easily stimulated. Sounds are a big part of it. Do you know I get bothered by electric fans? The sound of it makes me annoyed. (This is why I couldn't stand my vornados even if they were great in circulating air — kasi maingay.) I only realised these things when I started reading Susan Cain's book: QUIET and then watched a video of a man who said he needed a room that had no windows and no fans to work cause he was too easily stimulated by everything. (Kaya ko pa ang window, mga besh. So I am a bit better in handling stimulus in that sense hahaha.)
"I just thought of sharing this because I think so many introverts self-doubt so much because our capacity for stimulation can be mistaken as sungit, maldita, arrogance, aloofness, bastos, etc. Sometimes, hindi lang talaga natin alam how to handle the stimulus in front of us especially when it is already overwhelming our internals," Rica said.
Rica Peralejo is an actress who used to be a cast member of "Ang TV." The former actress is now married to a Christian pastor named Joseph Bonifacio. They have two children – Philip Nathaniel and Manu.
Previously, she uploaded a video compilation of her training or rehabilitation day with a therapist. She needs to train and undergo rehab due to her different health issues. The actress revealed that she has scoliosis, diastasis recti, hormonal imbalance, autoimmune problems, bunions, flat feet, L5 S1 bulging disc. Due to her faith in Jesus, Rica is inspired and joyful amid her health woes.
Earlier, Rica Peralejo took to Instagram and shared a cute photo of her husband and her child. They were on the escalator, the movement of which was descending. Both her husband and their kid were standing in the opposite direction, which was why the security guard called them out. It was a facepalm moment for the actress, and she happily shared it on social media.
Bagong feature: Tingnan ang mga balitang para sa'yo ➡️ hanapin ang "Recommended for you" block at mag-enjoy!
Source: KAMI.com.gh