Gabbi Garcia, sinariwa ang mga araw noong nagtatangka pa lang manligaw si Khalil Ramos sa kanya
- Gabbi Garcia recalled the days when Khalil Ramos was still attempting to court her
- At the time, Gabbi was still trying to fix her relationship with her ex-boyfriend and so she told Khalil she was off-limits
- The actress also revealed that she was struggling to cope up during that time while Khalil was telling her about his past relationships
- Eventually, Khalil and Gabbi officially became a romantic couple
Gabbi Garcia revealed that she tried to discourage Khalil Ramos back at a time when the actor was still attempting to court her.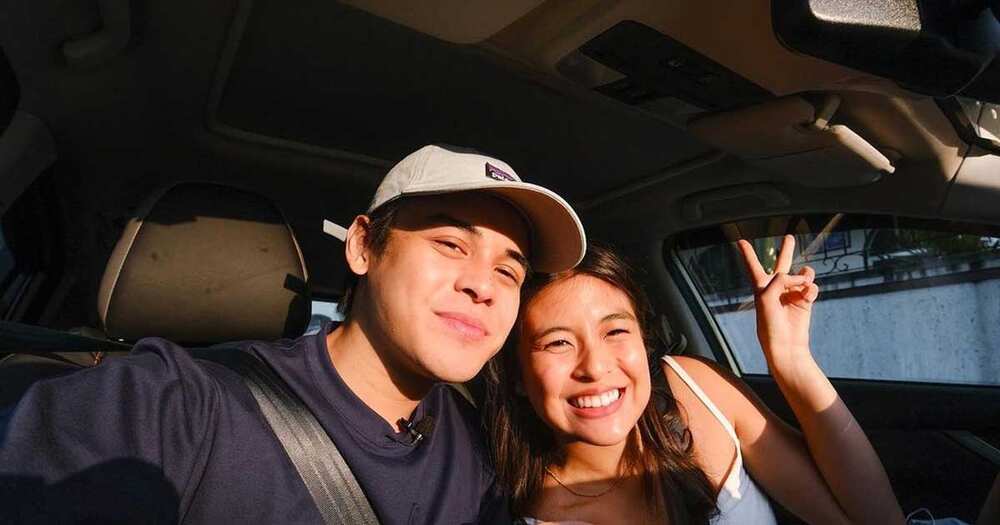 The actress made the revelation in the first episode of their podcast, "Figure It Out."
According to the actress, she and her ex-boyfriend had just broken up and during that time, she was still trying to fix their relationship.
She did, however, gave Khalil her number but not because she wanted a new guy in her life but perhaps because she wanted someone to talk to.
"Maybe I was looking for someone to keep me company during that time but not on a level that you guys think," Gabbi explained.
She then recalled how Khalil got her number when he asked for it.
"Siguro nga kasi I liked how we talked that night so when you asked for my number, I gave it because I really wanted to talk to you but then I told him right away na, 'Hi, I'm kinda trying to patch things up with my ex," the actress said.
Gabbi also narrated how she would always remind Khalil that she's "off-limits" because during that time, she's still trying to fix her relationship with her ex-boyfriend.
"I was super struggling and he was like sharing his thoughts about his past relationships, about what he went through. It kinda actually helped me cope," Gabbi narrated.
At this point, Khalil interjected, saying that he was able to correct her perception of life.
"Naayos ko 'yung perception niya sa buhay. I healed her wounds that time tapos ayun, nakipagbalikan siya," Khalil said.
Gabbi then asked him if he felt ghosted.
"So, ghinost kita," the actress teased, to which Khalil said that she did though she would always deny it.
After two years, however, the paths of the two again crossed and at the time, both of them were ready to be with each other.
Gabbi Garcia, or Gabriella Louise Ortega Lopez in real life, is a Pinay actress and recording artist. She was born on December 2, 1998 and is presently an artist of GMA Network. She landed her first acting role with My Destiny as Nicole Perez and as Pia Sta. Maria in the movie Let The Love Begin. She then played the role of Sang'gre Alena in the TV series Encantadia, giving her a massive boost and launching her to greater fame.
Gabbi had also shared some personal details about herself in her new vlog. Among the things that many don't know about her is that she was named after Filipino heroine Gabriella Silang. She also said that her mother thought the baby inside her womb was a boy. The actress said she wanted everyone to take a peek at her personal life so they would know her better.
The actress had also shared a video on social media which made her followers laugh. In the video, the actress and her boyfriend, Khalil Ramos, can be seen testing their balance. Khalil, however, went down face first towards the floor while they are filming the video. Netizens then took to the comments section to react hilariously to the couple's funny clip.
Source: KAMI.com.gh