Liverpool players wives and girlfriends 2020: who is dating who?
Football has remained as one of the most coveted games in the sports sector. Different individuals offer their support to various football clubs. As for the club members, their wives and girlfriends are some of the beauties of the game. Liverpool players' wives and girlfriends create the charm for this club.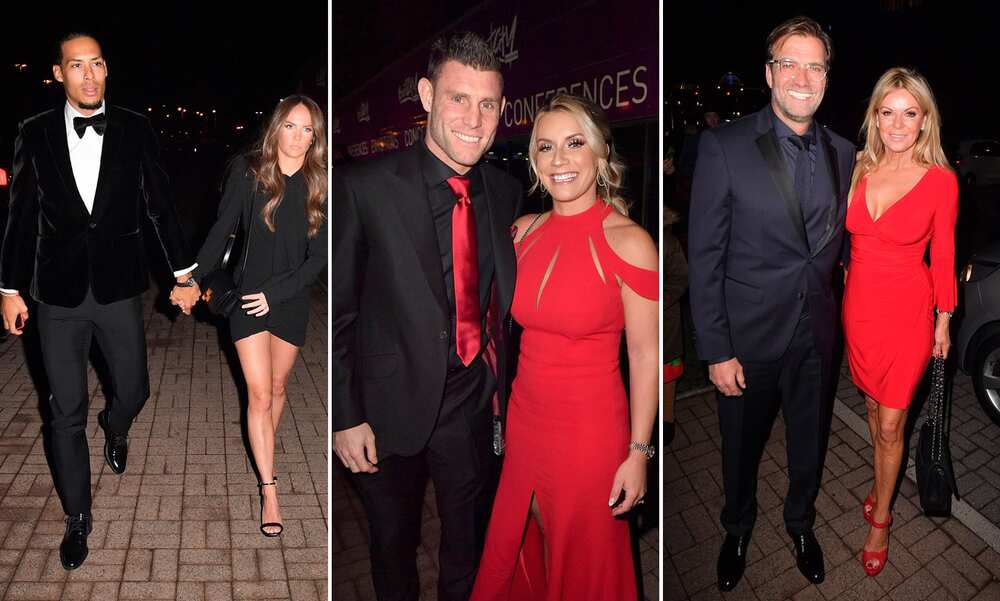 Liverpool hottest WAGs are some of the people that cannot go unnoticed by the huge fans of Liverpool football club. Although some wives and girlfriends come and go, they maintain their gorgeousness all along, as evidenced on the list of Liverpool WAGs 2020.
Liverpool players and WAGs
The Liverpool WAGs Instagram accounts give us a sneak peek into their lives, as seen in the list below.
1. Mo Salah wife - Magi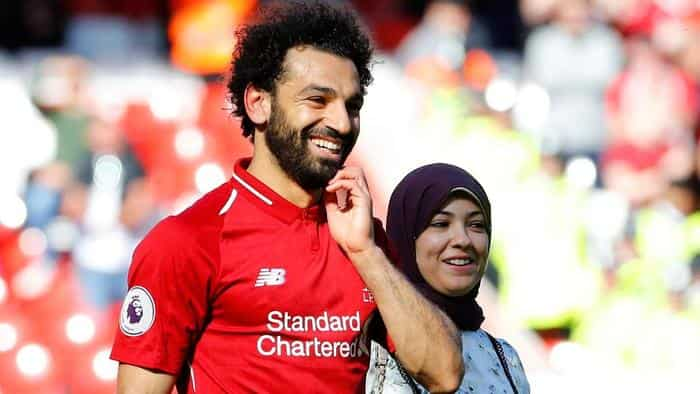 Mo Salah and Magi have been married since 2013. The couple tied the knot in a Muslim ceremony, which took place in N'grid, Egypt, where thousands of guests were in attendance. Salah and Magi met while still teenagers at school in Basion Gharbia. Magi has managed to keep her personal life private, but from her Instagram account, she is a biotechnologist.
Salah and his wife have a daughter by the name Makka. She was named in honor of the holy city of Mecca. Magi has appeared on several occasions with her daughter during her husband's matches. The three were seen on the pitch at Anfield during the final season of the Premier League match.
2. Virgil Van Dijk wife - Rike Nooitgedagt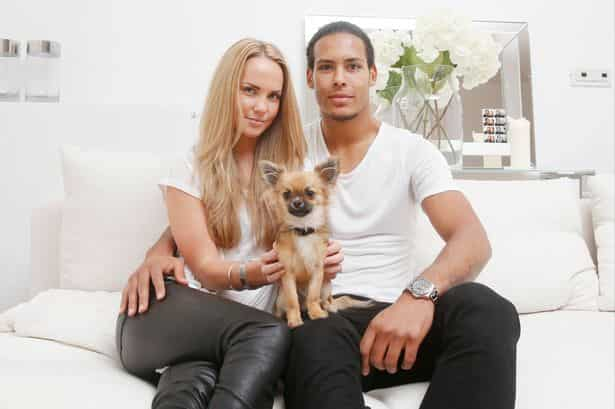 Virgil Van Dijk is married to Rike Nooitgedagt, his childhood sweetheart. The two met while Virgil was in the early stages of his football career playing for Willem II, a local football club. They tied the knot in the summer of 2016.
Rike stood by his husband's side until he attained a name for himself in the sports world. Rike was working as a fashion sales manager when she was faced with one of her biggest dilemmas. She was to either stay back home or leave her job and follow his boyfriend. She chose the latter, and in 2014, they welcomed their firstborn daughter.
3. Jordan Henderson wife - Rebecca Burnett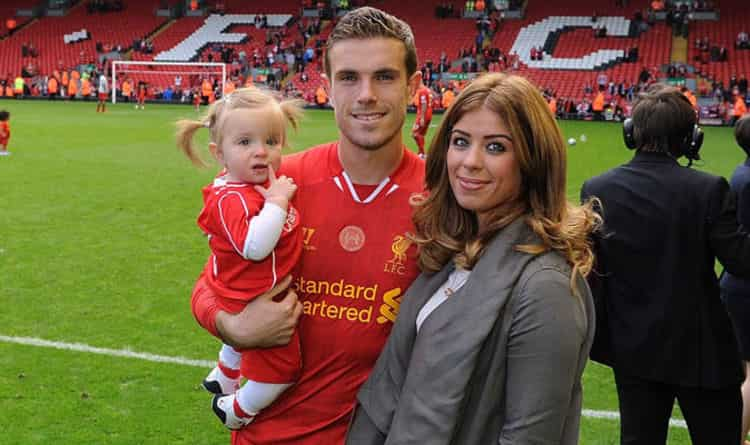 Jordan and his wife, Rebecca, try so much to maintain a low-key profile, especially on their relationship and private life. As a result, not so much is known about her. However, the two meet while still teenagers, and they dated for a few years before tying the knot in 2014.
Rebecca is Henderson's most exceptional support system, as she is seen in almost all his games. The duo has two daughters, Alexa, who is four years and Alba, who is two and a half. The couple always keeps their kids away from the spotlight, and Henderson rarely features them on his social media accounts. Rebecca Burnett maintains a private social media life.
READ ALSO: 15 highest paid footballers in the world
4. Sadio Mane girlfriend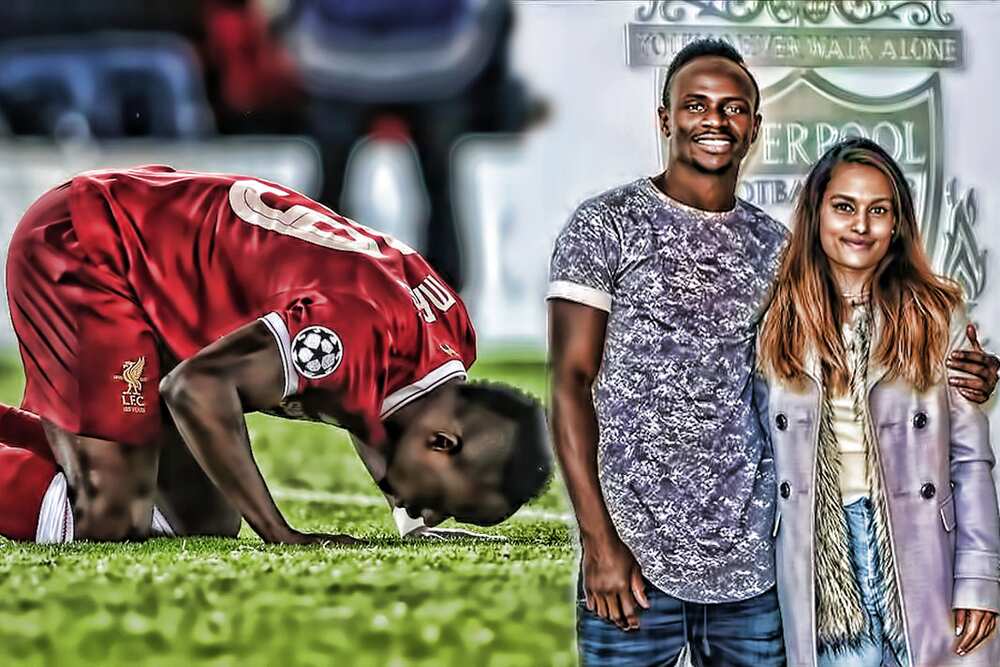 Sadio Mane is among the celebrities who choose to keep their personal life under wraps rather than displaying it to the public. As of now, many people claim that he is single since he hasn't shared any information about being in a relationship or dating anyone.
Sadio Mane is neither married nor engaged to anyone. He doesn't have any kid so far. He has been spotted with some women even though there haven't been any rumors about his dating. As it stands now, he could be single or dating in secrecy.
5. Roberto Firmino wife - Larissa Pereira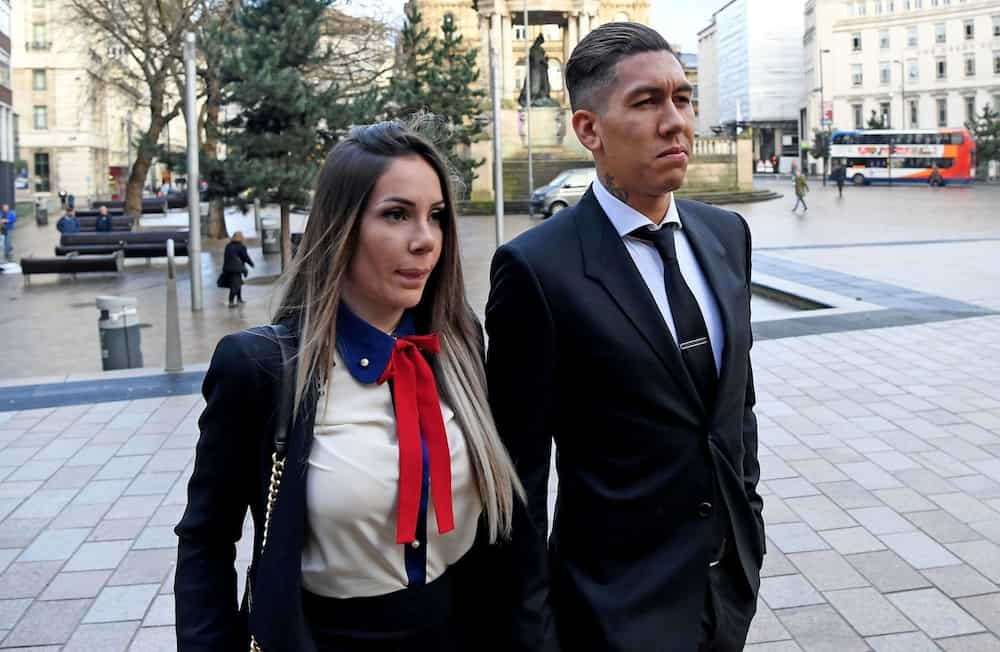 Roberto Firmino, the Liverpool midfielder is married to his long time love Larissa Pereira. Larissa is a Brazilian model and an Instagram star that was born on 12th December 1992. Roberto and Larissa met in 2013 at a local nightclub, and they got hooked since then.
The couple tied the knot in 2017 in Roberto's hometown in the presence of their family members, friends, and some players. Firmino and Larissa have been blessed with two lovely daughters, Valentina, born in 2014, and Bella. Liverpool players' wives and girlfriends' photos show that the gorgeous couple is fond of showing off a variety of outfits as well as keeping up with the latest trending styles
6. Alisson Becker wife - Natalia Loewe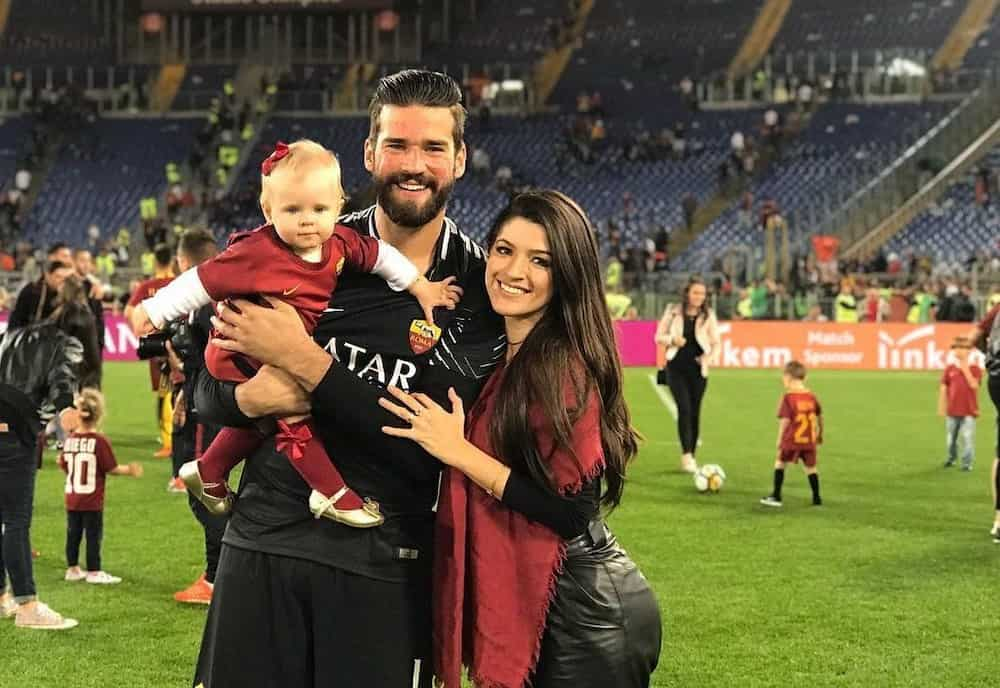 On the list of Liverpool players and their WAGs is Alisson Becker and his lovely wife, Natalia Loewe. The duo met in Brazil, their native land in 2012 and tied the knot in 2015. She completed her Degree in Paediatrics at the Catholic University of Pelotas in Brazil. A few months after her graduation, Natalia left Brazil and relocated to Rome to be with her husband.
Alisson and Natalia have been blessed with a lovely daughter named Helena. The duo regularly shares loved-up family pictures on their Instagram accounts. She is one of the hottest Liverpool WAGs 2020.
7. Andrew Robertson fiancé - Rachel Roberts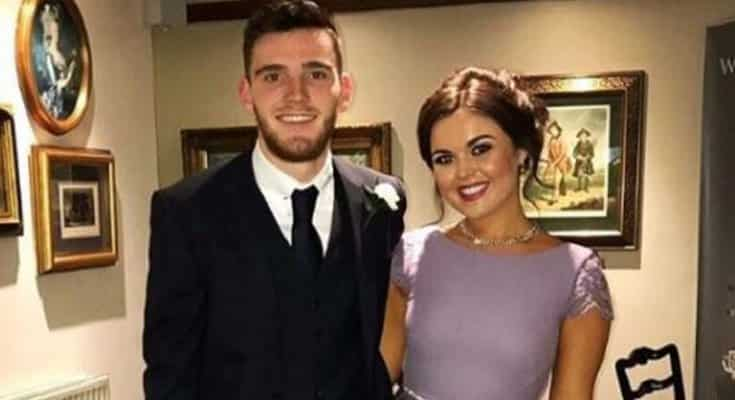 Andrew Robertson is engaged to his longtime lover and girlfriend, Rachael. The duo met way back in their high school days at St. Ninian School in Glasgow. The two are a perfect definition of high school sweethearts. They got together when Andrew was just 19 years old.
In summer, on 26th August 2017, Andrew and Rachael welcomed their firstborn son Rocco. In January 2019, the duo welcomed their second-born child and first daughter by the name Aria.
READ ALSO: Top 10 richest football clubs
8. James Milner wife - Amy Fletcher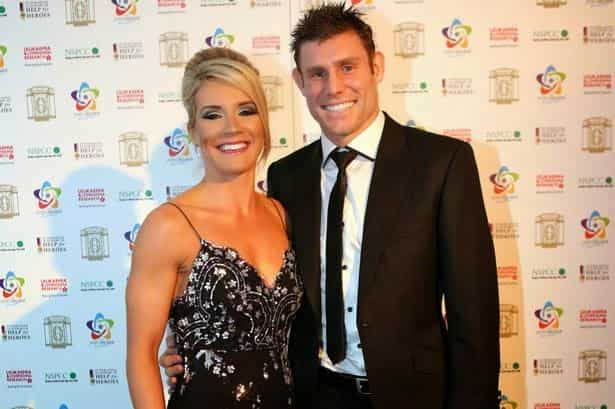 James Milner likes to keep his personal and relationship life private. He is married to his longtime girlfriend, Amy Fletcher. The duo has been together for such a long time, even before he started playing football professionally.
The couple is blessed with two lovely children. Their firstborn was born in 2015, although the duo hasn't revealed the names or the years of birth of the children.
9. Joe Gomez fiancé - Tamara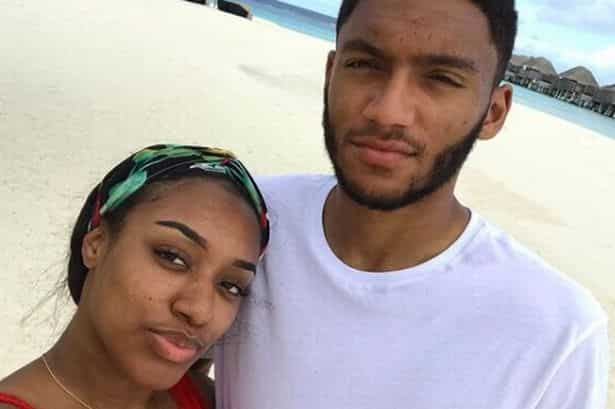 Joe Gomez is engaged to his childhood sweetheart, Tamara. The duo met on his way to school in the south of London. They have been together ever since then. The pair have a son by the name Kyrie who was born in 2008.
The family of three lives together in Formby on the outskirts of Liverpool.
10. Adam Lallana wife - Emily Jubb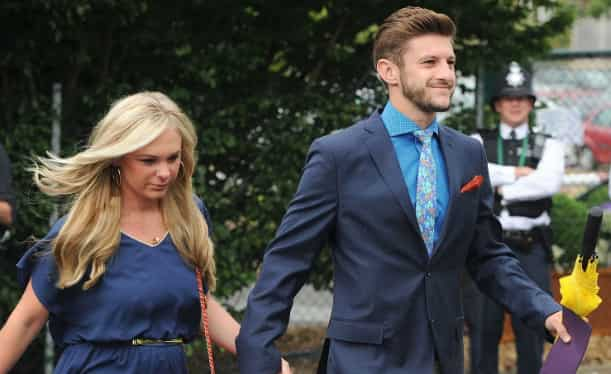 Adam is married to Emily Jubb. The couple was due to tie the knot on 14th June 2014, but unfortunately, the day coincided with England's opening World cup match in Italy. As a result, they wedded on 24th December 2013 at Poole Registrar Office in Dorset. The couple's relationship has stood the test of time as they began dating in 2006.
The couple is blessed with two lovely sons. Their firstborn, Arthur Michael, was born on 26th September while their second-born Albie George was born on 3rd June 2015.
Liverpool players' wives and girlfriends not only come to show off their beauties, but they are also some of the most reliable support systems to their loved ones. There are always present in their boyfriends, and husbands live in and out of the pitch.
READ ALSO: 15 highest paid NFL players 2020
Source: KAMI.com.gh