Bam Adebayo bio: Nationality, stats, salary, 2020 All Star, family, full name
Sometimes growing up in a poverty-stricken and rough neighbourhood can come in the way of individuals who are hoping to conquer and become successful. However, Bam Adebayo didn't allow such hindrances to inconvenience him from becoming the professional he is at the moment. He has fought against the countless moments of desperation to become nothing short of a star and an idol to many.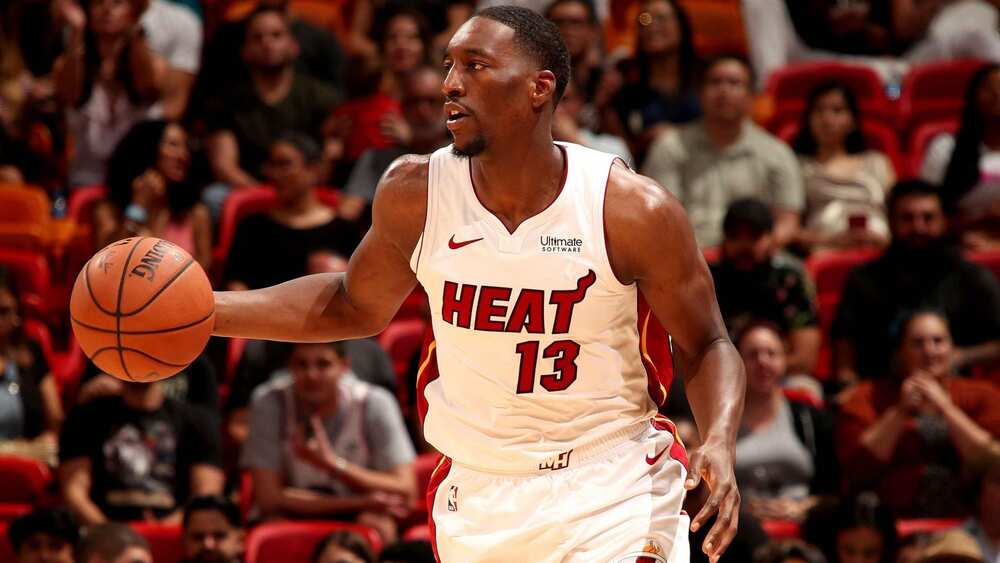 Bam Adebayo is an American professional basketball player in the National Basketball Association (NBA) currently under the Miami Heat as their power forwards/centre. Apart from his professional career, here is more regarding his nationality, family and salary, among others.
Bam Adebayo profile summary
Bam Adebayo full name: Edrice Femi Adebayo
Nickname: Bam Adebayo
Date of birth: 18th July 1997
Place of birth: Newark, New Jersey, United States
Bam Adebayo age: 22 years
Birth sign: Cancer
Bam Adebayo nationality: American
Ethnicity: Black
Religion: Christianity
Bam Adebayo height: 6 feet 10 inches
Weight: 116kg
Hair colour: Black
Eye colour: Brown
Occupation: Basketball player
Net worth: $5 million
Biography
Bam Adebayo was born on 18th July 1997 as Edrice Femi Adebayo in Newark, New Jersey in the United States of America. He was born to parents John Adebayo and Marilyn Blount. His mother gave her the nickname Bam Bam when he was only a year old.
He attended Northside High School, Pinetown in North Carolina where he used to play for his high school basketball team. During his basketball career in high school, he recorded an average of 32.2 and 8 rebounds. Later on, after the end of his Junior Season, he moved to High Point Christian Academy in High Point North Carolina.
He attended the University of Kentucky after his high school education where he continued to do well in basketball as well.
Career and stats
Here is the breakdown of Adebayo's professional career and statistics.
College career
Upon joining the University of Kentucky, he played for the school's team where on 7th December 2016; he won against the Valparaiso Crusaders in an 87-67 win with 16 points and seven rebounds.
On the 5th April 2017, he heartbreakingly lost to the Elite Eight, and immediately declared his entry into the 2017 NBA draft. After twenty days, he signed an agent. Between 2016 and 2017, he had an average score of 13.0 points, 8.0 rebounds and 1.5 blocks in every game of the entire 38 Kentucky games.
READ ALSO: Kai Sotto height, age, biography, family, stats
NBA career
On 22nd June 2017, Miami Heat selected Adebayo with the 14th overall pick during the 2017 NBA Draft. On 1st July 2017, Miami Heat signed him for a rookie-scale contract thus making him join the NBA Summer League later on in the same year.
In 2018, he announced his intent to play in the NBA Summer League where he plays alongside Dwyane Wade, Josh Richardson, Hassan Whiteside, Goran Dragic and Dion Waiter in Miami Heat.
In the 2019-2020 seasons, Bams stats are; 16.1 points, 10.5 rebounds and 5.1 assists.
Bam Adebayo All-Star
Bam concluded his first-ever All-Star game with an average of eight points on the four over five shooting, two rebounds and one assist in a span of twelve minutes. Most of the stats were collected on early Sunday whereby he scored eight quick points of the four of four shooting in six minutes during the first quarter.
The Miami Heat All-Star Weekend marked the first time for the team to have at least two of its players take part in the All-Star Game since the season that took place in 2013-2014. In that, 2013-14 season, three players namely Dwyane Wade, LeBron James and Chris Bosh, logged together just minutes in the annual showcase game.
2020 NBA skills competition
The Miami Heat star Bam Adebayo became the winner of the skills competition in 2020 All-Star weekend. He defeated Domantas Sabonis from Indiana in the challenge that saw three former champions knocked out during the first round. The news on Bam Adebayo skills challenge 2020 win was received with high praise by his teammates as well as all his fans across the globe.
The competition was testing on the following skills in a race to complete the obstacle course first in a head to head matchup.
Ball-handling
Passing abilities
Shooting skills
Bam Adebayo family
Although he has kept most information on his personal life private, he was born to parents from New Jersey by the names John Adebayo and Marilyn Blount. There is no information about his siblings that have been offered to the public so far.
Bam Adebayo salary and net worth
As of 2020, Edrice has an estimated net worth of roughly $5 million. Bam Adebayo Miami Heat's 3-year contract is valued at $8,900,200. He also has an annual salary amounting to $2,995,840 and a guaranteed total of $8,900,280.
Adebayo's entire career at the National Basketball Association has given him a total sum of $10 million. As of 2020, his earnings are as follows:
$2,955,840 - Cap hitl salary
$2,955,840- Cap hit
$6,409,920 - ead cap
The American basketball through the National Basketball Association (NBA) has succeeded in making prominent names through their skillful playing. Evidently, Bam Adebayo is one of the big names arising from this coveted sport.
READ ALSO: Giannis Antetokounmpo bio: Net worth, wife, salary, contract, mvp
Source: KAMI.com.gh