Chicser members, songs, scandal, disband, girlfriends
When it comes to dancing, several groups will get you amazed and rise in applause. Talk of the beautifully choreographed moves, the passion of dancers and creativity; Chicser is one group that stands out among many.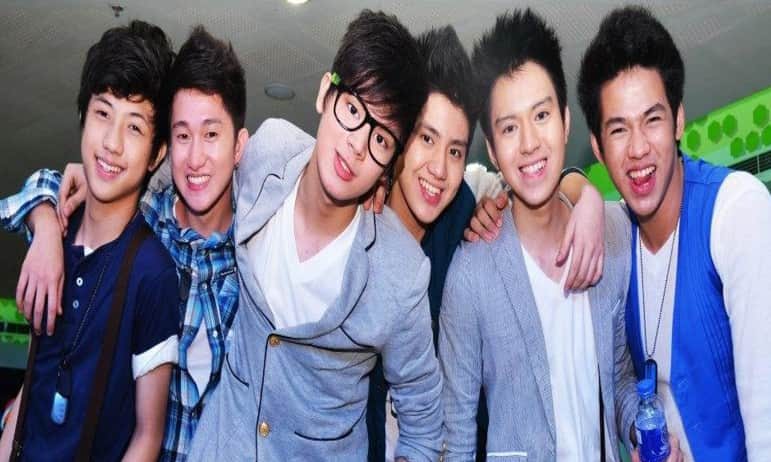 Chicser is a dance group from the Philippines which lives and performs in Vietnam on many occasions. Their debut dated back many years ago but their breakthrough came through the "The Teach Me How to Dougie" dance they released on YouTube.
The six-member group received accolades across the regional divide and became sensational in style, quality and tact in dancing. Chicser members include Ullyses, Biboy, Oliver, Clarence, Ranz and Owy.
Chicser members
Here is the group's bio-data:
1. Ully Chicser (Hoàng Vinh)
Real name: Ullyses Webb Basa - Phạm Hoàng Vinh
Nickname: Ully, Cutiepie
Birthday: September 1, 1993
Place: San Juan City
Position: Leader
Specialties: Dancing
Facts about Ully
He is the group leader at Chicser
He loves dancing both as a career and hobby
He was one of the original members of Chicser group.
He hails from San Juan City Philippines.
2. Biboy
Real name: Alberto Chua Cabigon
Nickname: Biboy, Bibs, Sunshine
Birthday: February 6, 1993
Place: San Juan City
Specialties: Beatbox, dancing, choreographer
Bilboy facts
His homeland is San Juan city.
He is the lead choreographer in the group.
He plays the leader from time to time.
He is a dancing specialist for the group.
3. Chicser Oliver (Gia Hiếu)
Real name: Oliver Lance C. Posadas - Huỳnh Gia Hiếu
Nickname: Ver, Lance, Olibear, Oliboy, Love
Birthday: April 19, 1994
Place: Mandaluyong
Specialties: Good at cooking, dancing
Fans called: Olivernatics
Chicser Olivia facts
He was born and raised in Mandaluyonng, Phillippines.
His hobbies include cooking and dancing.
He is the coolest member of the group.
4. Clarence (Thuận Nghĩa)
Real name: Clarence Adrian J. Villafuerte - Trung Thuận Nghĩa
Nickname: Cav, Adrian, Baby
Birthday: June 18, 1997
Place: San Juan City
Specialities: Good at math, dancing
Fans called: Cavinatics
Chicser Clarence facts
Clarence hails from San JuanCity
He is the brightest in the group.
Clarence is a lead dancer in the group.
He is excellent in math and complex problems.
READ ALSO: 2ne1 members profile: age, birthday, position, cars
5. Ranz (Hoàng Phúc)
Real name: Ranz Kyle Viniel Envidente Ongsee
Nickname: Chuchu, Sweetheart
Birthday: May 6, 1997
Place: Quezon City
Specialties: Dancing
Fans called: Ranzter
Chicser Ranz facts
Was involved in a photo scandal
He is the youngest member of the group.
He loves dancing as a hobby.
Was nicknamed sweetheart by the group - loves the company of women.
6. Owy Chicser (Gia Hoàng)
Real name: Oelejim Louis C. Posadas - Huỳnh Gia Hoàng
Nickname: Owy, Jim Jim, Babe
Birthday: January 19, 1998
Place: Mandaluyong
Specialties: Dancing
Chicser Owy facts
He was born and raised in Mandaluyong.
His hobby is dancing and listening to music.
He is also nicknamed Babe.
He is the send last youngest member of the group.
Chicser songs
Here are some of the best Chicser songs:
Hello, I Love You (ac.mix) (Provided)
When You Dance (Provided)
Meant For You
Hello, I Love You
Meant For You (acoustic mix)
Chicser scandal
Despite the good run they had, Chicser members were not safe from scrutiny and criticism from netizens and fans alike. Chicser Ranz Kyle was one of the members who was involved in a photo scandal involving him and an unidentified female companion at a party.
The photo that went viral shows him and the girl, not Chicser Ranz Kyle girlfriend, having what looks like a casual kiss on the building floor. Could such a petty matter lead to Chicser disband? Well, not a plausible cause but it surely tarnished their name as a group and Kyle as an individual.
Chicser girlfriends
A Facebook post showed the matching of Chicser group members and their girlfriends. Here are the matching:
Clarence Adrian and Jhee Cabela.
Ullyses and Wynona Dizon.
Ranz Kyle and Danica David.
Chicser Owy and Rojulien Marie Lumanog.
Oliver Chicser and Patricia de Guzman.
Biboy and Carla Coleen Mandita Oquindo.
Chicser is a dance group from the Philippines. The group is made up of six members, and they perform in live shows, events, and upload their content on YouTube. Since their debut, they had a good run, but scandals and group dynamics saw them disintegrate.
READ ALSO: X1 profile: members, debut date, songs, fun facts
Source: KAMI.com.gh