Song Joong-Ki is a very prominent South Korean actor. Following the global success of television series "Descendants of the Sun", he became one of the most instantly recognizable and influential Korean actors to this date. Who is Song Joong Ki wife?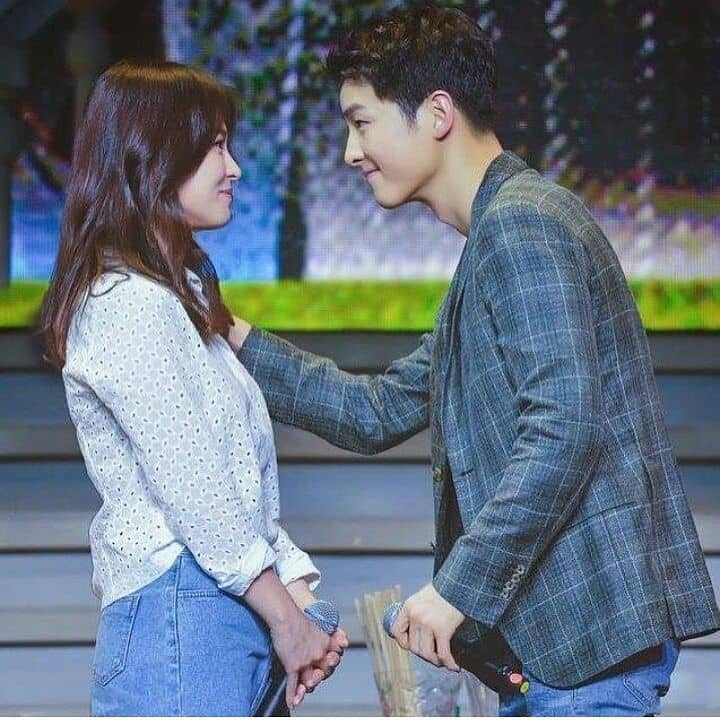 Who is Song Joong Ki wife in real life? Unfortunately, some might find it heartbreaking to find out that although the actor exchanged vows with his costar in "Descendants of the Sun" (2016), the couple's marriage subsequently ended in July 2019. Former Song Joong Ki wife name is Song Hye-Kyo.
Profile summary
Name: Song Hye-Kyo
Birthday: November 22, 1981
Age: 38 years old
Birthplace: Dalseo-gu, Daegu, South Korea
Nationality: South Korean
Marital status: Divorced from Song Joong-Ki since as of July 2019
Height: 161 cm (5'3")
The on-screen couple was married in real life for less than two years. Here's a quick recap of their relationship:
Song Hye-Kyo and Song Joong-Ki, tagged by avid followers as the "Song-Song couple" started brewing their romance amidst the success of the global smash hit Korean television series "Descendants of the Sun". The show premiered on KBS2 on February 25, 2016.
In March 2016, rumours that they are dating spread after being allegedly spotted shopping together by an exchange student in New York. Both parties denied the rumours, stating that it was merely a coincidence, and at the time, other coworkers were there in New York with them.
Moving forward to June, it's been two months since their series finished the run of its first season. The couple attended the 52nd Baeksang Arts Awards and bagged several wins for their performance in the show. After being spotted on the Indonesian island Bali at the same time on June 15, 2016, the on-screen couple once again found themselves in the middle of rumours that they are involved romantically.
READ ALSO: Court issues final decision on Song Hye Kyo and Song Joong Ki's divorce
Just a month after the second dating rumours surfaced, Song Hye-Kyo and Song Joong-Ki's agencies issued a statement announcing that they are engaged to be married. The couple also took to social media to post separate statements regarding the announcements. In an open letter to his fans, Song Joong-Ki wrote:
"At the start of 2016, we promised to spend the rest of our lives together by understanding each others' weaknesses and helping each other through harsh times. So I will be starting a new life with Miss Song Hye Kyo through our wedding on the last day of October 2017."
The couple exchanged vows at the Shilla Hotel in Seoul on October 31, 2017. The appearances of other high-profile Asian celebrities made it a star-studded event. These include Chinese actress Zhang Ziyi, Super Junior's Donghae, Kim Hee Sun, Hwang Jung Min and Park Hyung Sik.
Fast forward to more than a year after their marriage, divorce rumours circulated among netizens online after Song Hye-Kyo was seen not wearing her wedding ring at the Sincheon Airport before a flight to Singapore. Prior to this controversy, divorce rumours were also a hot topic among fans after the actress changed her Instagram profile picture and deleted some photos of her and her husband.
In June 2019, the couple's fans were shaken by some tragic news. Lawyer Park Jae-Hyun announced that Song Joong-ki has filed for divorce from his wife at the Seoul Family Court. In an apologetic statement to his fans, the actor wrote:
"Hello. This is Song Joong Ki.
First, I'd like to apologize for delivering this unfortunate news to the many fans who love and care for me. I have begun the process of filing for divorce from Song Hye Kyo. Rather than denouncing one another and arguing over who is to blame, I hope that the divorce process can be wrapped up amicably.
I ask for your understanding in regards to the fact that it is difficult to discuss the details of my personal life, and I will recover from my current wounds and do my utmost as an actor to repay you through great productions in the future.
Thank you."
Hye Kyo, through her agency, earlier said the reason for the divorce was "differences in personality".
On July 22, 2019, a family court approved the divorce settlement for the high-profile couple. This officially made their divorce official. There will be no division of assets between the couple, and neither of the parties is making any monetary claim.
Sad as it may be, fans can only hope to put the unfortunate Song Joong Ki wife issue behind them. After all, Song Joong Ki wife age is only 38 and fans can certainly look forward to both the actor's new and exciting projects.