Chavit Singson, nag-viral matapos mamigay ng maraming pera sa Ilocus Sur
- Mayor Chavit Singson lit social media ablaze with his latest exploit in the town of Narvacan, Ilocos Sur where he is the local chief executive
- Just like a scene from a movie, the mayor handed out wads of peso bills in a very unique manner
- He used what appeared to be a unique mechanism to hand out cash
- The local chief executive then pointed the device upwards and pressed it to eject several bills in P100 and P500 denomination
Narvacan, Ilocos Sur mayor, Chavit Singson, lit social media on fire with his latest exploit in the town where he's the local chief executive.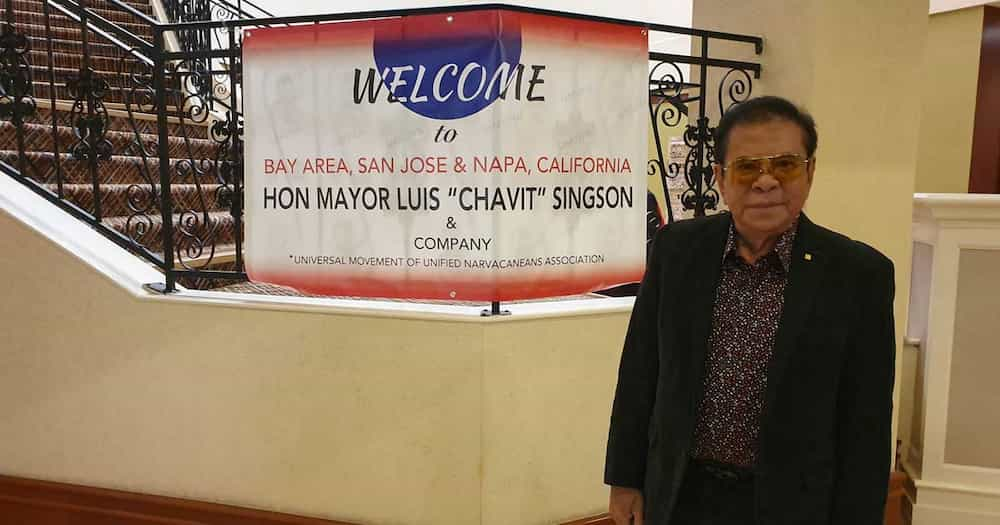 He handed out wads of cash in a seldom-seen manner to his constituents.
What made his deed very unique was that he used what appeared to be a unique mechanism.
A video of the local chief executive shooting out wads of cash in P100 and P500 denomination was posted on the official Facebook account of mayor.
Just like a scene from a movie, Mayor Chavit pointed the mechanism upwards and pressed.
Immediately, several one hundred peso bills were ejected into the air to the delight of the people.
At one point, the Narvacan town mayor climbed up the sunroof of his Hummer vehicle and 'shot' five-hundred peso bills to the waiting crowd.
It wasn't clear exactly when the event happened, though the date and time of posting on the Mayor's official Facebook page was December 28, 2021 at 7:01 PM.
The video had the caption: "Mga taga Narvacan handa na ba kayo?" and included what appeared to be money bill emojis.
Mayor Chavit has been known for his eccentricity in many things, including having his own zoo he calls Baluarte, a top tourist destination in the province of Ilocos Sur.
Chavit Singson is a businessman and famous politician from Ilocos. He is the former governor of the province and is now currently serving as the mayor of Narvacan, Ilocos Sur.
Many know Mayor Chavit as a seasoned and shrewd politician, but he is also a doting father. A year ago, Mayor Chavit introduced, for the first time ever, his youngest daughter to the public. In a surprise birthday celebration, his 5-year-old daughter made an appearance in an online show. According to chemist Pinky Tobiano, it was the first appearance of his youngest daughter in a public online show. The father-and-daughter showed a cute and sweet moment during the online live show. Mayor Singson also gave away P50,000 to 10 fathers as a way of commending them during the Father's Day special.
He had also opened up about the real reason for both his happiness and sadness. Mayor Chavit said his reason for being happy and sad were always women. He also gave advice to men who got turned down by the opposite gender. The politician also revealed his other concept of happiness is that being able to bring joy to other people. He shared as well the secret to his wealth and gave a tip to those aspiring business owners how to be a billionaire just like him.
Source: KAMI.com.gh