Edu Manzano, pabirong hiniling na hangaan din sana siya ni VP Leni Robredo: "Paano naman ako?"
- Edu Manzano recently posted on social media a statement appearing to ask VP Leni Robredo, in jest, for her to admire him too
- Earlier, the vice president and presidential candidate went trending when she appeared 'fangirling' over Piolo Pascual in a video clip
- Edu, a multi-awarded veteran actor, jokingly said in his post that while he may not be as handsome as Piolo, he is cute
- The veteran actor also said that he is very good at acting as well
Edu Manzano recently posted on Twitter a statement that appeared to jokingly ask VP Leni Robredo for her to admire him too.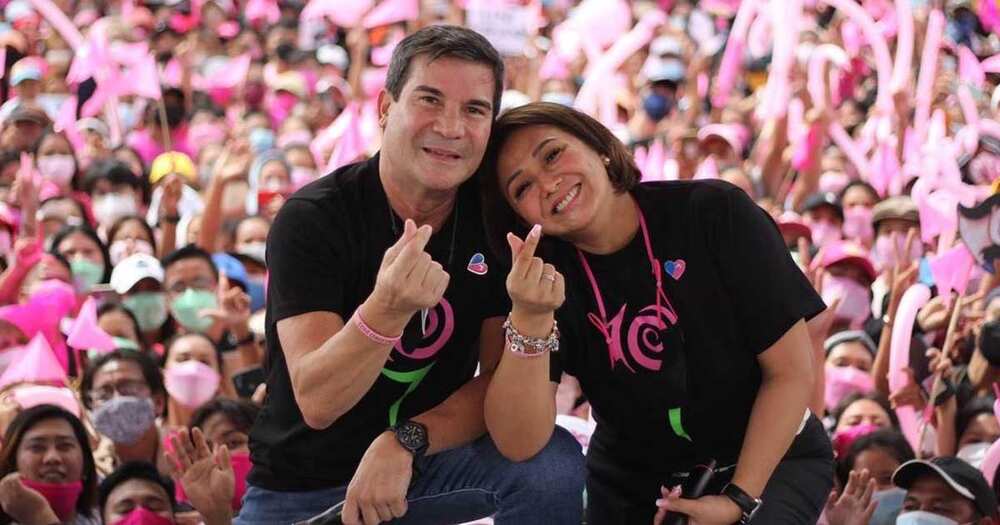 Earlier, VP Leni went trending after she was shown in a video appearing to go fangirling over actor Piolo Pascual.
Edu, himself a multi-awarded veteran actor, jokingly said in his tweet that while he may not be as good-looking as Piolo, he is cute.
As if trying to further showcase his credentials on why VP Leni should also admire him, Edu said he is very good at acting as well.
"VP Leni, paano naman ako? Magaling naman akong umarte. Hindi kasing pogi ni Piolo pero cute," Edu tweeted.
The veteran actor has been gracing several campaign rallies of VP Leni.
He and his girlfriend, Cherry Pie Picache, has declared their wholehearted support for the presidential run of VP Leni.
Dozens of celebrities have followed suit in declaring their support.
Recently, Piolo came out with his statement of support for VP Leni's quest to be the next occupant of Malacañang Palace.
Edu Manzano is an actor, comedian, politician, and the television host of game shows such as The Weakest Link, Pilipinas, Game KNB?, 1 vs. 100, and Asar Talo Lahat Panalo. He used to be in a relationship with actress Vilma Santos. They have a son in show business – Luis Manzano. Edu is now in a romantic relationship with actress Cherry Pie Picache.
Recently, Edu joked that he and the other members of "Mga gwapo for Leni" thought about holding a press conference at the Manila Peninsula about Piolo Pascual supporting Leni. He said in jest that Piolo's good looks have overshadowed the handsomeness of the other members of "Mga Gwapo for Leni." However, the press conference didn't push through because they feared losing their fans and supporters, Edu joked. The actor posted about the Manila Peninsula after some of Leni's rivals in the presidential race held a press conference at the said location.
More than a month ago, the veteran actor took to Twitter and expressed his amazement at the bravery that VP Leni Robredo showed. She traveled at night via boat to reach the island of Basilan. According to Edu, he has traveled to Basilan several times but never at night. VP Leni recently held the people's rally on the island, she being the third presidential candidate to campaign on the said island.
Source: KAMI.com.gh