'Cumlaude' na nangarap maging doktor, nagtapos sa kursong "bagsakan daw ng mga naubusan ng slot" sa PUP
- Binahagi ni Dave Opano Mojica kung paano siya napadpad sa kursong di niya aakalin na papasukin
- Nagtapos siyang 'Cumlaude' sa kursong Entrepreneurship sa Polytechnic University of the Philippines
- Noong bata pa siya ay ninais daw niyang maging doktor ngunit ngayon tila napakalayo ng kanyang tinapos sa kanyang pinangarap
PAY ATTENTION: Click "See First" under the "Following" tab to see KAMI news on your News Feed!
Noong tayo ay bata pa, dumaan tayo sa puntong tinatanong kung ano ang nais naging maging pag tayo ay tumanda na.
Madalas, kung ano ang magulang natin iyon din ang gusto nating maging pag laki. O di kaya naman, dahil sa natuwa ka masyado sa iyong guro, ninais mo ring maging kagaya niya.
Kadalasan din dahil sa akala mo ay tila may mahika ang mga doktor na nagpapagaling sa may sakit, ginusto mo rin na maging ganoon paglaki.
Gaya na lamang ni Dave Opano Mojica na ninais daw maging doctor noong tanungin siya noong siya ay limang taong gulang pa lamang.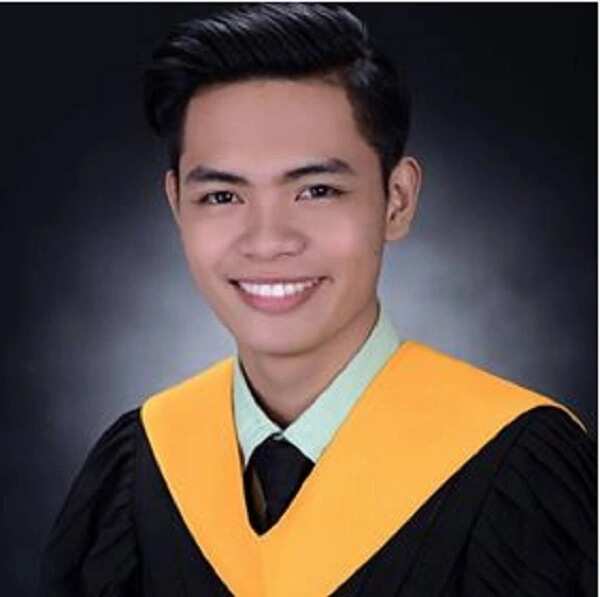 Mula sa munting pangarap ng pagiging doktor, nagtapos siya bilang 'cumlaude' ng kursong Bachelor of Science in Entrepreneurship sa Polytechnic University of the Philippines.
Tila malayo ito sa 'pinangarap' daw niya, kaya binahagi ni Dave kung paano siya nauwi sa kursong "bagsakan daw ng naubusan ng slots sa PUP"
Narito ang kabuuang kwento ni Dave na nagtapos lamang ngayong taon.
"When I grow up I want to be a doctor"
That's the lie my 5-year-old self said during my pre-school years. Reasons are: maybe I really wanted to be a doctor or we're given only few choices back then from becoming a lawyer, astronaut, pilot, teacher, nurse or like what I chose 'doctor'. Or maybe that's what my parents wanted me to become. I really don't know the reason I said that and I can't imagine going back to that line and realizing it was all lie.
What I'm about to share is not the story of my struggle to success, of wearing this black toga with my head held up high. What I really want to share is how I find my destiny. . .
During elem to highschool days, my only goal was to graduate with honors. That's a big thing for me. It's like I need to have a medal every end of the school year to make my parents proud. Growing just like this, I became competitive and more eager to study to have high grades. I'm more satisfied during those days to see my parents smiling when they see my report card or my name posted in the top 10 list and walking towards the stage every recognition day.
There were days that I thought of what I want to become in the future. There were days that I wanted to become a teacher, but on other side I know that I'm not patient enough to handle kids. There were days that I wanted to become chef, but this didn't happen because there was someone who told me that I can't use my brain there (didn't mean to offend any chefs here, you guys are great) My mother wants me to take Broadcasting Journalism but I'm not good in writing. My parents wanted me to take Accountancy but I'm not good in math, they wanted me to take Engineering but I don't know how to draw and I really hate math. My old self had so many what ifs even if he haven't even started. And maybe if you read these lines you might say that I am being unreasonable, that I should take Accountancy because it's not really mathematics as it required simple mathematics operations. I should have taken something I'm not good at because I will be good at it along the way. But my foot took me to this very small department in the College of Business Administration in PUP Manila, Entrepreneurship.
I remember the moment I chose this course. It's like picking something as easy as candy flavor. No joke. I decided to take up business course. I really wanted to take up any hospitality related course but I don't want it in PUP, I want it in my dream school. We can't afford going to that school, or maybe we can, but I didn't bother to try. Even to use my honor to get a scholarship, I didn't try at once. If I will be going back to those moments, I will be more prepared and more focus. Back in PUP, I want to take business administration major in Marketing Management but since PUP is first serve/slot basis, I didn't have the chance to choose what I really want. I tried to take Office Administration, but the Chairperson didn't let me to as my first question to her was "Di ba po pwede naman magshift after a year?" hahaha (kupal). I don't want Human Resourse as it was my sisters course back then in PUP as well. So Entrep, and our Chairperson's first question to me was "Gusto mo bang maging milyonaryo kaya andito ka?". My old self just laughed. If I will be asked the same question again, my answer will be NO. Coz I want to be billionaire or even more.
Just like most of my classmates, Entrep used to be "bagsakan ng mga naubusan ng slot" so it's not really our first choice. In PUP, there's a small appreciation to our course compared to other universities where it's really appreciated. As time passed by, I chose to stay, not because I wanted to but because I needed to. I needed to graduate with Latin honors (that's my goal when I was in first year) so I didn't want to shift and get any trouble taking up my subjects and some people told me that being an irregular student is not easy. It came up to the situation, where I really chose to stay because I'm starting to love it. But as I went back, I realized I don't. I just wanted to finish it, coz I didn't take seriously of having my business on that moment or in the near future during those times. I just wanted to pass. That's it. Fourth year, last year in college. This will be my degree and I will be pursuing it. But not full heartedly, as I'm questioning myself when or how I would start. I even think if there will be any job that will fit for me, for us. Not until February this year that I became fully committed with what I took. Fully decided and no plans on turning back. This is my purpose, to become an entrepreneur. And I know God have His reasons why He let this happened to me. Not until that month that I'm so motivated and inspired to really pursue my degree. Not until that month that I planned and really have a clearer goal in my life. Yeah, it took me that long to realize it.
Maybe some of you still don't know what my course is or haven't heard of it. Just like whenever we're asked what's our course, most of our answer is Business Management as we don't want to explain further what Entrep is. But let me do the honor, we're given the chance to study a course that will prepare us to provide employment rather than seek employment in the future. In other words, we'll start our own business/enterprise in the future. Maybe some of you might say that anyone can start their own business even those without proper knowledge. Yes, that true. We can even easily access the internet and give us full access on the knowledge that we need in building up our businesses. As easy as that. But there is something we learned that not anyone can have or understand, entrepreneurial mindset. A mindset of being the boss in the future. Of being not afraid to go out there and take the risk of establishing our own enterprise. And as I earned my degree, this guy who's not pursuing entrepreneurship YET, will be a young entrepreneur SOON. Yes, I'm claiming it!!! I will be entering the corporate world first to expose myself to the real business world and gain enough experience. This is me taking one step at a time.
I wrote this long statement of mine, not to impress, gain validation, sympathy, or recognition from anyone. I wrote this as a testimony for myself that 5-10 years from now, I will be successful in my chosen endeavor, a successful entrepreneur. I want this post to pop up in my FB Memories (na sana meron pa pag dating ng panahon) and during those successful moment I can finally say that I did it! I got to pursue what I wanted and what I'm destined to be. That my 30-year-old self will be so happy as he lived and achieved what he's been dreaming of.
This is also a chance for me to express my heartfelt gratitude to every person who became part of this journey. Thank you so much to my teachers, mentors, advisers, and professors ever since I started my learning experience. You are the real heroes and will forever be part of every student's success. Thank you so much to my classmates and schoolmates, you guys are really great! Thank you to all my friends (HS and college buds) for being my happy pill and for all the unforgettable memories we shared together. To Baesic/Team W, thanks for being my group mates, food buddies and walwalan buddies hahaha.Thank you so much to all the school organizations I've been part of, for giving me the chance to serve especially to ESS PUP, you've taught me a lot of great things and I'm able to met and worked with a lot of great people through you. To my Sintang Paaralan, PUP, maraming salamat sa pagbibigay sakin ng pagkakataong maging isa sa mga Iskolar ng Bayan. I will be forever grateful for that.
And of course, to my family especially to my parents, who've been there since the start of the game up until I finished the line, thank you! Thank you so much Nay at Tatay. Ako naman babawi senyo, wait lang kayo And most of all, to our dear Almighty, thank you for the gift of life and for every blessings you've given me. All for Your glory, Oh God!
This is me, Dave Mojica who's now SIGNING OFF as a student but not on studying and learning, will be taking a step towards the fulfillment of my dreams.
MOJICA, DAVE OPANO, Bachelor of Science in Entrepreneurship, Polytechnic University of the Philippines, Batch 2018-CumLaude
Source: KAMI.com.gh