- Grade 1 student in Sorsogon was tasked to look after his sibling
- He brings him to school because there is no one else to watch over him
- The young boy also does not want to absent from school
PAY ATTENTION: Click "See First" under the "Following" tab to see KAMI news on your News Feed!
A young seven year old in Sorsogon inspires many netizens today because of his diligence in his studies. This student is Justin, and he lives in Sorsogon.
KAMI saw the report in Bombo Radyo, where it recounted how Justin decided to bring his one-year-old brother to school.
According to the report, the grandmother of Justin went to the mountains, so no one would be watching his younger brother if he would go to school.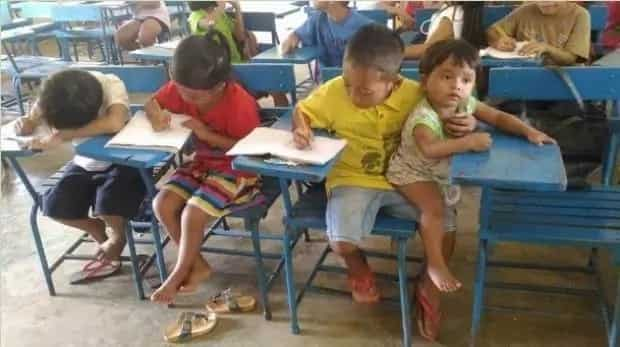 Because he does not want to be absent, he decided to bring his brother to school. That way, he would be hitting two birds with one -stone, he gets to watch his brother and he gets to attend his class.
Justin's teacher was the one who uploaded the photo on Facebook.
It remained unclear why it was the boy's grandmother who was watching over them and not htheir parent.s
The story of Justin touched the heart of many social media users, and according to the report, they also believed that Justin will reach places when he grows older.
Would you steal money from a blind man? on Kami YouTube channel This video will show the propensity of people to take undue advantage of the weakness of others.
Source: Kami.com.ph