Asian man caught taking 'upskirt' video at grocery store
- A video of an Asian man taking an upskirt video of an unassuming woman inside a grocery store has gone viral
- Many netizens were outraged by the perverted action of the Asian
- Online users also warned women to be vigilant and extra careful when wearing a dress or a skirt in public
Footage of an Asian man using his smartphone to take a video under an innocent woman's skirt inside a grocery store has angered the online community.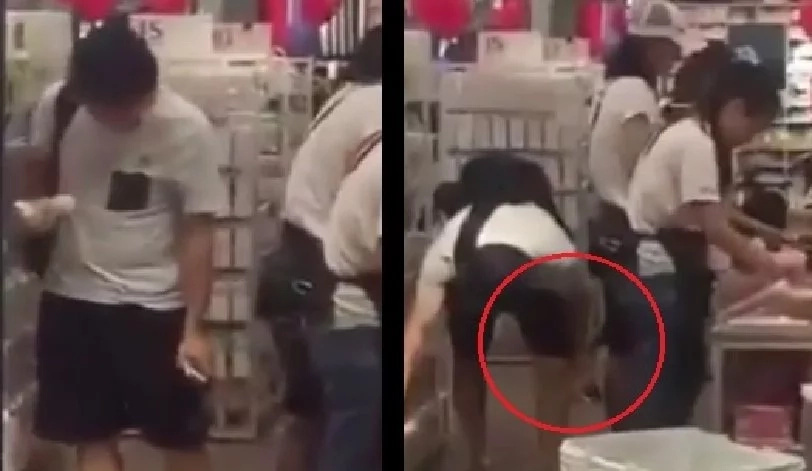 The Asian can be seen looking around to check if anybody will see his dirty deed.
Thinking that nobody was watching him, the Asian proceeded to position his phone under the skirt of an unassuming woman who had her back turned on him.
READ ALSO: Summary killing sa CCTV! Dangerous gunman executes defenseless man in Caloocan
Fortunately, other customers inside the store arrived at the scene to check on some products. This prompted the Asian to stop taking an upskirt video of the poor girl.
However, the Asian was still able to take a short video under the woman's skirt.
Many netizens were outraged with the man's actions, warning their friends and families about the danger of wearing skirts in public.
"Mag ingat ang mga kababaihan naka palda. Dahil nagkalat ang mga maniak na tulad nito na nag sasamantala," the video uploader warned.
(Women who wear skirts and dresses should be careful. There are sex maniacs everywhere, like the man in the video who abused the woman.)
READ ALSO: She got up there to do pole dancing and shocked everyone!
Other netizens wished that the pervert would be punished for his wrongdoing.
"Sana pinalo niya ang celpone ni manyak or sinapok niya," an online user said.
(I was hoping to see the woman slap the sex maniac's cell phone or punch his face.)
Several online users also advised women to wear shorts when wearing a skirt or a dress in order to avoid becoming victims of these sex maniacs.
SHARE this disturbing and disgusting video with your family and friends to warn them about this modus operandi.
READ ALSO: Street children outside shopwise captured performing their own piece
Source: KAMI.com.gh